Natasha Kravchuk shares recipes for soup season
Natasha Kravchuk, culinary creator behind the popular food blog Natasha's Kitchen, is known for her approachable and budget-minded dishes, and her new cookbook, "Natasha's Kitchen: 100+ Easy Family-Favorite Recipes You'll Make Again and Again," sets out to help home cooks find recipes they'll want to have on repeat.
Kravchuk joined "Good Morning America" on Wednesday to share two cozy recipes from her new cookbook that are perfect for fall.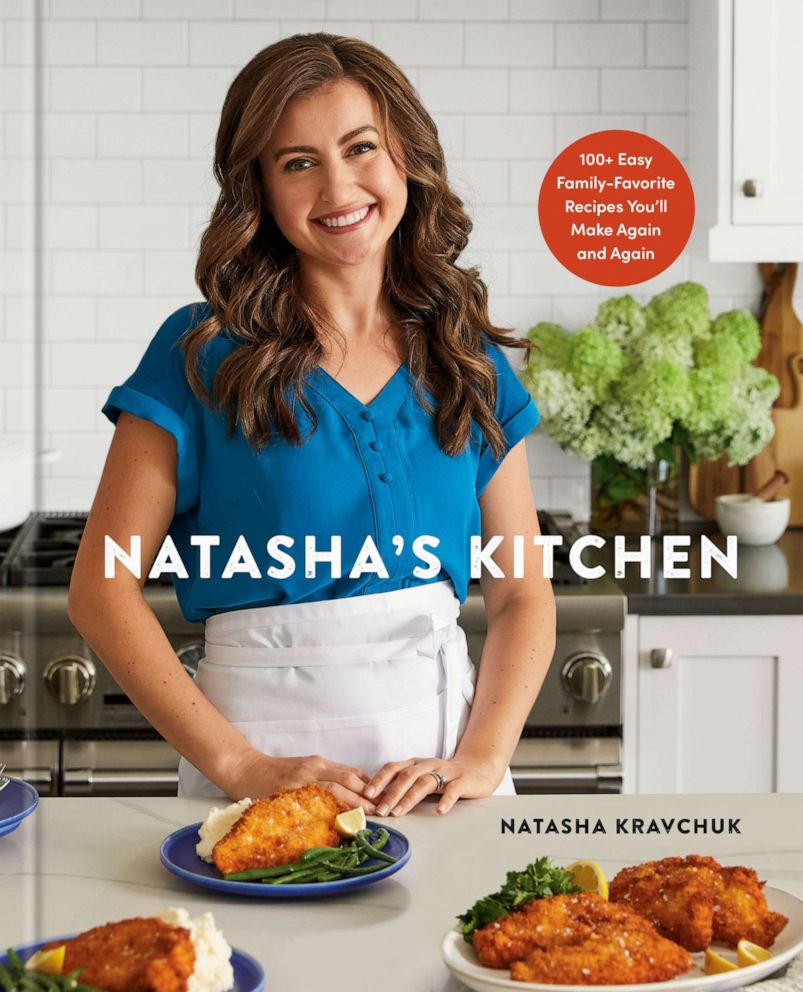 Check out the full recipes below.
Homestyle Chicken Soup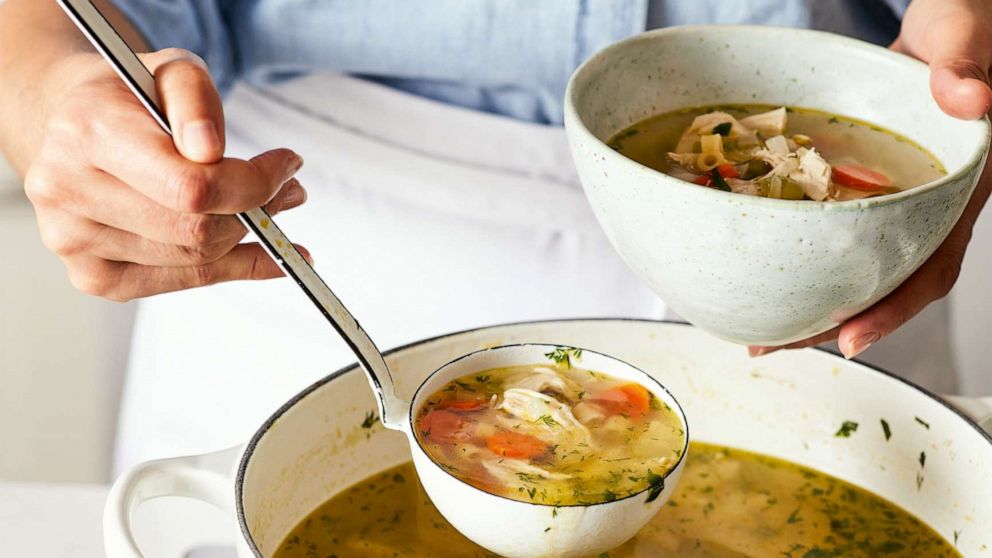 Ingredients
8 cups homemade chicken bone broth or store-bought low-sodium chicken broth or stock
5 cups filtered water
2 skinless, bone-in chicken legs or 2 skinless, bone-in chicken breasts (if you prefer white meat)
2 1/2 teaspoons fine sea salt, plus more to taste
1/2 teaspoon freshly ground black pepper, plus more to taste
2 dried bay leaves
3 tablespoons extra-light olive oil or vegetable oil
1 medium yellow onion, finely chopped
2 celery stalks, finely chopped
2 medium carrots, sliced into 1/8-inch-thick coins
3/4 cup dry ditalini pasta (see "pro tips and tricks")
2 tablespoons chopped fresh parsley leaves
2 tablespoons chopped fresh dill
1 large garlic clove, pressed or grated
Directions
In a 5 1/2-quart Dutch oven or large soup pot over medium-high heat, combine the broth, 5 cups water, chicken, salt, pepper and bay leaves. Bring to a boil, reduce the heat to medium-low and partially cover. Simmer for 25 minutes, skimming off any foam that rises to the surface, until the chicken is just cooked through. (An instant-read thermometer inserted in the center should register 165 F for chicken thigh meat or 155 F for chicken breast meat.)
While the soup simmers, heat the oil in a large skillet over medium heat. Add the onion, celery, and carrots and cook for 6 to 8 minutes, until the onions are softened and beginning to turn golden. Transfer the vegetables to the soup pot.
When the chicken is cooked, transfer it to a plate and let cool slightly. When it's cool enough to handle, shred the meat into bite-size pieces and discard the bones and fat.
Add the pasta to the pot and cook for 5 minutes, until softened but not fully cooked through. Return the shredded chicken to the pot and continue cooking for another 5 minutes, or until the pasta is fully cooked.
Stir in the parsley, dill, and garlic and remove the pot from the heat.
Season the soup with more salt and pepper if needed, discard the bay leaves, and serve.
Store any leftovers in an airtight container in the refrigerator for up to 4 days.
Pro tips and tricks
I love the texture and look of ditalini pasta, but you can use a different small pasta, such as orzo or fideo cut spaghetti.
Don't be tempted to add more pasta than is called for in the recipe.
Pasta continues to absorb liquid as it stands, so the soup will get too thick if you overdo it.
Milk Bread Rolls
Makes: 12 rolls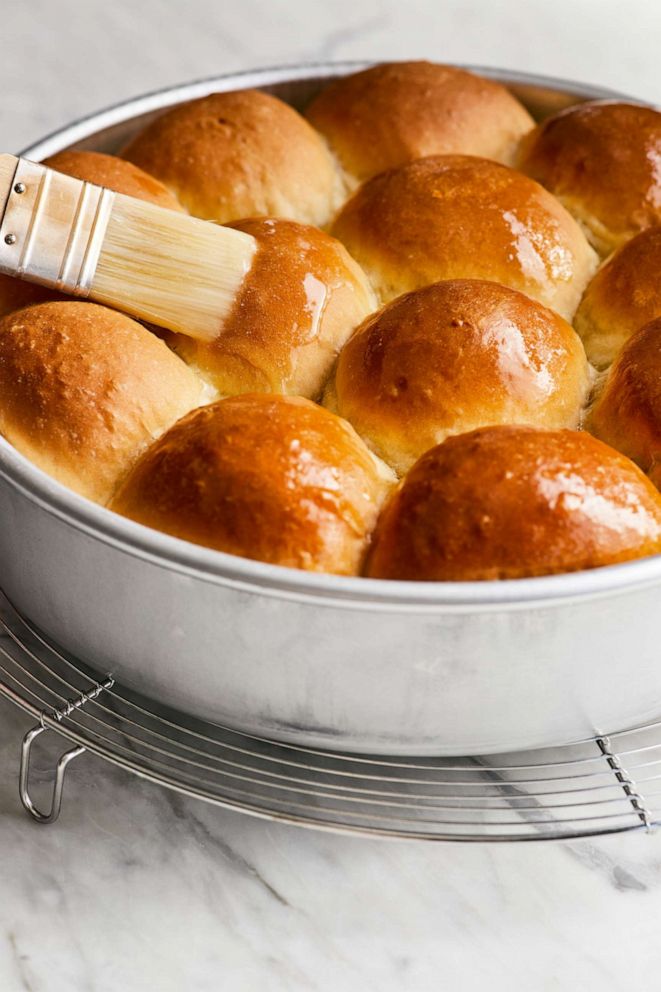 Ingredients
1 cup low-fat or whole milk, warmed to 105-110 F
3 tablespoons warm water (115 F)
3 tablespoons sugar
2 1/4 teaspoons active dry yeast (0.25 ounces)
1 large egg, room temperature
6 tablespoons (3/4 stick) unsalted butter, melted and cooled to 110 F, divided, plus more for greasing
1 1/2 teaspoons fine sea salt
3 1/2 cups bread flour, divided, plus more as needed
Vegetable or other neutral oil, for greasing
Directions
In the bowl of a stand mixer fitted with the whisk attachment or in a medium bowl with a hand mixer, whisk together the milk, water, and sugar. Sprinkle the top of the mixture with the yeast and mix just to combine. Set aside, uncovered, for 7 minutes to activate the yeast. Mix in the egg, 5 tablespoons of the butter and the salt.
Attach the dough hook to the mixer and add 2 cups of the flour. Mix on low speed (or speed level 2 if your mixer has this setting) until the flour is incorporated. Add the remaining 1 1/2 cups of flour in thirds, letting it incorporate with each addition and scraping down the sides of the bowl as needed. Continue adding flour about 1 tablespoon at a time, until the dough feels moist to the touch but not sticky. (I usually end up adding about 1/4 cup more flour in total.)
On the same low speed, let the mixer knead the dough for 10 minutes, or you can knead by hand. The dough should pull away from the sides of the bowl as it's mixed and will be smooth and elastic.
Lightly coat the inside of a large bowl with the oil and transfer the dough to the bowl. Turn the dough to coat it in the oil and cover with plastic wrap. Let the dough rise in a warm place (about 100 F) for 1 hour or at room temperature for 2 hours, or until doubled in size.
Turn out the dough onto a clean work surface; you should not need any additional flour at this point. Use a bench scraper or knife to divide the dough into 12 even pieces. Cup your hand over a piece of dough and roll it over the work surface to form a ball. Repeat with the remaining dough balls.
Generously butter a 9-by-9-inch square nonstick metal baking pan or a 10-inch round cake pan and arrange the rolls seam side down. Oil a sheet of plastic wrap and place the oiled side loosely over the rolls. Let the rolls rest in a warm place (about 100 F) for 30 to 45 minutes or at room temperature for 1 hour, until visibly puffed.
While the dough is rising, place an oven rack in the center of the oven and preheat the oven to 350 F.
Bake the rolls for 22 to 25 minutes, until the tops are golden brown and the center of the middle roll registers 190 F on an in-oven or instant-read thermometer. Brush the rolls with the remaining 1 tablespoon of butter. Let the rolls cool in the pan for 10 minutes before transferring them to a cooling rack. The rolls can be enjoyed warm or at room temperature.
Pro tips and tricks
These rolls are best enjoyed within 2 days of making them, though they'll last for up to 5 days when stored in an airtight container at room temperature.
The secret to enjoying fresh baked bread and rolls any time without having to make them from scratch is to freeze them the day you bake them. If you know you're not going to eat the whole batch -- or you make extra to enjoy another time -- wrap the bread in foil once it has cooled and store in the freezer for up to 3 months.
Reprinted with permission from Natasha's Kitchen by Natasha Kravchuk, copyright 2023. Published by Clarkson Potter, a division of Penguin Random House, LLC.