Family fun at the Masters
ABC News Art/Danielle Parhizkaran/Julie Florio/Emily Lane McClish/Sandra Chung
The Masters Tournament is officially underway as the sports world turned its attention to watch the best golfers tee off at Augusta National Golf Club on Thursday.
The "tradition unlike any other" marks the first major of the PGA Tour.
Scottie Scheffler is seeking to defend his 2022 victory, which he celebrated Tuesday night at the annual Masters Club Dinner with a Texas-sized feast to kick off festivities.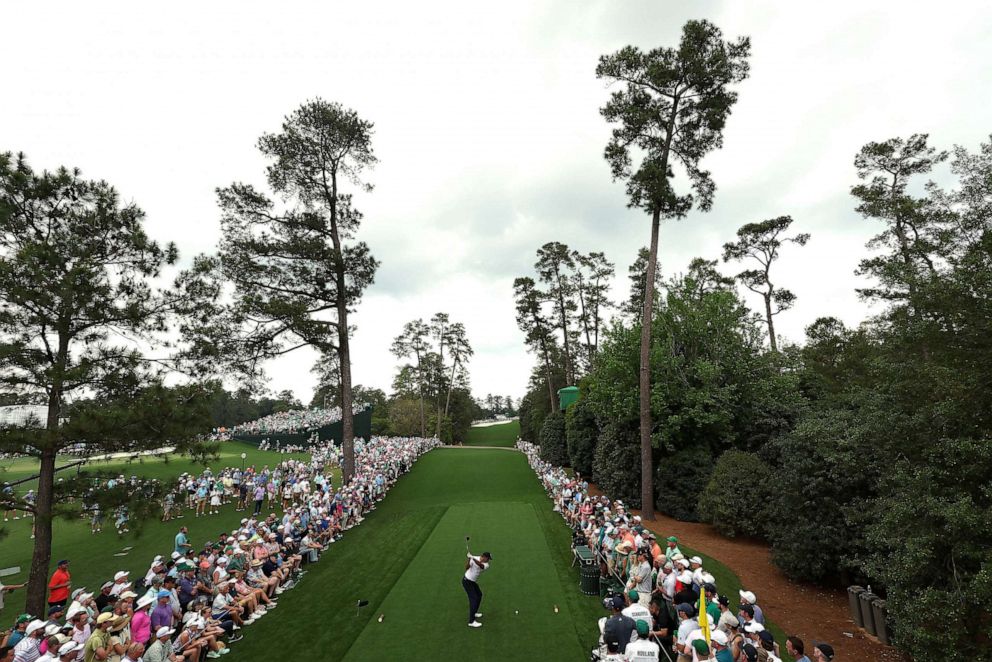 Spectators fortunate enough to walk the picturesque grounds will stroll between perfectly manicured greens, blooming azaleas and magnolia trees, while watching veterans like Tiger Woods and Rory McIlroy take on exciting younger favorites like Viktor Hovland and Xander Schauffele in some of the most exciting golf of the season.
Golf fans know the concessions are some of the most beloved in the sport, with prices seemingly unaffected by time or inflation, including classics like pimento cheese sandwiches that can be purchased for $1.50 each.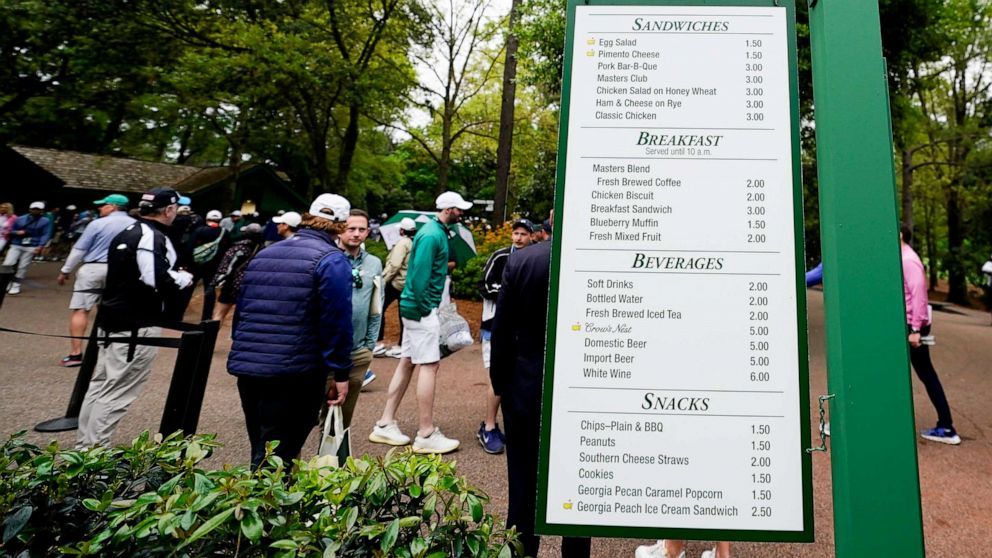 "Food at Augusta National is iconic because it's timeless. It's the same classic recipes with almost the same pricing. A cool crisp pimento cheese or chicken salad sandwich on a hot April day in Georgia will always be the perfect meal to have at the National," said chef Emily Lane McClish, who has a deep rooted connection to the tournament, being from a nearby suburb and having cooked for private clients at Augusta during Masters week since 2012.
"Everyone talks about the pimento cheese as the classic dish at the National, but I am a chicken salad fan. My grandmother was too," she said of her first cooking mentor, Nell Daniel Byne, who grew up in Augusta and whose own father was mayor when The Masters was just getting started. "To me, chicken salad and Augusta are inseparable in my heart and stomach."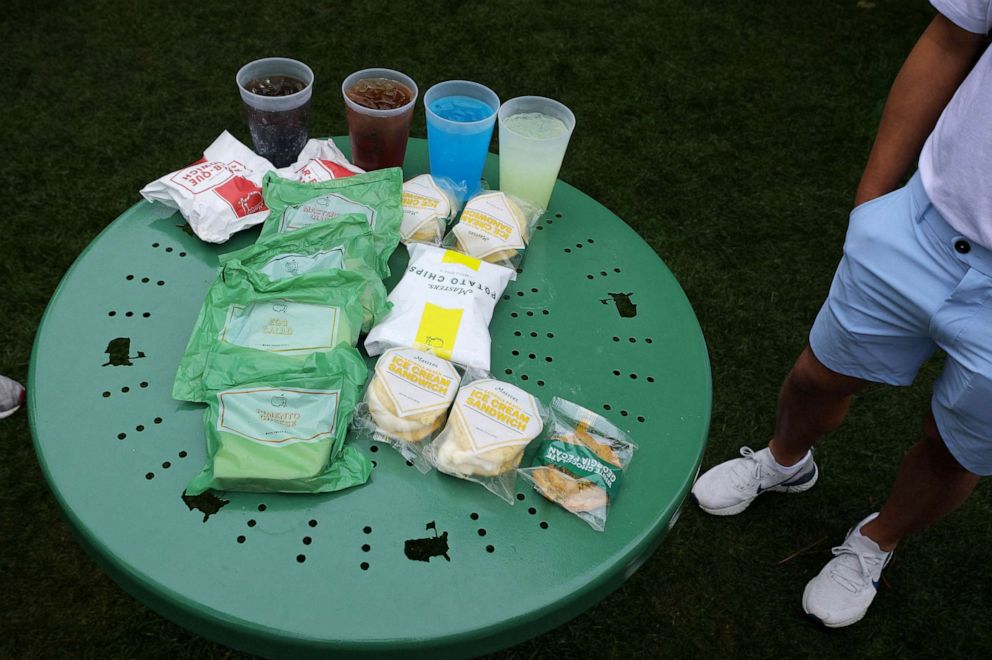 When McClish cooks for clients and their many guests throughout Masters week, she said it includes everything from "a full breakfast each morning with omelets made to order," then "guests enjoyed food at the National for lunch" and she served "appetizers for them each night when they returned from the course," followed by a three-course plated dinner. "I tried to incorporate some peaches somewhere of course, since we were in Georgia after all," she said.
The Charleston-based private chef shared her recipes with "GMA" below for golf fanatics to whip up a taste of Augusta National in their own kitchens through Masters Sunday.
Easy Homemade Pimento Cheese like The Masters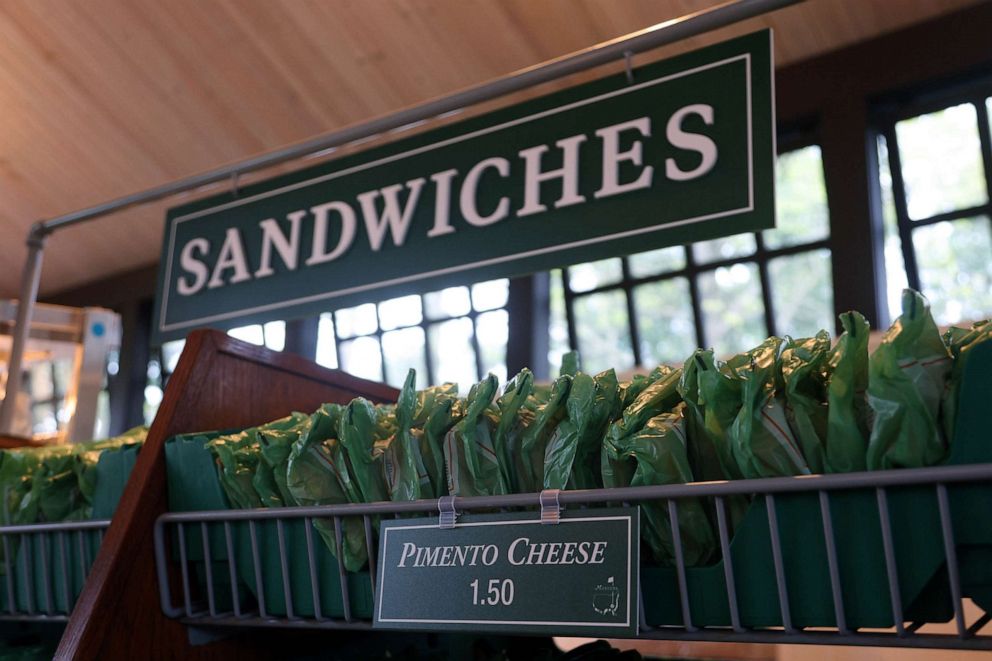 Ingredients
2 whole bell peppers
4 ounces sharp white cheddar, shredded
4 ounces sharp yellow cheddar, shredded
1 tablespoon dijon mustard
1/2 cup mayonnaise
Kosher salt and Freshly ground black pepper, to taste
1 Dash of Sriracha or tabasco
Directions
Turn your gas stovetop flame to medium. Place peppers on the grate directly over the top of the gas flame. Let it roast until each side is black and charred. Use a pair of tongs to give the pepper a turn about every 5 minutes.The total cooking time is about 20-25 minutes.
Place the peppers in a bowl and cover with plastic wrap. Allow to cool at room temperature while you shred the cheeses.
When the peppers are cool enough to handle, rub the char off with paper towels. Remove the seeds and stem. Finely dice the bell peppers.
Place the diced bell peppers, shredded cheeses, dijon mustard, and mayonnaise in a mixing bowl. Gently fold the ingredients together. Mixing too vigorously can alter the texture of the pimento cheese. Add salt, pepper, and sriracha or tabasco to taste.
Serve with crackers, on biscuits, or on plain white bread if you are in Augusta.
Chef Notes: Red bell peppers will give you a more traditional look but any color will work for this recipe.
Freshly shredded cheese will give you a superior flavor to the pre shredded type.
Keeping the ingredients simple is the way to go to make this spread look and taste authentic, but you can add crumbled bacon, minced jalapeños, or change up the type of cheeses used.
Tea-Infused Boiled Peanuts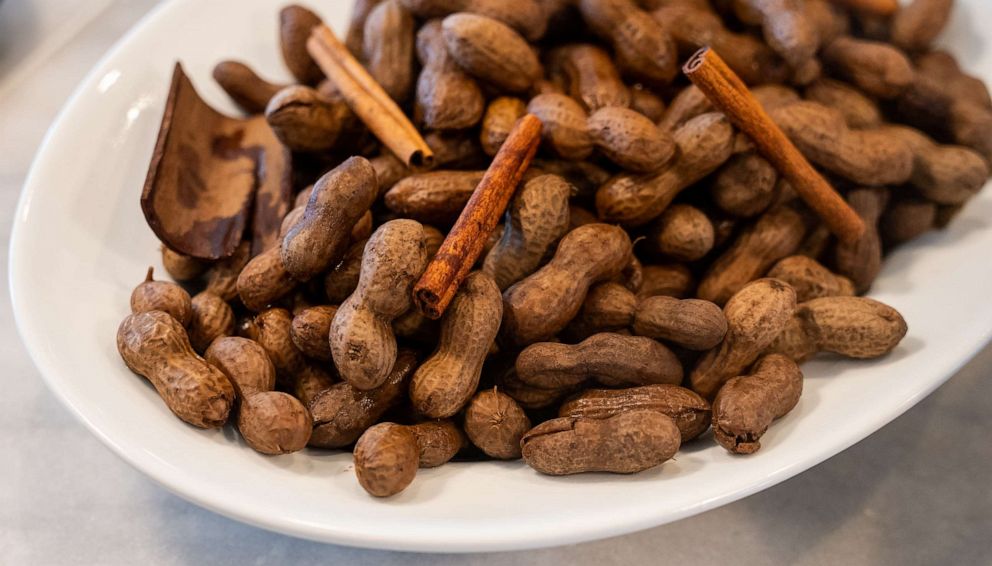 The distinctly Southern snack gets a sweet upgrade from its salty roadside roots and a gourmet twist that can be served on the golf course.
Ingredients
2 pounds green peanuts, in shell
2 gallons Milo's Unsweet Tea
2 tablespoons kosher salt, or more to taste
1 1/3 tablespoons whole peppercorns
2 cinnamon sticks
5 bay leaves
3-4 star anise
1 tablespoon ground Chinese five-spice
Directions
Rinse the peanuts until clean. Place in a large pot and cover with water. Allow to soak for 30 minutes to an hour. Soaking the peanuts will reduce the cooking time.
Drain the peanuts and rinse off. Place the soaked peanuts in a large pot. Cover with Milos Famous Unsweet Tea and all the other ingredients. Place over high heat until boiling.
Reduce heat and allow the peanuts to simmer until tender, about 4-5 hours. Check to make sure the peanuts stay covered with the tea by at least 1 inch, adding more as needed.
Once the peanuts are tender, remove from heat and allow to cool at room temperature. Once cooled, cover and place in the refrigerator overnight to absorb the flavors from the tea and spices. Serve chilled or reheated.
Chef's notes: This recipe is for lightly salted peanuts in comparison to traditional Southern boiled peanuts. If you prefer more salt, you can use up to 1/4 cup of salt to achieve that extra salty flavor.
Biscuits with Sweet Tea and Lemonade Jams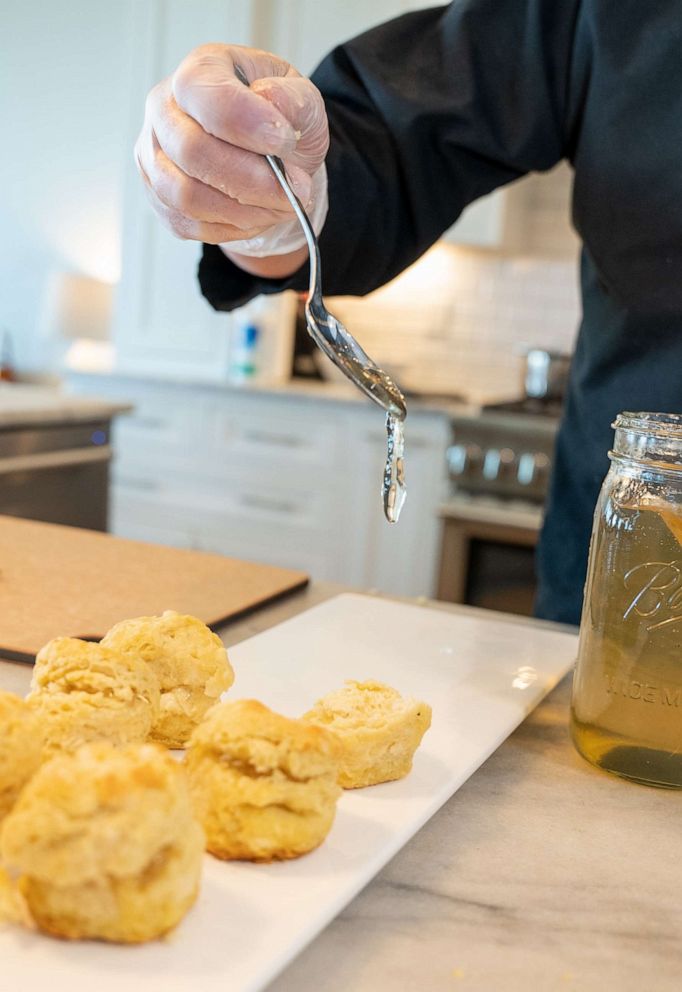 "If you make both the tea and lemonade-infused jam, you could put them both in a biscuit to make it an Arnold Palmer biscuit," she suggested, for a taste of the golf legend's classic iced tea and lemonade combo.
Her tip for this recipe is to start with a store-bought sweet tea and lemonade from the refrigerated section, like Alabama-based Milo's.
Click here for a delicious homemade biscuit recipe.
Ingredients
4 large lemons
1 1/2 cups Milo's Lemonade
4 1/2 cups granulated sugar
3 ounces liquid fruit pectin
Directions
Zest and juice the lemons. In a medium pot, heat over medium heat for 8 minutes with Milo's Lemonade. Do not let mixture boil. Remove from heat and strain the zest out, squeezing to make sure to release all the lemon oil from the zest.
Note: The mixture should yield 2 cups of liquid. Add more Milo's Lemonade to make 2 cups if you don't have enough.
Place the 2 cups of lemon mixture and sugar in large pot that has deep sides. Over high heat, bring to a boil that cannot be stirred down. While stirring, add the liquid pectin. Continue cooking for 2 minutes. Check the temperature of the liquid. If it is 220 F or higher, remove the pan from the heat.
Ladle into sterilized jars. At this point you can refrigerate the jam or follow a canning process. Allow the jam to sit for at least 2 weeks. The lemon flavor will get stronger over time.
Chef's note: Be sure to use a liquid measuring cup to measure the lemonade and strained liquid mixture and a dry measuring cup for the sugar -- it will make a difference in how the jam will set up.
Sweet Tea Jam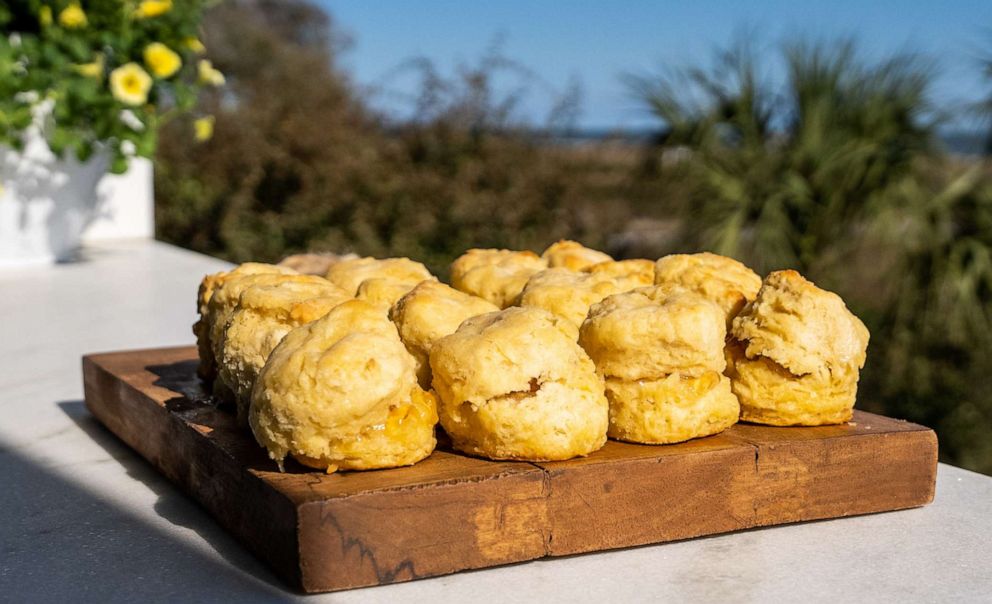 Ingredients
4 cups Milo's Raspberry Sweet Tea
2 tablespoons fresh lemon juice
1.75 ounces powdered pectin
4 cups granulated sugar
Directions
Place the Milo's Raspberry Sweet Tea, lemon juice, and pectin in large pot that has deep sides. Bring to a boil over high heat.
Add the sugar and bring to a boil that cannot be stirred down. Check the temperature of the liquid. If it is 220 F or higher, remove the pan from the heat.
Ladle into sterilized jars. At this point you can refrigerate the jam or follow a canning process.
Chef's note: You can replace the raspberry tea with another flavor or traditional sweet to make other yummy variations on this jam.
Cast Iron Skillet Fried Peach Pies with Candied Butter Pecan Ice Cream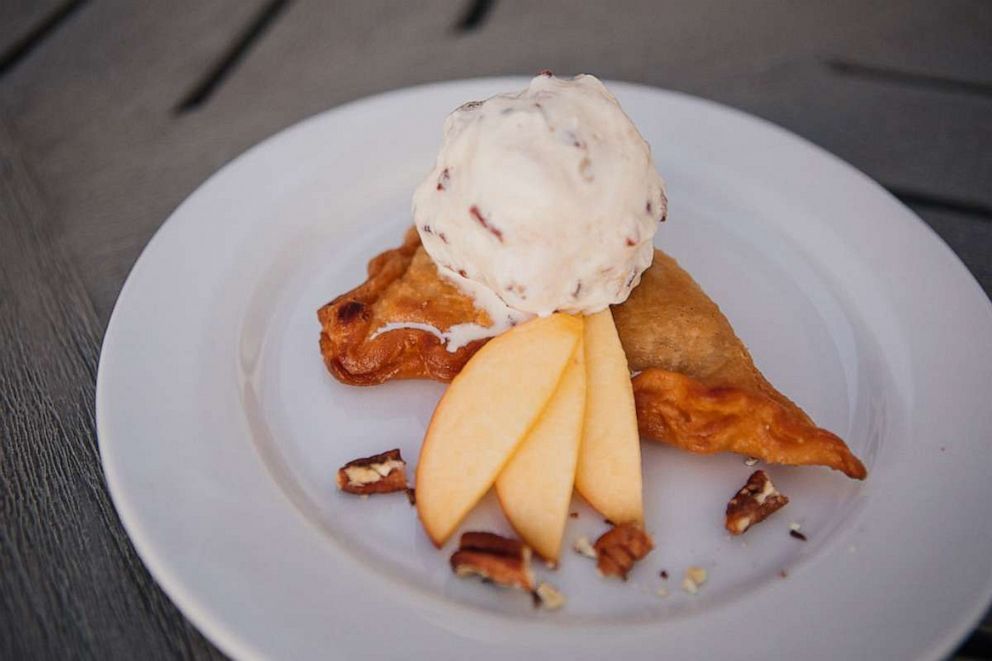 Yield: 8 pies
Ingredients
Pie
4 small peaches, peeled, pitted, and diced (about 4 cups of fruit)
3/4 cup sugar
1/2 lemon juiced
1/4 cup cornstarch
1 box refrigerated pie crust (2 crusts)
Olive or Canola oil, for frying (Not extra virgin olive oil)
Candied Butter Pecan Ice Cream
2 pints High Quality Vanilla Ice Cream, I prefer Haagen Dazs Vanilla or Vanilla Bean
2 tablespoons unsalted butter
1 cup pecans, finely chopped
1/4 cup brown sugar
pinch of salt
Directions
In saucepan, stir together peaches, sugar, and lemon juice Cook over medium heat until the peaches are tender.
Combine cornstarch and enough water to make a very thin paste.
Still over medium heat, stir the fruit mixture while slowly pouring in the cornstarch mixture.
Cook until thick. Remove from heat. *You must be stirring while you add the cornstarch mixture otherwise it will form one big lump.*
Spread the filling out on a plate and chill in the refrigerator until cold to the touch, about 30 minutes. Let the pie crusts sit out at room temperature while the filling chills.
Roll out the pie crusts on a cutting board. Cut each pie crust into 4 quarter pieces. Place about 1/4 cup of filling in each quarter piece of pie crust. Fold the pie crust in half to make a shape like a turnover. Seal the filling into the pie crust by either pressing the sides with a fork. Keep chilled until ready to fry.
Heat 1-inch of oil in a cast iron skillet over medium heat to 350F. Fry the pies until browned on both sides. Remove from the pan and place on a cooling rack. Serve topped with Candied Butter Pecan Ice Cream.
For the ice cream: Cook butter, pecans, and sugar until the sugar just starts to melt but is still grainy. Remove pan from heat and add salt. Allow to cool. Crumble the cooled nut mixture into ice cream. Fold in and refreeze.
Georgia Peach Ice Cream Sandwich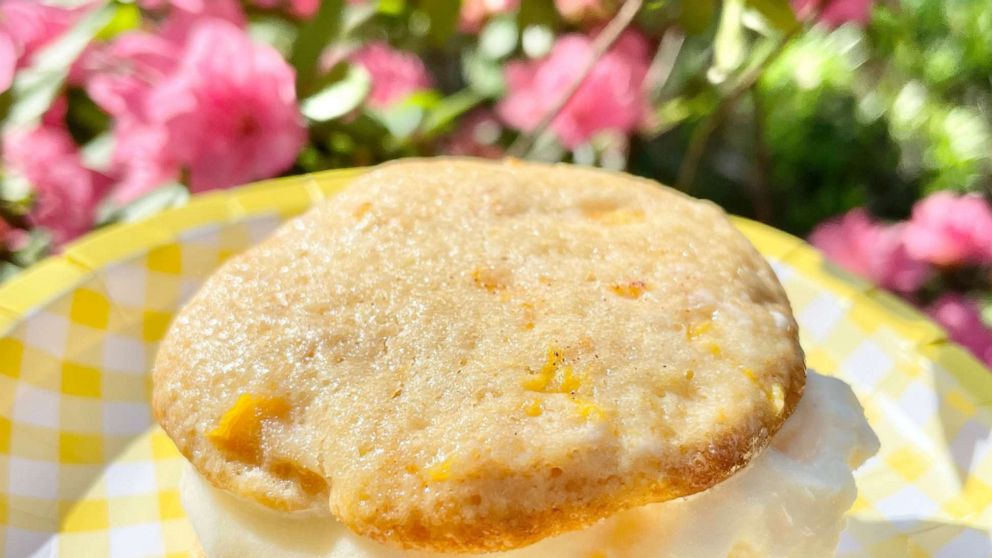 The sweet treat sold at Augusta for $2.50 can be replicated at home, thanks to Atlanta-based blogger Sandra Chung who regularly shares lifestyle and party ideas.
"I was inspired by the ice cream sandwiches they sell at Augusta National. It's like peach cobbler a la mode on the go," she told "GMA." "The cookie has the texture of a whoopie pie and stays somewhat soft, even after it's frozen."
In 2020 when Augusta National went sans patrons and concessions due to the pandemic, the golf club partnered to release its Taste of the Masters collection, but the Georgia peach ice cream sandwich was the only menu item unavailable due to shipping constraints.
Chung shared her full adapted recipe and how to recreate it at home here.