Restaurant owner saves staff from tornado
A restaurant owner's remarkable act of heroism saved multiple lives during a storm in Rolling Fork, Mississippi, that leveled an iconic eatery that has fed farmers and locals for decades.
Tracy Harden, the owner of Chuck's Dairy Bar, rushed her staff into a walk-in cooler moments before a tornado hit the establishment on Friday.
Harden spoke to "Good Morning America" co-anchor Robin Roberts on Monday alongside two employees, Barbara Pinkins and Carolyn Washington, who were both in the diner when the tornado hit.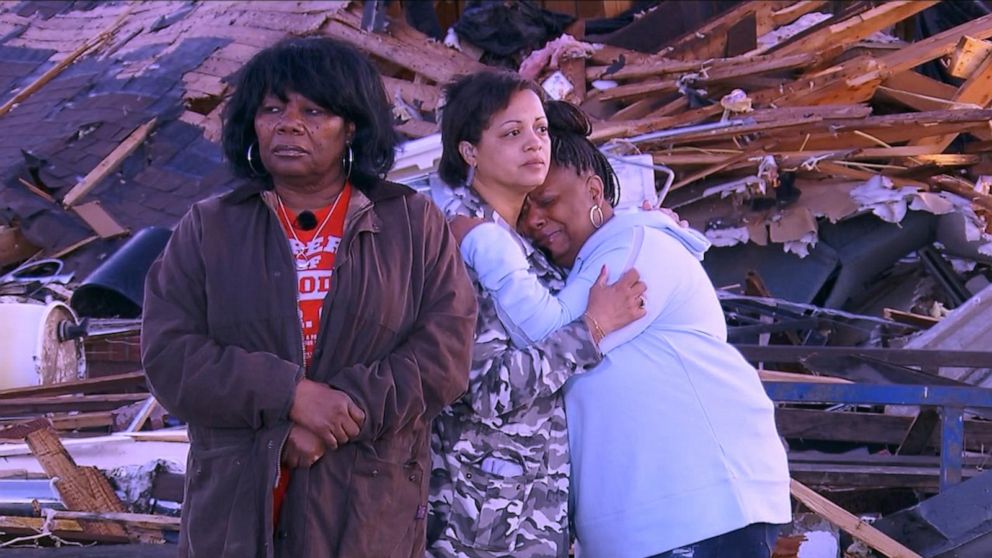 "We are OK. I feel like I've said that a million times, but we are hurting, we are grieving, but we are alive so we are OK," Harden said.
As the tornado tore through the local area, Harden said she felt like she only had a minute of advance notice before it came barreling through the restaurant.
"I got two text messages back-to-back from my sister and my daughter in Vicksburg and they both said ... 'There's a tornado down, get to a safe place.' At the same time I had my teenage cashier came running towards the back of the building saying, 'My mother is on the phone and she said there is a tornado down here.' At that point, most of us were towards the back of the building and the lights flickered. And I just hollered 'cooler!' And my husband opened the cooler door and started shoving us in."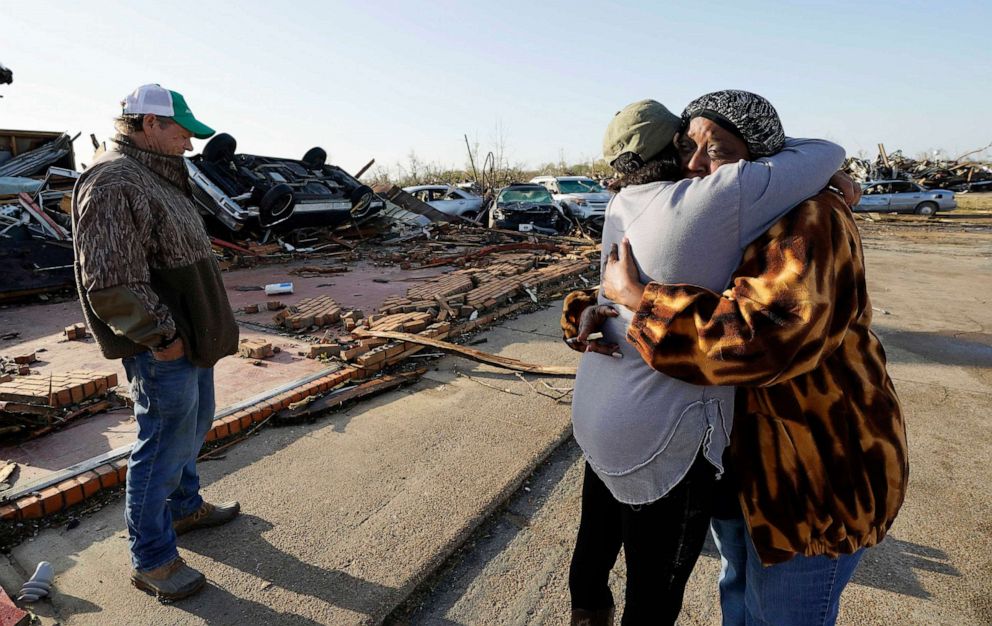 Harden said that once her husband got them all inside, including himself, "he lost control of the door, the wind took the door and somehow he was able to get the door back."
"Just before it shut, he looked up and he said, 'I see the sky,' so that let us know that this was way worse than anything we could have imagined," she continued. "And the roof was gone."
Pinkins, meanwhile, recalled the chaos that unfolded in the moments before the tornado touched the restaurant, as Harden ushered people to safety. She said she remembered hearing Harden say, "Calm down, everybody get to the cooler."
"By the time we got to the cooler, I couldn't hear anything but the ceiling falling," Pinkins said through tears, hugging Harden.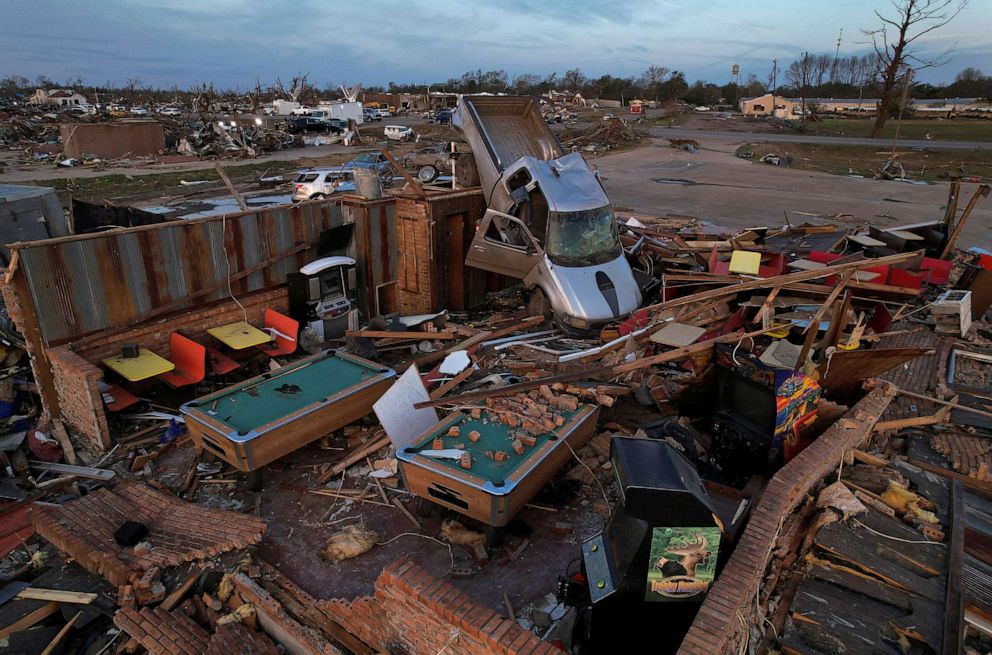 Washington, who was taking cover in the bathroom when the storm hit, recalled the moment she was finally able to climb safely out of the debris.
"I looked up and there was a truck on top of the bathroom," she said. "I panicked a little bit and I found my way out and I yelled for help and someone came over and helped me."
In the wake of the storm, Harden said that "people [have been] coming in and bringing supplies and helping us with cleanup" and calling to ask what they need.
"It's so hard to know what we need because we have nothing," she said. "We need prayers. And we need our city back."
"I'm the one who never asked for help. It is the hardest thing to ask for help. But we're in a position now where we have no choice," Harden added. "So help us, help us, help our people."
The tornado that hit Rolling Fork tore across Mississippi for about 59 miles over a period of over an hour, according to the National Weather Service, flipping cars and reducing homes to piles of rubble. According to the Federal Emergency Management Agency, 25 people were confirmed killed in Mississippi with another 55 people injured. Some 2,000 homes were damaged or destroyed.
In the National Weather Service's preliminary report on Sunday, the agency said the tornado was an estimated three-quarters of a mile wide at some points.
"The business is much older than I am and I've only been there 16 years," Harden said Monday, reflecting on the damage to Chuck's Dairy Bar.
"I came to this community as a stranger and they welcomed me in and gave me so much love. And it allowed me to be able to give so much love back," she continued. "And we're just the place to go whether you are hurting or you are happy, you need to talk, you want to let people know what is going on in your life -- the good and the bad. It's just so nice to be that place, to be that group of people where people feel like they can come to you and share. So that's the hard part right now."