Nadia Caterina Munno, also known as the pasta queen, joined "Good Morning America" for Ultimate Pasta Week to share the secrets behind a rich and silky smooth spaghetti alla carbonara.
The TikTok creator weighed in on a recent recipe from the New York Times for a smoky tomato version of the classic recipe and said "it can't" be considered carbonara.
"The carbonara was created in Rome by a Roman chef as a gift to the troops who liberated Italy in the second World War, so you don't want to mess with that," Munno told "GMA."
Check out her version of the dish below.
Spaghetti alla carbonara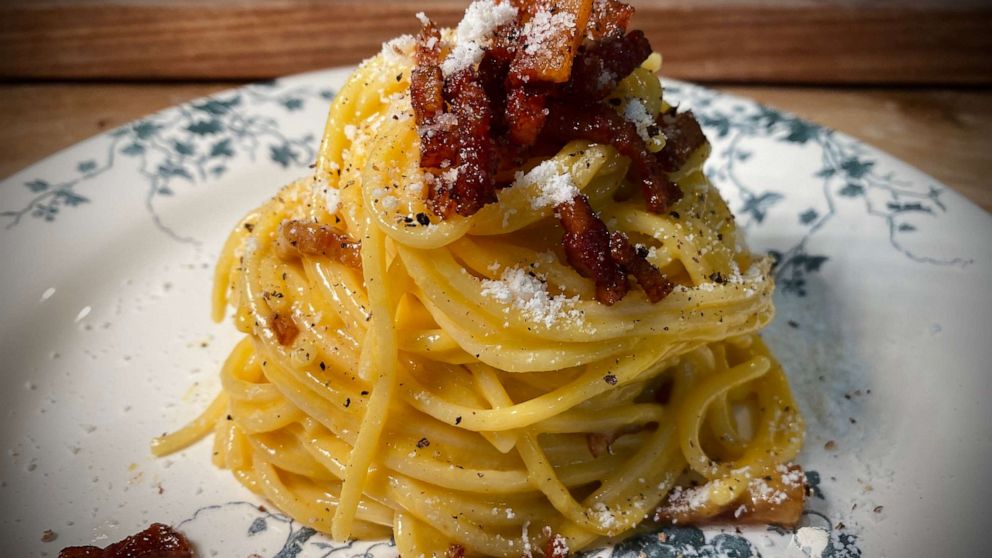 Ingredients
Guanciale (substitute pancetta if you can't find it)
3 eggs
Pecorino Romano cheese
Black pepper
7 ounces of Spaghetti
Directions
Start by stir frying 2 ounces of guanciale per person, no oil.
As the guanciale is sizzling, boil the pasta. Don't forget to save about 1 cup of pasta water to help finish the sauce with the starches for a glossy finish.
Add one egg yolk per person and one extra for the pot.
Grate about 1 1/2 ounces of pecorino cheese per person. Mix the pecorino into the egg yolk to make a smooth cream.
Add freshly ground peppercorn.
Then add a little bit of fried guanciale and fat into the egg mixture.
Toss the pasta and creamy cheese and egg mixture, then mix well.