Celebrating the end of Ramadan with Eid
A TikTok food creator is putting a delicious twist on a popular dish eaten to break the Ramadan fast or take to an Eid celebration.
Hajar Larbah, a Moroccan and Libyan food blogger, shares recipes on her TikTok account, @moribyan, with her 13.9 million followers, and is the person behind the viral series of recipes to make during Ramadan.
During the month of Ramadan, many Muslims fast during the day, but they feast come sunset. The first meal after fasting is traditionally broken by eating dates and water, followed by dinner.
"A lot of times we like to spend time at home with family and friends and there is a lot of cooking going on and sometimes you run out of ideas of what to make," Larbah said. "It doesn't always have to be complicated."
In a viral TikTok video with 30.8 million views, Larbah shows how to transform Medjool dates into a delicious dessert that she says tastes like a Snickers bar and is perfect to break your fast or bring to an Eid festival.
The dates are filled with peanut butter, dipped in chocolate and sprinkled with peanuts for an easy, no-bake, bite-sized dessert.
"I wanted this cooking series to be very easy, approachable recipes that even if you are tired from fasting you are still able to make," Larbah said. "When I was a kid, I used to volunteer at the mosque and that is where I first learned how to make them, but they are very popular all throughout the Middle East."
Larbah shared her recipes for her "Snickers-stuffed" dates and her saffron kebob dish with "Good Morning America."
Keep scrolling for the full recipes.
Snickers-stuffed dates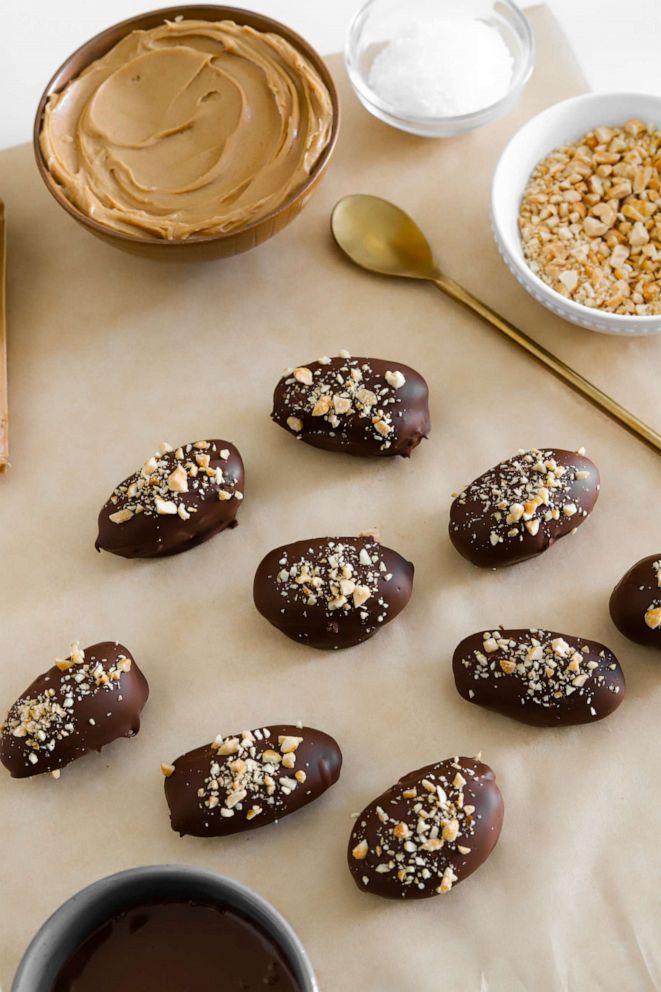 Ingredients
Medjool dates
Peanut butter
Roasted peanuts chopped
Chocolate -- dark, milk or semi-sweet will work
Directions
Cut each date open and remove the seed/pit. You can skip this step if you purchased pitted dates.
Transfer the peanut butter to a piping bag or ziplock bag. You can also use a spoon for this step. Fill each date with peanut putter and sprinkle chopped peanuts on top. Seal the dates shut by pressing at the top.
Press a toothpick into each date to help with dipping later. Alternatively you can use a fork to dip them but toothpicks make it easier.
If your dates are very soft and don't hold shape well, pop them in the freezer for 15 to 20 minutes. Otherwise, skip this step.
Melt the chocolate of choice in the microwave in 30-second intervals, stirring in between until completely melted.
Dip each date in the melted chocolate, let any excess drip off, and transfer to tray or plate lined with parchment paper. Sprinkle the top with chopped peanuts for an added crunch.
Pop in the fridge or freezer for a few minutes until the chocolate is firm to touch.
Remove the toothpicks and enjoy.
Persian chicken kabob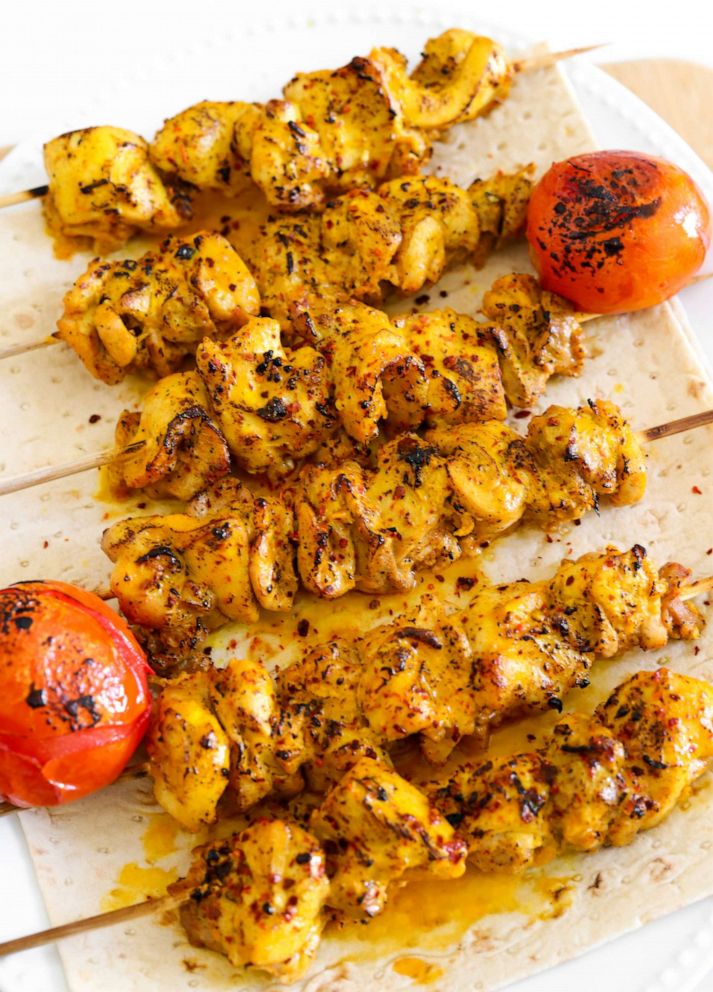 Ingredients
2 pounds boneless skinless chicken thighs cubed
Saffron water:
1 teaspoon saffron
1/4 cup warm water
Chicken marinade:
2 tablespoons saffron water
1 teaspoon black pepper
1 teaspoon smoked paprika
2 teaspoons salt
2 tablespoons lemon juice
1/4 cup plain yoghurt
2 tablespoons olive oil
2 teaspoons minced garlic
1/2 yellow onion grated
Baste:
3 tablespoons butter melted
1 tablespoon lemon juice
1 tablespoon saffron water
pinch of black pepper
Optional:
Lavash bread
Sumac or Aleppo bread
Lemon wedges for serving
Directions
Make the saffron water:
Using a mortar and pestle, crush a pinch of saffron. Transfer to a bowl and add warm water. Let it soak for 15 to 20 minutes until it has a rich yellow/orange color.
The chicken and baste:
To a bowl, add the cubed chicken along with 2 tablespoons of the saffron water, black pepper, smoked paprika, salt, lemon juice, yoghurt, olive oil, minced garlic and grated yellow onion. Mix together and if you have the time let it marinade from 30 minutes up to overnight.
After marinating, thread the chicken pieces onto skewers. If using wooden skewers, make sure they have been soaked in water for 30 minutes to prevent them from burning. I like to add about five to six pieces onto each skewer.
Also prepare the basting mix by combining melted butter, lemon juice, saffron water and black pepper. Set aside. As the skewers cook in the oven or on the grill, we will brush this on to give it more flavor and juiciness.
Cooking:
Preheat oven to 450 degrees. The skewers can be cooked on the barbecue, which is preferred for that charred look and taste, but if you don't have a grill, you can make it in the oven like me.
Place the skewers on a baking tray and place in the oven to roast for about 20 minutes or until cooked through in the center. Halfway through, baste it with the flavored butter we made. I like to baste it again after 20 minutes where I then turn the oven to broil for a few minutes just to get that charred barbecue look on top. I then baste it again right before serving!
Line a plate with lavash bread. Add the juices from the baking pan on top and place down the skewers. Sprinkle with sumac or Aleppo pepper and they're ready to enjoy.
Recipes reprinted with permission.