A Vietnamese American-run restaurant in California made it through the throes of the pandemic all while continuing to honor and celebrate its food traditions.
Oakland, California-based "Top Chef" alum Tu David Phu brought "Good Morning America" into the kitchen of one of his favorite local Vietnamese American eateries, Tay Ho, to honor the mother-daughter duo and share a recipe that originated in the heart of San Francisco.
Owner Denise Huynh and her mother Anna, who is also the head chef, first opened their doors 10 years ago to bring their authentic offerings to the Oakland community.
"I love having my mom in the kitchen and my brother in the kitchen -- it's a family business," Huynh said. "This is my chance to kind of get creative with food and tell my story."
The pair joined Tu to whip up a batch of garlic noodles that tap into the core practices, ingredients, techniques and flavors of their culture's cuisine.
"To me all food comes from recipes and recipes are basically a story of time and place. Where people come from, their lineage and history," Tu said.
Check out the full recipe below.
Mì Xào Tỏi -- Garlic Noodles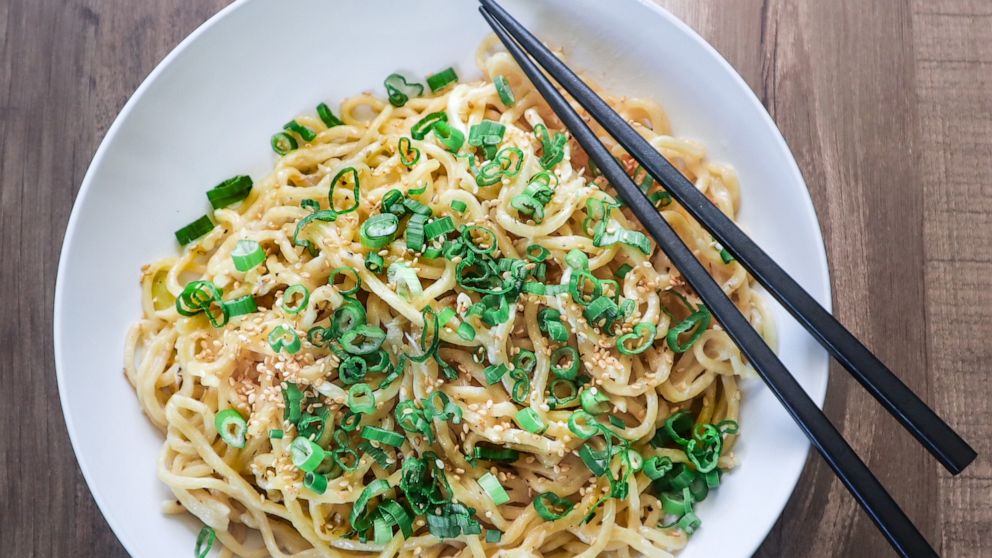 Ingredients
20 oz. Sun Noodle, Kaedama (or substitute dried spaghetti noodles)
3 tablespoons unsalted butter
5 cloves minced garlic
1 tablespoon Son Fish Sauce
1 tablespoon oyster sauce
1 teaspoon organic sugar [1/2 tsp monk fruit sugar]
1/4 cup chives or scallion, sliced
1/2 teaspoon black pepper, coarse ground
Instructions
Blanche the noodles by bringing a medium-size pot of water to a boil. Add noodles to the pot of boiling water. Cook noodles until al dente (approximately 4 minutes). Reserve 1/2 cup noodle poaching liquid. Drain noodles in a food colander.
To stir fry noodles preheat a 10-inch frying pan (or cast iron dutch oven) on medium heat for 5 minutes.
Add half a cup of the noodle poaching liquid and 5 cloves of minced garlic. Once the water has reduced by 50%, add three tablespoons of butter. Stir vigorously.
Once butter is completely melted, add one teaspoon of organic sugar, one tablespoon of fish sauce, and one tablespoon of oyster sauce. Stir vigorously.
The butter sauce should thicken and look creamy. Add the blanched noodles.
Mix and fold noodles into butter sauce for three minutes. Turn heat off.
Season with freshly ground coarse black pepper.
To assemble, in a large pasta plate (or bowl) use kitchen tongs to gently lay the noodles down. Garnish noodles with sliced chives (or scallions). Serve.