For 46-year-old DeShelle Taylor, a garden has always been a special place.
The granddaughter of farmers in Virginia, Taylor said she remembers her childhood of picking produce for that night's meal alongside her grandmother and running among peach and apple trees. Being outside, hands in the dirt, she said, was something that brought her joy and peace from a very young age. It was why she said she returned to gardening in her 20s as a recent college grad, new to Pittsburgh, navigating the corporate world, in need of a stress reliever and a distraction while between jobs and careers.
A hobby she embraced as an anchor to her loved ones and a form of grounding turned into a necessary form of healing following a traumatic attack at gunpoint outside her home in 2020, just a few feet from her garden. Taylor said she suffered a concussion and dealt with various symptoms as a result of the attack, such as insomnia, hypervigilance, hypersensitivity to light, anxiety and night terrors.
What made her recovery more difficult was that her assailant, whom Taylor did not know, was never arrested.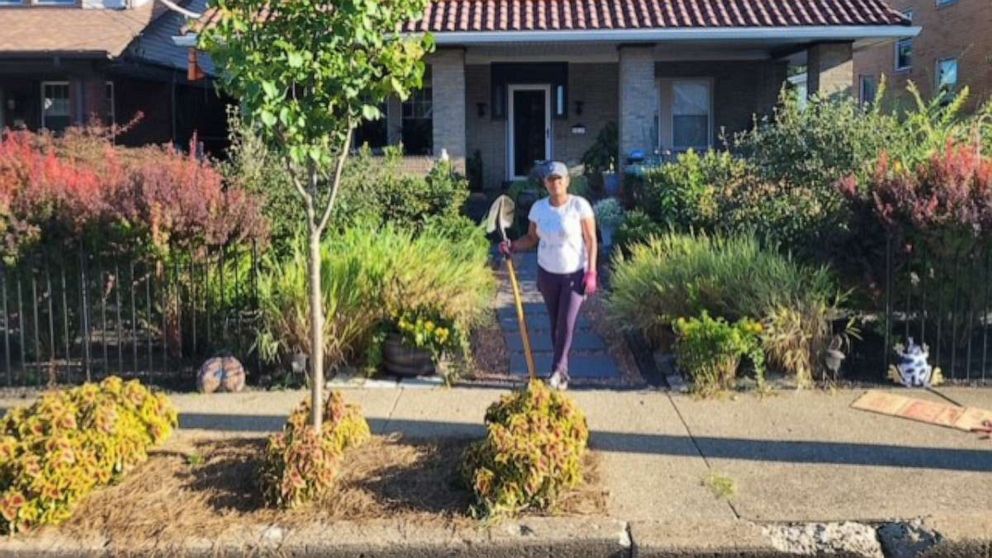 Taylor said she turned to outpatient counseling to aid her recovery from the attack, but it was the height of the pandemic, and everything was virtual. She said she knew she needed something more tangible, and that's when she learned about horticulture therapy, the use of plants and plant-based activity for the purpose of human healing and rehabilitation, according to the Horticulture Therapy Program at Rutgers University.
"Horticulture therapy is contact. You have contact with the soil, you have contact with the plants, you have contact with colors, sound," said Taylor. "You are just in constant contact with nature. And for me, that's what I needed."
She said she returned to her garden not looking for a distraction, but for a release and time for her to work on her garden while simultaneously internally working to process and heal from the attack. She said the peace she found was something she wanted to share with others, so she began helping family, friends and neighbors with their own gardens.
That same year, Taylor started her business, Your Garden Karma, with the mission to help people reconnect with nature through gardening. The needs of the dozens of people whom she has helped have ranged from increasing access to fresh produce and creating a sensory garden for a loved one with disabilities.
Now, Taylor's passion and talent is being recognized by the neighborhood association Brighton Heights Citizens Federation, whose members have seen the joy Taylor's original garden outside of her Pittsburgh home brings to the neighborhood and chosen to include it in this year's House & Garden Tour. It's a major accomplishment for Taylor: This will be her first garden ever recognized.
It's a full circle moment as well, receiving recognition for the work she put into a space that she came to out of trauma, and seeing it celebrated for the beautiful thing she made of that. Still, she said she's not done.
"That garden is done, but there are so many other gardens, and there's so many other people to work with," said Taylor. "I want people to essentially reconnect with themselves through nature. They'll find their answers and their healing in nature."