This California couple has played over a dozen free concerts on their porch
As the California sun burned down on the sidewalks, the street asphalt radiated heat. Despite the scorching weather, some residents of Pasadena, a Los Angeles suburb, escaped their Craftsman-style homes to take a socially-distant walk around the tree-lined neighborhood.
The lucky few stroll down the right block each weekend where Beong-Soo Kim takes to his porch to practice his cello.
But what started as a practice session playing Bach soon became a spontaneous concert.
"People did stop and listen, and, you know, applauded," Kim said. "And then the next weekend, because it's much more fun to play with someone else rather than by yourself, I persuaded Bonnie."
Bonnie Wongtrakool, Kim's wife, plays the piano, and together they've been playing hour-long porch concerts every weekend since the stay-at-home order began on March 19. Kim from the porch, and Wongtrakool from their living room, leaving the windows open so the people passing by can hear.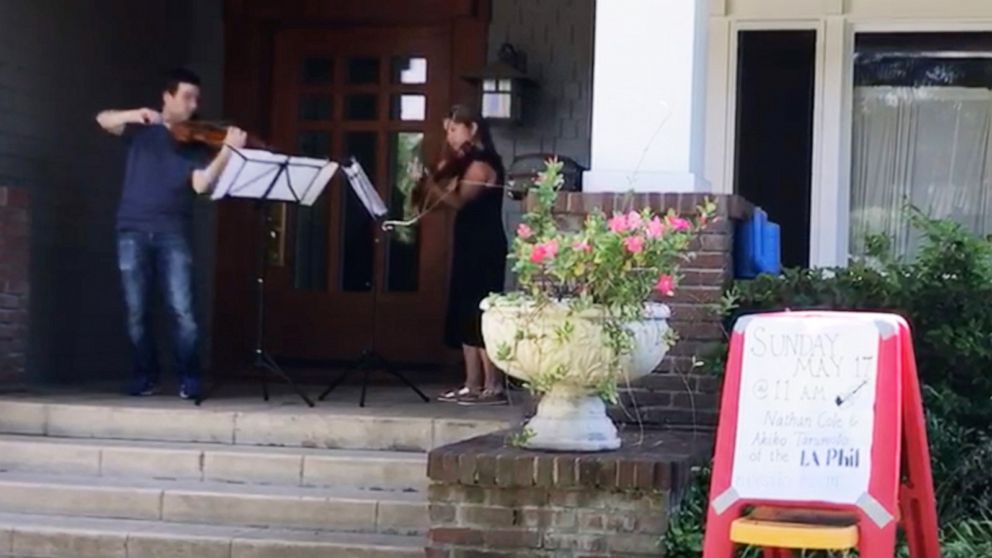 But rather than playing at the same time every Saturday or Sunday, they've decided to go without a regular schedule.
"Frankly, we're kind of hesitant to set a time because, you know, we don't want too many people to come for social distancing reasons," Kim explained.
But whenever they do decide to play, their neighbors from across the street pull out their lawn chairs, and people strolling down their block take refuge from the heat, sitting on the curb underneath the shade. Others gather on the street or sit on the low wall in the driveway, listening to what is surely one of the only in-person live performances they've experienced in months.
At times, 20 or more people gather to listen to them play classical music. But Kim and Wongtrakool insist that their audience is always physically separated.
Luckily, when mother nature takes her course and blows Kim's music off his stand – and he scrambles down the porch after it – his audience is forgiving and many are appreciative of the concerts.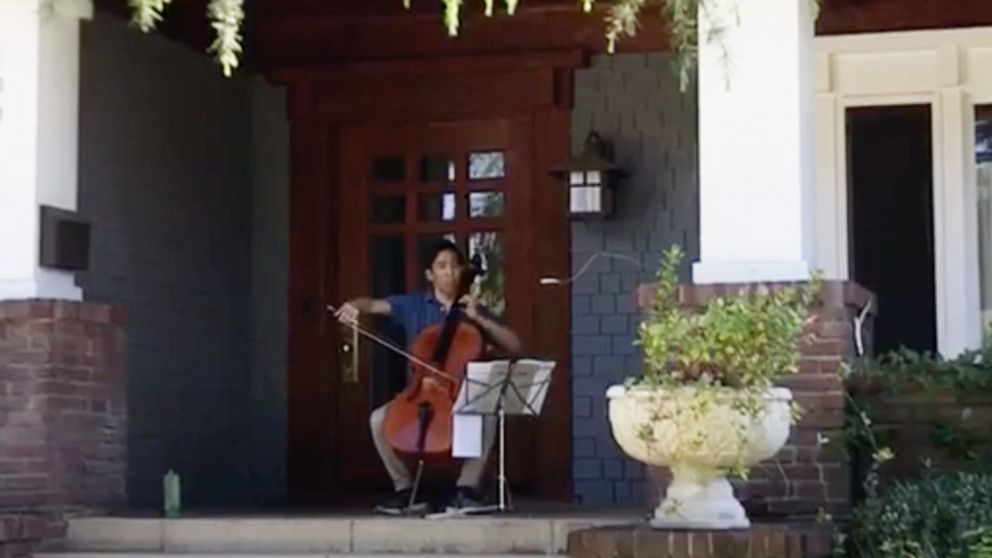 "We've had people drop off cards -- people we don't know -- people have dropped off jam," Kim said, calling the gestures unnecessary but kind. "Someone gave us some Swiss chard ... some people gave us some oranges. You know, it's certainly not why we're doing it, but it's nice that it's meant something to some people."
Both began playing music when they were young, but neither are professionals. Kim is a lawyer and Wongtrakool is a portfolio manager. But music holds a special place in both of their hearts. For Wongtrakool, music is a stress relief.
"No matter whether I'm feeling happy, or stressed, or sad, like I always go to the piano and just kind of get my emotions out there," Wongtrakool said.
Bringing the neighborhood together
These neighborhood porch gatherings are not the norm in a city like Pasadena.
Before the coronavirus, April through June would have been months filled with high school sports finals, recitals, plays, large music festivals like Coachella and Stagecoach, AP tests, prom and graduation. Life would have been busy, and someone probably wouldn't notice if they had a new neighbor move in down the street.
"Even though it's obviously a great neighborhood, Madison Heights, there's still a lot of people who don't know each other here," Laura Fleming, Wongtrakool and Kim's neighbor, told ABC News.
Fleming attributes this broken-up community to the fact that many Pasadena kids go to different elementary and high schools, so families tend to build a community based on campus rather than neighborhood. Having grown up in the mid-West, Fleming thinks this phenomenon is quite unique to Pasadena.
"So, there are neighbors that have kids the same age as ours, we don't even know," Fleming said. "And that to me is sad."
But she says during these difficult times "people are aching for opportunities to come together" and these concerts have given this neighborhood the chance to do just that – socially distanced, of course.
"I think that through this period, something like this has given us the opportunity to know way more of our neighbors, and to get to know our community," Fleming said. "And it's bringing our community ever closer together."
As time has passed, the concerts have developed. Wongtrakool said they've had guest performers play, some of whom are professional musicians with the Los Angeles philharmonic. For Mother's Day, Wongtrakool's and Kim's daughter joined in, playing the violin.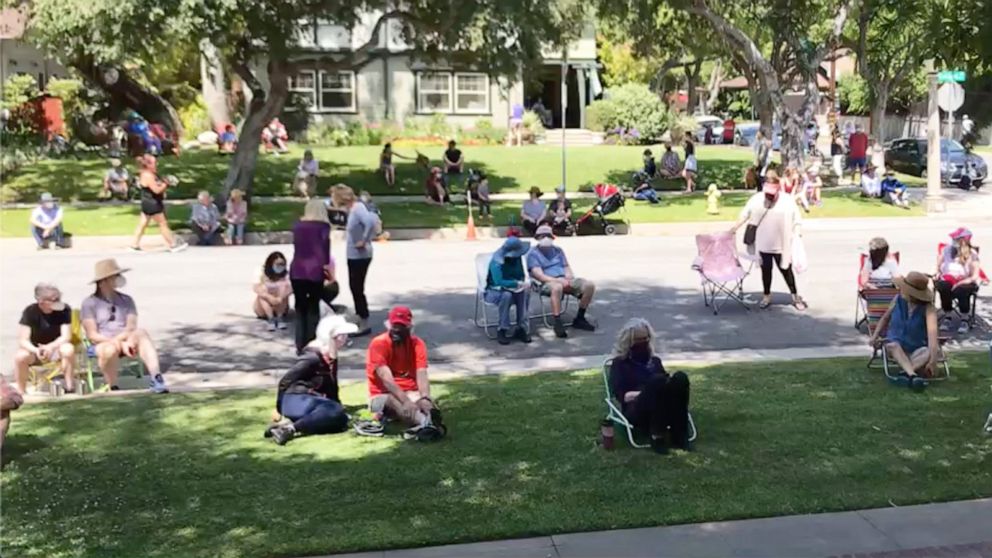 Fleming says it's developed into a progressive neighborhood porch concert series. Just a few blocks over, another couple has started playing from their porch, leaving just enough time between concerts to allow neighbors to relocate.
"We have so much talent here in this neighborhood," Fleming said, "and I just love it."
When asked if the porch concerts will continue when the pandemic is over, Kim was blunt.
"Honestly, probably not," Kim said, adding, "It's just something that we're trying to do for people during this particularly difficult time."
But even if these porch concerts won't continue, Fleming insists one thing will – the new sense of community.
"We're already talking about, like when this is all over -- whatever that really means, and we're not really sure what that means because there's no plan for how we're going to resume some normalcy yet --- but that we can maybe find ways to come together more as a community through open houses or cocktail parties, or I don't know what," Fleming said. "But sort of, in some way, not lose the gains that we've seen."