Courtesy Maeola Bowman, Zimmerman and Tutor
For two couples, Feb. 22, 2022, will definitely be a date they'll never forget.
Michigan residents Maeola Bowman, 28, and Andrew Nassar, 33, will tie the knot Tuesday at Caesars Palace in Las Vegas.
Across the street, along the world-famous Vegas Strip, Sam Zimmerman, 29, and Shaun Tutor, 26, of Eau Claire, Wisconsin, will say "I do" at Flamingo Las Vegas, another Caesars-owned hotel and casino.
The couples know it's a once-in-a-lifetime palindrome date and are excited for their big "Twosday."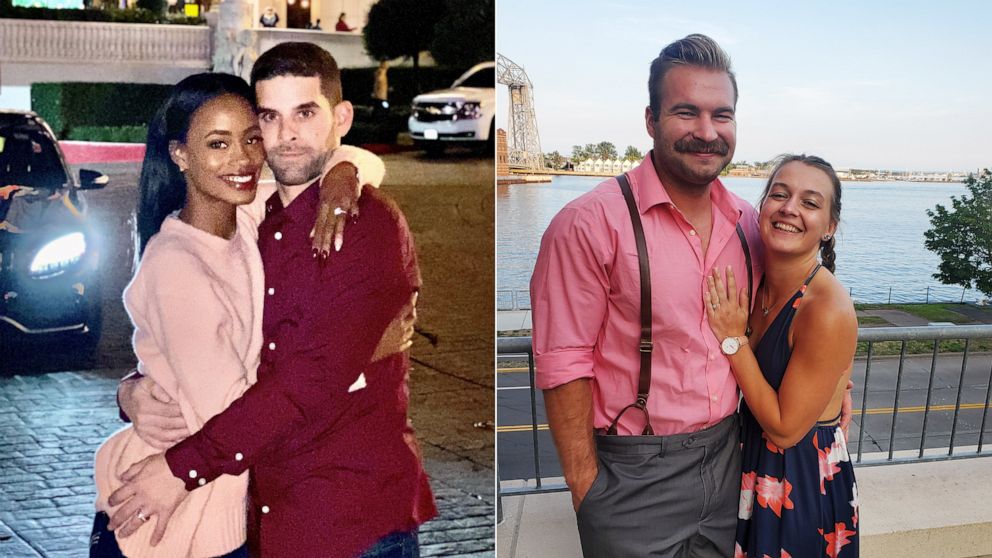 It's been a long time coming for Bowman and Nassar, who got engaged four years ago in Las Vegas but had to postpone their wedding due to the coronavirus pandemic.
"The initial date was 10/10/2020, but then the pandemic and all that good stuff and then we were talking – his birthday is 8/8/88, so we tried to keep the really cool numbers going, like 10/10/2020, 8/8/88, so 2/2/22 – it rolled out perfectly," Bowman explained to "Good Morning America."
"We picked another date, another really lucky special date, but we didn't realize how popular it was gonna be at all," Bowman added.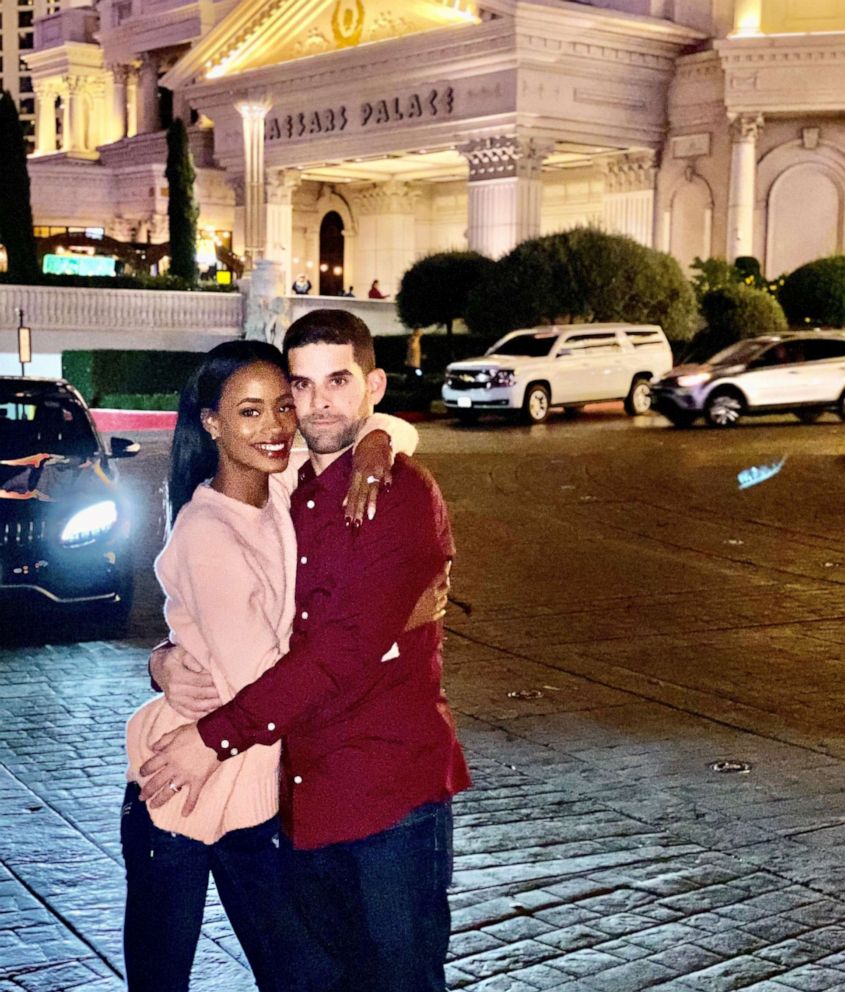 Palindromes are popular
Las Vegas, dubbed the "wedding capital of the world" is in Nevada's Clark County, and Clark County Clerk Lynn Marie Goya told "GMA," "Las Vegas is seeing a big uptick in marriages that relate around the two-date, which is apparently a very lucky number, and 2/22/22, which is on a Tuesday, the chapels are telling us that they're very busy."
Goya said, "Our largest date of all time was 7/7/07, and we did 4,500 weddings on that day. Our second largest was 11/11/11, and we did about 3,500 on that day."
Goya added that they expect Tuesday "to be one of the five highest dates of all time, including Valentine's Day."
Jason Whaley, the president of the Las Vegas Wedding Chamber of Commerce, told "GMA" he has also heard of a "phenomenal" spike in weddings this month, particularly on Feb. 22.
"There are so many places," he said. "I've heard stories of places re-functioning office space so that they can fulfill all their overbookings. So they're basically taking any room that they've got in their facilities, storage or whatever, and moving it out and re-conning it really quickly to accommodate so many people."
Whaley, who also owns the photobooth company Smash Booth, added, "We always see an influx on dates like 10/10, 9/9, especially when they land on Saturdays or Fridays. There's typically a little bit when it's during the week, but not nearly as much as this one and I'm sure it's because of the year '22 as well. But our own calendars are completely full for the 22nd as well and that's pretty uncommon for a Tuesday."
For Zimmerman and Tutor, who got engaged in November 2020, Feb. 22, 2022 was a no-brainer choice for them, starting with the fact that 22 was Zimmerman's favorite number in high school.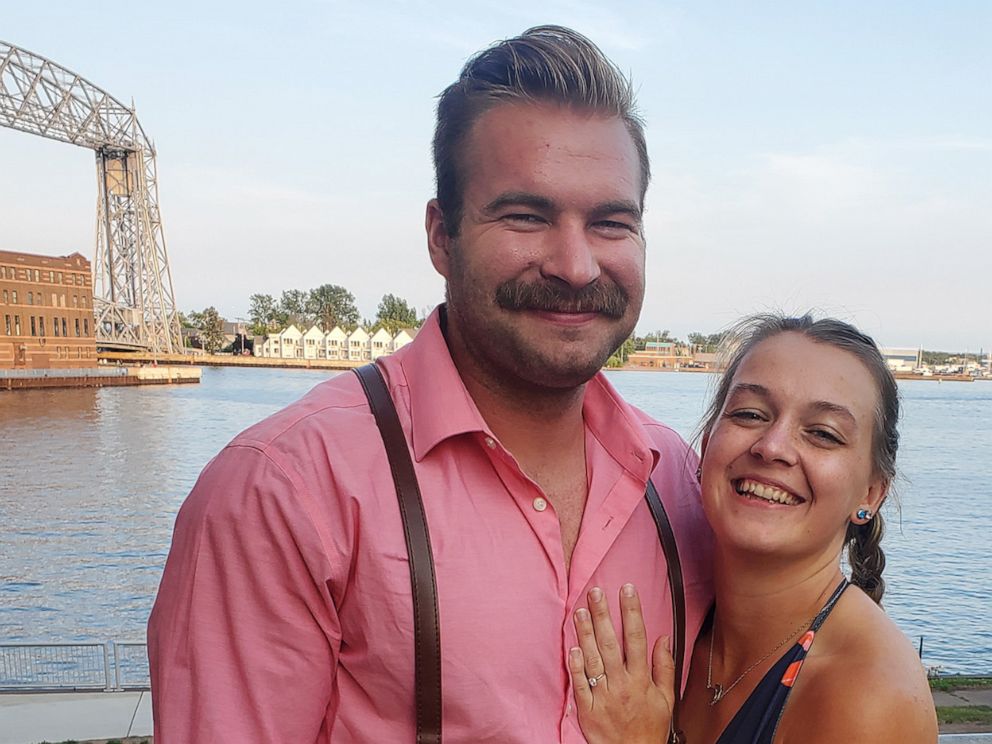 "I've just always been drawn to it. My gym locker is No. 22. When I was in college, I remember I studied microbiology and one of the samples I always took was always number 22. I've always just been so drawn to the numbers for no reason," Zimmerman explained to "GMA."
"That was one of the first things I was thinking of, was just like, 'Oh, I know the year 2022 is coming up.' So we're looking at the calendar and I was like, 'Oh 2/2/22 would be cool,' but that was on a Wednesday. So we saw 2/22/22 was on a Tuesday and we're like, 'Well, we'll have to do it that day,'" Zimmerman said.
"And then we have Shaun Tutor," Zimmerman added, before Tutor finished, "So it's the Tutor wedding."
Tutor said initially, he and Zimmerman had planned to get married in Florida but since their preferred date was a Tuesday and it isn't wedding season in the Sunshine State yet in February, they had trouble booking a venue.
"We transitioned to Vegas because Vegas is a lot of fun and it doesn't matter what day it is in Vegas, you can party," Tutor said. "So once we switched to Vegas, we did check out quite a few venues before we found the one we wanted."
Both couples agree their wedding dates will simply be unforgettable.
"I shouldn't forget this date. So that is a really good thing," Tutor joked.
"2/22/22, like, we can't forget our anniversary at all," Bowman also said. "When people say it in real life … and they say it out loud, they're like, 'Oh, wow, that's so cool.'"