High school cross-country runners help fallen competitor cross finish line
Jamie Reeve/Stevens Point Area Senior High
Two high school athletes are being praised for their sportsmanship after stopping to help a fellow runner mere feet from the finish line of their cross-country race.
Cooper Erickson, a sophomore at Stevens Point Area Senior High in Wisconsin, was on his way to a third-place finish at the first race of the season last week when he said he saw the runner in front of him stumble.
Instead of running past him to cross the finish line in second place, Cooper ran back and helped the runner, a competitor from another school.
Ethan Olds, a junior at Stevens Point Area Senior High, was right behind Cooper in fourth place. When he saw his teammate stopping to help, he also ran back.
Together, the two teammates lifted their competitor to his feet and jogged with him across the finish line.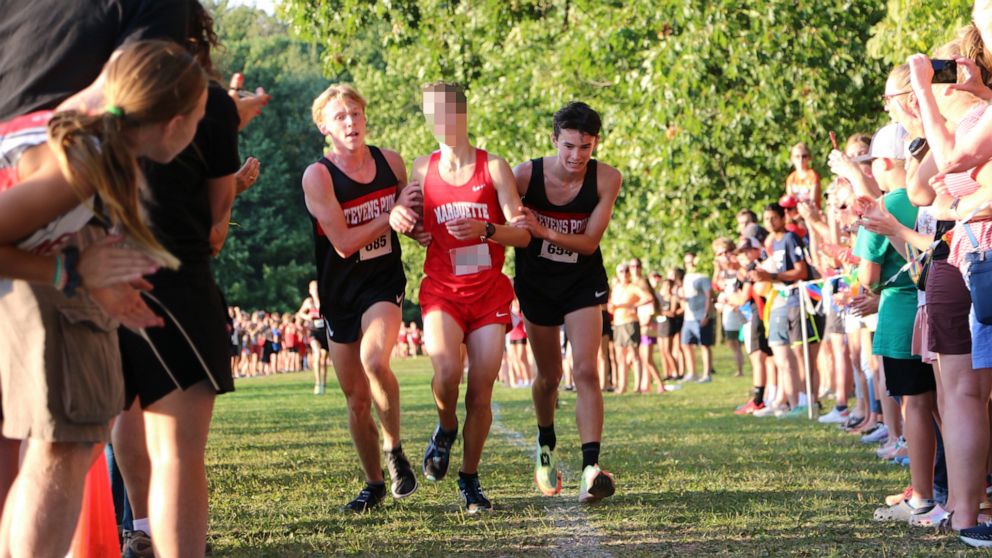 Ethan told "GMA" that the runner from the opposing school had initially surged ahead of him and Cooper with about half a mile left of the 3.2 mile race.
As they neared the finish line, however, both Ethan and Cooper said they saw him lose steam and begin to stumble.
"I know our team ... has great respect for people that give their best efforts, and that's what he did," Cooper told "Good Morning America." "He just came up 10 feet short, so I think we both just kind of felt like that he deserved to finish that one."
In a video of the finish line captured by a parent, the runner, who has not been identified, is seen collapsing on the ground again after crossing the finish line. "GMA" reached out to the student's high school but did not hear back.
Cooper said the student managed to whisper a "thank you" to him and Ethan when they checked on him at the finish line. Later that night, the student reached out to Ethan on social media to congratulate him and Cooper and thank them again for their help.
In the end, the runner was awarded second place in the race, while Cooper finished third and Ethan finished fourth, the positions they were in prior to the runner's fall.
Both Cooper and Ethan said that they didn't hesitate to stop and help the runner, even if doing so jeopardized their finishes in the race.
Stevens Point Area Senior High's boys cross-country team is one of the most competitive in the region, having won 12 state titles, according to the school's website.
"When you start to take running very seriously, you build a community, and that community is so wide -- it's just whoever you race, you just have a respect for because they are giving it their all," Cooper said. "And I thought that was more important than necessarily finishing in second place or in third place."
Ethan said that he was in a similar situation himself last year, when he fell near the finish line in a track-and-field race, so he sympathized with the fallen runner.
"I knew exactly what kind of situation he was in and just thought that it would be really nice to help him out," he said.
The teammates said they heard cheers at the finish line when they stopped to help the runner, but have been blown away by the attention they have received since the school posted a photo of the moment on Facebook.
"No one would have faulted them for just running past and finishing the race, it is competition after all," school officials wrote on Facebook. "The sportsmanship shows the character that we aspire for all of our athletes and many have it! That character will serve them (and us) well after they are done competing and living in our communities!"
Both Ethan and Cooper said they hope people take away from their story that the kind of person you are matters more than the results on the track or athletic field.
"Running is more than just what team you represent on your chest. It's a family thing, and I think that should always be more important than who you're representing, what summer training you had, how great your workouts have been," Cooper said. "Just make sure that you're a good person, most of all."
Added Ethan, "I hope that people can take away from this that being a good person will always be more valuable than being on a podium, or being on a results sheet."