Survivors recount damage from tornadoes
After this weekend's devastating tornadoes that left at least 78 people dead across nine states, people are using social media to try to connect tornado survivors with household items that, in some cases, flew hundreds of miles away.
When Lara Beth Wynn, 36, a mom of three, returned to her home in Princeton, Kentucky, after a tornado swept through, she found it "completely flattened."
"Obliterated is really the word," she told "Good Morning America." "There's just nothing intact."
Wynn, a Kentucky native who lives on a farm her family has owned since the 1930s, said the only salvageable item she found at the site of her home was a pillow with a photo of someone's grandfather.
Wynn posted a photo of the pillow on a Facebook page, Quad State Tornado Found Items, that was created in the wake of the tornadoes and now has more than 40,000 members.
Soon after, Shelly Groves, of nearby Benton, Kentucky, was tagged in the post by a friend who recognized the pillow as belonging to her mom and stepfather, Donna and Frank Brown, who live about 2 miles away from Wynn.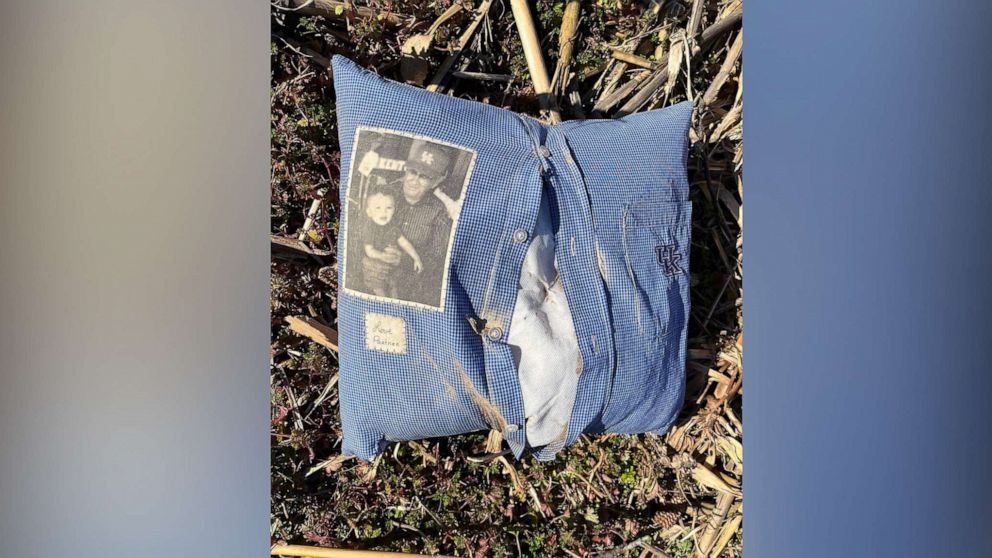 Frank Brown said he and his wife also lost their home of more than 30 years in the tornado. They were evaluating the damage done to their own home when they learned the pillow had been found.
"My father-in-law passed away in 2019 and a dear friend here in town took some of his shirts and sweaters and made pillows out of them, and this one had a picture of him on it," Brown said of the pillow, adding that to have it back in his possession "means a lot."
Brown and his wife survived the storm by sitting in a crawl space they'd stocked with emergency supplies about 20 years ago when they renovated their home.
They were left with only the clothes they were wearing at the time the storm struck, and a few items they've managed to salvage, including Brown's mother's Bible, which he said was not even wet when it was found. A piece of paper that had been in or near the Bible was found over 120 miles away and matched back to the family on Facebook, according to Brown.
"It's overwhelming," said Brown, a retired educator who was Wynn's high school agriculture teacher. "There are things just all over the place."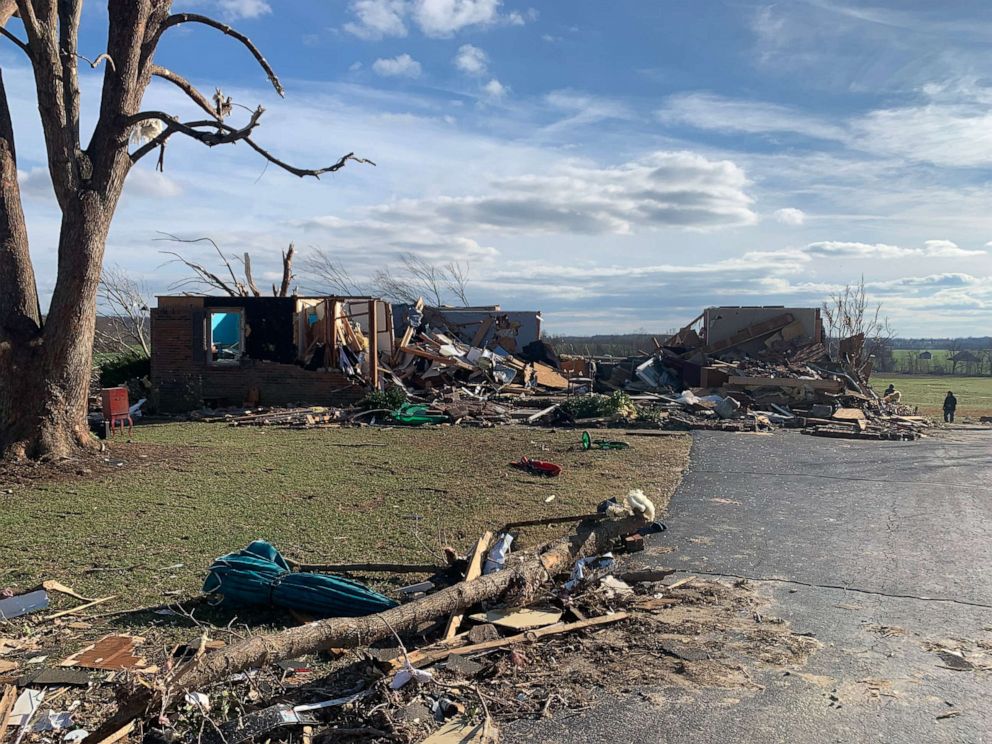 Wynn, a pharmacist, said she, too, has been overwhelmed by the losses her family and her community have suffered. She and her husband and their three children, ages 6, 9 and 15, evacuated to Wynn's sister's home, where they rode out the tornado in the basement.
Although the houses are within a mile of each other, Wynn's home was destroyed, while her sister's and parents' homes were left unscathed.
Wynn said she lost everything in her house, noting there is "not even a pile of rubble" to dig through to look for salvageable items.
Among the things missing from her home were her wedding photos, which she said were found after the tornado in areas more than 100 miles away. Wynn was able to reclaim her photos after the people who found them posted them on the Quad State Tornado Found Items Facebook page.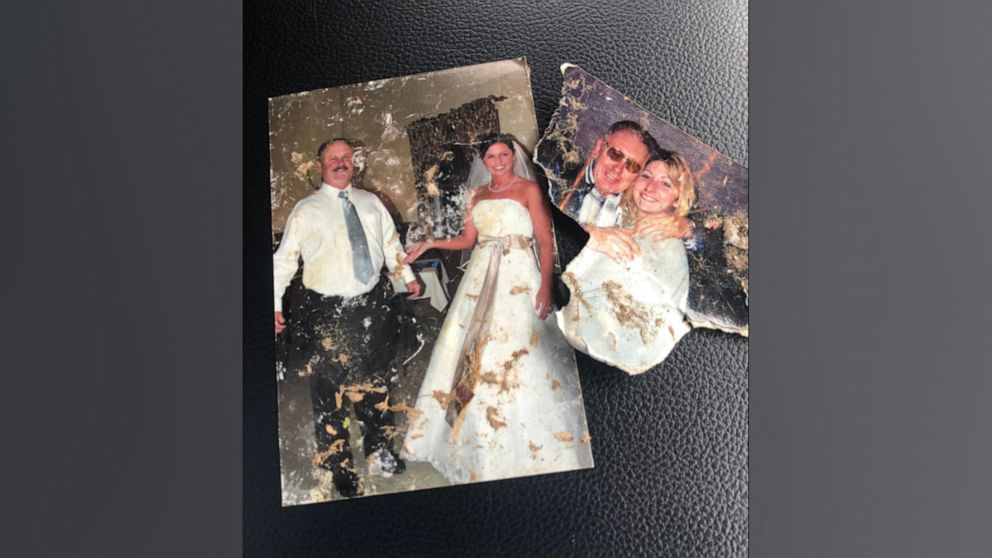 "Those are the things that take your breath away when you think about them being gone," she said of her wedding photos and other personal items, such as videos of her children, that were lost. "It's more than you can wrap your head around."
"I can go buy a washer or dryer or a new couch, but realizing my boys slept underneath a quilt that my great-grandmother made for me when I was born, and all those types of things are gone, that takes your breath away when you realize you don't have those things," said Wynn.
There were at least 40 tornadoes reported across nine states between Friday night and early Saturday morning. Kentucky was the worst-hit state, with at least 64 confirmed fatalities, according to Kentucky Gov. Andy Beshear, who said that figure "is fluid" and "will change."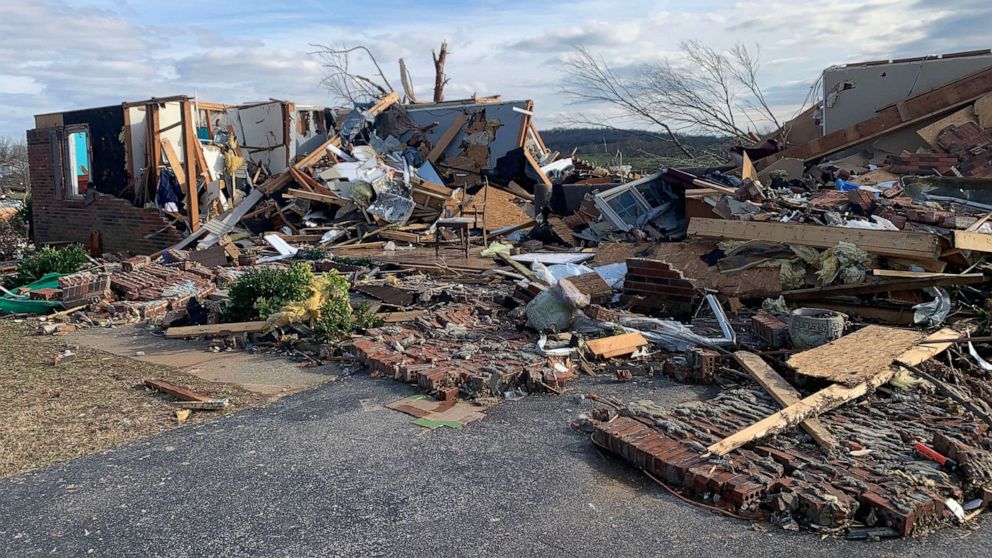 While photos appear to be the most common item that people are tying to return to survivors of the tornadoes, in other cases it is everything from Christmas presents to handmade quilts, awards, marriage certificates, paintings and even a Social Security card.
A local meteorologist in Kentucky posted on Twitter that someone in the state had discovered near their home a copy of transportation handbook from the Arkansas Department of Education.
Brown said that while he feels lucky to just be alive, he hopes people know how much it means to be reunited with a family heirloom or keepsake after losing everything.
"If you find something that belongs to anybody, if there's any way you can get it back to them, I believe they'd be greatly appreciative," Brown said. "It might be the only memory they have of a certain event or certain person."