Holidays by the numbers: Almost half of consumers got their shop on before November
Holiday yard displays featuring Black Santa Claus decorations are popping up all over an Arkansas neighborhood after a homeowner received a racist note about a 7-foot inflatable Black Santa decoration in his yard.
Chris Kennedy, of North Little Rock, Arkansas, said he received a letter in his mailbox on Nov. 23, just a few days before Thanksgiving,
The letter, signed as if it were from Santa Claus, read, "Please remove your negro Santa Claus yard decoration. You should try not to deceive children into believing that I am negro. I am a caucasian (white man, to you) and have been for the past 600 years. Your being jealous of my race is no excuse for your dishonesty. Besides that, you are making yourself the laughing stock of the neighborhood. Obviously, your values are not that of the Lakewood area and maybe you should move to a neighborhood out east with the rest of your racist kind."
Kennedy, 33, said as soon as he saw the word negro, he went inside and planned to record himself reading the letter aloud so he could send it to his wife, Iddy. When he unlocked his phone, the Facebook app was open, so Kennedy, a food blogger, instead began to stream on Facebook Live as he read the letter, which also included an image of a white Santa pointing his two thumbs down.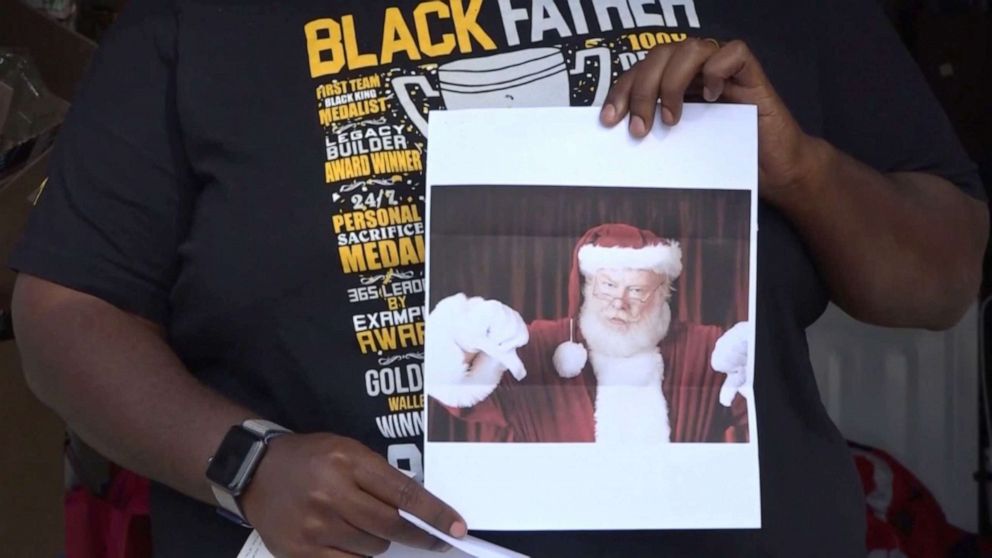 "When I'm reading the letter on Facebook Live, it's very slow and deliberate, because I was extremely angry," Kennedy told "Good Morning America." "And I read it slowly and deliberately so I wouldn't mess up any words."
Kennedy said he contacted the local police department and the post office within an hour of receiving the letter to file complaints and try to track down the sender, who has not been determined.
Within a few more hours, Kennedy said he began receiving messages of support on Facebook from neighbors he had never before met.
Less than one week after he received the letter, Kennedy and his family, including his 5-year-old daughter Emily, began to see inflatable Black Santa decorations in other neighbors' yards.
"I just started seeing them pop up in the neighborhood," he said. "The bright side of everything was the neighbors' response."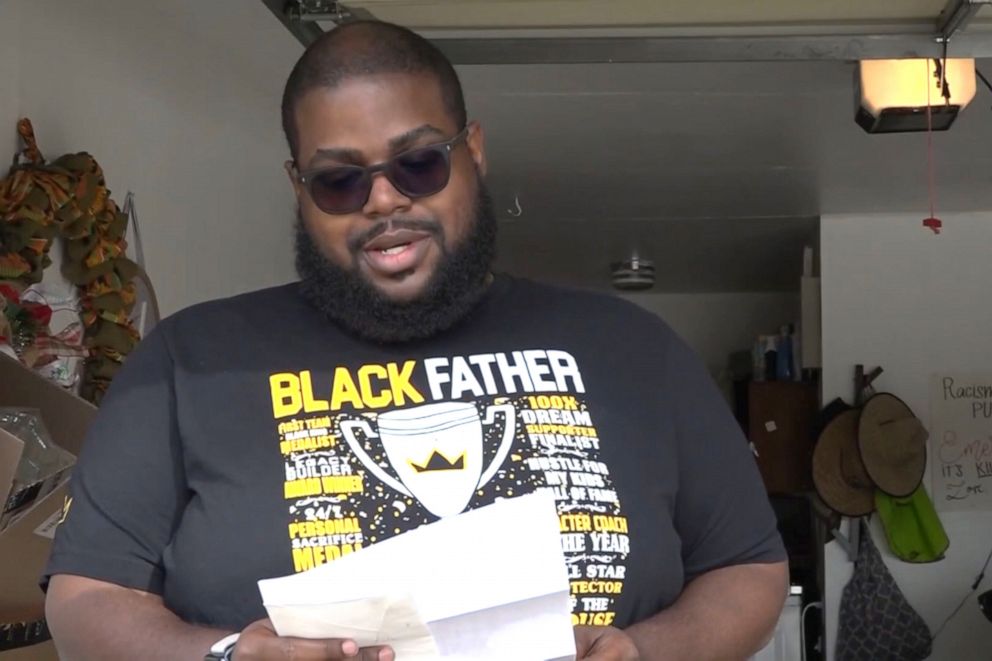 Kennedy and his wife, a pharmacist at a local children's hospital, moved to the Lakewood neighborhood three years ago to be close to a good school for their daughter and, in part, for its diversity.
The family starts decorating their home for Christmas on Halloween night, part of a long tradition to honor Kennedy's dad, who died several years ago on Thanksgiving Day, and Emily, who was brought home from the NICU during the holiday season.
And every year, their yard display includes at least one Black Santa Claus, according to Kennedy.
"Our thing is about representation for our daughter, seeing herself in everything and knowing that she can do whatever she wants to do and she's not going to be limited by her color," he said. "The Black Santa is something I wanted my daughter growing up seeing."
"She doesn't even question seeing a white Santa Claus, because we've always told her that's what he looks like in other people's houses," Kennedy added. "For other people, Santa is a representation of them."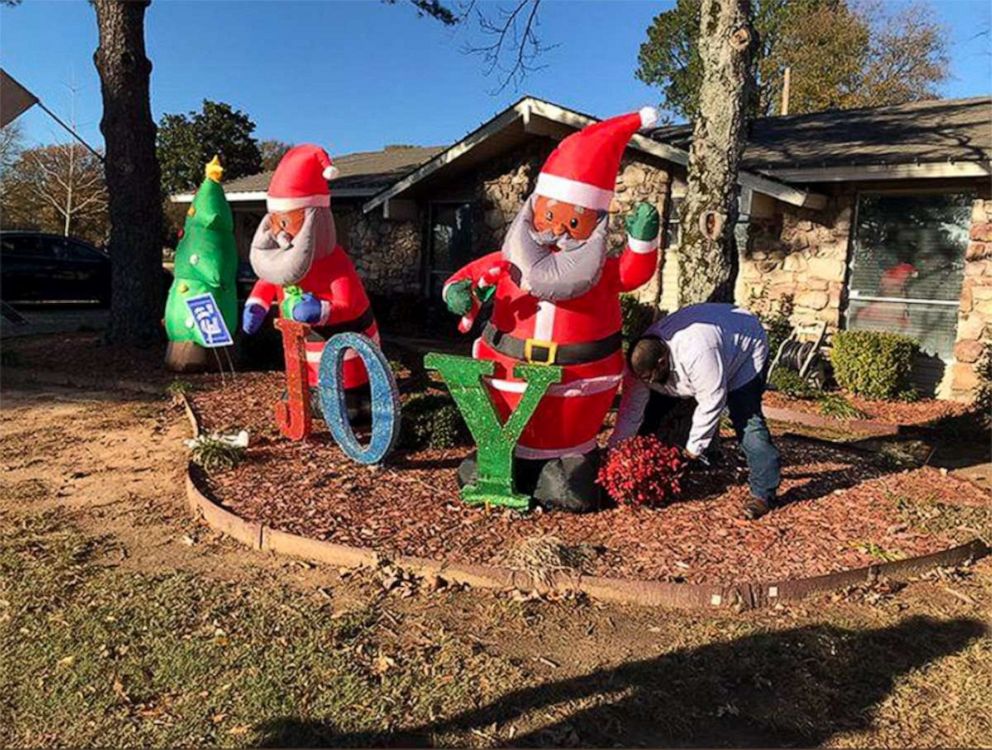 Kennedy said he had never heard a complaint about his Black Santa Claus until this year when he received the anonymous letter, which was enclosed in an envelope with a taped return address label for the Lakewood Property Owners Association, which offers recreational activities for members of the Lakewood neighborhood.
Evan Blake, the executive director of the association, told "GMA" the letter was not sent by the association, which Kennedy also confirmed.
After learning about the letter, Blake said he immediately reached out to the Kennedy family to offer the association's support. The association's headquarters now has among its holiday decorations an inflatable Black Santa Claus, which was donated to them by a homeowner in the neighborhood.
"To try to falsely blame us and say that those are our views was pretty upsetting," Blake said of the letter. "We support Chris completely and everyone else in Lakewood too and [adding a Black Santa Claus to the holiday display] is just something else we can do to show our support."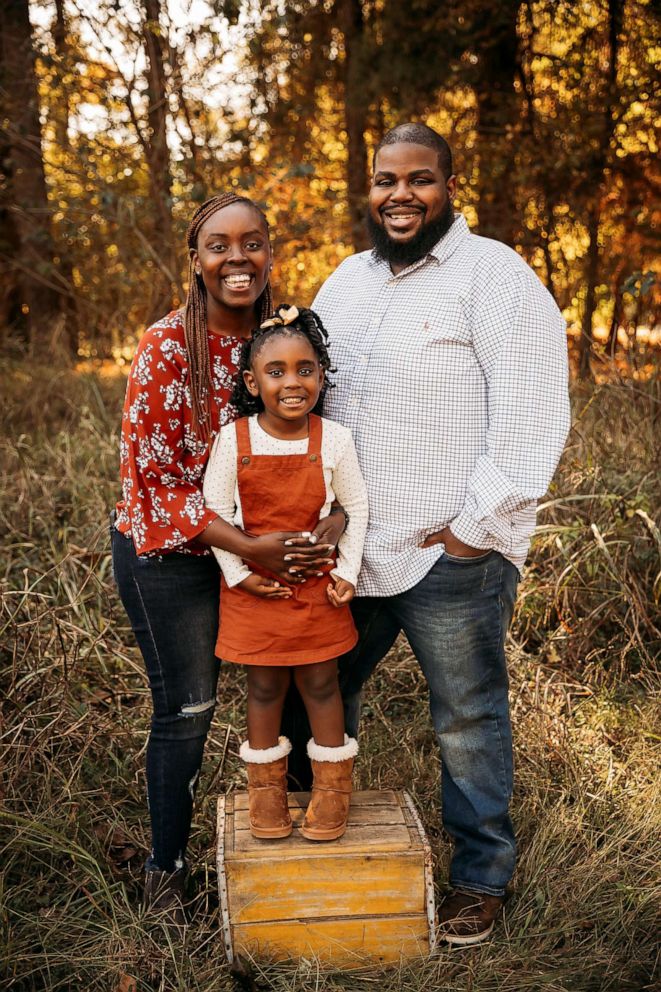 Kennedy said he received support not only from his own neighborhood but also from across the country as his story spread on social media and in the news. When people asked how they could help, Kennedy suggested they make a donation to ​Ronald McDonald House Charities of Arkansas, a nonprofit organization that offers housing for families of sick children.
The charity has so far received donations to cover nearly 150 nights of stays for families, according to Kennedy.
"I think all of this is creating a bigger sense of community," he said. "As strangers, we're all coming together and being far nicer to other people than any of us I think thought we'd needed to be, all because of Christmas decorations."
"I'm not happy that it happened, but I'm happy that the conversations are being had," added Kennedy.