This flight attendant donated a kidney to his co-worker
ABC Photo Illustration, Jair Ripoll
When United Airlines flight attendant Jair Ripoll was told he needed a kidney transplant after being diagnosed with hereditary kidney disease, he never imagined the donation would come from his co-worker.
The Newark-based flight attendant had been struggling with the disease for 10 years and as it worsened, he learned he we would need a new kidney to live.
"I was flying with a couple of friends and they learned about my condition at that time and they encouraged me to post on Facebook and see if I could get a donor. They said, 'You never know where your angels are out there,'" flight attendant Jair Ripoll said.
Ripoll had no idea the 'angel' in his life would be his co-worker and fellow flight attendant, Steven Lepine. After posting his story on Facebook in August, Lepine responded within seconds offering to get tested to see if he would be a match. "It was really shocking to see that someone was willing to help me out to give me another opportunity at life," Ripoll said.
'You never know where your angels are out there.'
For Lepine, the decision to help came with little thought. He was the first person to reach out to Ripoll and offer to get screened. "I thought we probably won't be a match but this is something that I can do as a human being. That's the way my parents raised us, to lend a helping hand," Lepine said.
To both of their surprise – Lepine was a perfect match. "I had some relief actually because I knew that this was going to go through and it would bring some sunshine into somebody's world," Lepine said.
Lepine says he didn't hesitate in the least but Ripoll still gave him a chance to back out.
"I said I just want you to think about your decision, this is a really big step. I'm not asking for anything material. I'm asking for an organ and I know that's a piece of you. I wouldn't be mad if you change your mind," he remembers telling Lepine during a lunch.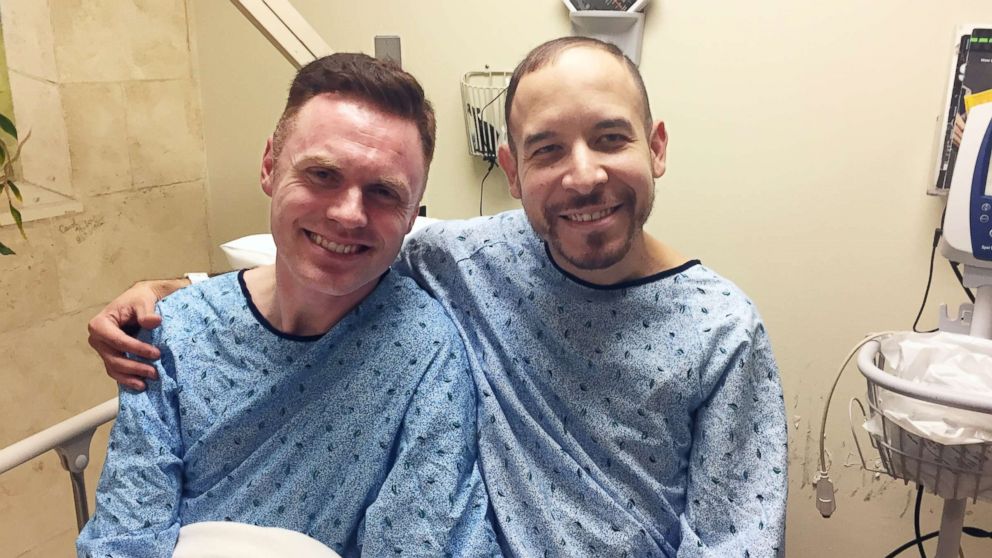 Still, Lepine wasn't turning back and stayed committed to helping his coworker. "It was the best gift that I could give -- for him or I," he said.
After a few months of testing, Lepine cleared all the testing and the pair set a date for the procedure. The match couldn't have come at a better time. Ripoll's health was worsening and he was losing his strength. The date for the transplant was set for Dec. 6 at Saint Barnabas Medical Center in Livingston, New Jersey.
When the pair arrived, they met in the pre-operation room along with their families and friends who came to show their support. Amongst the group were their mothers. There was a clear language barrier between Ripoll's mother, who only speaks Spanish, and Lepine's mother, who only speaks English, but gratitude surpassed any translation.
"My mother says she has new son. It's amazing to know that no matter where Jay goes, he'll always carry a piece of me with him. It was gift for me to able to share a part of my life with him," Ripoll said.
Ripoll says the two are not only united by their employer, United Airlines, they are family. "I feel like we are more than friends now. We are brothers."
Lepine said the support of United Airlines has been crucial. After suffering a few complications after surgery, his fellow flight attendants showed up and slept by his bed throughout the night. Both men are in good health and have returned to work with a new outlook on life.
"I don't want to think about where I'd be," Ripoll said. "I'm so grateful to God that that he took that big step to save my life."