This woman is helping the homeless while practicing social distancing
A group of New Yorkers is on a mission to get the city's homeless population resources they need during the coronavirus pandemic.
Two years ago, Jeffrey Newman and husband Jayson Conner launched a nonprofit out of their Forest Hills apartment dedicated to providing essentials to people living on the streets. Called "Backpacks For The Street," the pair and a handful of volunteers pack bags full of food, water and toiletries and distribute them around the city regularly. But since the end of March, they've been working around the clock.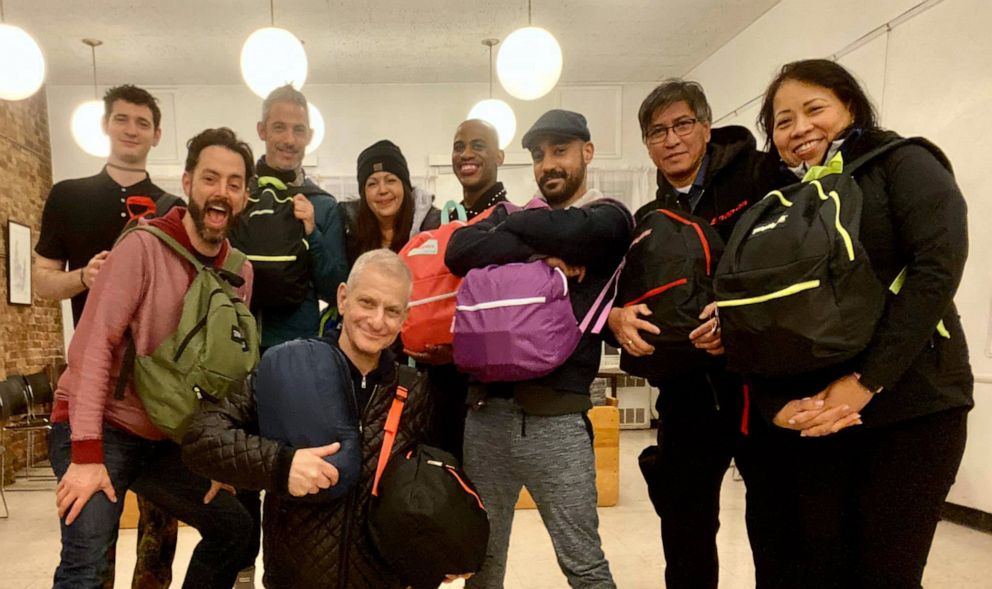 "New York's homeless are probably one of the most vulnerable communities out there and they're getting the least amount of help," Newman said. "We've been out day and night providing as much COVID-19 supplies as we can on top of our normal stuff."
The group added masks, gloves, hand sanitizer, disinfected wipes and more to their sacks as they drive borough to borough in a rented U-Haul van, searching for folks in need.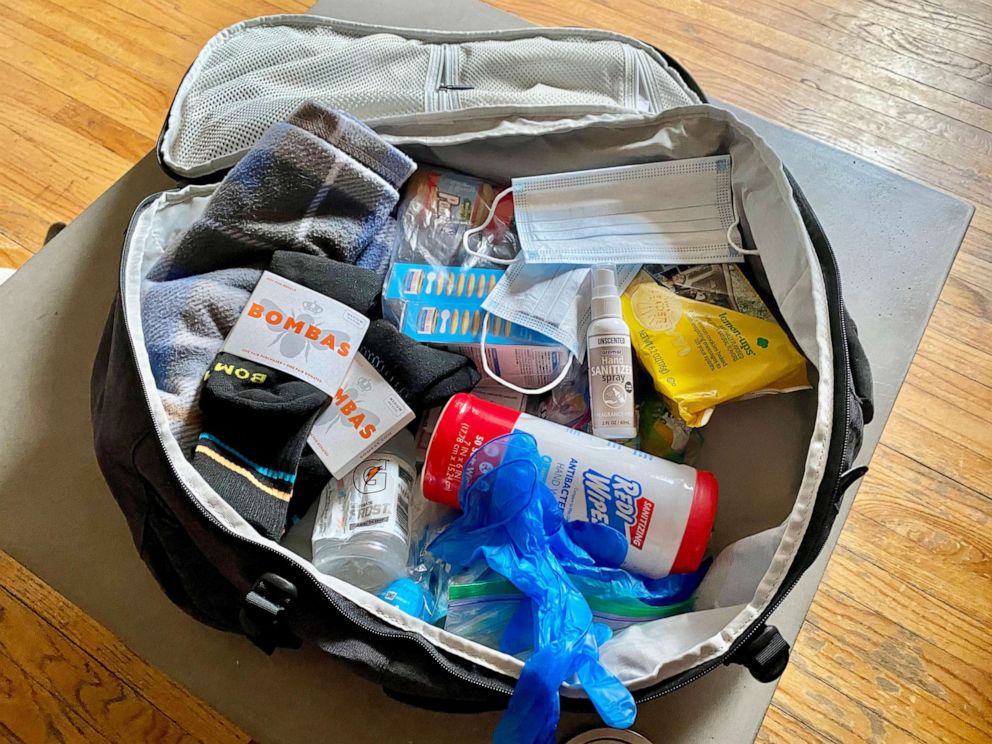 "We got a call from someone at a shelter the other day who said no one there had a mask or gloves on because the shelter didn't have any," Newman said. "Three people there had tested positive, so that really inspired us to scale up and get a move on."
Newman and his team have delivered 1,200 backpacks in the last three weeks alone to people who call them life-savers. Calvin sits on a bus stop in Queens most days because the shelter he's staying at doesn't have adequate cleaning supplies. Elizabeth and her husband Bill have been hanging around LaGuardia Airport after finding several shelters unhygienic.
"We had a guy on Sunday that's normally a taxi cab driver," Newman said. "He told us he had no other choice but to stop since there was no business and now he's living on the street because no one would get in his car."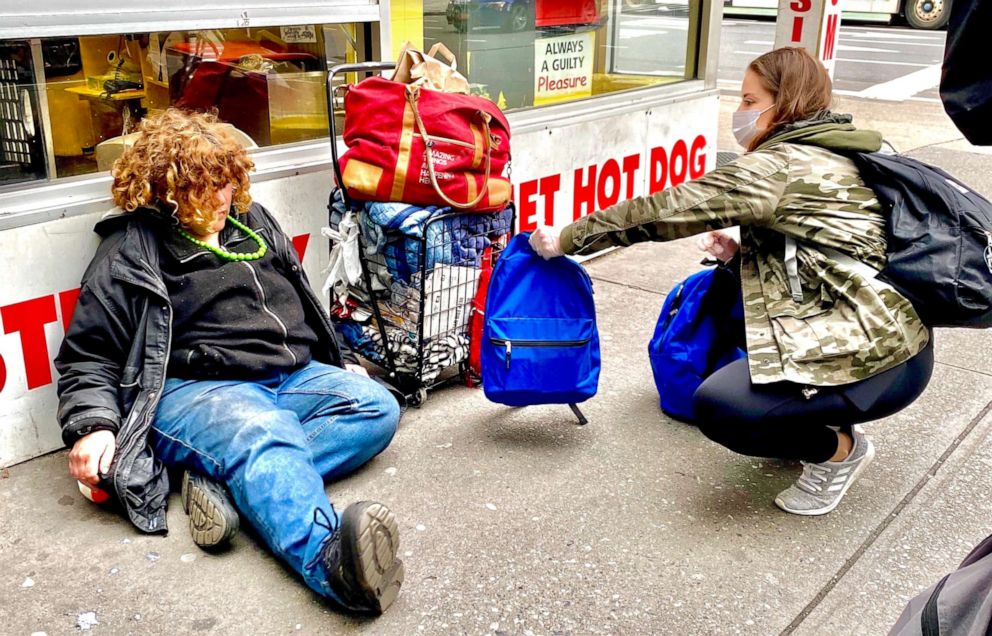 The New York City Department of Social Services reports at least 657 homeless in the city are confirmed to have COVID-19 as of Thursday. 52 have died.
The number of homeless residents in New York in 2019 was 78,604, according to the U.S. Department of Housing and Urban Development.
The data comes as Mayor Bill de Blasio announced measures to relieve shelters struggling to maintain social distancing guidelines from the Center of Disease Control. The city is spending $200 a night to rent hotel rooms for symptomatic homeless people to isolate in and shelters are now staggering meals.
"As our city confronts this virus, we are marshaling every tool and resource at our disposal to meet this moment and protect the New Yorkers who we serve," DHS said in a statement to ABC News.
But many homeless residents seem unaware of the resources available to them. Hector lives on a Harlem street corner and feels like he's "been left to die". He told Newman no one's reached out to him since the pandemic began.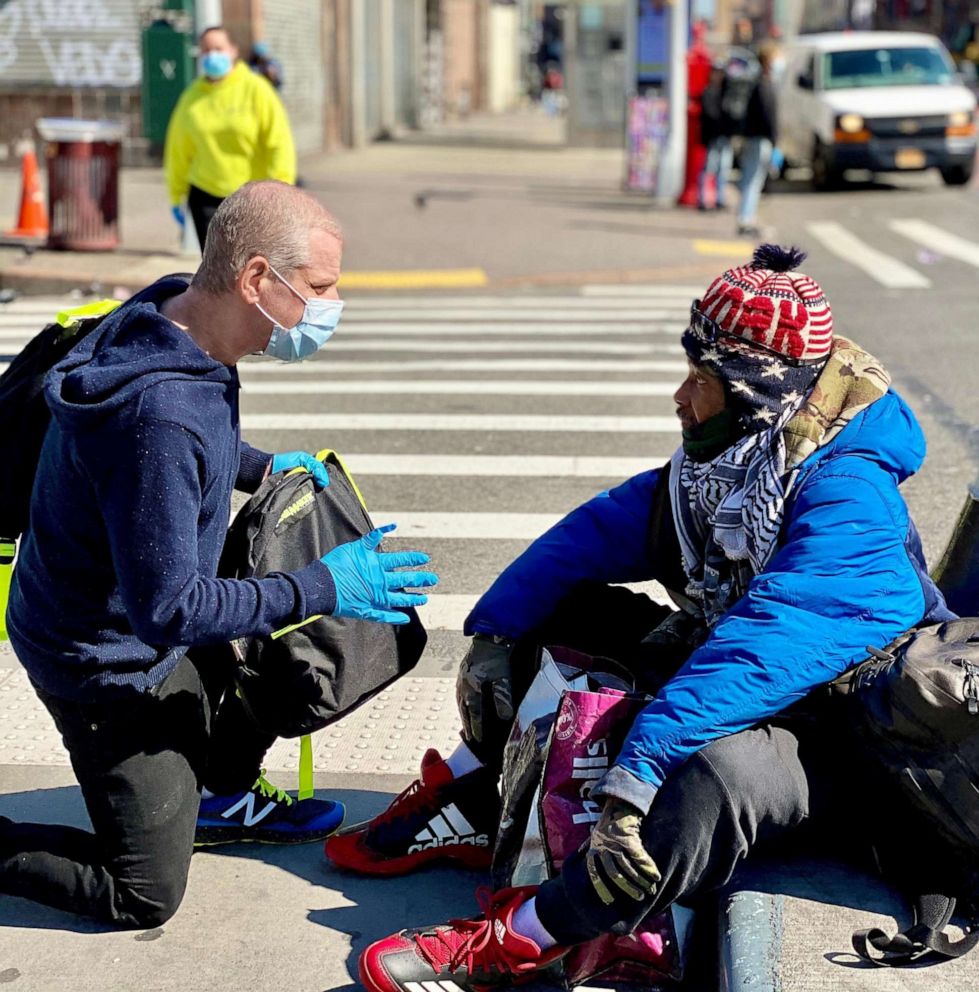 "There's a lot of fear out there about staying in shelters and many people living on the streets don't have access to the internet or television so they're not up to date on the latest information," Newman said.
Newman explained the need to help the homeless in New York City has perhaps never been greater.
"The city has great programs for the homeless but there are many reasons why someone might not want to go to a shelter right now," Newman said. "Every bag we deliver can go a long way especially during this crisis."