Resilience, strength and love are the resounding messages on the road to recovery in the Gulf Coast after it was slammed by two hurricanes in the middle of the coronavirus pandemic.
After communities were torn to shreds by Hurricane Laura and Hurricane Delta six weeks apart, "Good Morning America" co-anchor Robin Roberts, who grew up in the Missississippi Gulf Coast, visited the area Thursday to help shine a light on the plight of those residents who have been deeply impacted by the natural disasters.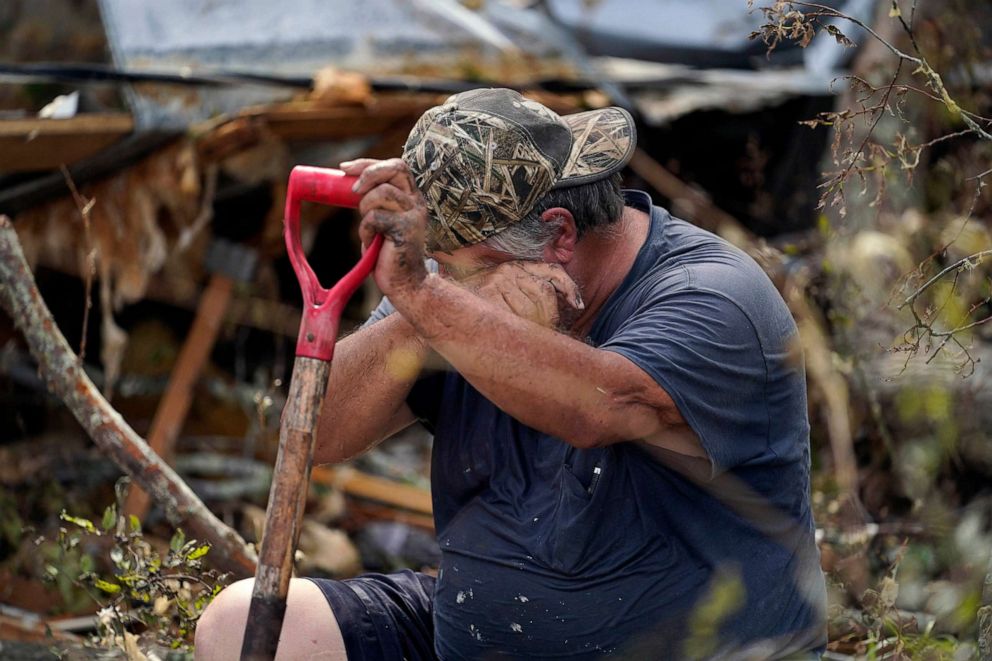 As of October 23, "Good Morning America" viewers have donated over $290,000. Combined with a $500,000 commitment to Feeding America from Abbott, the health care company, puts the early total just over $795,000 to help the region impacted by Hurricanes Laura and Delta.
For 24 hours, we encouraged viewers to donate to Feeding America's Hurricane Disaster Relief, which enables food banks in the heavily affected region of Southwestern Louisiana and Eastern Texas to serve individuals facing hunger.
Every dollar donated to Feeding America through this form goes directly to Hurricane Disaster Relief.
Abbott surprised a local community organization Thursday with the half-million-dollar commitment to Feeding America and offered to match up to $500,000 of donations dollar for dollar.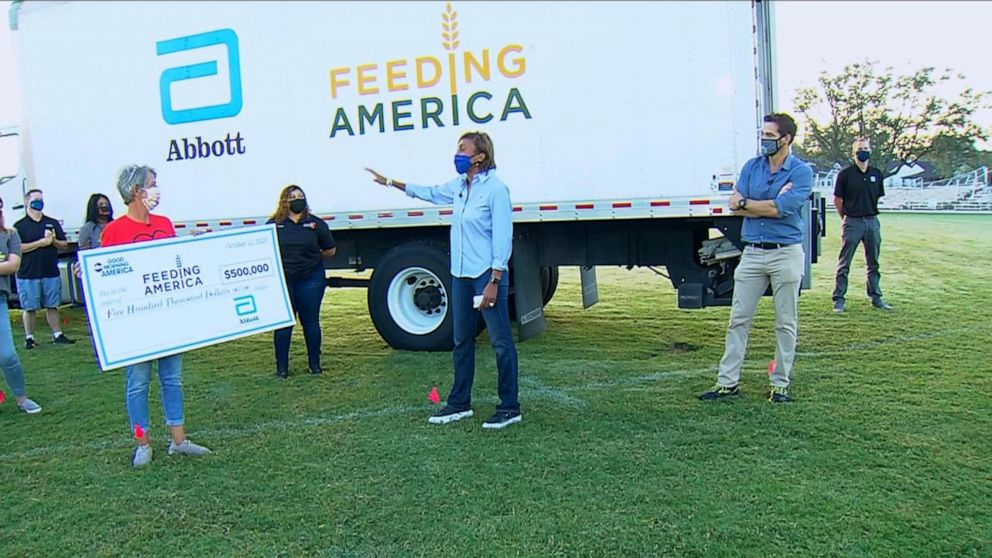 Hurricane Laura crashed ashore in Louisiana as a Category 4 with 150 mph winds and killed more than two dozen people.
The 78,000-person community was already pushed to its edge when Mother Nature brought a second, smaller but severe hurricane.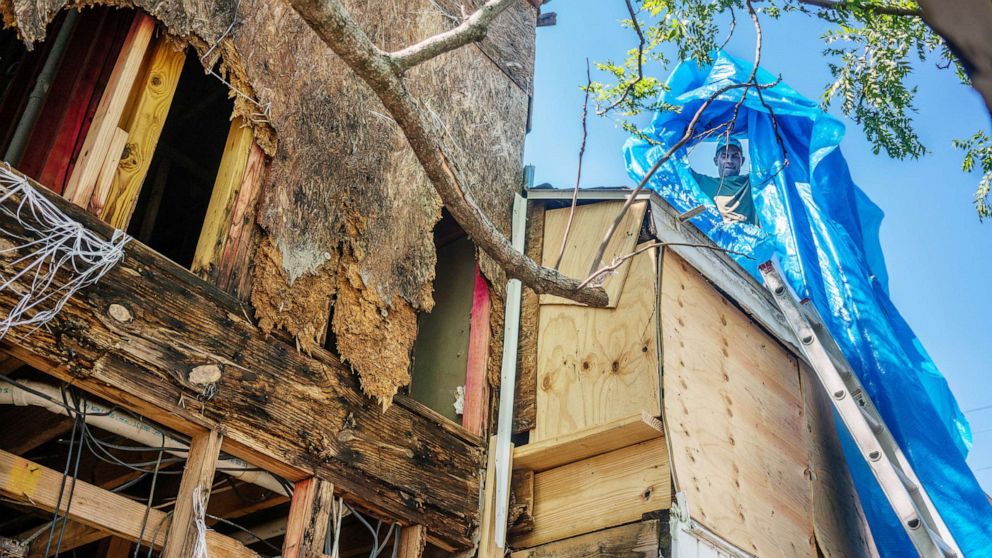 Delta hit Louisiana as a Category 2 storm on Oct. 9, marking the fourth named storm to hit the state this year.
The working-class community now faces billions of dollars in damages after it was already brought to its knees with the economic hardships of COVID-19.
Thousands of families packed their cars to line up for a warm meal as blue FEMA tarps could be seen from above covering dozens of rooftops in the area.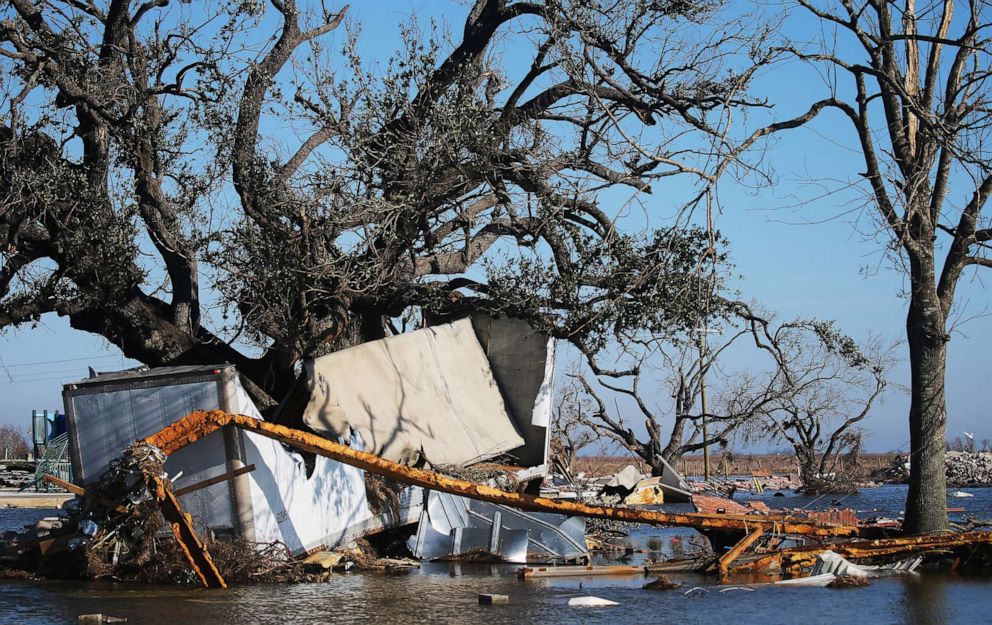 Sheriff Tony Mancuso took Roberts, through a ravaged neighborhood with roofless houses, shattered windows and remnants of the storm on full display.
Some of the lower-income communities, Mancuso said, don't have insurance because "some of them can't afford the high deductibles that they're going to pay for their insurance so hopefully, they can get some type of assistance, either from the federal government or from private sources. We want our community back the way it was."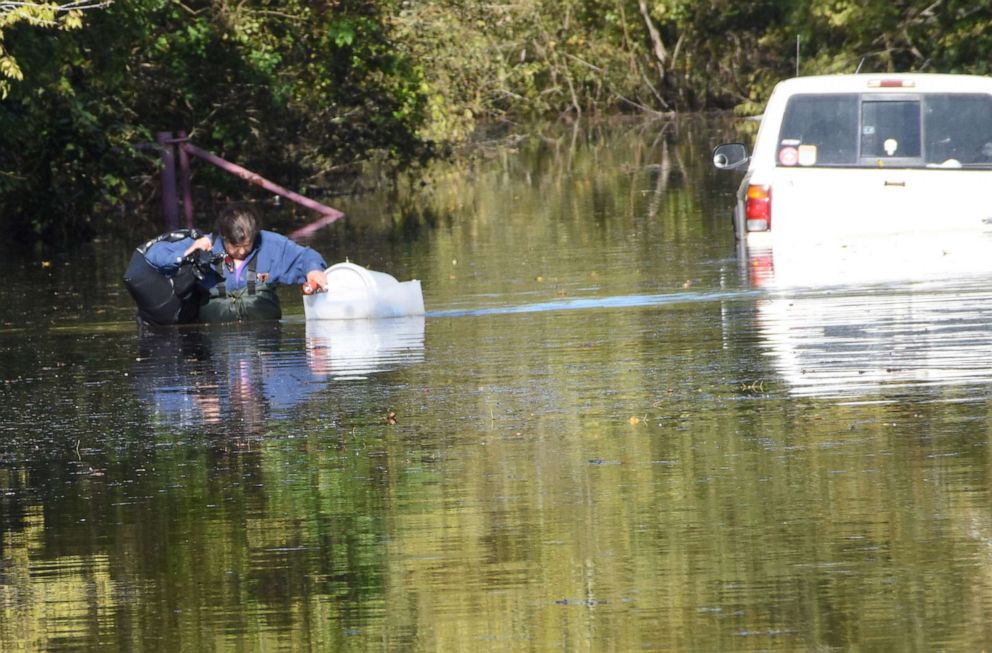 Laeida Robinson, who has been volunteering for the last two months, told "GMA" there is a resounding trait that many of the people she's served in the community have in common.
"I have witnessed of people that have come through this line is that they are resilient," she said. "They are people that are striving to help one another in unity."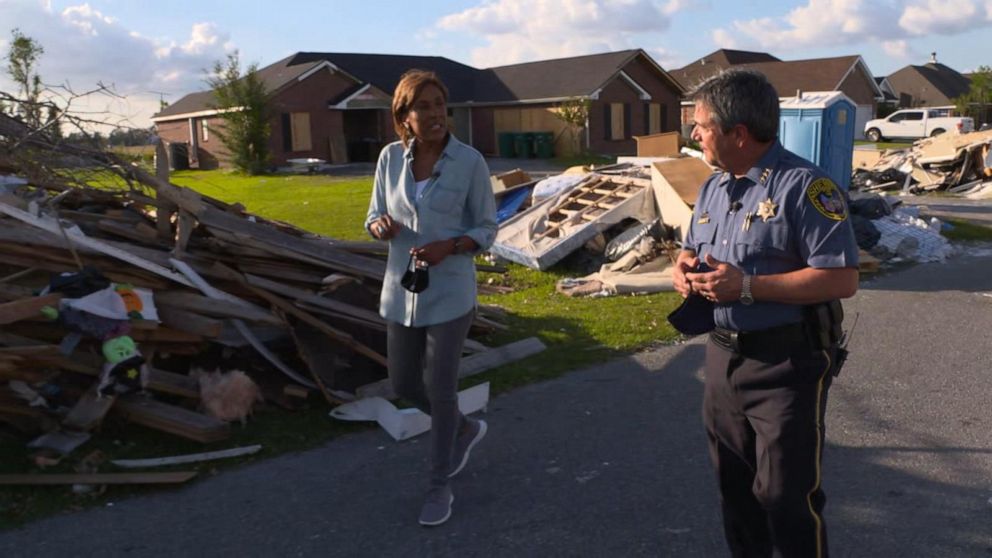 The people in this community continue to live out the motto heard time and again, "Southwest Louisiana Strong."
"I would say help as much as you can," one volunteer, Kelly Jackson, told Roberts. "There are people here who haven't forgotten about you and we want to help get you home."
Hometown heroes feed the community
Restaurant owner Antonio Duhon has helped feed the close-knit community of Lake Charles in the wake of the hurricanes "every single day."
"My girlfriend said we need a break, but I knew in my heart people needed to eat," Duhon told ABC News. "I noticed people was hungry, there was nothing to eat."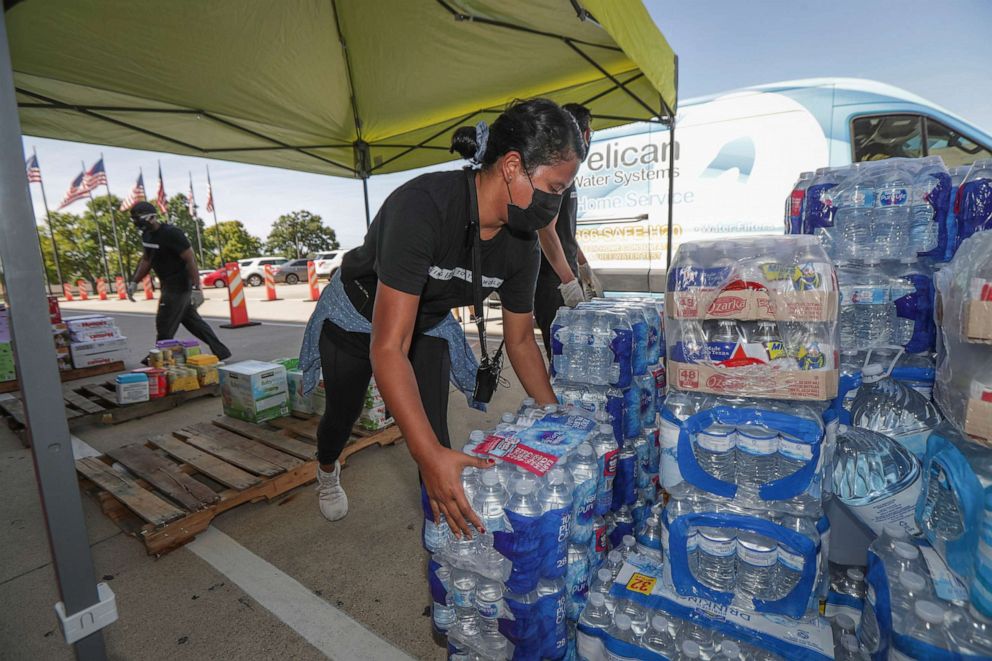 "A lot of people stayed, thinking it wasn't going to be as bad," he explained of people who hunkered down instead of evacuating. "And it was really bad, it was devastating."
Despite his own losses from the storm that blew out the side and back wall of his home, Duhon prioritized helping his neighbors in need.
"Antonio was someone who was willing to put his house to the side -- and worry about taking care of other people," community organizer Michael Boyer said.
All across the region, a network of chefs, residents and an army of volunteers joined in to help support the community with fresh food and vital supplies.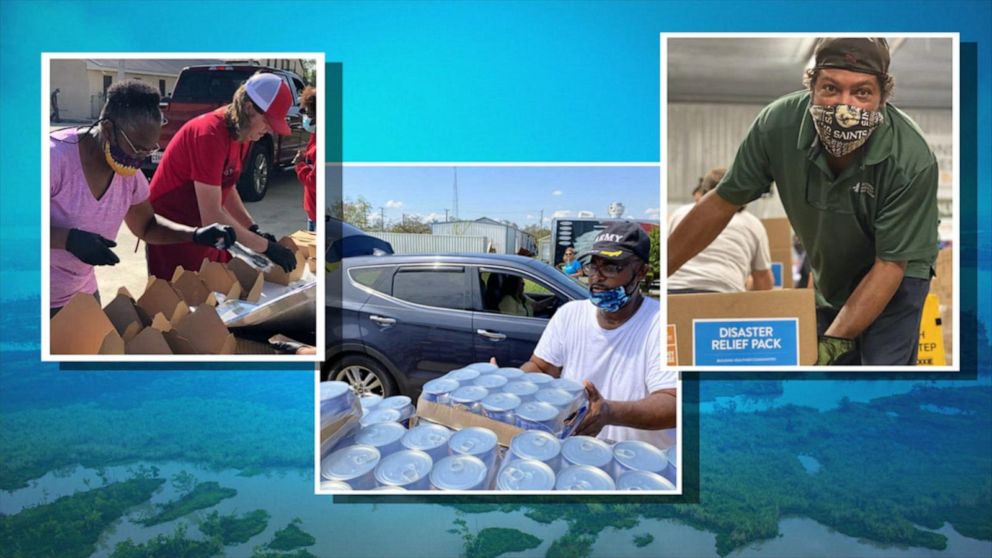 The hurricane season added an extra strain to the already stressed food bank network, and it was an immediate response to the overwhelming need.
Jody Farnum, the executive director of Care Help of Sulphur that works with Feeding America, converted her food pantry and thrift store into a disaster relief site in the aftermath of Hurricane Laura.
The group has handed out "thousands of pounds of food and supplies" she said, including cleaning products, non-perishable food items, diapers, wet wipes and other hygiene products. "People just started helping," Farnum said.
As trucks began to roll in, one employee David O'Neal said "we had no clue we would become that big of a distribution center."
Farnum, her four employees, and 28 members of the National Guard lived on cots and air mattresses at the center facing uncertainty back at their own homes.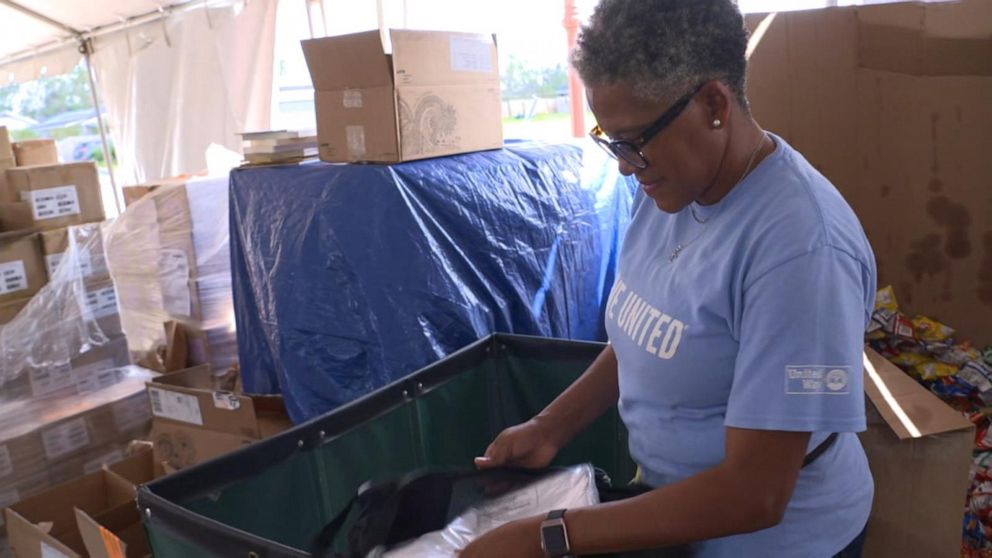 The executive director found solace in lending a helping hand to others despite the loss of her own house to the powerful winds of Hurricane Laura.
"Helping other people makes you forget how bad your problems are and it's what we do. It's our faith in God and we step out and we help those in need," she said on "Good Morning America" Thursday.
$500K to help the hard-hit community
Abbott, the health care company, surprised Farnum with a truck filled with food and supplies for Feeding America.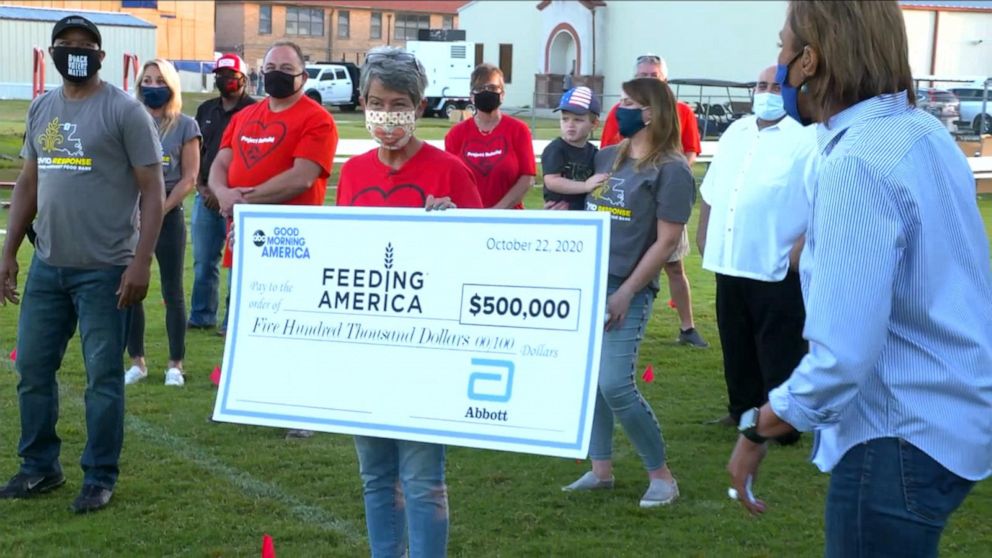 But Farnham was stunned when she was told that Abbott was making a $500,000 commitment to help with the relief efforts. Abbott will match donations dollar for dollar for the next 24-hours up to $500,000 to help raise $1 million total.
"People are going to be able to get help. People who face food insecurity will be able to get help. It's amazing," she said of the surprise, adding that it will make "a huge difference."