How to make Sasha Pieterse's cinnamon and rosemary place settings for Thanksgiving
Spruce up your holiday dinner table this year with DIY cinnamon and rosemary place settings created by actress Sasha Pieterse.
"I have this passion for entertaining; I've always loved cooking and baking," said Pieterse, who recently released a new book, "Sasha in Good Taste: Recipes for Bites, Feasts, Sips & Celebration."
Pieterse said she's been cooking and baking since she was a teenager, and when she got her own place she loved having people over.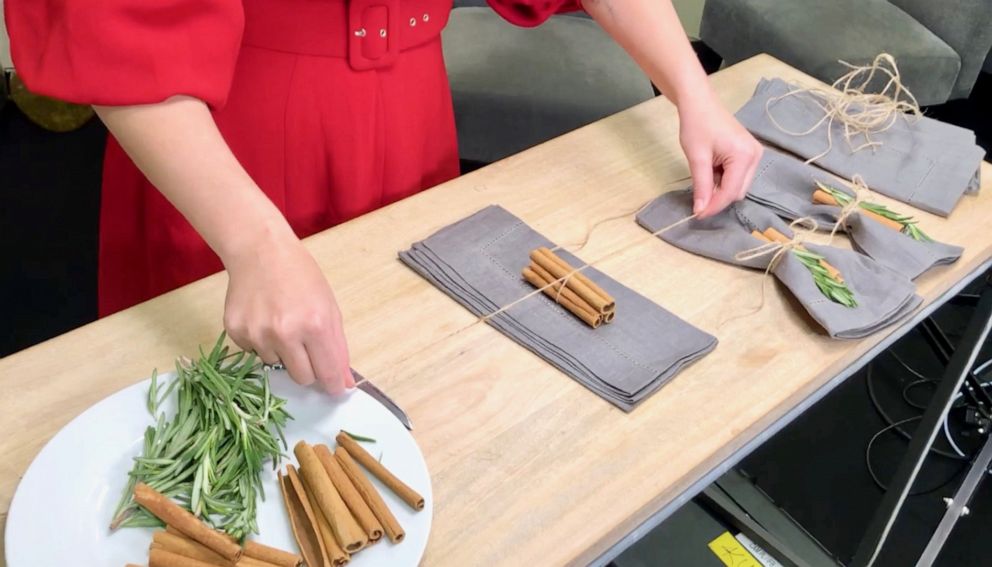 "I like to create something different for each holiday," Pieterse said.
These place settings are special because they add a personal touch.
"I like to add a tag to it, whether it says, 'What are you grateful for?' or whether it's someone's name or a cute little quote," Pieterse said.
Here how to make the place settings:
You will need cinnamon sticks, fresh rosemary, linen napkins and twine.
1. Cut twine that's long enough to wrap around your cinnamon sticks, rosemary and linen.
2. Tie your cinnamon sticks together with the twine and double knot it.
3. Add a sprig of rosemary to the knotted cinnamon sticks.
"Not only does it smell good, but it puts a little fresh touch and it really does feel like the holidays," Pieterse said.
4. Place the cinnamon and rosemary in the center of the napkin. Take the string and wrap it around the napkin twice.
5. Shape the linen with your hands and finish it off with a bow.
You can place it to the side of each plate or at the center. Enjoy!
Editor's note: This was originally published on Nov. 14, 2019.