10-year-old's remarkable journey from refugee to chess master
A man who used to panhandle outside of an Outback Steakhouse now works there.
Kenneth Smith, 50, from Fort Worth, Texas, was evicted from his apartment four years ago. He had been experiencing homelessness up until earlier this year, when the kindness of strangers provided him with the opportunity for a job.
"My grandmother used to tell me that life is not always going to go according to how you want it to be. She said that life is good, but it can also be tart at times," Smith told "Good Morning America." "It's been really hard, but altogether, God, he'll never forsake you. He's blessed me with a job."
Smith was sitting outside of an Outback in Fort Worth one day and had fallen asleep when a stranger tapped him on the shoulder to ask if he was OK. When he replied that he was starving, she told him to wait there and went inside the restaurant.
"I thought she was going to go in there and call the police on me. She came back out and gave me a card," Smith said, adding that on the gift card was $100. "She told me to go in and have a meal."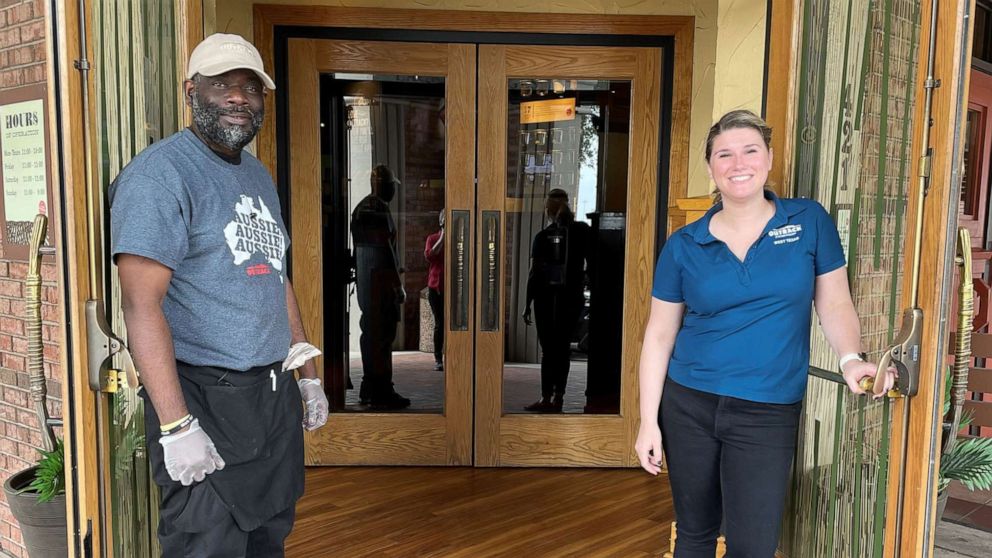 When he later went inside to use the gift card, he caught the eye of Outback managing partner Laura Hodges.
"I thought that was a really awesome thing that somebody did," Hodges told "GMA" of the gift card. "I sat down with him while he was eating and talked to him, because he's really great with people and he loves telling his story."
Hodges said she wanted to "pass forward the good favor" and told Smith to "save that gift card" and come in whenever he wanted a hot meal.
As the friendship between Smith and Hodges grew over the next few months, Smith, who said it was particularly hard for him to find any work in the pandemic, would offer to do any odd jobs at the restaurant.
"He was never looking for handouts, he always wanted to earn money," Hodges said.
She then asked Smith if he would like a full-time job at the location, to which he said he'd be comfortable as a busser. He started soon after.
"I was so happy. I couldn't believe it," Smith recalled.
Now about two and half months into working there, he said, "I feel good knowing that I have a job, knowing that I can smile, knowing that I can do good things."
With a new job came the ability to afford housing, though another challenge soon presented itself: The motel Smith was staying at was raising its rates.
Smith went to Hodges for assistance in finding affordable housing -- "We're kind of in a mentor-mentee relationship right now," she said -- and she turned to a local foodie group to see if anyone knew of any places.
What started as a simple inquiry quickly turned into something much larger. The group raised $2,000 in a single day for Smith, and some people donated items such as clothing, a bike and gift cards for grocery stores.
"That was awesome," Smith said. "I was so honored and grateful."
Smith is working toward a long-term goal of having his own restaurant.
"I could call myself a chef -- a Chef Boyardee," he laughed.
His inspiration comes from his late grandmother, who he called a "great cook."
"I learned everything from her," he said. "I want to cook some good food and have people taste my food as well."