Against the odds, a Texas man recovered a missing engagement ring this week following recent tornadoes that destroyed dozens of homes and buildings in Lamar County.
Once he had the ring back in his hands, Dakota Hudson made sure not to waste any more time before he got down on one knee to ask his girlfriend Lauren Patterson to marry him.
The impromptu proposal was captured on camera and members of the the Paris Junior College softball team, who had joined the search and recovery efforts, were there to celebrate alongside the couple.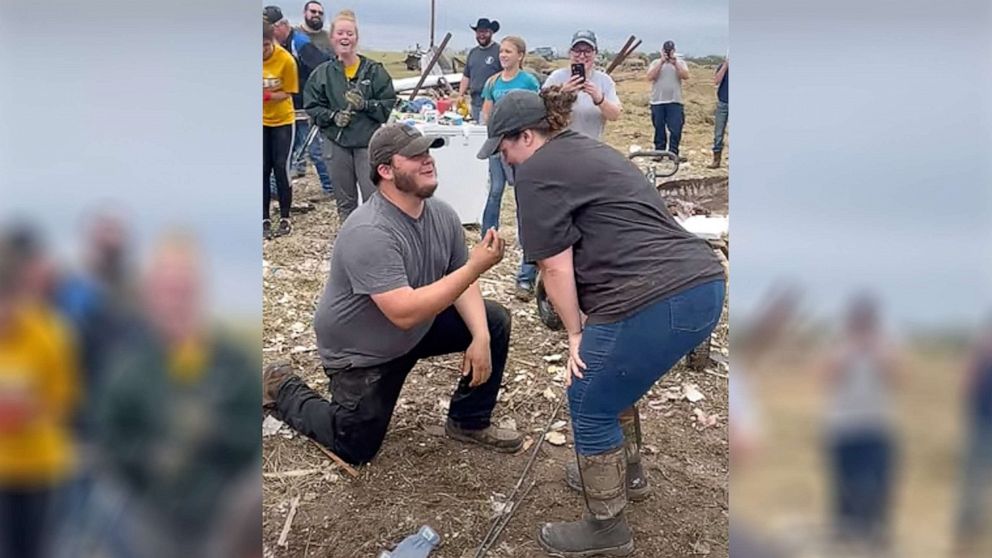 The minute-long video shows one team member handing the ring to Hudson amid tornado debris. Hudson then walks over to Patterson as team members begin to jump up and down and cheer in anticipation. He gets down on his right knee, holds the ring up and asks Patterson, "Will you marry me?"
"About f------ time!" Patterson replies while nodding yes. After Hudson puts the ring on Patterson's left ring finger, the happy couple shares a loving kiss as their audience erupts in more excited cheers.
"Witnessed a proposal after we found the lost engagement ring in the mud by itself under the [rubble] while we were cleaning up tornado damage this afternoon at the Hudson house! 💍 Congrats to Lauren and Dakota #RainbowAfterTheStorm🙏🏼," the team wrote in a Nov. 8 tweet.
"Found the possible in impossible!! ❤️" they added in a follow-up tweet.
Melaina Lopez, a sophomore utility player for the Paris softball team, filmed the proposal and told Storyful it was a memorable moment for her and her teammates.
"It was truly one of the most remarkable things we have witnessed," Lopez said. "Congrats to the newly engaged couple."