With 30 million unemployed and businesses shut down in nearly every state, COVID-19 has taken a crippling toll on America's economic health.
For many small businesses, which comprise 47% of private-sector payrolls in the U.S., according to the Small Business and Entrepreneurship Council, the sudden economic downturn has created a full-blown crisis.
The big-picture concern shared by economists is if businesses don't survive, many Americans won't have jobs to return to after the pandemic. That's why experts have said it's important to support local businesses, which are struggling to generate reliable income.
Now, salons, restaurants, florists, fitness instructors and more are creatively adjusting to the new realities of the coronavirus economy, pivoting to bring parts of their business online, connecting with communities directly on social media or launching creative side hustles.
"GMA" put out a call to small businesses and service workers to see how they've responded to the economic downturn, and we'll be sharing their stories here, along with ways Americans can support their small business.
Check back each week to meet more small business owners.
By visiting these vendors, you will leave GoodMorningAmerica.com and any information you share with the retailer will be governed by its website's terms and conditions and privacy policies. Contact featured retailers directly for any questions about products before ordering online.
Charlette Bell of Lady Belle Macarons
Business: Pastry Chef
Charlette Belle has a passion for sharing culinary heritage to harmonize people and her Atlanta-based pastry business, Lady Belle Macarons, authentically echoes that.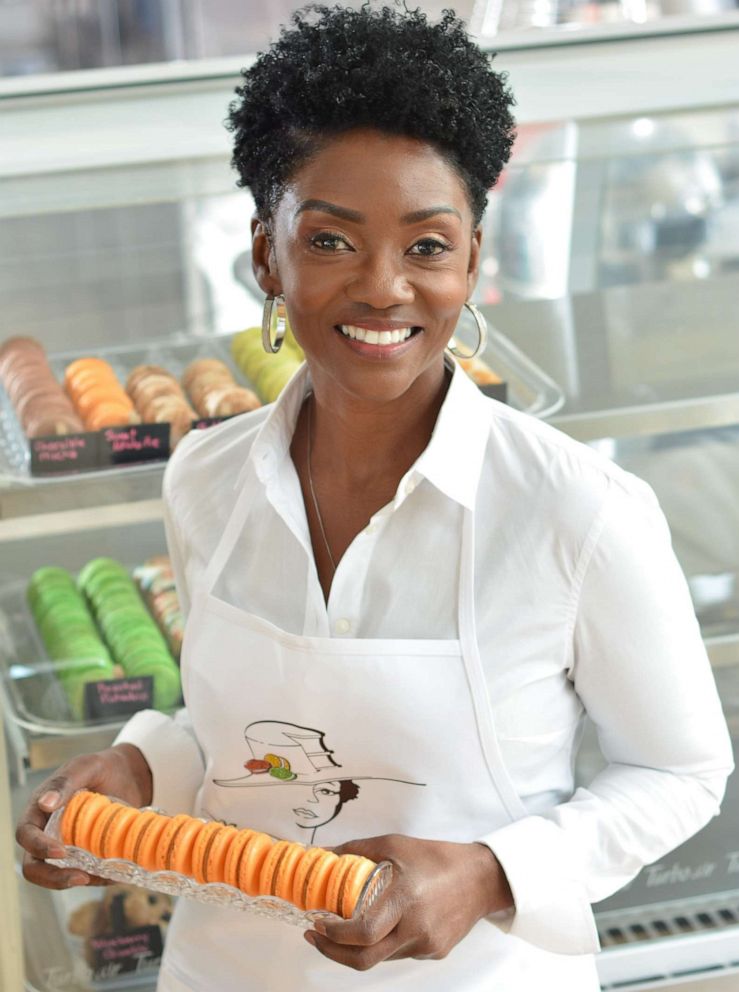 Lady Belle Macarons' primary presence is at local farmers' or artisan markets as well as bakeries and shopping outlets in Metro Atlanta. Opening season for most of these shops is generally in April, but due to the coronavirus pandemic, patron flow has been low, which in turn affects the amount of income Belle receives.
Belle set a goal this year to be financially positioned to acquire a food trailer to use as a mobile shop where she could participate in larger events and prepare macarons for wholesale as a supplier. "This kind of preparation requires nutritional labels as well as shelf-life testing with [University of Georgia], and it is very expensive," she told "GMA." "With only one market open, it really deflated my projections."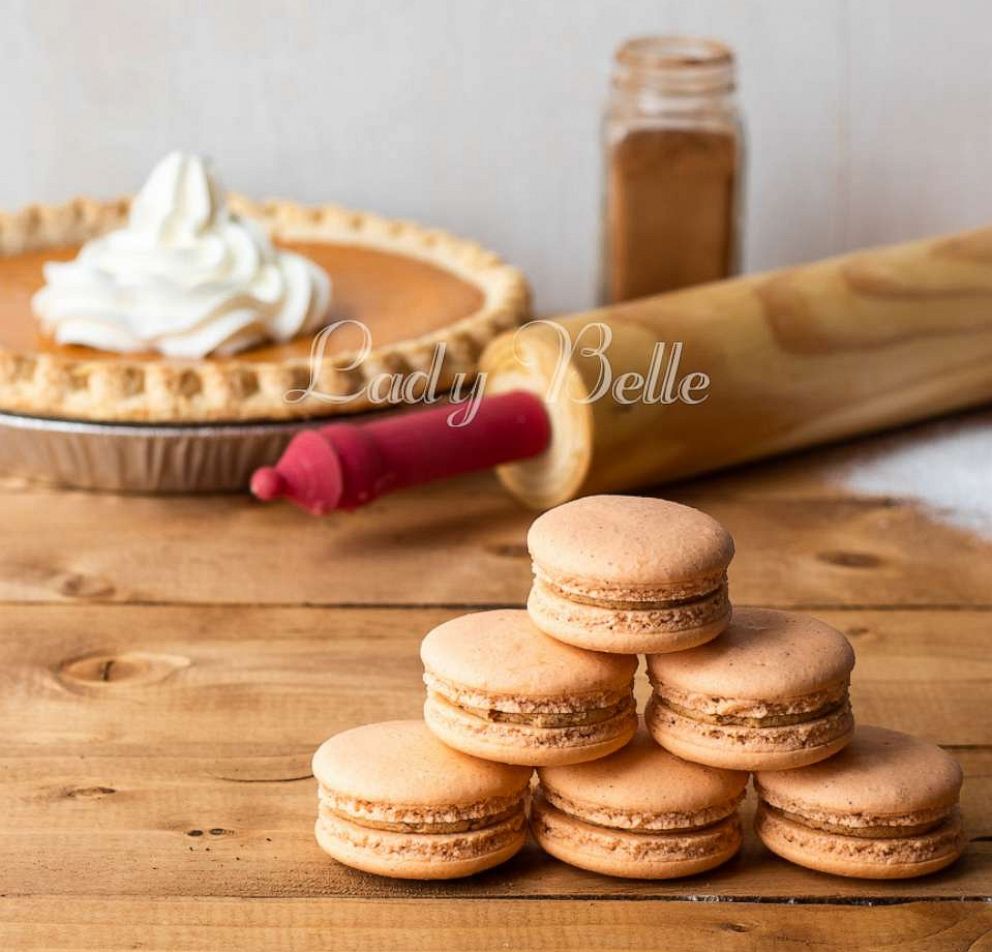 One of Belle's biggest challenges now is that her business requires visibility and organic advertising that she generally receives at local pop-up events. She's also had to find ways to adjust her time as she is a parent of a graduating senior and daughter with autism. "My time has adjusted to include working with her to make sure she's completing assignments and engaged during her online class time," said Belle. "This is high-priority and we are getting it done."
To creatively adapt, Belle has begun to ramp up advertising for her online shop in addition to adding more engagement to her social media channels with the help of her tech-savvy son.
Belle has also started to record how-to videos for macaron making and more to be posted online platforms such as YouTube.
How you can support the business: Browse and shop Lady Belle Macarons' website for delicacies you'd normally have to travel to get and enjoy. If you're local, you can also support Belle's business at a pop-up market event.
Samantha Lynn of Daisy Design Shop
Business: Stationery and Etsy Shop Owner
Since 2010, Samantha Lynn has owned Daisy Design Shop where she creates custom, high-quality stationery for some of life's biggest events.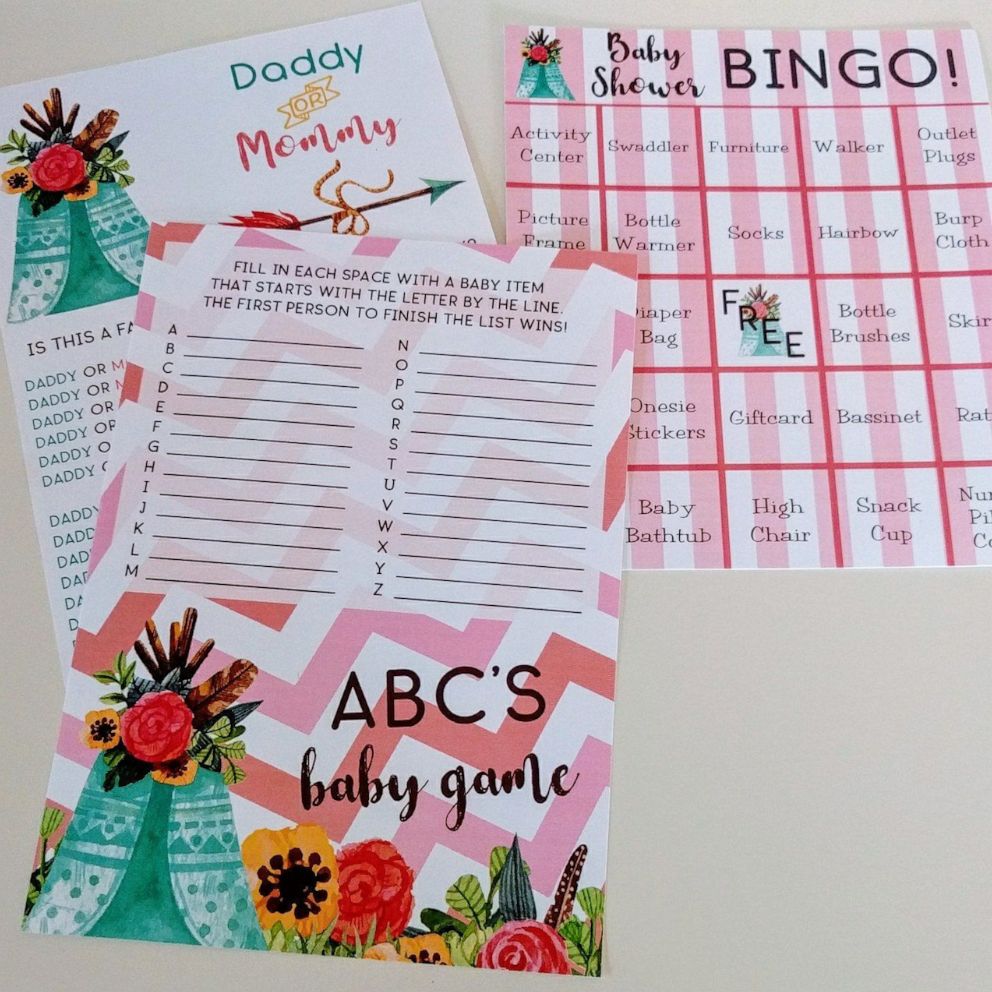 The majority of Lynn's business comes from people ordering invitations for weddings, baby showers, bridal events and more. With government shutdowns and social distancing guidance amid the COVID-19 crisis, many of these types of events have been canceled. This has led to a decline in sales of paper products Daisy Design Shop offers. Also, because this is such an uncertain time, new events are not being planned.
In addition to making a cross-country move due to a recent divorce, Lynn has had to juggle existing orders in addition to moving alone and trying to find ways to settle in her new home.
Since event invitations are not in high demand at the moment, Lynn has started adding new types of stationery to her Etsy shop such as notecards, address labels and thank-you cards. "Instead of focusing on events, I've added options for people to purchase small gifts for friends and family or stationery to use for writing letters," Lynn told "GMA."
Additionally, Lynn offers digital invitations that can be personalized for events being held via video conferencing platforms.
How you can support the business: Visit and shop Daisy Design Shop for virtual-friendly products, gifts and custom designs that are available in both physical and print-yourself options.
Monira Silk of reBlossom Mama & Baby Center
Business: Center and Shop for Mothers and Babies
Monira Silk created reBlossom Mama & Baby Center in 2010 shortly after the birth of her daughter Miriam (and has since welcomed little Nadine, too). True to the "mama & baby center" portion of its name, the shop serves both mothers and their young children with socially- and eco-conscious products that were made in the USA, thanks to Monira's "passion for helping mothers feel supported in their own mothering and that they are never alone."
Amid the coronavirus pandemic, the shop itself has closed, though new items can still be ordered through reBlossom's website and resale items can be found on Facebook.
But it hasn't lost its sense of community. Enter another aspect of the business: virtual birthing and breastfeeding classes, maternal and mental health support groups, story times and music classes. These have transitioned to being fully online, through such platforms as Zoom, Facebook Live and even one-on-ones through FaceTime.
"It has been tough to navigate all the ins and outs of the tech involved with streaming," Silk said, "but I think this is something that could continue, even after things get back to normal."
The virtual classes have opened up class participation to more than just residents of Athens, Georgia, where reBlossom is located. Silk says that thanks to word of mouth, mothers from elsewhere, such as Florida and Ohio, have tuned in and that some who weren't able to make in-person classes before are also joining in.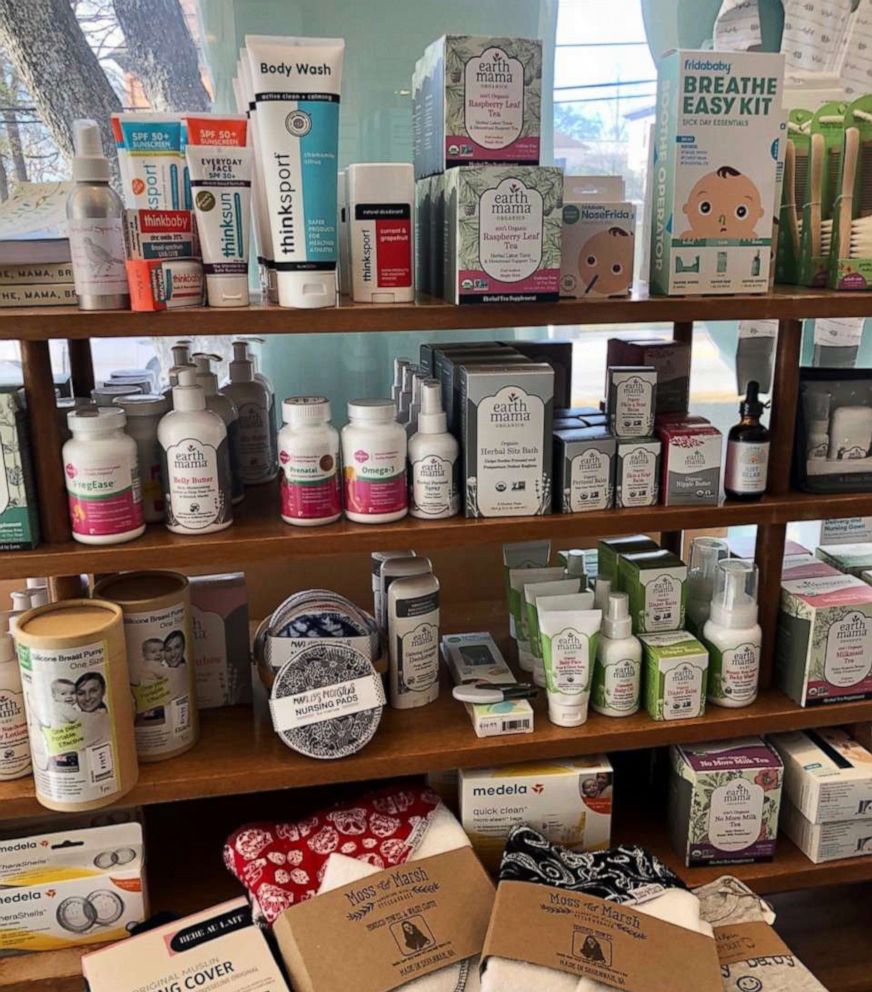 reBlossom also works with local agencies to secure scholarships for mothers who might not otherwise be able to afford participation and therefore may not have access to the kind of care that's crucial for moms and new babies.
Silk hopes her nearly 10-year-old business will come back stronger than before, and that even more can benefit from the services it provides and products that it features.
How can America support your business: "Take part in classes, support groups [and] shop our selection online," Silk says, noting reBlossom's scholarships truly benefit from its sales.
Syreeta Scott of Duafe Holistic Care Inc.
Business: Natural Hair Expert and Salon Owner
Syreeta Scott, owner of Duafe Holistic Care Inc. salon in Philadelphia, is a natural hair expert who has worked with likes of Janet Jackson, Ava DuVernay, Questlove and many more.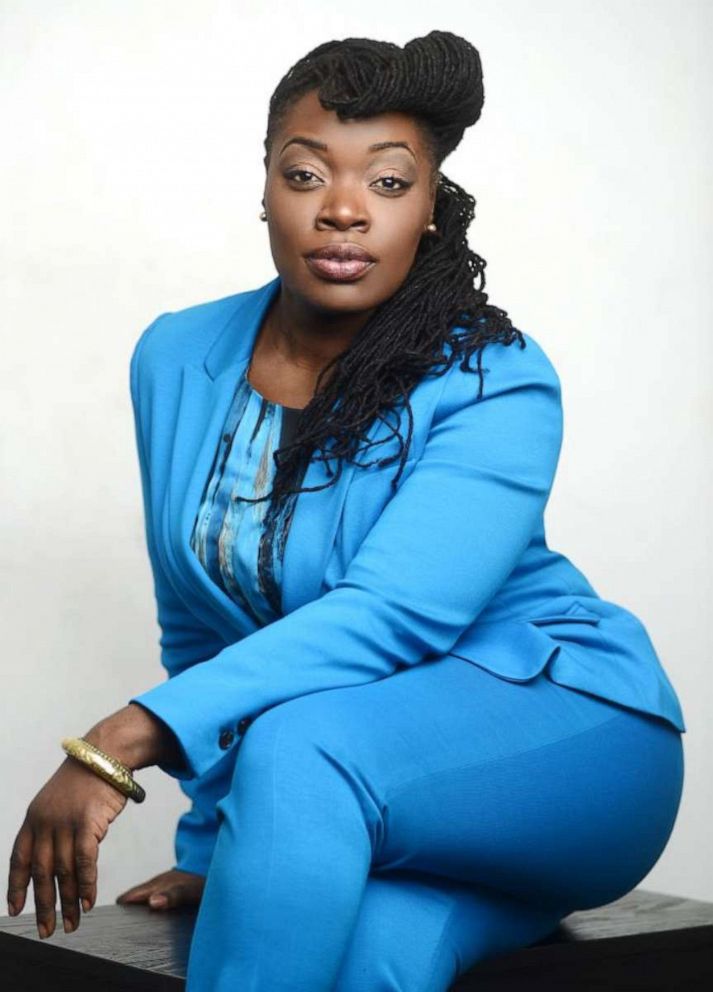 Under the executive order of the Pennsylvania government, her salon was forced to close due to the COVID-19 crisis. Duafe Salon currently has 17 employees who are all independent contractors and do not make income if they do not work.
In addition to Scott's staff being impacted, many of the pop-up events, training sessions for students interested in learning to style and treat natural hair, as well as space in the salon for local estheticians and manicurists to service clients, has been indefinitely paused due to this mandated closure. "To be very frank, COVID-19 has totally shut down our business and our ability to financially contribute to our community," said Scott.
To overcome the challenges amid the coronavirus pandemic, Scott has applied for small business loans as well as grants to help stay afloat. However, she has not received any confirmation on the status of those applications at this time.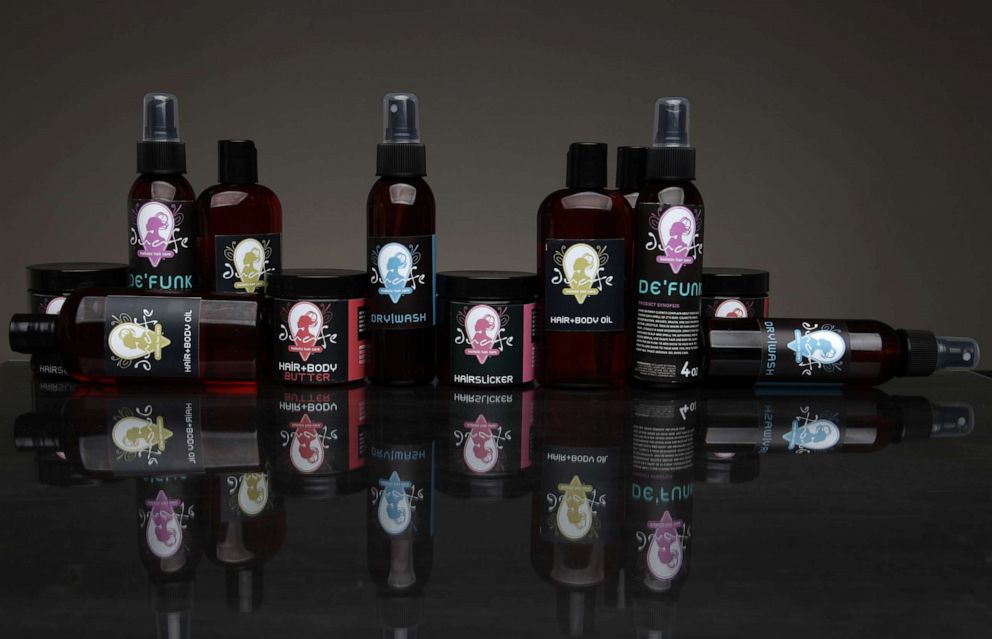 In the meantime, Scott has found other creative ways to get by through engaging on social media, expanding product offerings for online purchases and digitally raising donations for her team.
How you can support the business: Scott told "GMA" people can support by visiting her salon's website and ordering haircare products to help support her team of stylists and salon staff. "These funds are desperately needed for my team of independent contractors," she said.
Marek and Kothney-Issa Bush of Living Tiny with the Bushes
Business: YouTube Channel
In September 2019, Marek and Kothney-Issa Bush launched their YouTube channel, Living Tiny with the Bushes, a video series all about living in a tiny house and their accomplishment of paying down $125,000 in debt over two years.
For months, the channel was a hobby that garnered attention from various media outlets. That was until March 2020, when the rapidly spreading COVID-19 coronavirus pandemic led to the closure of non-essential businesses, shelter-in-place orders and social distancing.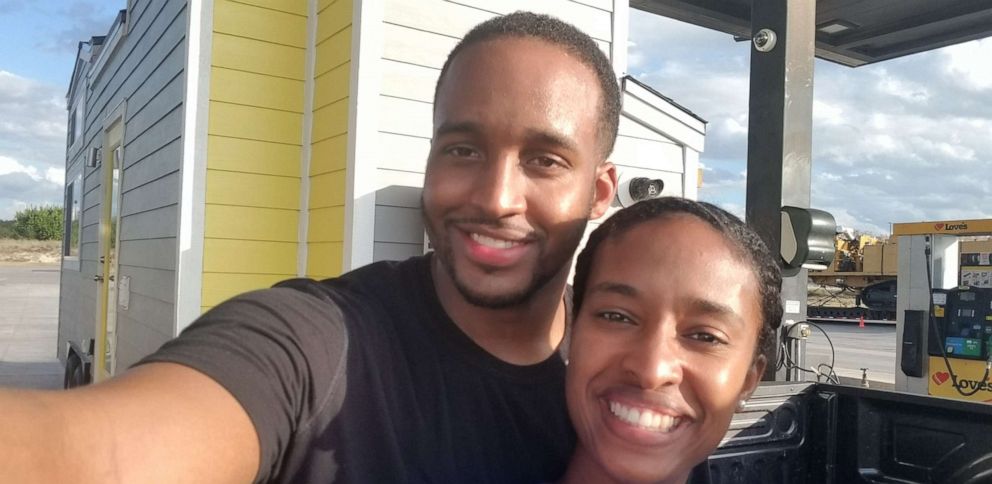 It also led to Kothney-Issa Bush losing both of her jobs, one as a morning server at a breakfast shop and as a bartender at a hotel. Marek also lost his job in theft and fraud investigations for a national retail brand.
To compensate, the couple pivoted to monetizing their channel and ramped up the amount of content that they produce in their 200-square-foot home.Kothney-Issa says the pair cut back and spent two years grinding to get out of debt well before they launched their channel.
"We worked, slept, ate … we spent 80 hours a week working," she said. "Since we had multiple jobs then, we had all this time afterward to do something else."
So the pair -- who met in middle school and have been married for nearly six years -- got started researching the ins and outs of running a channel.
"It wasn't easy," Marek said of getting the project started. "It's going to take time, but you have to be consistent and persist to make progress, and eventually, we started seeing the fruits of our labor."
Through more media exposure and word of mouth, the pair have seen their subscriber base grow above 16,000.
They continue to look for other employment opportunities, but in the meantime, hope they can continue to grow their online brand, possibly into apparel and possibly into a second entity focused on brand strategy.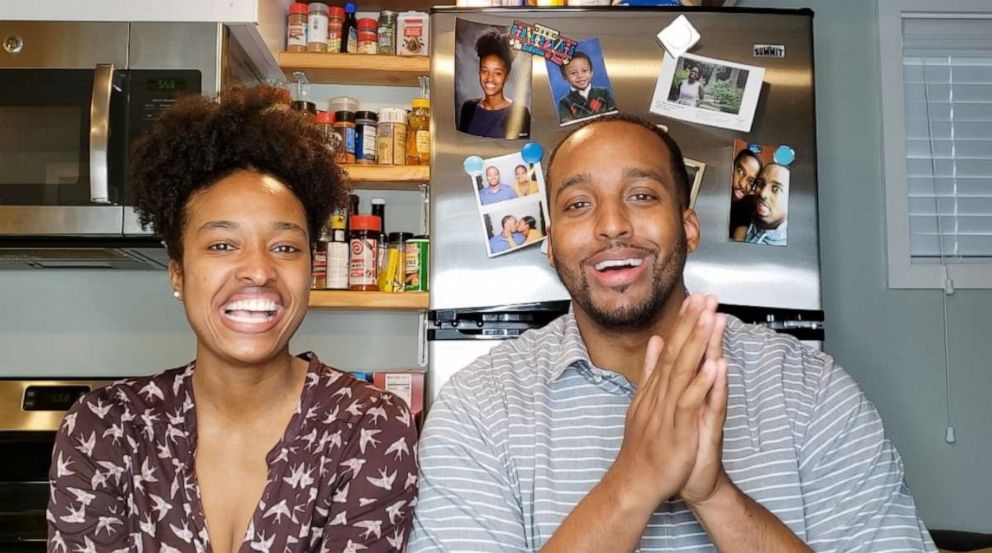 How you can support the business: Subscribe to the Living Tiny with the Bushes YouTube channel, and share a positive comment if you are encouraged or inspired by the content they share. "It's our honor to help" people who find value in their content, they said.
Tosha Aldridge of Muttley Crew
Business: Dog Boutique
In 2018, avid dog lover Tosha Aldridge opened up Muttley Crew, a shop in Rocky Mount, North Carolina, which sells high-quality and all-natural dog products, including handmade collars, leashes and toys, and premium raw dog feed with single-source formulas.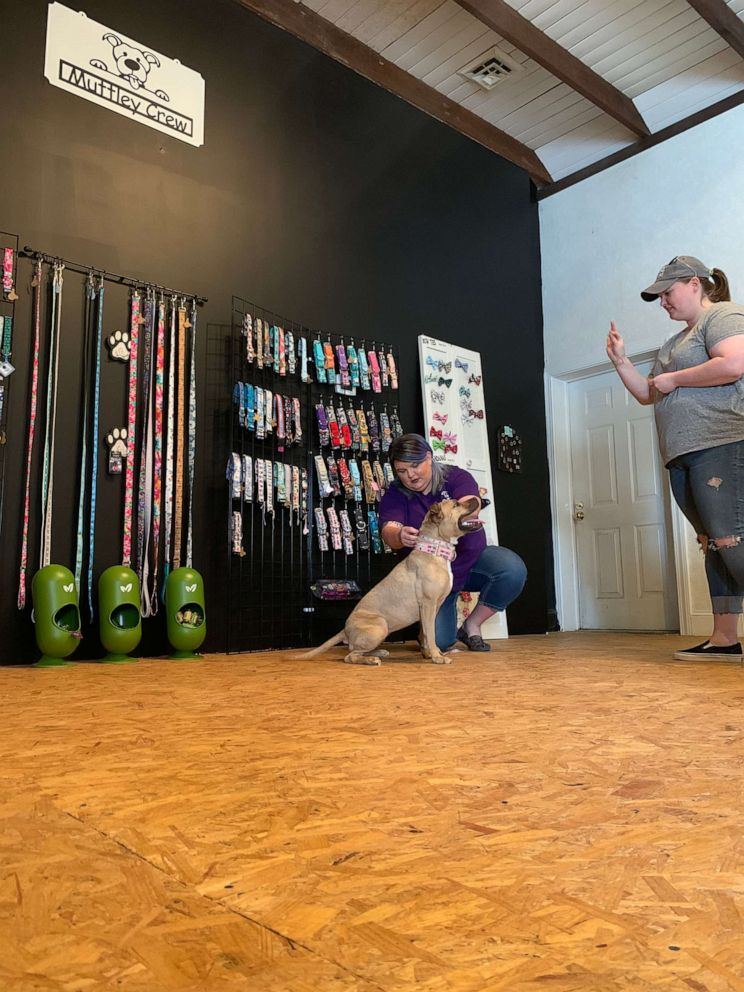 Aldridge, a board member of the Alliance of Therapy Dogs, partners with local animal shelters to host events, feature adoptable dogs, and collects donations in bins for old toys and supplies in her store.
Due to the coronavirus crisis, Aldridge's store has reduced its hours. Although she has an online shop powered by Etsy, Aldridge says her sales have been significantly hurt amid the pandemic, especially since she has yet to become a wholesaler on bigger platforms such as Amazon and eBay.
Aldridge has also shifted focus and put her community first, pivoting to sew masks for humans instead of leashes and collars for pups. Aided by the efforts of community volunteers, they've stitched 300 masks in one week.
All volunteers who come in to sew follow strict safety guidelines within the 3,000- square-foot space, according to Aldridge. Aldridge says her store is striving to be bigger than just a business, but instead wants to make an impact in the community with dogs and the love that they bring. Aldridge wants Muttley Crew to continue to advocate on behalf of therapy dog education programs, and to help hospitals, nursing homes and the greater community obtain therapy dog visits during challenging times such as these.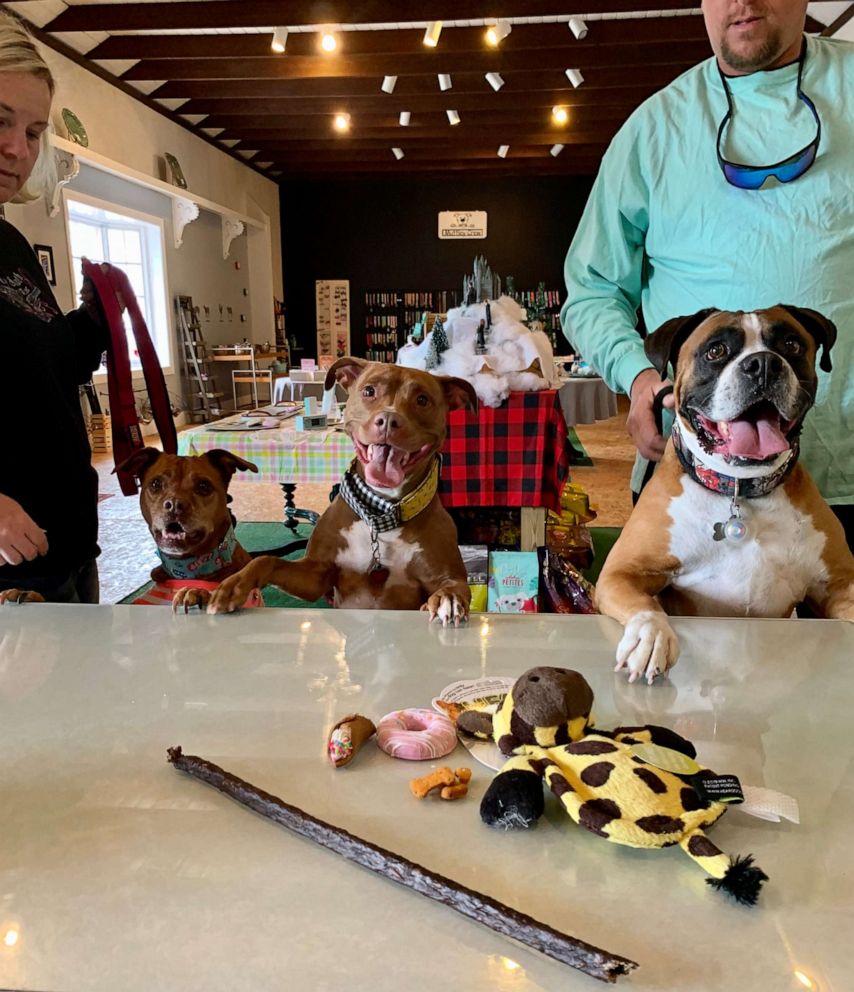 How you can support the business: America can help Muttley Crew by ordering a handmade collar, leash, bandana or toy on Etsy, and following along on Facebook page for store updates. According to Aldridge, Muttley Crew can customize and personalize a collar, leash and bandana. And, although its donates most, Muttley Crew is also selling handmade masks through Facebook and on Etsy. "There's not much I can't find or get printed," said Aldridge.
Larisa Minerva of Bewilder Floral
Business: Wedding Florist
Larisa Minerva of Bewilder Floral, a Bay Area wedding and event floral company specializing in locally grown flowers, had almost all of her weddings from March through June cancel. The shelter-in-place mandate to stop the spread of coronavirus was enacted in the Bay Area on March 17, just as Minerva's company was headed into peak wedding season. Roughly 15 weddings were canceled or postponed, hitting her business hard.
"Weddings are 99% of what we do," said Minerva, who has been a florist for a decade. "I had to do a complete shift. ... You never expect to come to this point when literally all of your weddings are canceled."
Minerva said she made the difficult decision to lay off her staff of one full-time employee and the freelancers who were commissioned for weddings.
With everything canceled, Minerva turned to social media and started offering daily "how to" videos on her Instagram page for free. Topics range from floral centerpiece design to how to make boutonnieres and corsages and more in hopes of helping people heal through flowers. She said the response has been "amazing."
"I wanted to share what I learned over this decade, so I kind of sprung into action," she said. "You're stuck inside and you have this anxiety about your financial future and what's going on. It's kind of a calming experience to watch the videos ... to engage with nature."
To put her flowers to use and salvage some business, Minerva set up a "little flower stand" at the end of her driveway. Her neighbor gave her the idea to create bouquets for local medical professionals who are putting their lives on the line. Each bouquet is $30 and can be delivered anywhere between San Bruno and San Jose with a custom note. She's asking medical professionals to sign up to receive them or be nominated by someone in the community.
How you can support the business: If people want to support her, place orders for bouquets for medical professionals who are working on the front lines. Each costs $30. You can learn more on her website. You can also donate to her on Patreon at patreon.com/bewilderfloral.
Camara Aunique of Camara Aunique Beauty
Business: Makeup Artist/Beauty Entrepreneur
Due to the coronavirus crisis, Camara Aunique, a makeup artist and beauty entrepreneur based in the New York City area, hasn't been able to book clients. It's impossible when your craft is entirely focused on touching people's faces. Sales for her popular eyelash line of products have also plummeted.
In addition to no longer getting paid, the stress of not knowing if she will ever be able to work again has been daunting, she said. The economic stress coupled with being away from her family and dealing with everything alone has become increasingly tough for her, she told "GMA."
Still, she said she's "pushing through." Aunique started sharing her talents online for free on her Instagram account to help women learn how to apply makeup as well as teach the business of makeup. She hosts classes on Instagram Live Monday, Wednesday and Friday at 5 p.m. ET.
"It's fun, laid back and teaches everyday women how to do makeup," she said. "I've been blessed to meet women from all over the world impacted by this crisis."
How you can support the business: Aunique said people can help her business by following her on social media, joining and sharing her IG Lives, booking her for a private one-on-one makeup class or supporting her eyelash line at www.camaraaunique.com/shop. Use Code "ava" to save 10% on sales of $40 or more.
Ron Rudolph and Kristy Boike of Rudolph's Bluebird Houses
Business: Birdhouse Kits
Rudolph's Bluebird Houses sells homes for birds in various forms, from fully assembled and pole-mounted aviaries to unassembled kits for those who are a little more hands-on.
The foundation of the business was laid shortly after the death of Pat Rudolph, who died of cancer in January 2018. Her husband, Ron, coped with the devastating loss by channeling his 45 years as a carpenter into a project that kept his hands busy and mind distracted.
"Building bluebird houses became an outlet for him," his daughter, Kristy Boike, told "GMA." "It helped him keep his hands busy and be creative."
After crafting a dozen of the houses, Ron Rudolph asked Boike to clear them out of his workshop so he could make more. It was here that Rudolph's Bluebird Houses was born, with that first batch selling out on Facebook in just a half an hour.
Now, with four generations of the family involved in building the birdhouses, Rudolph's Bluebird Houses has gone on to sell 4,000 items, helping others touched by loss work through their own grief and continue to move forward.
What's more, the business carries on the legacy of Pat Rudolph, who Ron made a bluebird house for each spring. Each year, on Pat's birthday, the family donates half of its proceeds to Our Lady of Peace, a hospice where Pat lived during her battle with cancer.
How you can support the business: Rudolph and Boike tell "GMA": "We would normally be doing community pickups and events to mark nesting season, but haven't been able to due to coronavirus. But we want to help those who want to build on their own to still make a connection and pay tribute to their loved ones. Our mission is still to give back to the hospice where our wife/mom passed away by donating half of our proceeds at a time when it is most in need. If you're local, there's also a 'no-contact' pickup option."
Do you have a side hustle or new way to make money online? Tell us your side hustle and how America can support your business here.