In the age of Instagram and selfies, neon decor, which was big in the '80s, is making a comeback among millennials.
At trendy restaurants, pop-ups, red carpet events and even weddings, neon signs are there with a witty phrase or inspirational mantra. It has become the go-to wall statement.
But this is not your local dive bar's neon sign.
At NAME GLO, a neon studio based in New York City, founders Lena Imamura and Sas Simon are bringing custom and ready-made neon into the living rooms and homes of the Instagram generation.
Imamura and Simon co-founded the studio in 2014 when they realized neon wasn't accessible to someone looking online. Fast-forward six years, they've opened up a flagship retail location in New York City.
"We really believe in the power of neon and light to make that moment shine ... and make you happy," Imamura said.
The duo was tapped as artists in residence for department store Bergdorf Goodman, creating an immersive neon and candy installation at the store's New York flagship.
How neon signs are made
"GMA" wanted to see how the popular neon signs are made, so Imamura and Simon walked us through the process.
It's essentially "glass that's bent over fire to create a shape," Simon explained. "And then it's pumped with gas to make it light up."
A piece can take around three to six weeks to produce. (For more on the neon process, watch the video above and learn more here.
"If you can dream it, we can usually make it," Simon said.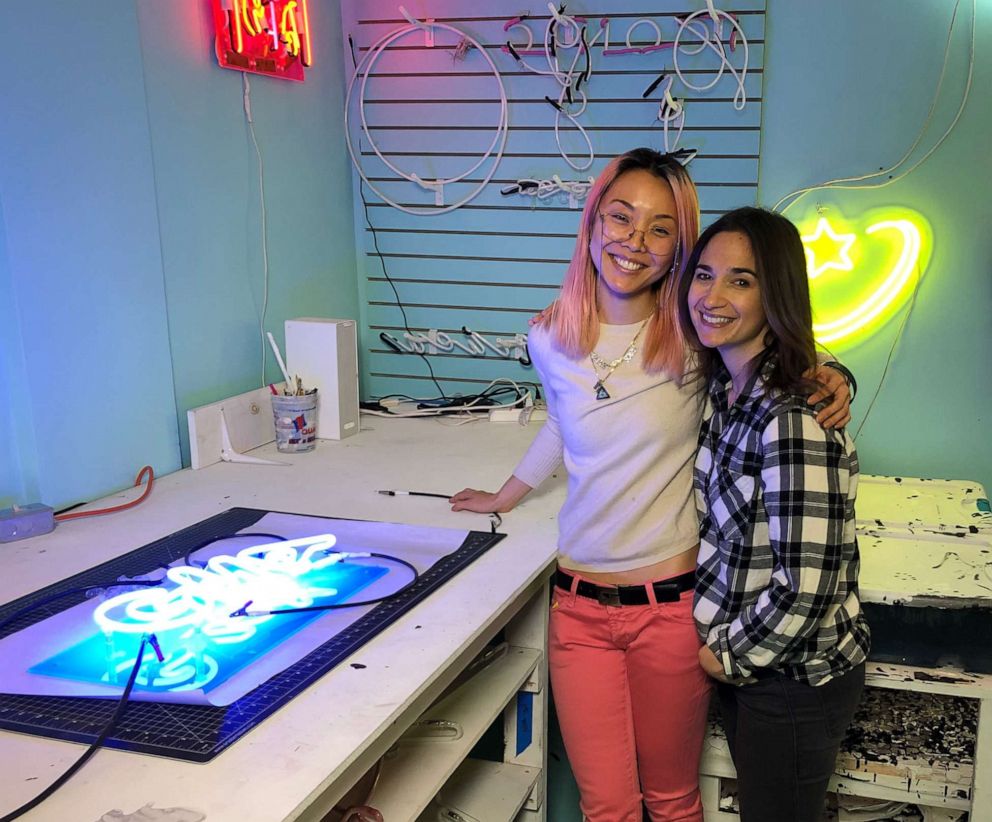 We got the chance to see the intricate process as they made a "GMA" sign!
A feminine touch on neon
Since many neon shops have been owned and run by men, NAME GLO's founders said they embrace tapping into their feminine side with their work.
"We really brought a feminine touch to the neon space and made it accessible to the everyday person," Imamura said.
Social media has "catapulted" their business, she said. The company now has over 25,000 followers on Instagram.
The two are confident that America's love of neon will persist.
"Neon will never go out of style," Simon said.