After nearly four months of being unable to have regular visitors due to the coronavirus pandemic, residents at the Victorian Senior Care Community are finding safe ways to communicate with new friends outside the facility's walls.
Residents at the senior care facility in North Carolina are using pen and paper to meet new friends not only in the United States, but also around the world.
From North Carolina to Great Britain, pen pals are sending letters and packages to seniors at the assisted living home after seeing a Facebook post saying that residents were looking for pen pals. The June 26 post on the VSC Facebook page has now gone viral, with over 18,000 shares from people across the globe interested in sending letters to residents.
Meredith Seals, the chief operating officer of the facility, said the pen pal program started as a way to keep residents connected to the community during the COVID-19 pandemic.
"We've gotten mail today, residents were excited about that, but we're reading comments to them and we've brought a world map to post in the facility, so they can keep track of where they're getting communication from," Seals said.
"It's been really strenuous to be in this pandemic," she said. "Our residents, seeing all this outside support from people all around the globe that don't really even know them, it's really lifted their spirits."
Victorian Senior Care's Facebook page features a series of posts, beginning June 25, showing residents holding up signs with their names and interests on them so that potential pen pals can write to them.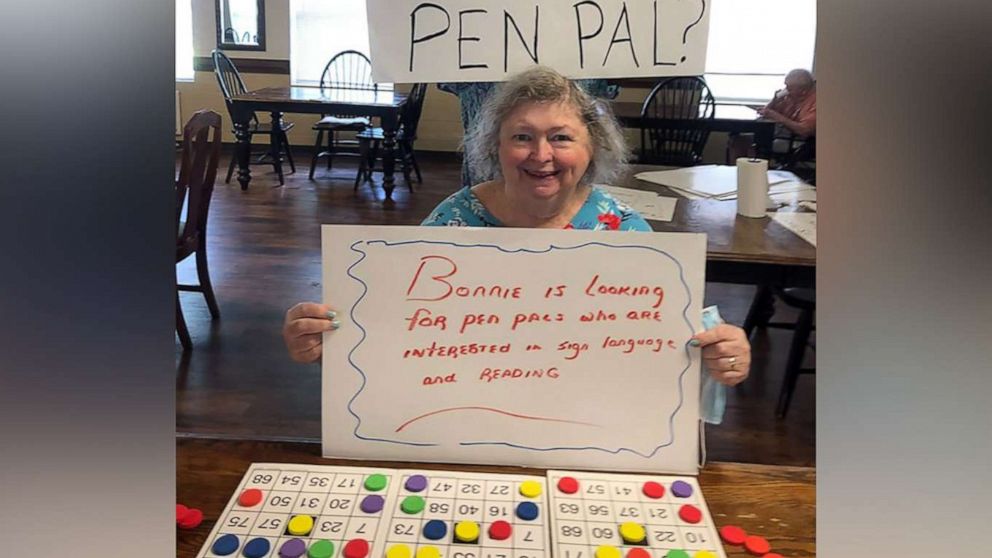 "This is exciting, I never imagined so many people would respond," said Bonnie Price, a resident at the Phoenix Assisted Care facility in Cary, North Carolina, who is participating in the program.
Price, affectionately known as Miss Bonnie, said that having a pen pal has been a good experience.
"We can't hug each other or touch each other, and we're all quarantined everywhere, but a pen pal is something I can do to bring people closer together," Bonnie said.
"My main message is love and kindness," she adds. "This would be an opportunity to give some love and receive some love."
The assisted living home's staff members are following the Centers for Disease Control and Prevention guidelines for sorting through the mail they receive and taking extra precautions to ensure residents get their pen pal packages safely, Seals said.
Donna Horton, an administrator who helped create the pen pal program, said residents are excited to receive mail from their new friends.
"With everything else that's going on [in the world], this is a ray of sunshine for us," Horton said.
Seniors living at the Victorian Senior Care Community are still looking for more pen pals to write to them.
Anyone interested in becoming a pen pal can visit the Victorian Senior Care Facebook page, where you can find information on residents, including their interests, and where to send letters at one of the participating facilities in North Carolina.