Every year girls and women from around the world gather in Los Angeles for a weekend to join the Rollettes Experience, an annual summer camp hosted by a wheelchair dance team.
The squad's mission is to show the world that dance is dance whether you're walking or rolling.
Since the group was founded in 2012, the Rollettes now have six core female team members who travel to perform and welcome anyone who wants "to find a sisterhood and a community and friendships from all around the world," Chelsie Hill, founder of the Rollettes, told "Good Morning America."
Hill, 27, was a competitive dancer for more than a decade and headed towards performance college until she was left paralyzed from the waist down in a car crash at age 17. Everything in her world changed, she said, except her passion for dance.
After the injury, Hill said she felt alone and longed to regain a sense of normalcy and community. She was able to connect with other teens in similar situations who also loved dance through social media and "it became this reunion every year," she said.
More girls joined, so Hill started to host weekend sleepovers and dance boot camps. It eventually led to the establishment of the dance team in 2012, and the annual gathering that's now known as the Rollettes Experience.
Since its inception, the event has evolved to be so much more than dance, Hill said. It's about creating meaningful connections "where you can feel safe" and "feel like you're a part of something that's bigger than you."
This year, 175 girls and women representing 10 different countries participated in dance classes, a talent showcase, a makeup seminar led by a quadriplegic artist, health and wellness courses, a pool party, speaker series and more.
Ramona Corcoran, 18, from Fort St. James, Canada, has come to L.A. for the Rollettes event ever year since 2014 after seeing Hill on the reality show, "Push Girls."
"Where I live I'm the only one in a chair, so coming here I get to be with people like me," Corcoran said, adding that she's met some of her best friends through the group.
Beyond discovering friendships, a crucial part of the experience is also mentorship.
Maria Rabaino, who's one of the Rollettes' six team members, credited the team for motivating her to become a more independent and stronger woman.
"And now I get the opportunity to motivate other people to live beautiful lives that they want regardless of what their limitations are," Rabaino, 25, said.
Since Rabaino knows how special her relationship with her teammates is, she hopes to create the "same special feeling" by empowering others, especially the next generation.
Rabaino wants them to see people with disabilities "thriving, and having a normal life, and having fun and being in relationships," she told "GMA." "So they know that their life is just starting."
Echoing Rabaino, Hill said she also lives for moments where lives are changed for the better through the program, and shared a meaningful interaction last year she had with a girl who has cerebral palsy. Hill tearfully recalled: "She goes, 'This event has changed my life. I have finally met other people like me,' and she starts sobbing. That was the moment where I was like, 'Oh my gosh, we're doing something.'"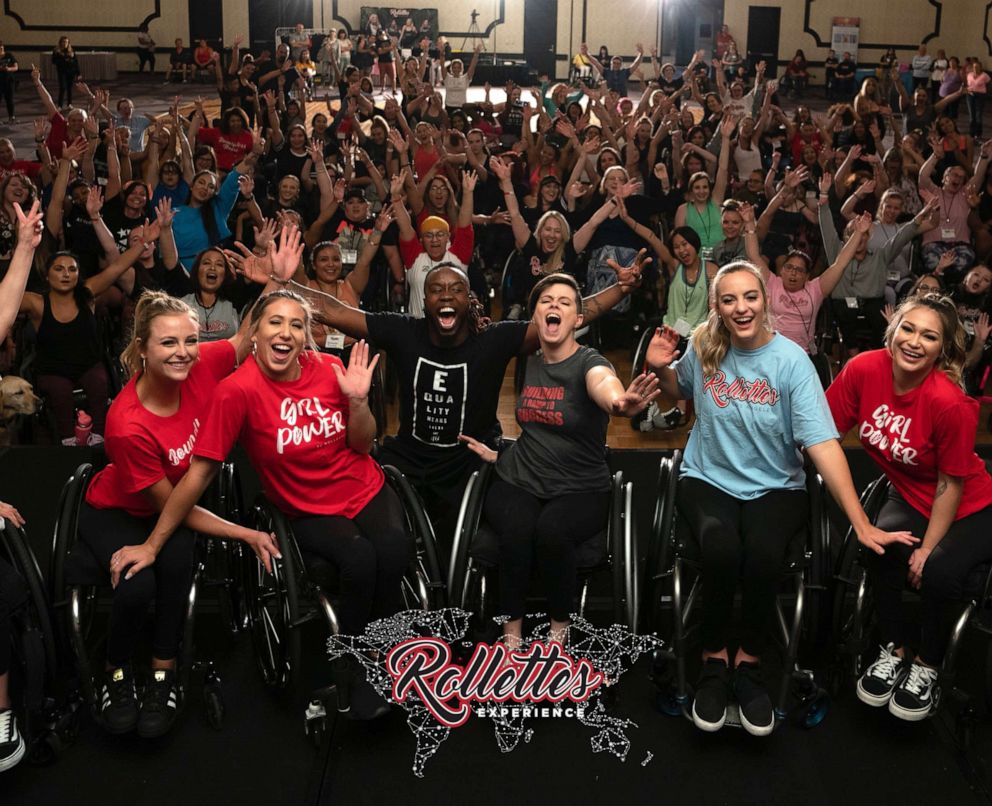 This year, Hill got to bond with the girls and hear their stories, their emotional struggles and their triumphs at the pajama party event.
Dancing is no longer just a passion for Hill, it is now a tool she uses to inspire women and help build a supportive platform where everyone feels like they belong.
"It's so much more than me now. My 'why' isn't for myself anymore. My 'why' is for every attendee that comes," Hill said.