"I'll get an Uber" is a phrase said today by thousands of women, who see the ride-sharing service as a reliable way to get where they're going.
But after the murder of a University of South Carolina college student who police say was killed this weekend after getting into a car she mistakenly thought was an Uber, a new spotlight is being put on the safety of ride-sharing -- especially for women.
"Samantha was by herself. She had absolutely no chance," her father, Seymour Josephson, said at a vigil on Sunday. "You guys have to travel together. ... You get into an Uber, you don't know if it's an Uber, you don't know anything about it."
Samantha Josephson, 21, was alone when she requested an Uber ride early Friday morning, Columbia police said. After she got into a stranger's car, mistaking it for her Uber, the child safely locks were activated, preventing her from escaping, police said.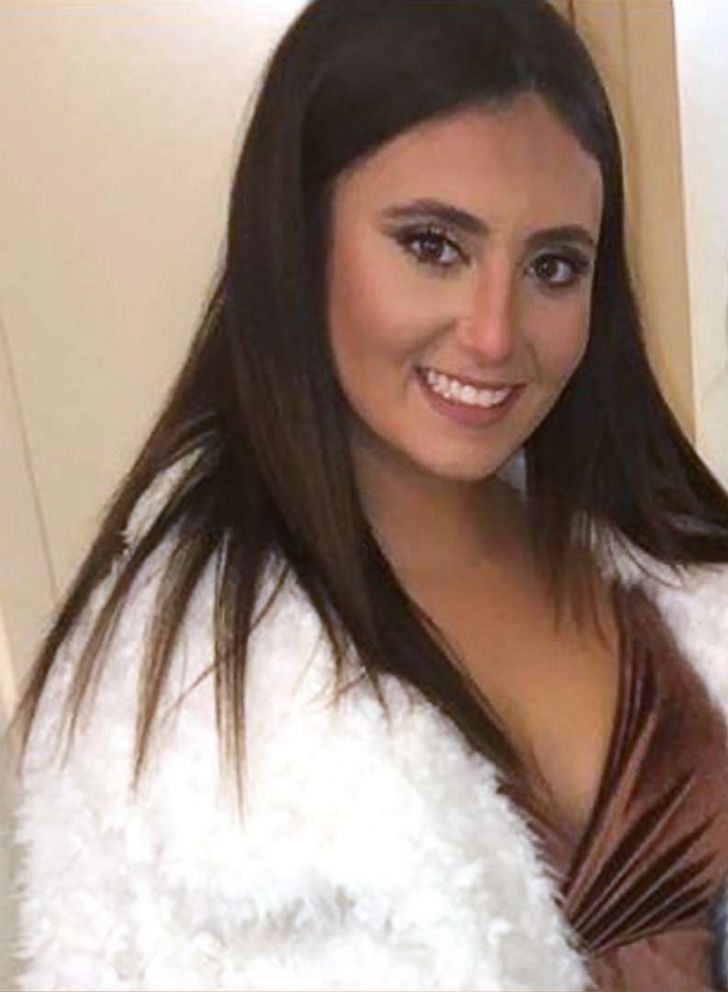 Her body was found in a wooded area near where suspect Nathaniel Rowland recently lived, police said. Rowland was arrested and charged with murder and kidnapping, said police.
The University of South Carolina responded by asking the student body to pledge to "never use a ride share service" without first doing two things: Ensuring the license plate, make, model and color of the vehicle and the drivers' photo match the app and asking the driver, "What's my name?"
"Asking 'WHAT'S MY NAME?' must become as automatic for you as putting on a seatbelt in your own vehicle," university president Harris Pastides wrote in the letter to students.
Allan Bourdius, an Uber driver in Pittsburgh, Pennsylvania, says he often sees riders do the "wrong thing" when they approach his car.
"I very rarely get asked what my name is," he said. "People will blurt out, 'Are you Allan?' -- which is the wrong thing to do."
Bourdius said he normally drives Friday and Saturday nights and typically sees groups of women traveling together. When he does drive a female on her own, he said he only leaves after he sees her enter her destination.
"It's certainly up to each individual driver how they're going to operate. We're not employers. We're contractors who use their service," Bourdius said. "From my perspective as both a driver and a rider, I think the services do take safety seriously and try and provide methods and tools to help with safety."
Uber said in a statement they will continue their efforts to "educate the public about how to avoid fake rideshare drivers."
"Since 2017, we've been working with local law enforcement and college campuses across the country to educate the public about how to avoid fake rideshare drivers," an Uber spokesperson said. "Everyone at Uber is devastated to hear about this unspeakable crime, and our hearts are with Samantha Josephson's family and loved ones. We remain focused on raising public awareness about this incredibly important issue."
What women riders need to know
The safety practices for protecting against a fake ride-share driver apply to all people, of course, but are especially relevant for women in the light of Josephson's death, and they apply to all ride-sharing services, from Uber to Lyft and Via.
Uber also urges riders to check that the driver, car and license plate number match the information in the Uber app before getting in the car. If they do not match or you do not feel comfortable, do not get in the car.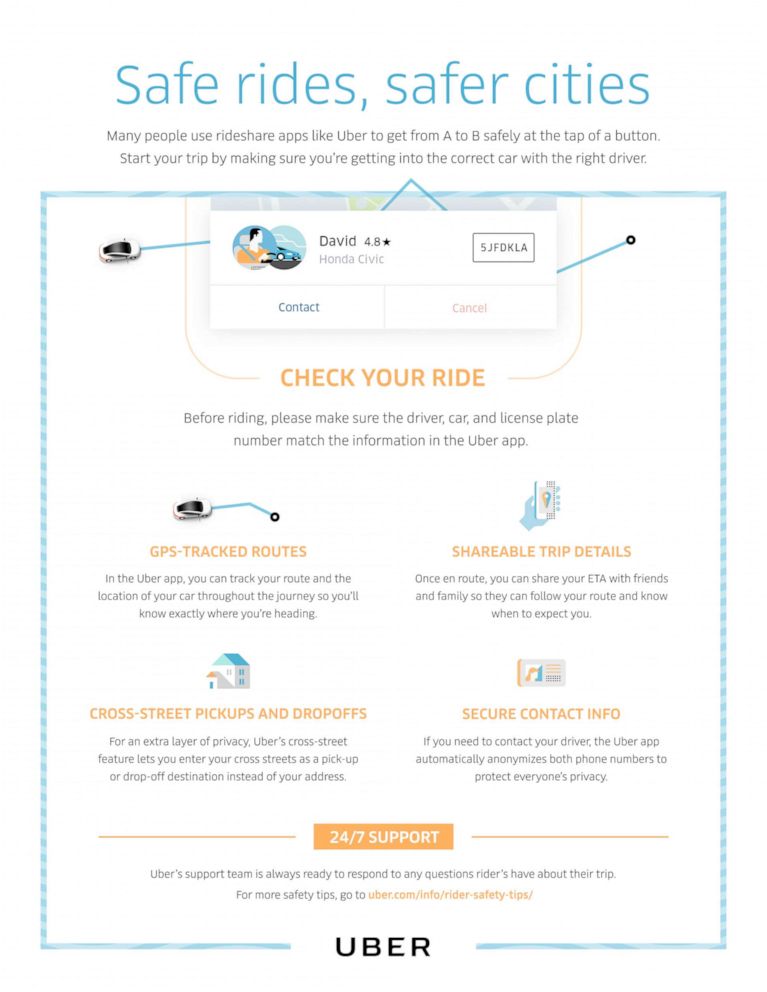 When you approach the car, before getting in, ask the driver both what his or her name is and what your name is to be sure you're with the correct driver.
For extra privacy, Uber suggests putting your pickup and/or drop-off destination as cross streets so your exact address is not revealed.
You can also share your ride with friends and family via the app so they can follow your route and know your expected arrival time.
Another safety feature is that ride-sharing apps, Uber included, feature GPS-tracked routes so you can track your path during the ride and know where you are headed.
Steve Gomez, security consultant and news contributor for ABC News, said he goes an extra step and loads the address of his destination into the GPS on his phone so he can watch the route the driver is taking. If there is a problem, the rider can question the driver, call 911 or just get out of the car.
Another precaution recommended by Gomez is to screenshot the driver information and text it to a friend or relative.
Uber safety hacks to know
The Uber app also has some built-in safety features that riders can use to their advantage.
During a ride, a black shield appears in the lower right screen of the app. Clicking on that shield takes you to a safety center with an emergency button to call 911.
https://giphy.com/gifs/vxpCQJHb0RdrXVlJLg
In some cities, new technology makes the car's make and model, license plate and GPS location available to 911 dispatchers when that emergency button is used, according to Uber. That feature is available in more than 60 cities and counties across the U.S., with Uber planning to expand it to more.
Uber's Ride Check asks drivers and passengers about their status in unusual situations, like if there is a long stop during a trip.
"Both the rider and the driver will receive a Ride Check notification to ask if everything is OK," Uber CEO Dara Khosrowshahi wrote last September. "They can let us know through the app that all is well, or take other actions like using the emergency button or reporting the issue to Uber's critical safety line. We expect to expand this technology to additional scenarios in the future."
When waiting for your ride, Uber also has the Spotlight button on its app, which allows you to light up your phone and hold it towards your driver so that he or she knows you are the right person to pick up. The option appears on the app after you request the ride.
Uber drivers can also choose to use a Beacon dashboard light that gives riders the option to choose the light they will see when the car arrives.
Lyft also offers something similar, which they call Amp -- a device that sits on the driver's dashboard and syncs with the rider's phone.
Outside of ride-sharing apps, riders can use a personal safety app called SEAM. The app allows you to share your location, audio and photos with friends and family and make emergency calls from the app.
The app is free and stores user data for up to 24 hours. A subscription ($5.99/month; $47.99/year) saves downloadable data for up to three months.
ABC News' Soo Youn and Emily Shapiro contributed to this report.