Chicago mayor reacts to Jussie Smollett shocker
Kamil Krzaczynski/Reuters
Fuming from the stunning decision by prosecutors to drop charges in the "hoax" attack case against "Empire" actor Jussie Smollett, Chicago Mayor Rahm Emanuel blasted the move Wednesday, saying all the evidence police collected against the TV star should be unsealed as the FBI opened a review of the disposition of the case.
The Federal Bureau of Investigation (FBI) is reviewing the circumstances surrounding the dismissal of the criminal charges against Smollett, two law enforcement sources briefed on the matter told ABC News on Wednesday. The sources insisted it is not an investigation, but a "review."
"He's saying he's innocent and his words aren't true," Emanuel told ABC News chief anchor George Stephanopoulos on "Good Morning America." "They better get their story straight. This is actually making a fool of all of us."
But Cook County State Attorney Kimberly Foxx, whose office dismissed the charges against Smollett, insisted that the actor did not receive any special treatment. She said Smollett was allowed to dispose of his case through an alternative prosecution program, just like 5,700 other people her office has charged with low-level felonies over the past two years.
In an interview with ABC News, Foxx said Smollett qualified for alternative prosecution because he doesn't have a history of violence, lacks a criminal record and was charged with a class four felony, which is one step above a misdemeanor. She said her office would rather put resources towards prosecuting violent criminals.
Foxx said in a separate interview with ABC station WLS-TV that while Smollett was not found guilty in a court of law, "I believe, based on the facts and the evidence presented in the charging decision made by this office, this office believes that they could prove him guilty."
"I think this office, based on the charging decision, believes he is culpable of doing that," Foxx said.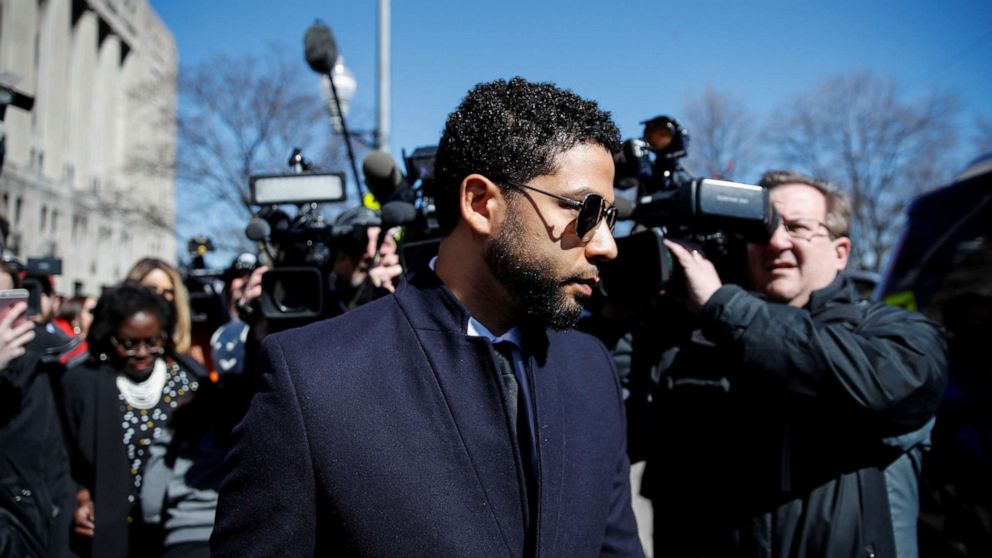 She also noted that Smollett did community service and forfeited his $10,000 bond, which she said is equal to the maximum restitution her office could ask for under state statutes.
Call from Michelle Obama's former chief of staff
Foxx said she recused herself from the case about a week before Smollett was formally charged after consulting her office's chief ethics officer about a phone call she received from Tina Tchen, the one-time chief of staff for former first lady Michelle Obama, asking on behalf of Smollet's family about the status of the case. She said she later spoke to a relative of Smollett's who she would not identify.
She said she was not doing any favors for anyone.
Tchen told ABC News in a statement late Wednesday that she reached out to Foxx shortly after Smollett reported being attacked and he was still considered a victim by police.
"My sole activity was to put the chief prosecutor in the case in touch with an alleged victim's family who had concerns about how the investigation was being characterized in public," Tchen said in a statement.
Soon after Emanuel's GMA interview Wednesday, Chicago police released some supplemental reports in the investigation of Smollett in compliance with a Freedom of Information Act request filed by WLS-TV.
The documents handed over included details from interviews detectives conducted with two brothers, bodybuilders Abimbola and Olabinjo Osundairo, who claim the actor solicited them to help him stage a Jan. 29 street attack on him.
Both brothers testified before the grand jury that indicted Smollett on 16 counts of disorderly conduct stemming from a report Smollett filed on the attack that detectives determined was a "hoax."
After releasing the reports -- a small portion of a total investigation file described as being about eight inches thick -- the Chicago police received a judge-imposed gag order barring them from releasing more case documents and from even discussing the investigation, according to Anthony Guglielmi, the police department's spokesman.
Foxx said the case should have never been under seal by the court clerk and that officials are working to make the case public.
On Tuesday, the Illinois State Attorney's office dismissed all felony counts of disorderly conduct against Smollett after what the 36-year-old actor claimed was a racist and homophobic attack on him that police investigators determined was bogus and allegedly intended to garner Smollett publicity and eventually a pay raise.
Smollett denied the accusations and, following Tuesday's court hearing, reiterated his innocence, saying at a news conference that he has "been truthful and consistent on every single level since day one."
"I would not be my mother's son if I was capable of one drop of what I was accused of," he said.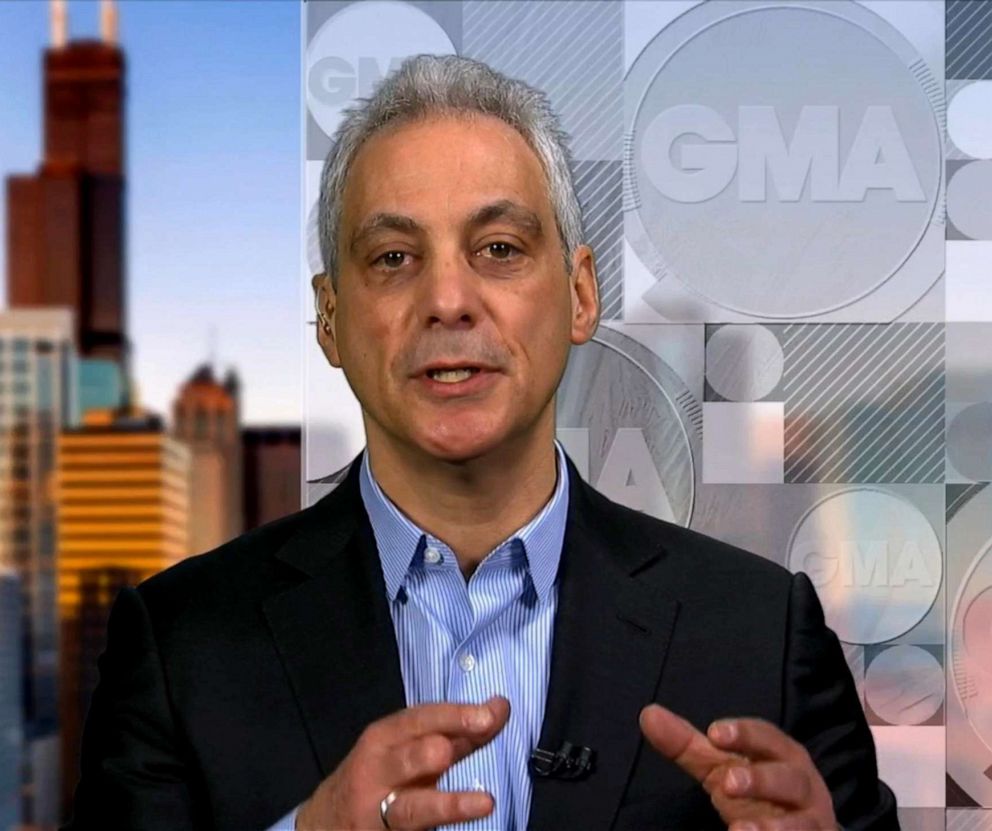 'Let's get to the bottom of this'
Mayor Emanuel suggested Wednesday that it was unconscionable for prosecutors to dismiss the case after Smollett agreed to forfeit the $10,000 bond he put up and complete "two days" of community service at the Rainbow PUSH Coalition, the non-profit Chicago community organization founded by the Rev. Jesse Jackson.
Adding further to the mystery of why the state attorney's office dismissed the charges, the Rainbow PUSH Coalition released a statement saying that Smollett spent time at their offices, but added, "There was no court-ordered community service here."
"Let's get to the bottom of this. Let's find out what happened," Emanuel said. "Especially [in] a city that embraced not only him as an actor but more importantly the values of being whoever you are, whoever you love, whatever your background is, you have a home here. He took that, turned it around and tried to self-promote himself. And the fact is, he's walking around with no sense of contrition, no sense of remorse, and the fact is also the state's attorney is saying he's actually guilty of this hoax, and he's walking around saying, 'No, I'm innocent.'"
Cook County First Assistant State Attorney Joe Magats, who took over the case after Foxx recused herself, said Tuesday it was his decision alone to dismiss charges against Smollett.
Magats said he took into consideration Smollett's lack of a criminal history and that the disorderly conduct charges are "low-level" felonies.
In an interview with WLS-TV Tuesday, Magats defended his decision, saying it was "the right disposition in the case."
"This was not an exoneration. To say that he was exonerated by us or anyone is not true," Magats said.
He's an actor, a person of influence. He got treated differently than everyone else
But Emanuel called Magats decision "not on the level."
"He's an actor, a person of influence. He got treated differently than everyone else," he said of Smollett.
Jussie's defense
One of Smollett's attorneys, Tina Gladian, said she was shocked to hear Emanuel and Chicago Police Superintendent Eddie Johnson "double down" on their accusations against Smollett.
"I think if they believed the charges they never would have dismissed the case," Gladian said on "GMA" of the state attorney's office. "I'm saying their actions speak louder than words. They could have proceeded in a variety of ways. We were ready to move forward. We appeared in court and pled not guilty. We were ready to fight the charges and they're the ones who voluntarily discontinued the matter, so I think that speaks volumes."
Smollett could still face federal charges. The FBI and the U.S. Postal Inspection Service are continuing their probe -- reported by ABC News on Feb. 20 -- into whether Smollett played a role in sending a threatening letter to himself prior to what police said was a staged attack on him, a law enforcement official briefed on the matter told ABC News on Tuesday. The letter was sent Jan. 22 to the 21st Century Fox studio where the television series "Empire" is filmed.
Brothers were 'shocked'
In the investigation reports released by the Chicago police Wednesday, Abimbola and Olabinjo Osundairo told detectives they had absolutely nothing to do with the threatening letter sent. Law enforcement sources told ABC News that Smollett allegedly got the brothers to help him orchestrate the attack because he was upset the letter did not get enough attention.
"Both were emphatic about the denial," detectives wrote of the brothers in the police reports released Wednesday.
After testifying before a Cook County grand jury on Feb. 20, one of the brothers told officers "that it felt good that he told the truth but still felt that the Chicago Police may want to charge him," according to the police reports.
The brothers claimed, according to police documents, that Smollett paid them to help stage the attack. One of the brothers said he received a $100 bill from Smollett on Jan. 25 and a $3,500 check from the actor on Jan. 27.
Their lawyer claimed the check was meant to pay the brothers for helping Smollett to get his body in top shape for an upcoming music video and to help in the allegedly bogus attack.
The reports also detail surveillance video of the Osundairo brothers at a Chicago hardware store in the days before the attack purchasing a face mask, knit caps, gloves, a red hat and sunglasses.
Smollett told police the two men who attacked him were wearing masks and shouted racist and homophobic slurs as well as "MAGA country!" before hitting him, pouring "an unknown chemical substance" on him -- possibly bleach -- and wrapping a rope around his neck.
In the police reports released Wednesday, one of the brothers identified a El Yucateco hot sauce bottle that he claimed he filled with bleach and poured on Smollett during the allegedly phony attack.
An attorney for the brothers said Wednesday that they were "shocked" by the decision to drop the charges against Smollett.
"They did not understand how this happened," attorney Gloria Schmidt told WLS-TV. "We were fully cooperating and we had every intention of fully cooperating, and it was just like the rug got pulled out from under us."
Schmidt said the Osundario brothers are now focused on "working very hard to piece their lives back together."
"Did they make a bad choice?" she said of them helping Smollett allegedly stage the attack. "Of course they did and they've apologized for it. But did they do something illegal...? No, they are not co-conspirators. No, they did not do anything illegal."
21st Century Fox -- which produces "Empire" -- is now a part of Disney, ABC News' parent company.