Kroger, Walmart CEOs say Thanksgiving food is cheaper, still time to save and thaw the turkey
Kroger CEO offers tips for last-minute Thanksgiving grocery shopping
Mario Tama/Getty Images, FILE
As Americans make their final trips to the grocery store ahead of Thanksgiving, prices on some staple ingredients are going to help lower costs of the holiday meal this year.
Experts encouraged consumers shop early for the Thanksgiving feast with a budget in mind, especially with inflation still putting the pinch on wallets at checkout, but there's still time to save for turkey day even with one day to go.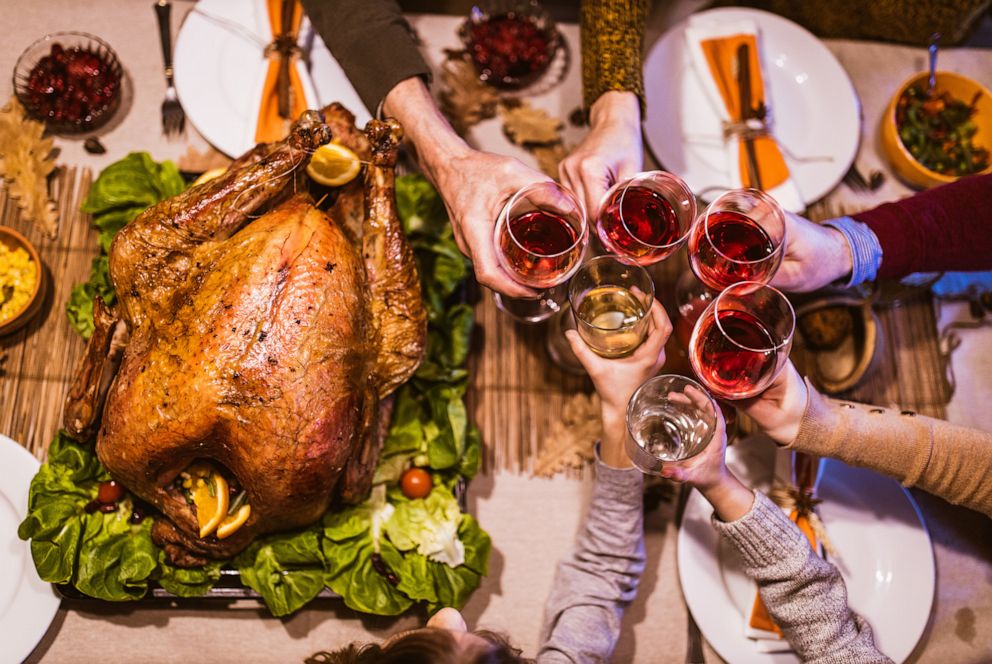 Rodney McMullen, chairman and CEO of Kroger -- the third largest retailer in the U.S. -- joined "Good Morning America" on Wednesday and off the bat reminded last minute shoppers, "If you're going to have a frozen turkey, you better go out right now and let it thaw out."
When asked where he's seeing prices rise on Thanksgiving goods, McMullen said "very few spots right now" with an exception of canned cranberries, which he said are up compared to fresh cranberries.
"You can feed a family of 10 for less than $5 per person," he boasted of Kroger's prices.
Look for store savings on Thanksgiving meals this season
This year, many larger retailers are adjusting their game plans amid inflation in order to keep a traditional turkey dinner more affordable.
According to Mintec's Thanksgiving Dinner Index, which measures price fluctuations across key food commodities that make up a traditional Thanksgiving dinner, the cost actually fell this year by 21%.
"If you cook from scratch, you save a lot of money. Going from scratch is about a third of the cost as going out and having somebody else do it for you," McMullen said. "For us, you can get electronic coupons, digital coupons and other things like that as way to stretch that budget out."
BJ's Wholesale Club is offering customers a free Butterball turkey if they spend at least $150 in one transaction between Nov. 1 and Nov. 9.
At ShopRite, shoppers who buy at least $400 can get a free turkey, up to 21 pounds, right up until Thanksgiving Day, Nov. 23.
For Giant supermarket shoppers, 400 membership points can be redeemed for a free turkey up to 20 pounds.
Target announced a Thanksgiving meal basket that feeds four people for under $25, including a turkey at less than $1 per pound and an assortment of sides and desserts under $5.
Customers can shop the Target Thanksgiving meal both online and in store. It includes must-have staples: a 10-pound frozen Good & Gather Premium Basted Young Turkey, 5 pounds of Good & Gather Russet Potatoes, a 14.5-ounce can of Good & Gather Cut Green Beans, one 10.5-ounce can of Campbell's Cream of Mushroom Soup, a 14-ounce can of Ocean Spray Jellied Cranberry Sauce, one box of Stove Top Turkey Stuffing Mix, and a 12-ounce bottle of Heinz HomeStyle Roasted Turkey Gravy.
For shoppers who plan to host a larger feast, Target suggests doubling this list to serve eight guests.
Additionally, Target has a wide range of $5 side dishes from Good & Gather, including Caesar salad, seasoned sweet potato and vegetables, and macaroni and cheese.
The retailer also boasts dessert for under $5, which includes Favorite Day apple crisp ice cream, pumpkin spice sandwich cookies and mini pecan pies.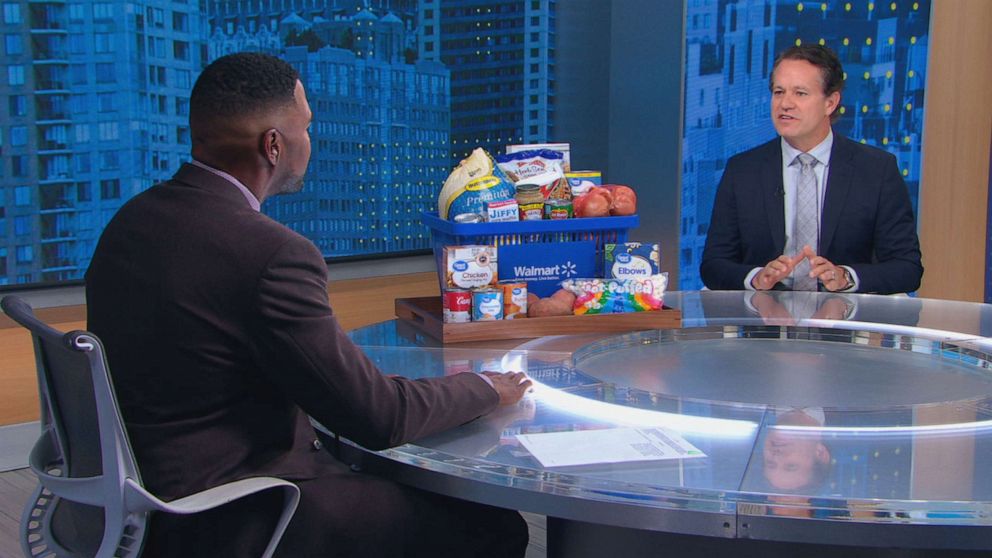 John Furner, president and CEO of Walmart U.S. -- the largest retailer in the country -- joined "Good Morning America" last month and, in an ABC News Exclusive, revealed Walmart's plan to make Thanksgiving more affordable.
"Last Thanksgiving we decided we were going to sell a Thanksgiving meal at the same price as 2021," Furner said of the strategy, which the company implemented across other major holidays. "This year, finally, we are able to have the Thanksgiving basket, that the prices are coming down versus a year ago -- we are really proud to say that the price of a Thanksgiving meal is going to come down."
A Thanksgiving basket from Walmart includes ingredients to make a meal for up to 10 people, which Furner said will Walmart will sell this year "for around $2 less than last year," at just over $70.
Furner added that the move comes on the heels of consumer feedback, with 92% of Walmart customers saying they "are concerned about food inflation," according to Furner.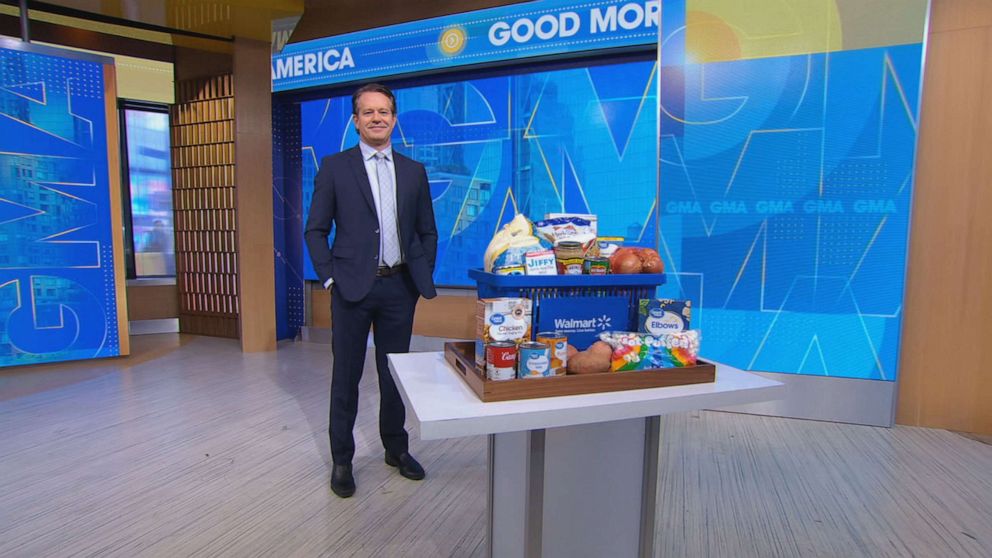 The holiday food basket at Walmart will be offered at the lower price through Dec. 26. There will be two purchasing options: one with ingredients for customers who want to cook from scratch, and one for customers that like more convenient, ready-to-bake options.
"Walmart's Thanksgiving meal includes customers' favorites and fixings including many national brands, from turkey (for under $1/lb.!) and ham to stuffing and pumpkin pie," a Walmart press release stated.
The holiday meal baskets are available for online order, pickup and delivery, and are available in store as well.
Other retailers including Aldi have announced savings up to 50% on a list of 70 Thanksgiving items, including gravy, potatoes, pumpkin pies and stuffing mixes.
Meanwhile, Meijer said it will mark down Meijer-branded turkeys to 59 cents per pound, the same price at which the grocery chain said it sold turkeys back in the 1930s.
Cost projections for Thanksgiving groceries and ingredients
Inflation in October was up 3.7% from a year ago, according to Moody's Analytics, and American households were spending approximately $235 more per month on the same goods and services than they spent a year ago.
"Things are going to be a little bit more expensive this year than last year," Dr. Michael Swanson, Wells Fargo Agri-Food Institute's chief agricultural economist told ABC News. "Turkey is kind of the exception to the rule this year that is actually cheaper than a year ago."
According to Wells Fargo's annual report, while inflation has started to slow down, some staples for dinner may still have higher price tags.
The centerpiece of the table -- fresh whole turkey -- will cost about 9% less this year, averaging $1.47 per pound.
Ham prices are at an all-time high, reaching up to $4.56 per pound in September, up 5% from last year.
Consumers can expect to pay about 20% less for fresh cranberries compared to a year ago, but canned cranberry fans will be faced with prices up 60% from last year, Wells Fargo data found.
Swanson explained that unlike recent years past, "this Thanksgiving supply chain is doing very well [and that] the stores have good product availability." He suggested that shoppers "keep your eyes open for features and promotions, because this year you're not going to worry about not finding it. You just go and try to find the best price."
Other staple items such as potatoes will cost more this year, up 2.7%. Egg prices are back down by 28.8% from last year, now costing $2.07 on average.
Turkey is now $1.27 per pound, down 22% since the same time last year, thanks in part to a decrease in avian flu that previously sent prices soaring, and thus, has helped produce more turkeys.
"Last year, bird flu caused panic with over 60 million birds having to be cold now, so far it's only hit about 180,000 birds," Lempert said. "It could be that turkey is gonna be less expensive this year than in previous years."
As Americans have seen shifts in supply chains, changes in consumer habits and other financial impacts that came out of the pandemic, Furner said "it's been an interesting couple years -- from last year, when inflation really started, things like food and consumables picked up and we [saw] more people eating at home."
"Whether it's food or getting ready for guests, people are buying early," Furner also said.
According to experts, one way to help maximize your dollar is to shop early for things that won't spoil and opt for generic over name-brand products.
"Shop early. Make sure you have that shopping list and look at the circulars," Lempert said of the upcoming "price war."
"You're going to see Kroger, Albertson's, ShopRight -- just about everybody else wanting to get our money," he added.
An earlier version of this story was originally published on Oct. 18, 2023 and Nov. 7, 2023.