A candid conversation with eight women of color running for Congress this year
ABC News Photo Illustration, Scott Eisen / Stringer, NurPhoto, Bill Clark, Getty Images
October 23, 2020, 4:11 am
When Congress welcomed a record number of women in 2018, the triumph was attributed to wins in the Democratic Party. It was also a year of historic firsts for Democratic women of color.
Rep. Veronica Escobar, one of the first Latinas to represent Texas in Congress, told ABC News that 2018 was a "watershed year" because women "know what's at stake."
The 116th class became the most diverse group of lawmakers in U.S. history and 2018 was dubbed "the year of the woman."
"2018 is the year that many, many women, and especially women of color, not only broke a ceiling … [but] broke a concrete ceiling," Minnesota Rep. Ilhan Omar, one of only two Muslim women in Congress, told ABC News. "We sort of shattered the perception of what it meant to run and who in politics can be a successful candidate."
"There's people who maybe never thought they would see someone who looked like them having a seat in Congress," New Mexico Rep. Deb Haaland told "Good Morning America." "I wore my native dress ... my pueblo clothing on swearing-in day. I just felt like I needed to express the honor I have for my family."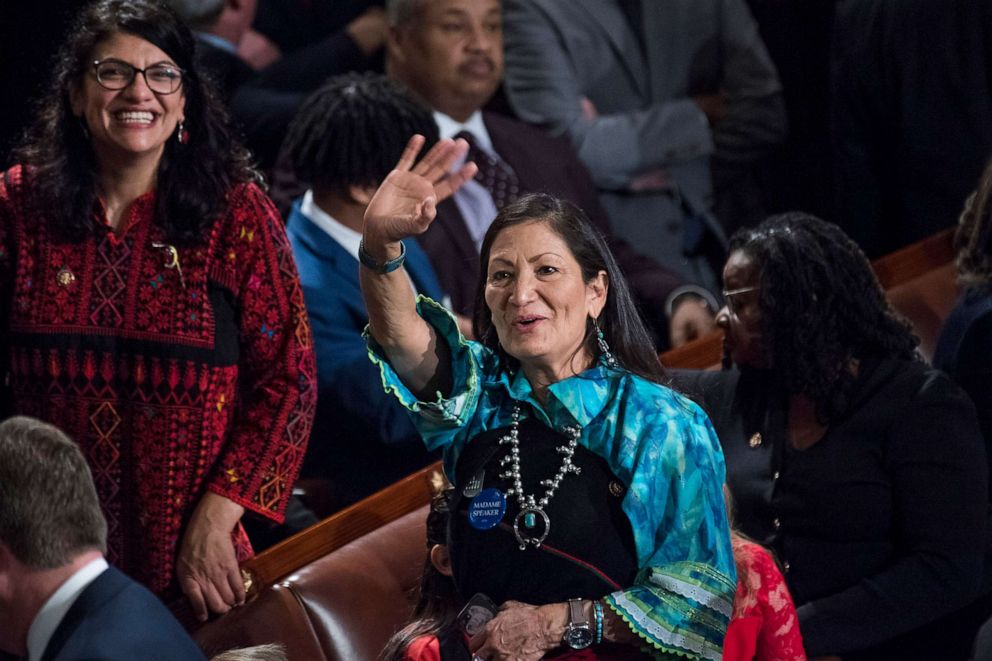 As of 2020, only 75 women of color have served in the U.S. House of Representatives: 71 Democrats and four Republicans. Five women of color, all Democrats, have ever served in the Senate.
According to Kelly Dittmar, director of research at Rutgers University's Center for American Women and Politics, "The fact that it's 2020 and we're still celebrating those firsts [is] reflective of the progress left to make."
Escobar, Haaland and Omar said money largely keeps women of color out of politics. These three women -- all first-time candidates for Congress in 2018 who prevailed in competitive primaries -- shared lessons on what it takes to level the playing field.
Women of color are often discouraged from running for politics because they don't have war chests that rival their male counterparts.
Tap into and build networks of support
Before she ran for Congress, Escobar had deep roots in her community, where she served as a county judge from 2011-2017.
In the 2018 primary race for Texas' 16th district -- a solidly blue, majority Hispanic urban area that includes the city of El Paso -- she was up against five other challengers. She had to raise more money than her challengers and battle a Republican super PAC that got involved in her primary.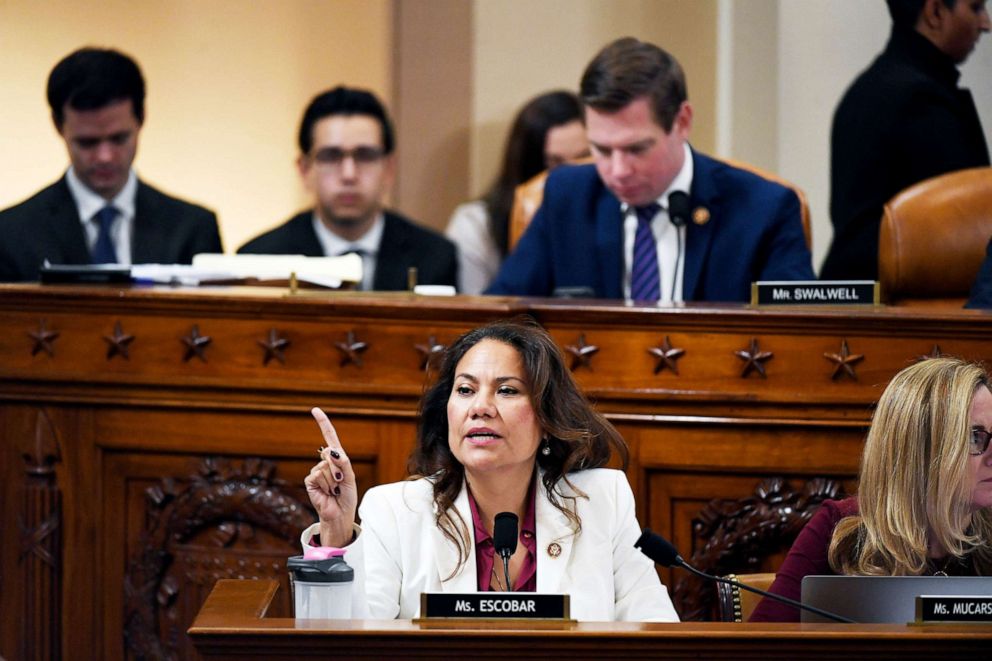 "Someone like me, you know, I'm not connected to wealth," Escobar said. "My friends are not wealthy, my family is not wealthy, and we're a family that depended on my income. So in addition to having to raise that money, I also had to figure out how my family and I would live without my income because I had to resign my position in county government to run."
"Part of what has prevented lots of women from running for Congress is that it is so incredibly expensive," she added.
Leah Wright Rigueur, a professor of U.S. history at Brandeis University, said that sexism and racism have historically shut women and women of color out of the political system. When they do run, they are often overwhelmingly outspent by white men who have access to "networks" and "war chests" of wealth and power.
"One of the things that we know is that women of color are often discouraged from running for politics because they don't have war chests that rival their male counterparts," Rigueur, who studies race and politics, said.
Asked about those challenges and what helped her win, Escobar pointed to the expansive network of organizations -- largely on the Democratic side -- that are set up to boost female candidates in both networking and fundraising early on in the primaries. She named groups like Emily's List, which boosts pro-choice Democratic women, Poder Pac, a group founded by Latinas to help Latinas get elected to Congress, and the Latino Victory Fund.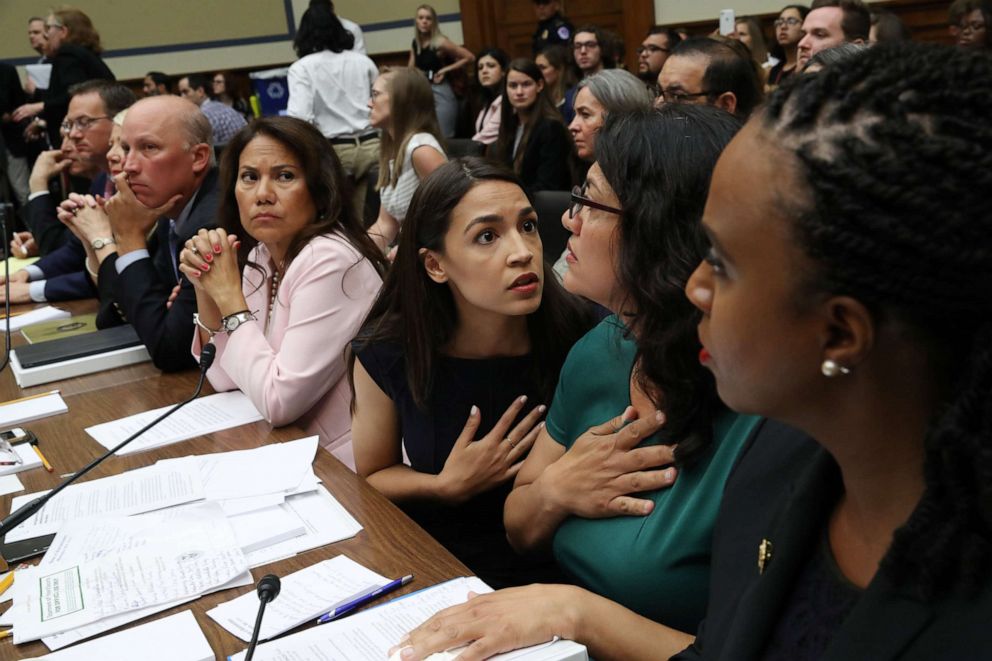 "What I found was, thankfully, there are groups that have been established to help women like me that were instrumental in my success," Escobar said.
Escobar said that tapping into those networks, which have been built over the past few decades, give a new generation of Democratic female candidates "incredible advantages that our foremothers did not have."
"Without them, it would have been a significantly more challenging race ... I've been very fortunate and very blessed," she added.
Ask for help and take advantage of training programs
Haaland, who represents New Mexico's first congressional district, is a member of the Pueblo of Laguna. When she ran for Congress in 2018, her 2018 campaign slogan was, "Congress has never heard a voice like mine."
"There had never been a Native American woman in Congress," she said. "I didn't have anyone in Congress -- a Native woman -- I could call to say, how did you do this? What did you do? Will you help me? It was me just feeling like, you know, I am setting a precedent here," she said.
When Haaland jumped into a crowded primary field with five other candidates, she did not have a savings account, so fundraising was a challenge from the start. And because there was another Democratic female challenger in the race, groups like Emily's List did not get involved in the primary.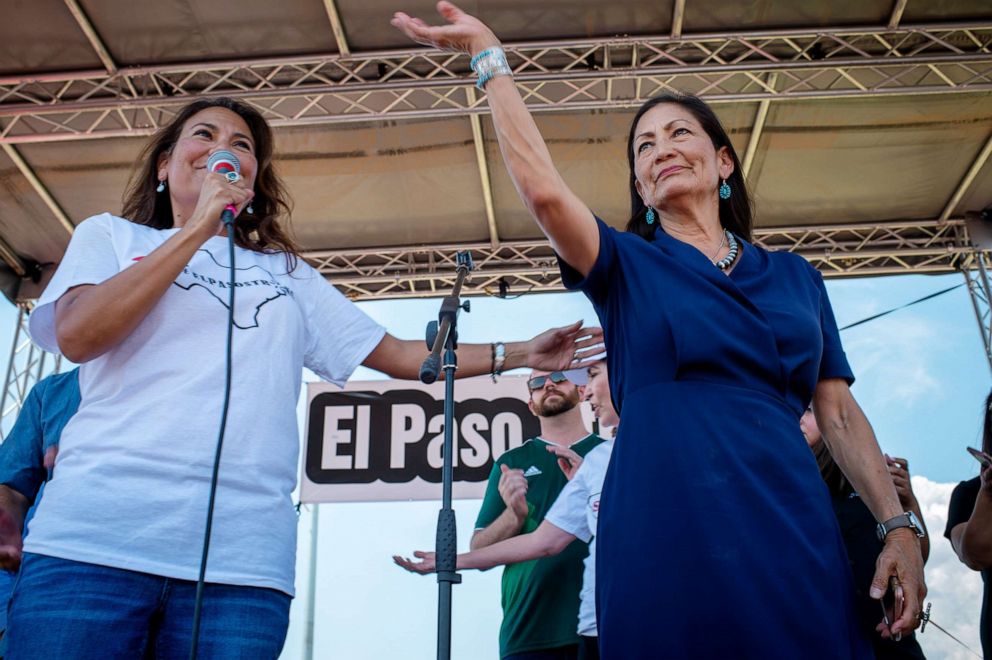 "I didn't have a lot of support in the primary, initially. I had to work very hard and earn that support," she said.
"We shouldn't say only rich folks can run ... we need people who know what it's like to struggle," she added, calling for campaign finance reform and the repeal of Citizens United -- a landmark 2010 Supreme Court decision that eliminated limits on political spending by outside groups.
Asked what helped her overcome the challenges of fundraising, Haaland cited her participation in a program at Emerge New Mexico -- a chapter of a national organization that trains Democratic women to run for office.
"One of the things they taught us about fundraising [is] start with the people who love you, who care about you the most," Haaland said.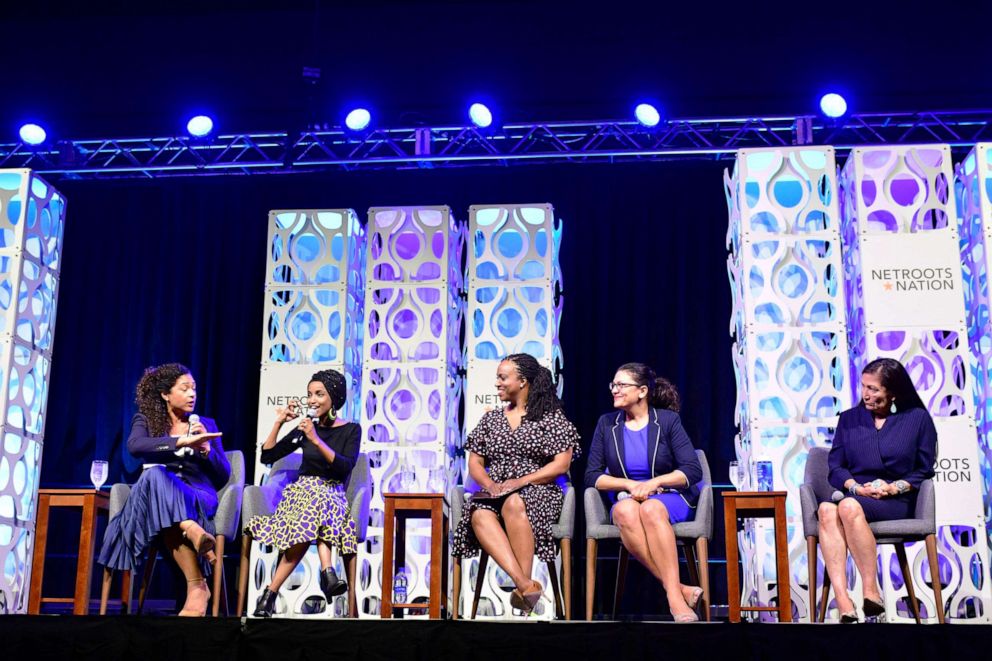 Before running for Congress, Haaland worked on several campaigns and served as chair of the New Mexico Democratic Party. She was also the Democratic nominee for lieutenant governor in 2014. She said that her network -- along with her relationships with Indian tribes -- was key in gaining the grassroots fundraising support that she needed.
"After being on the ground, knocking on doors, making phone calls, volunteering for campaigns for a very long time in New Mexico, I just felt like I had a strong network, and I had as good a chance to win as anybody," she said. "So I worked hard, I ran a campaign that I was proud of. And now I do have a seat at the table to stand up for those who have never had a voice."
'Be courageous and bold' in your advocacy for the people
When Omar entered a crowded primary field in 2018, facing off against five Democratic challengers, including two women, she did not have the advantage of fundraising support from various organizations.
"That's something that we need to work on, something that we need to change. They tend to not get involved until ... it's almost inevitable that we are going to win, which, in my case, they endorsed me in the general election," Omar said, adding that for women of color, support during the primaries from these groups "does make a big difference."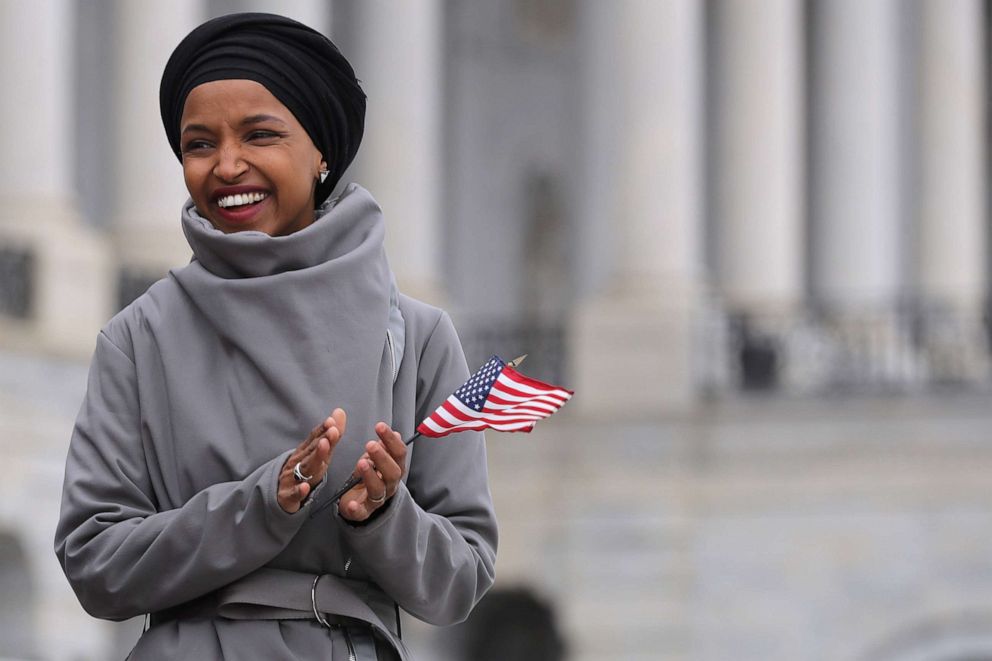 Omar, who represents Minnesota's 5th district -- a majority white Democratic stronghold -- largely relied on small individual donations to fund her campaign.
Unlike Haaland and Escobar, she faced a fierce primary challenge in 2020 -- one that spotlighted the fight against big money in politics.
Omar's primary opponent Antone Melton-Meaux capitalized on the several controversies that marred the congresswoman's first term.
Much of his fundraising came from large donors and pro-Israel political action committees, while the vast majority of Omar's fundraising came from small grassroots donations.
Nevertheless, Omar prevailed, winning one of the most closely-watched and most expensive primaries in Minnesota, beating Melton-Meaux by more than 29,300 votes and capturing 57.4% of the vote.
"We always say, you know, organized people beat organized money," Omar said, adding that she hopes her primary win will "serve as an inspiration for people to not back down, to have principles and values [that] put people over profits."
Rigueur said the successes of Democratic candidates like Omar, and to some extent, the rise of the Tea Party in 2010, showed that "it is entirely possible" to win through small, individual donations.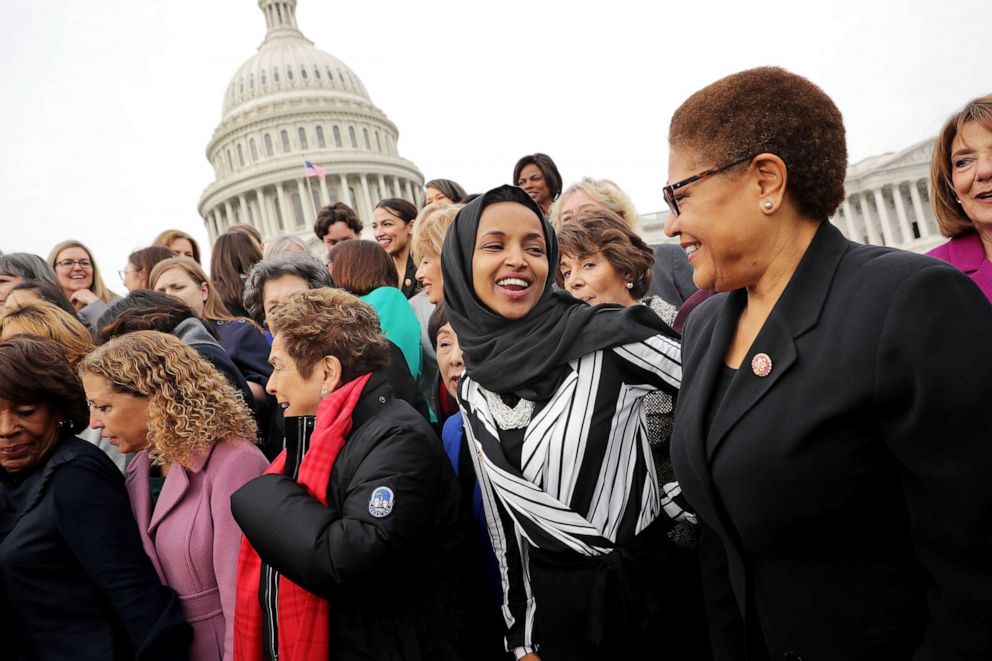 She cautioned that while this may be an "especially salient" strategy for women of color, it is only a "stopgap measure."
"Ultimately, even if you raise millions of dollars from small donors across the country, it is no match for billions that are poured in through big-money donations … big money buys elections, and it shouldn't be that way," she said.
Asked what advice she has to offer women who face fundraising challenges, Omar urged candidates to reject big money and "be courageous and bold in their advocacy on behalf of their constituency."
"The candidates that are relying on corporations to fund their campaigns often speak to the interests of those corporations," she said. "And those of us who rely on the people to fund our campaigns have to speak for the people … people are looking for someone who believes in them, [someone] that they can believe in."
'A terrible problem for democracy'
The House of Representatives passed a bill in March 2019 that would significantly overhaul the U.S. election and campaign finance system.
"We are ending the dominance of big, dark, special interest money in politics. We are ensuring clean, fair elections with Congressman John Lewis, our hero, with his Voter Empowerment Act to increase access to the ballot box," House Speaker Nancy Pelosi said while introducing the "For the People Act."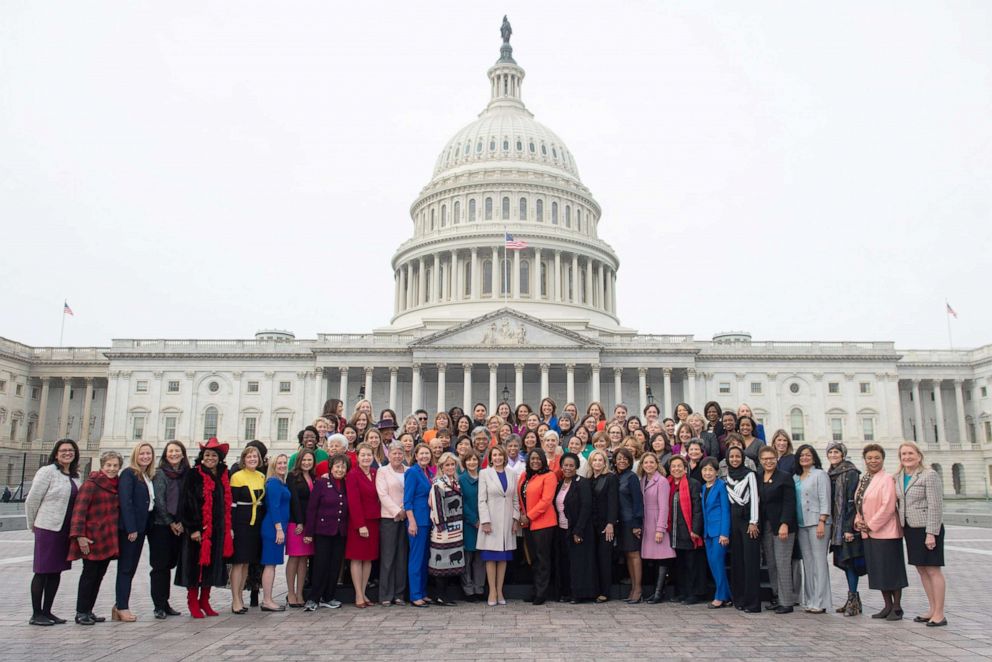 Among other things, the bill targets "dark money" -- political spending by nonprofit organizations that are not required to disclose their donors -- by requiring them to share that information. It also directs presidents, vice presidents and candidates in the general election to release their tax returns, which is currently not required by law.
The bill did not receive any Republican support and passed along party lines, 234-193. It has not been taken up for a vote by the GOP-controlled Senate.
In the meantime, Rigueur said big money continues to have "an outsized influence on politics" by giving an edge to the rich and powerful who seek political office.
The network of organizations that recruit and provide early support in fundraising for Democratic women in primary races has grown extensively over the past couple of decades, but Republicans remain at a disadvantage because groups that help GOP women remain few and far between.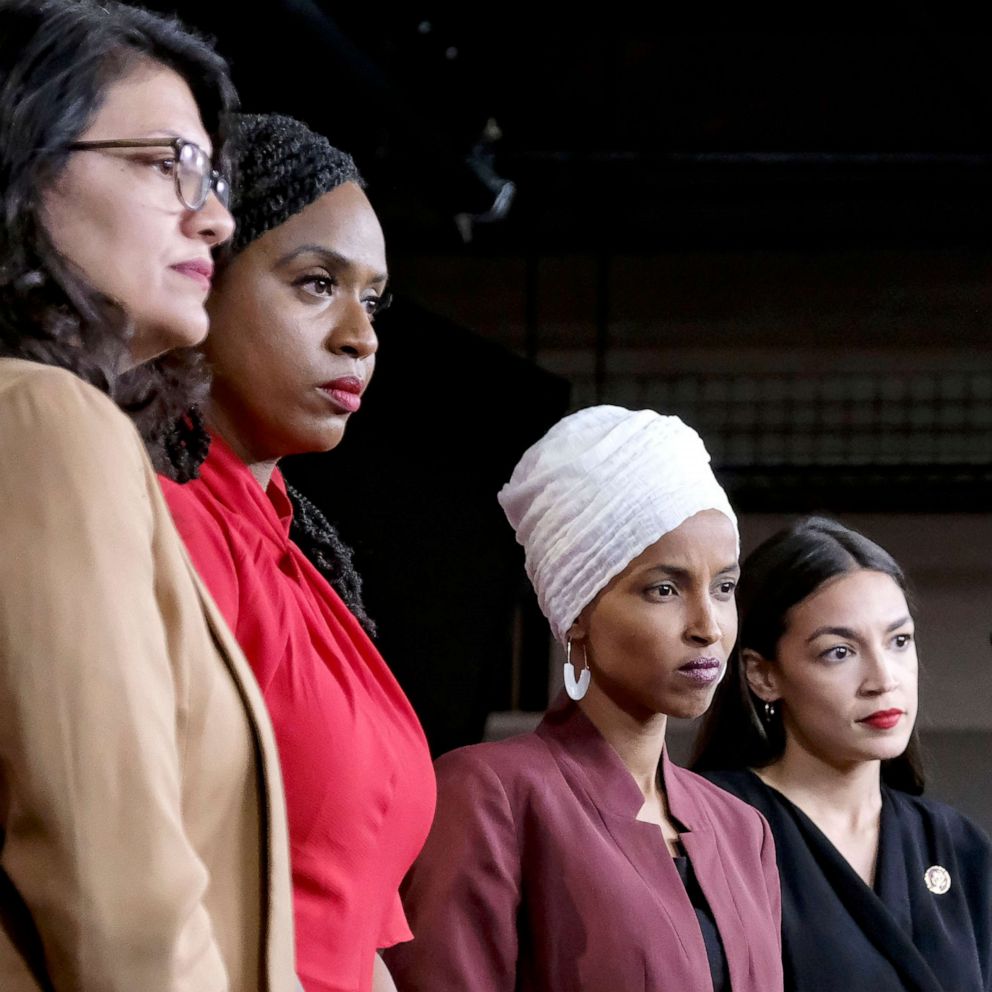 Stephanie Schriock, the president of Emily's List, told "Good Morning America" that the rising cost of running for office is a "terrible problem for democracy" and a barrier that particularly impacts low-income women and women of color, who are often primary caretakers and breadwinners in the families.
"The campaign season lasts so long. These women are so often told they cannot work and if you're running for U.S. Senate, forget about it ... that's a full-time job. If you're running for the U.S. House, it's practically a full-time job," she said.
According to Schriock, the problem is even worse in legislative races because in many states legislators make very little or don't get paid a salary at all.
"If you want good leaders, you've got to give them some financial support, so they can do this to these jobs," she said. "And we will lose our best, particularly women of color, if we don't fix the structural problem inside of these government institutions."