For a million-dollar dress worn by Judy Garland in "The Wizard of Oz," there's no place like court.
The dress is supposed to go up for auction later this month at Bonham's, which advertised the garment as: "An important costume worn by Judy Garland as Dorothy in 'The Wizard of Oz'."
The dress' value has been estimated between $800,000 to $1.2M.
Offered for auction to Bonham's by the Catholic University of America, a Wisconsin woman is suing to stop the auction, claiming the dress rightfully belongs to her.
Barbara Ann Hartke described herself as the niece and closest living relative of Gilbert Hartke, who led the drama department at Catholic University before he died in Washington, D.C., in 1986. The lawsuit claims the dress is part of Gilbert Hartke's estate and was given to him by actress Mercedes McCambridge to thank him for helping her through alcohol and substance abuse.
"This action challenges the defendants' false claim that the Important Costume advertised on Bonham's website to be auctioned has the provenance, i.e. originates with or has an earliest known history with, solely, the late Mercedes McCambridge and Catholic University. This claim is false because, while at one point McCambridge was the owner of the dress, McCambridge specifically and publicly gave the aforesaid dress to decedent Gilbert V. Hartke and said dress is, therefore, an asset of decedent's estate," the lawsuit said.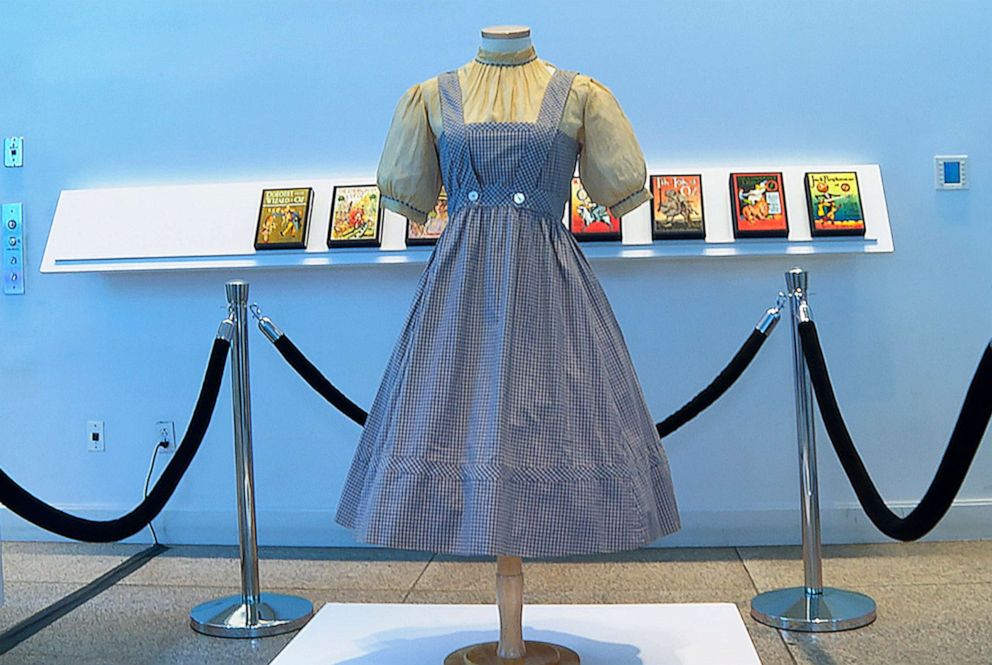 Garland wore the dress throughout the scene set in the witch's castle, when the flying monkeys capture Dorothy and the Wicked Witch of the West threatens her with death.
The garment had been missing for decades before Catholic University said it turned up in a trash bag on campus.
The dress is a blue-and-white gingham pinafore with a fitted bodice and a full skirt, handkerchief pocket, two mother-of-pearl buttons in the front, and two in the back, and is inscribed, "Judy Garland 4223."
"The dress has great and substantial sentimental value to the plaintiff, is unique, and is recognized worldwide as an iconic image of perhaps the most beloved and watched film in the history of cinema," the lawsuit said.