Princess Kate talks Prince Louis at the coronation
Jonathan Brady/WPA Pool/Getty Images
Princess of Wales Kate Middleton was among the members of the royal family in the spotlight during King Charles III's coronation weekend -- and her outfit choices turned heads.
Known for her impeccable style, Kate showed her support by attending the ceremony and delivering some of the best looks throughout the weekend's festivities to celebrate Charles as the new monarch.
Coronation Concert
The Princess of Wales attended the Coronation Concert Sunday night alongside husband Prince William and their two oldest children, Prince George and Princess Charlotte.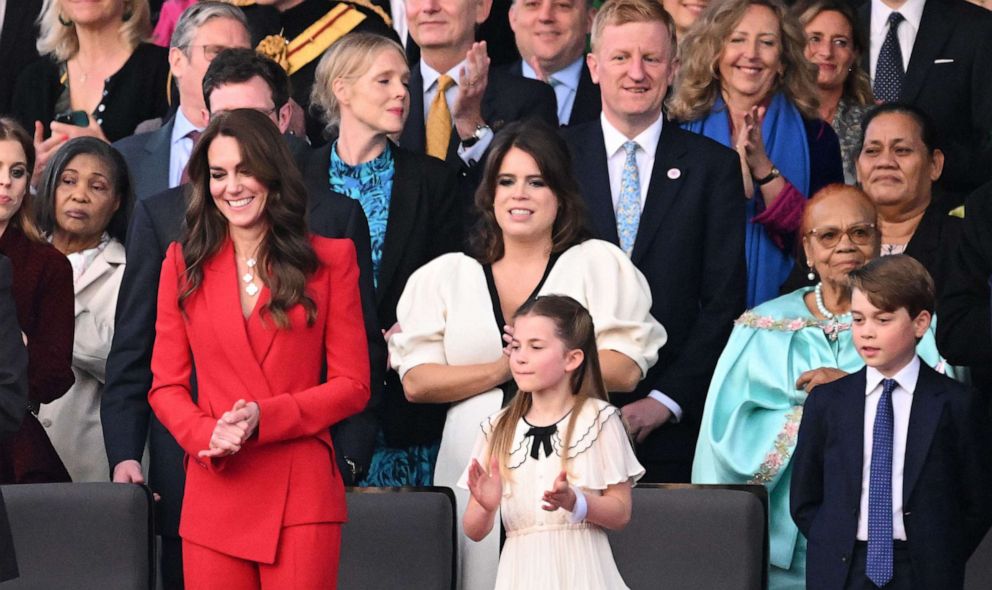 Kate wore a bright red suit for the star-studded event, which featured performances from British acts like Take That as well as American hitmakers such as Lionel Richie and Katy Perry.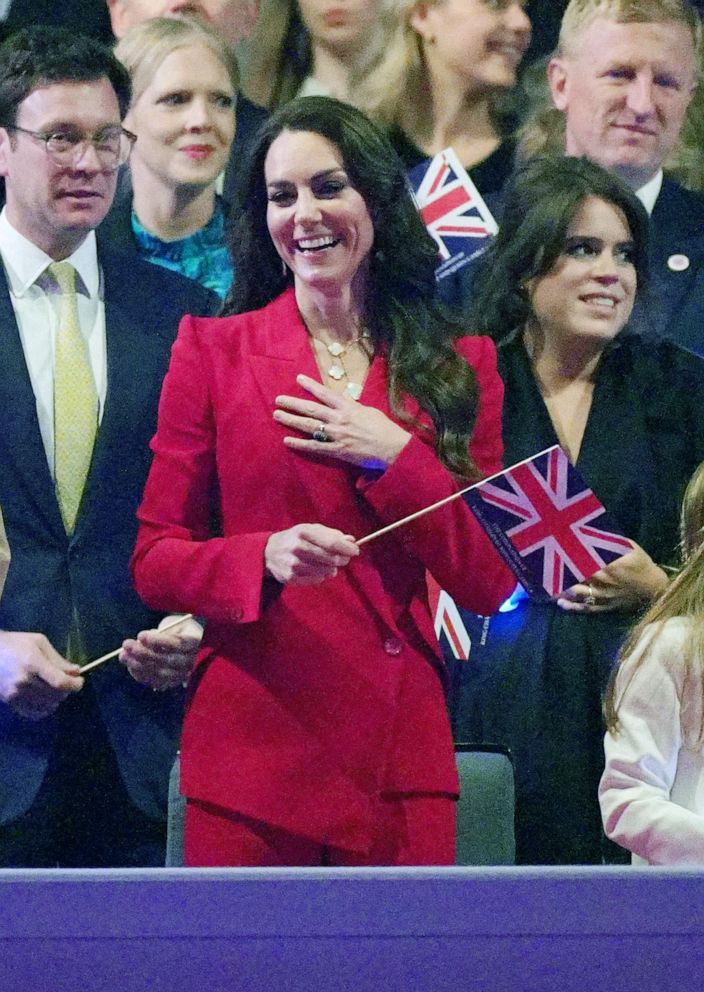 London walkabout pre-Coronation Concert
Kate stepped out with Prince William for a walkabout in London on Sunday prior to the Coronation Concert, greeting royal supporters on the Long Walk near Windsor Castle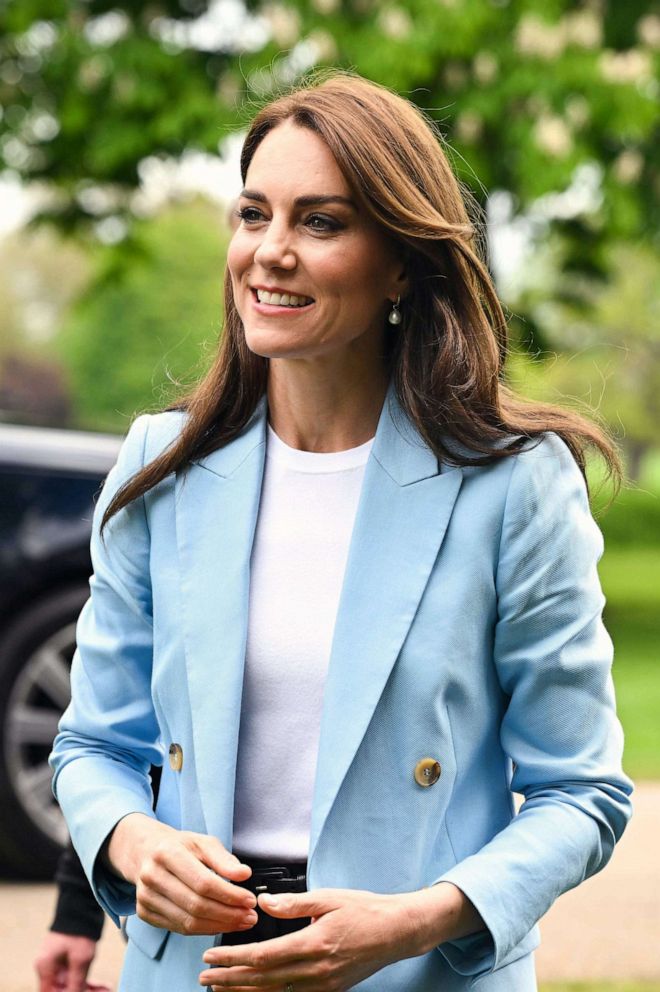 For the casual moment during the busy weekend, Kate looked sharp in black pants, a white T-shirt and a baby blue blazer with simple pearl earrings.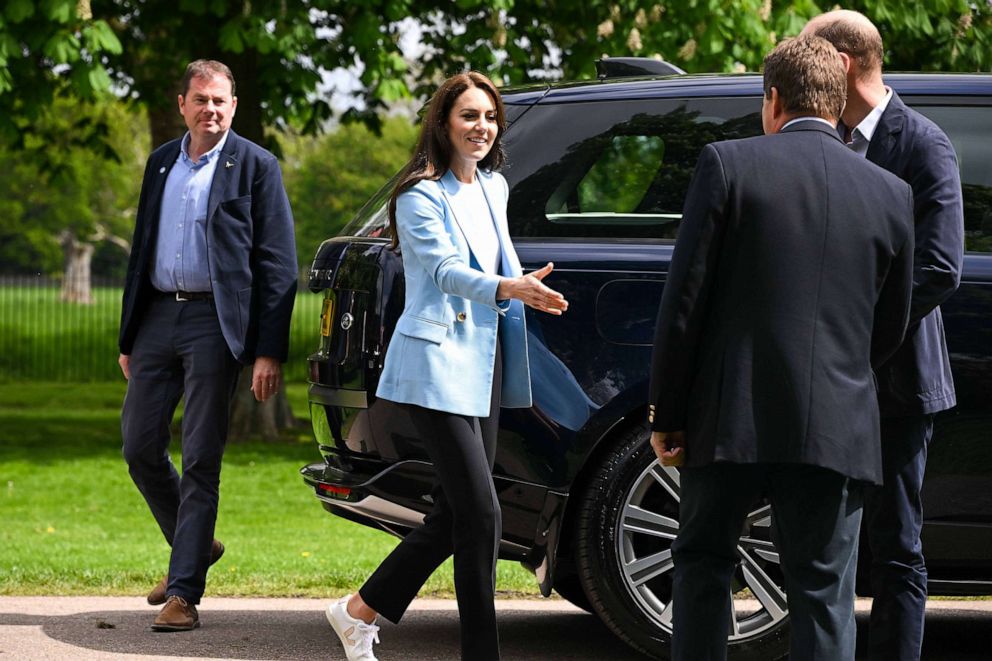 Coronation Day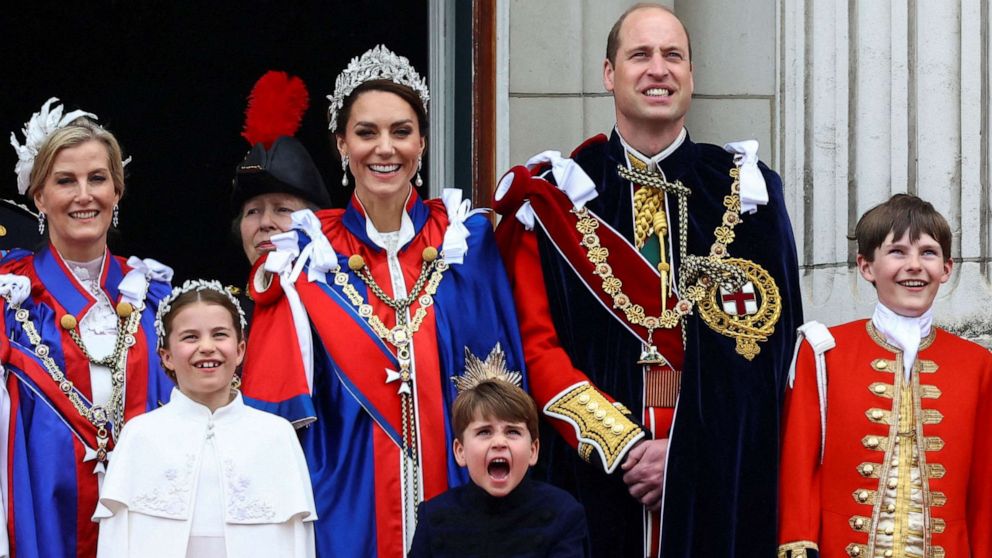 Kate attended the coronation alongside Prince William and their three children, Prince George, Princess Charlotte and Prince Louis, on Saturday. During the religious service at Westminster Abbey, Kate appeared wearing a floral headpieces with an ornamental silver braid featuring leaf embroidery, crystal and silver thread work, designed by Jess Collett x Alexander McQueen.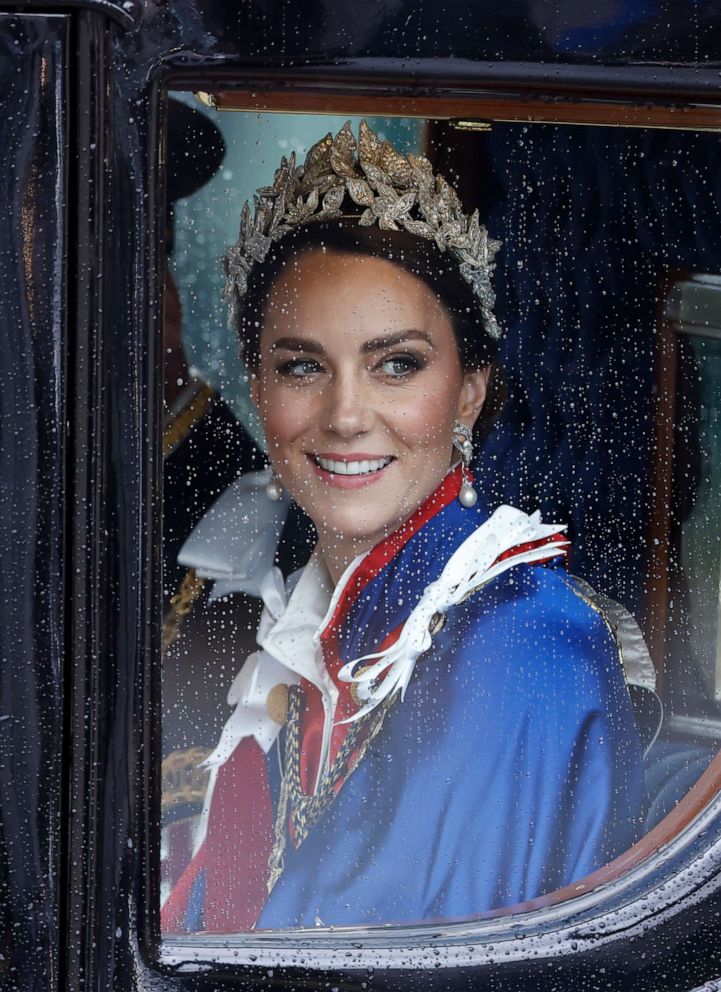 Complementing the headpiece, Kate donned an ivory silk crepe dress and cape by Alexander McQueen that features floral motifs of daffodils, roses, shamrocks and thistles, representing four countries that make up the United Kingdom. She paired the elegant look with diamond-and-pearl earrings that once belonged to Princess Diana, and the George VI festoon necklace, which was created in 1950 at the request of King George VI for his daughter, then-Princess Elizabeth.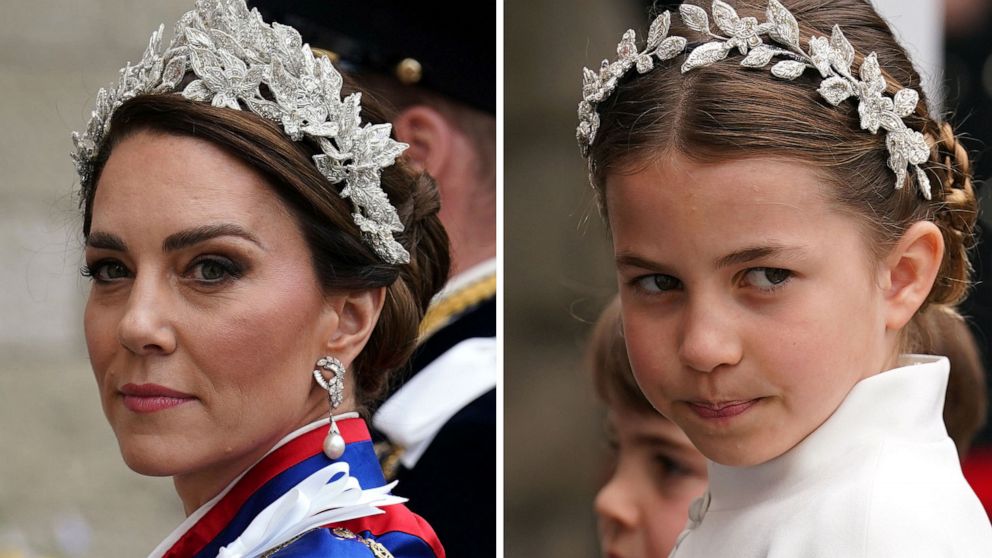 Kate was also spotted twinning with her daughter Princess Charlotte, who donned a smaller version of the floral headpiece by Jess Collett x Alexander McQueen.
Evening reception at Buckingham Palace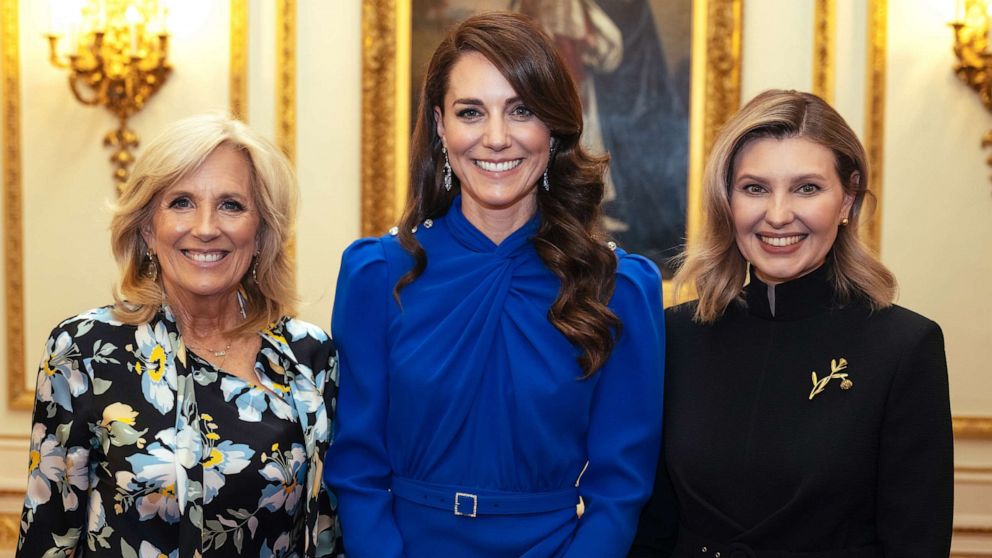 On Friday, the Princess of Wales attended an evening reception at Buckingham Palace, where she was seen greeting leaders and dignitaries such as first lady Jill Biden and Ukrainian First Lady Olena Zelenska ahead of the coronation ceremony.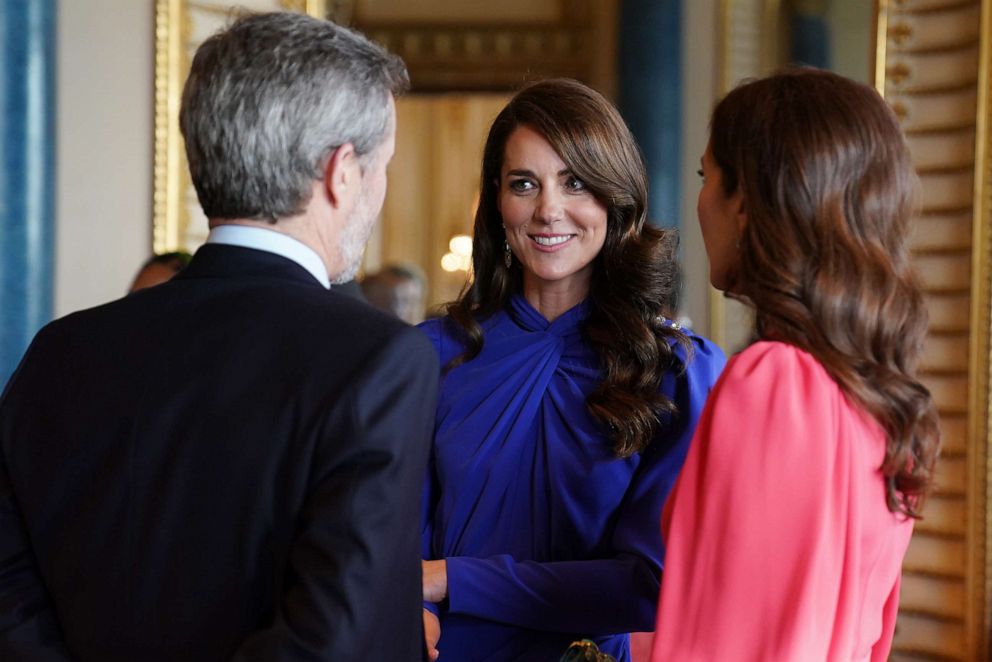 At the event, Kate sported a royal blue draped midi dress by Self Portrait which featured a crisscrossing high-neck, embellished buttons to the shoulder and a leg slit. She completed the outfit with a pair of royal heirloom diamond and sapphire earrings.
London walkabout and luncheon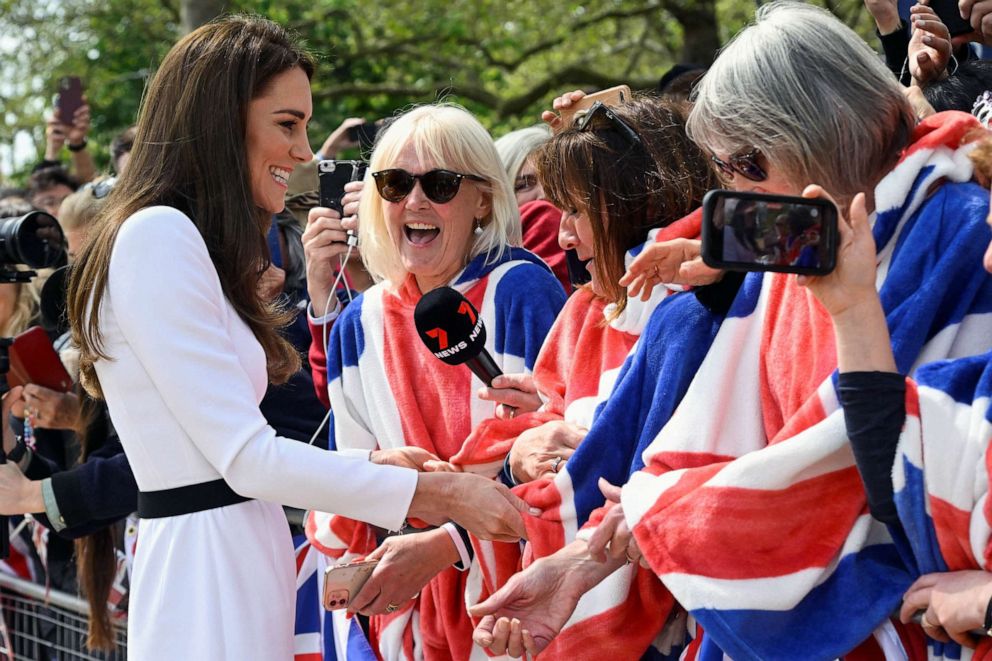 Kate was spotted during a walkabout in London on Friday when she met royal supporters outside Buckingham Palace before attending a Realm Governors General and Prime Ministers Lunch. For the outing, the Princess of Wales opted for a chic long-sleeve white midi dress while stopping to take selfies and greet the fans who were lining the streets.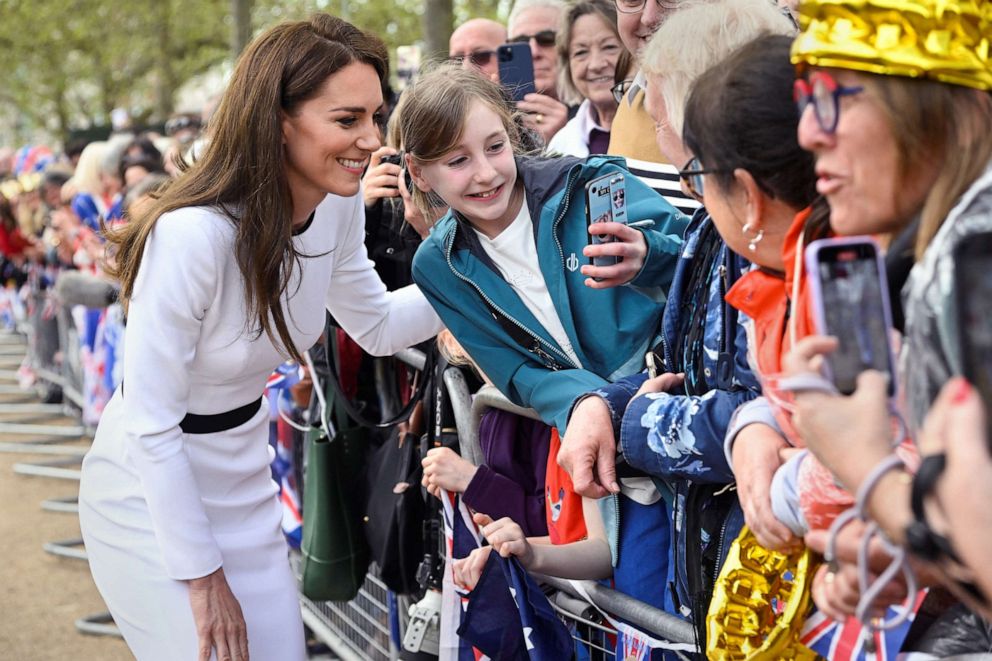 Wearing her long brunette hair down, she paired the dress with a pair of black pointy-toe pumps and pearl drop earrings.