The CDC advises people wear face coverings to prevent the spread of COVID-19, and House Speaker Nancy Pelosi, 80, is publicly following this guidance in high style.
On Wednesday, she was spotted donning a pink suit with a perfectly matched mask during a ceremonial swearing-in for Rep. Kweisi Mfume, D-Md., at the U.S. Capitol. Pelosi paired the look with a pair of nude pumps.
Many people loved Pelosi's monochromatic flair -- including 2016 Democratic presidential nominee Hillary Clinton.
"Leader of the House majority, and of mask-to-pantsuit color coordination: @speakerpelosi," the former first lady wrote in an Instagram post showcasing Pelosi's ensemble.
Clinton's post has received more than 255,000 likes on Instagram with many people chiming in with comments complimenting Pelosi's look.
Host and writer Lukas Thimm left a comment saying, "We salute to the mask-to-pantsuit color coordination."
Another Instagrammer, Aaliyah Chiles, chimed in, "Yessss!!!! Pink power all the way."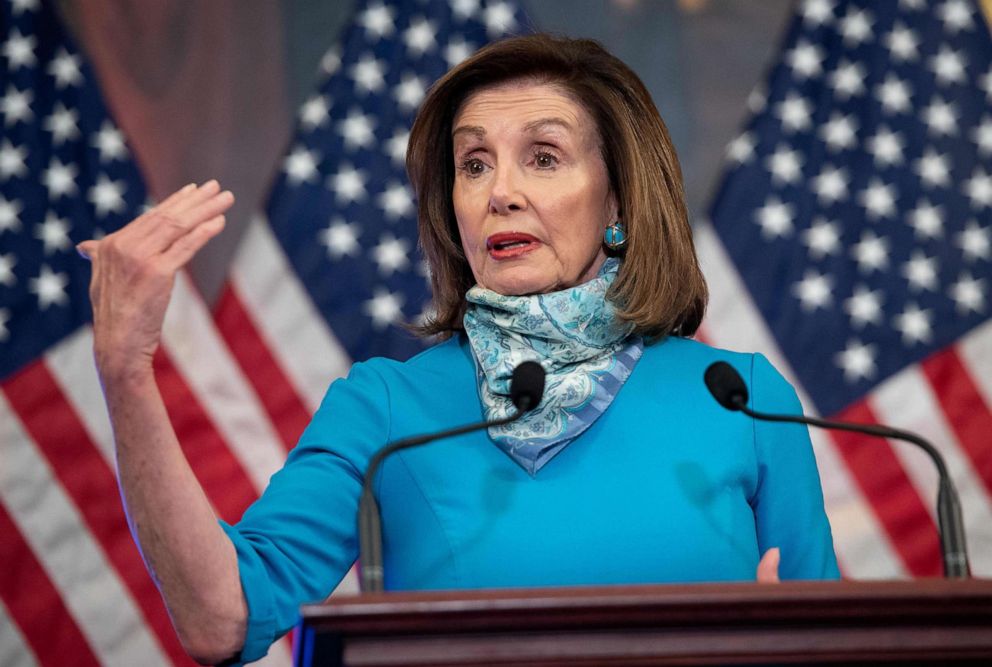 The House speaker has been continually wearing color-coordinated looks while on Capitol Hill. On May 7, for instance, she wore a matching blue dress, pumps, and a printed face covering while speaking about the coronavirus pandemic during her weekly press conference.
Despite being a health recommendation, face coverings have become something of a potential political statement as well as an opportunity to make a style statement. Several Republican politicians, including Sen. Rand Paul, R-Ky., and President Donald Trump, have faced questions for not donning face masks.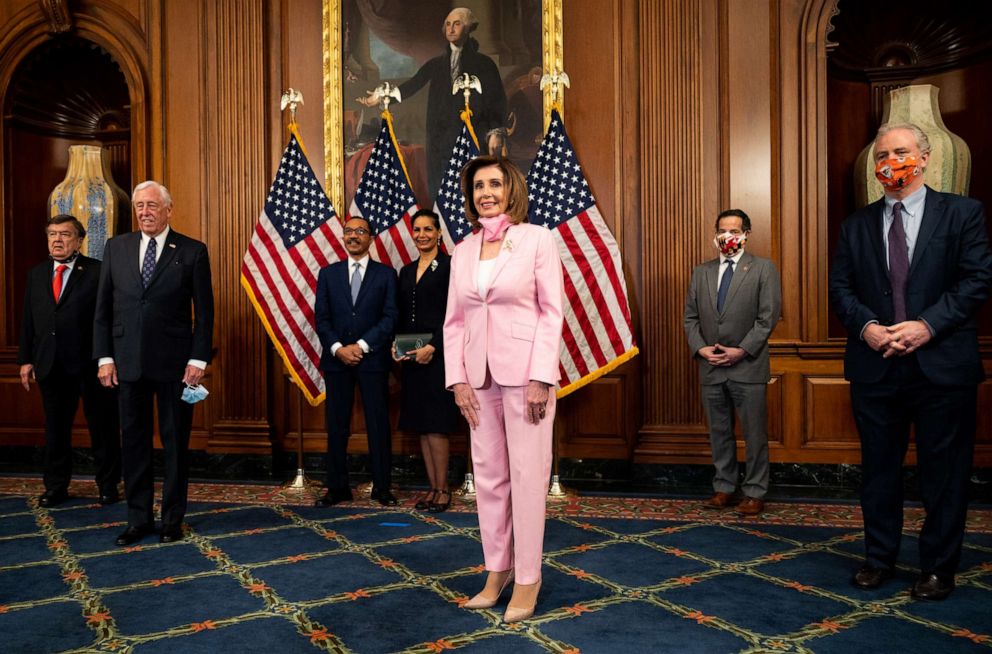 Even so, Pelosi isn't the only lawmaker to sport a standout face covering, as several others have been spotted with everything from unique prints to vibrant colors.
On Tuesday, Sen. Tim Kaine, D-Va., was seen with a red and black tie-dye makeshift mask tied around his face while attending a hearing with health experts remotely offering testimony on the nation's coronavirus response to the Senate Health, Education, Labor, and Pensions Committee.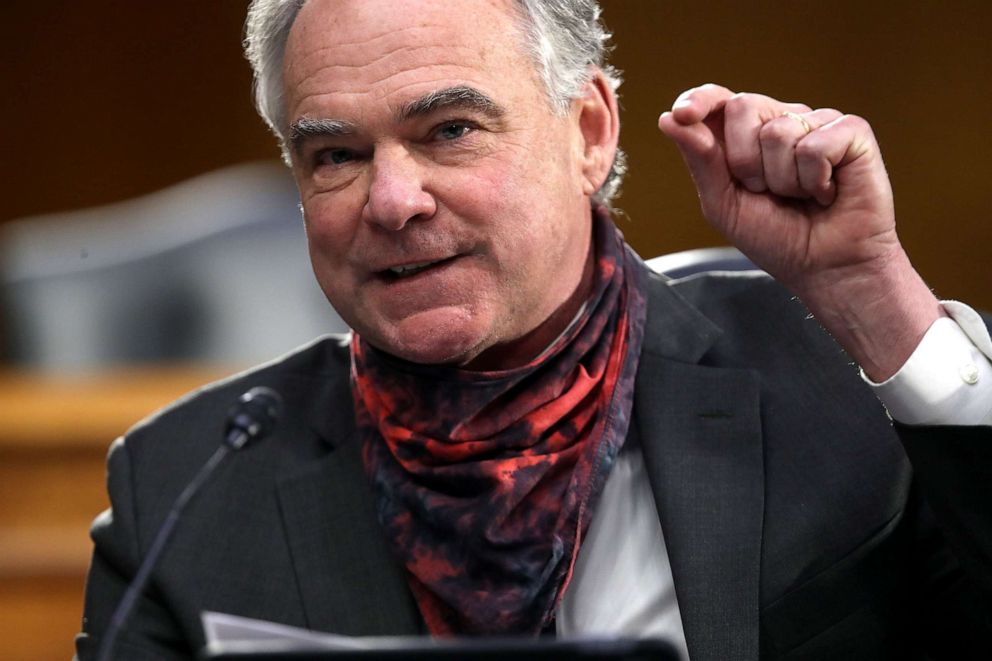 Other notable sightings have included South Carolina Sen. Tim Scott wearing an American flag printed mask as well as Secretary of State Mike Pompeo wearing a patriotic red, white and blue covering as he arrived in Israel on Wednesday.
Additionally, Sen. Lamar Alexander, R-Tenn., was spotted wearing his signature flannel print in the form of a mask before a Senate Health, Education, Labor and Pensions Committee hearing on new coronavirus tests on May 7.
Another head-turning mask moment came from overseas, when Slovakia's President Zuzana Čaputová wore a rose-toned dress, pumps, and a mask all in the same color family.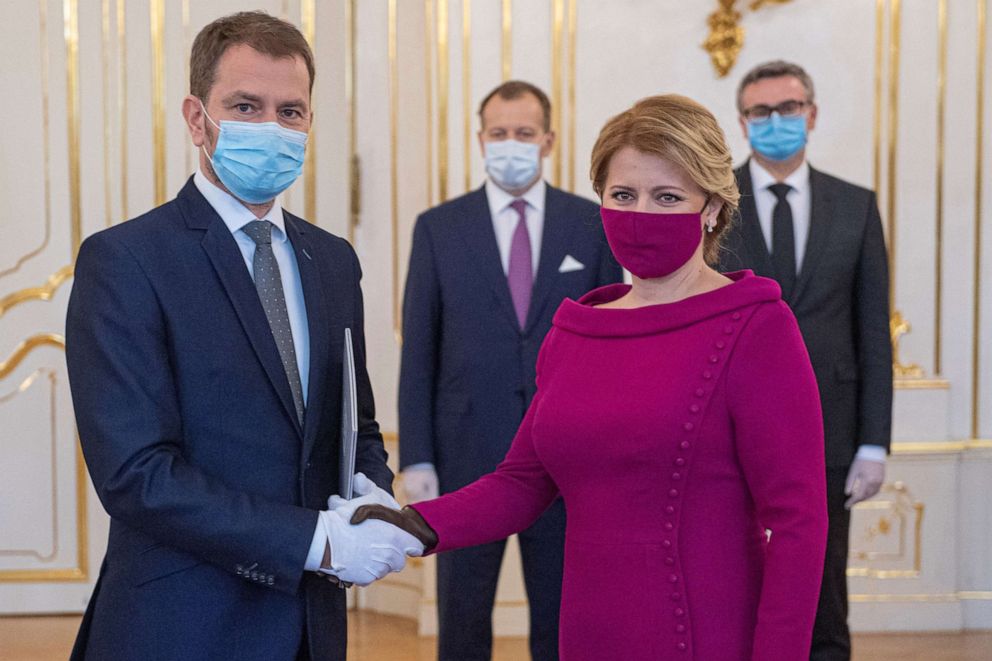 Čaputová wore the look for a swearing-in ceremony of the new four-party coalition government in Slovakia's capital, Bratislava.