Chris Evert reveals she has ovarian cancer
A publishing executive in New York is being remembered as an "adoring wife and mother," a beloved daughter, sister and a doting aunt after passing away from ovarian cancer at the age of 38.
Casey McIntyre, vice president and publisher at Penguin Random House's Razorbill, died at her home in New York on Nov. 12, according to an obituary shared by her husband, Andrew Rose Gregory, on X, formerly known as Twitter.
McIntyre, who shared with Gregory a young daughter named Grace Valentine, shared the news of her own passing through a posthumous update, published by her husband.
"A note to my friends: if you're reading this I have passed away. I'm so sorry, it's horses*** and we both know it. The cause was stage four ovarian cancer," McIntyre wrote. "I loved each and every one of you with my whole heart and I promise you, I knew how deeply I was loved."
In an editor's note added to the post, Gregory wrote that McIntyre had been unable to finish the post as her health worsened.
"Casey meant to finish this post with a list of things that were a comfort & a joy to her during her life, and I am heartbroken that I will never see that list. As she grew sicker she couldn't finish it," Gregory wrote. "I imagine it would've included our daughter Grace, whales, ice cream, her beloved friends, being at the beach, her niece and nephews she incorrigibly doted on, reading 10 books on a weeklong vacation, her beloved parents and sister and their amazing extended family, swimming, a perfect roast beef sandwich, and me, her sweet sweet honey."
McIntyre was diagnosed with ovarian cancer four years before her death, Gregory confirmed to ABC News.
He said his late wife would want to highlight the way in which she asked to be remembered. McIntyre's family is celebrating her by donating money anonymously to forgive other people's medical debt.
"To celebrate my life, I've arranged to buy up others' medical debt and then destroy the debt," McIntyre wrote in a post shared on X. "I am so lucky to have had access to the best medical care at @MSKCancerCenter [Memorial Sloan Kettering Cancer Center] and am keenly aware that so many in our country don't have access to good care."
So far, McIntyre's fundraising effort, named "Casey McIntyre's Debt Jubilee," has raised over 91,000 to help erase strangers' medical debt.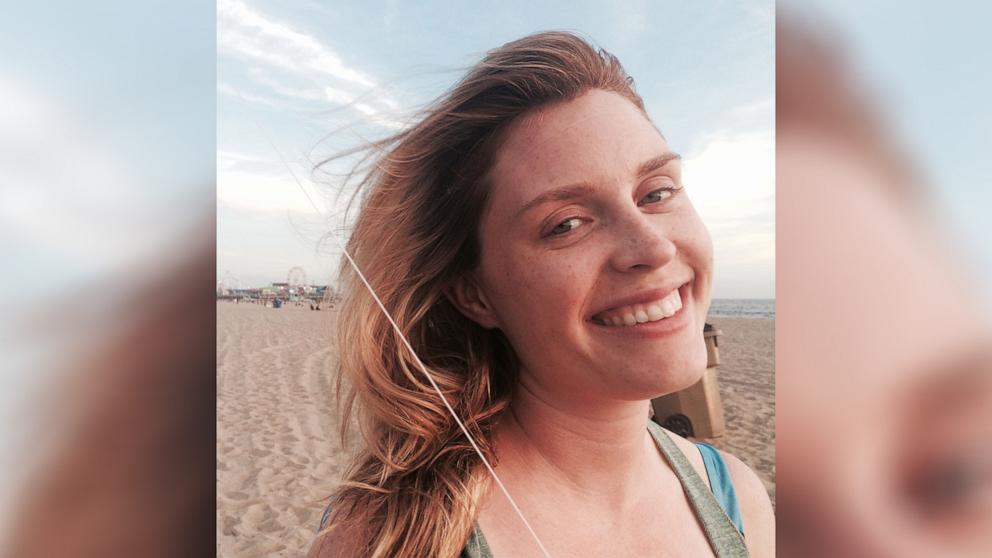 Medical treatment for a condition like ovarian cancer can cost anywhere from tens of thousands to hundreds of thousands of dollars.
Currently, around one in five Americans have medical debt, with a total of $88 billion of outstanding medical bills currently in collections, according to the Consumer Financial Protection Bureau.
What to know about ovarian cancer
With a diagnosis in her 30s, McIntyre was part of a small but present minority of women who are diagnosed at a younger age with ovarian cancer, a disease that originates in a woman's ovaries or in the nearby areas of the fallopian tubes and the peritoneum, the tissue that lines the abdominal wall, according to the U.S. Centers for Disease Control and Prevention.
Around 13% of all cases of ovarian cancer in the U.S. from 2016 to 2020 occurred in women under the age of 45, according to the National Cancer Institute. Just over 4% of cases occurred in women between the ages of 20 to 34.
The most common age of diagnosis for ovarian cancer is between 55 and 64 years of age, according to the institute.
Ovarian cancer is the second most common gynecologic cancer in the U.S., and it causes more deaths "than any other cancer of the female reproductive system," according to the CDC.
Ovarian cancer can often be hard to diagnose because there is currently no reliable way to screen for the disease.
While early signs of ovarian cancer can be vague, the main symptoms are abdominal pain or pelvic pain, bloating and an increase in urination, according to Dr. Jennifer Ashton, ABC News chief medical correspondent and a board-certified OB-GYN.
"If these symptoms or others last for more than half the month you want to alert a gynecologist and, again, talk about the fact that it could possibly be ovarian cancer," Ashton said previously on "Good Morning America," after Christiane Amanpour, chief international anchor for CNN, announced her own ovarian cancer diagnosis.
In some cases, targeted use of pelvic scans and sonograms or a CA-125 blood test may be used to detect ovarian cancer, but additional testing is "not one size fits all and it is not recommended for all women," explained Ashton.
Treatment for ovarian cancer usually involves a combination of surgery and chemotherapy, according to the CDC.
A woman's risk for developing ovarian cancer at a younger age increases if they have a family history of breast, ovarian, uterine or colorectal cancer, or have a specific genetic mutation like the BRCA1 or BRCA2 genes.
In addition, other risk factors for ovarian cancer include, but are not limited to, being middle age or older, having a close family member who has had ovarian cancer, having endometriosis, having never given birth and having breast, uterine or colorectal cancer, according to the CDC.
While there is no known way to prevent ovarian cancer, the CDC notes there are things associated with lowering the risk of getting ovarian cancer, such as using birth control for five or more years, having given birth, breastfeeding, having had a hysterectomy, having had your ovaries removed and having had a tubal litigation.