A 4-year-old from eastern Louisiana is on the road to recovery at Texas Children's Hospital in Houston after receiving a bilateral lung transplant nearly three months ago. Now, her family and medical team are raising awareness of organ donation, especially since Feb. 14 is National Donor Day.
Ava has a genetic disorder called cystic fibrosis, a condition where an abnormal protein affects the body's cells, tissues and glands that make mucus and sweat, according to the National Heart, Lung, and Blood Institute. With cystic fibrosis, often abbreviated as CF, the body's mucus is stickier and thicker than normal, which can lead to blockages, inflammation and infections in various organs, especially lungs.
Ava's mom Jennifer Thomas told "Good Morning America" that she and her husband John weren't familiar with CF until their daughter was diagnosed. It wasn't until last April when Ava became very sick and was rushed to a hospital and was later moved to a pediatric intensive care unit and placed on a ventilator.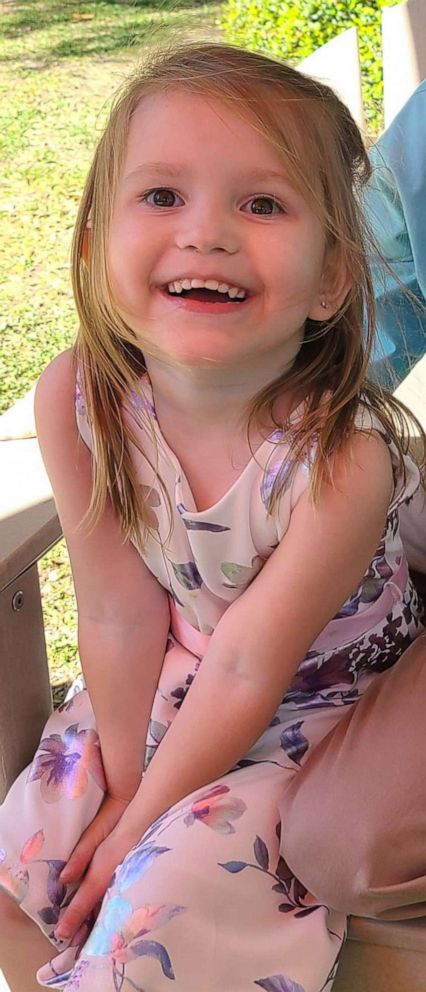 "She was a typical 4-year-old: spunky, sassy, full of life, full of energy," Thomas recalled. "We had a crawfish boil for her birthday on April 3 and she was doing fine. We had friends and family over and then she had a productive cough so I took her to the doctor and 20 days after her birthday, she was admitted to the hospital."
The Thomases, who live in Covington, Louisiana, first brought Ava to a local hospital. She was then transferred to Children's Hospital New Orleans before she arrived at Texas Children's Hospital, more than five hours away from their home, later that month for higher-level care.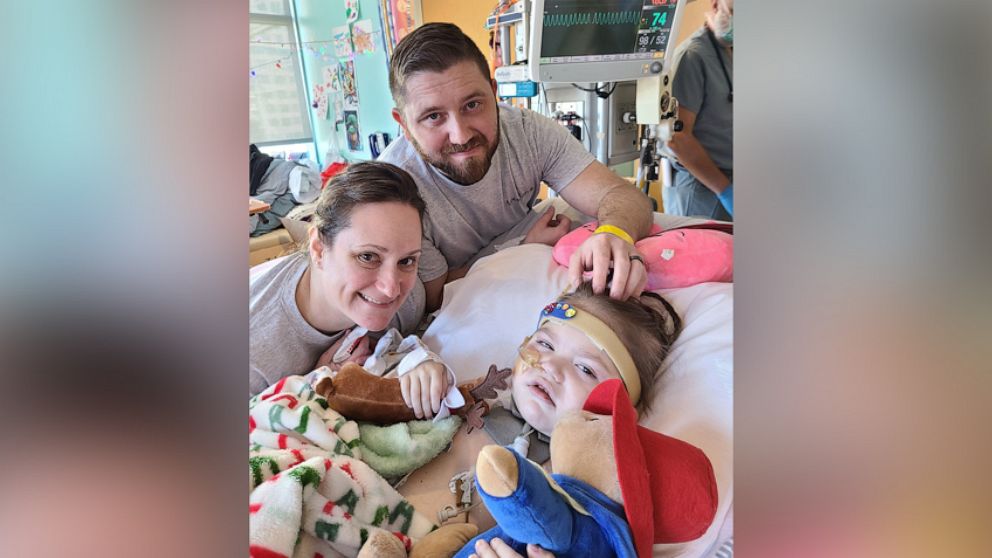 Ava's cystic fibrosis led to "significant end-stage lung disease," according to Dr. Maria Carolina Gazzaneo, one of Ava's doctors and a pediatric critical care and lung transplant physician at Texas Children's.
"She actually had CF but she was very healthy," Gazzaneo told "GMA." "She had never been admitted before. She was at home. She never was on oxygen. So she was a very special patient and then she became really sick because she got a bacterial infection, and ... since then, she developed what we call ARDS [acute respiratory distress syndrome]."
Among the treatments Ava needed was extracorporeal membrane oxygenation, or ECMO -- a treatment that involves "us[ing] a pump to circulate blood through an artificial lung back into the bloodstream" according to the National Library of Health, part of the National Institutes of Health -- and while she was on ECMO, she was placed on the lung transplant waiting list.
Gazzaneo said after 207 days, Ava was able to get her transplant and a new set of lungs, becoming the longest surviving patient on ECMO while waiting for a transplant at the Houston children's hospital.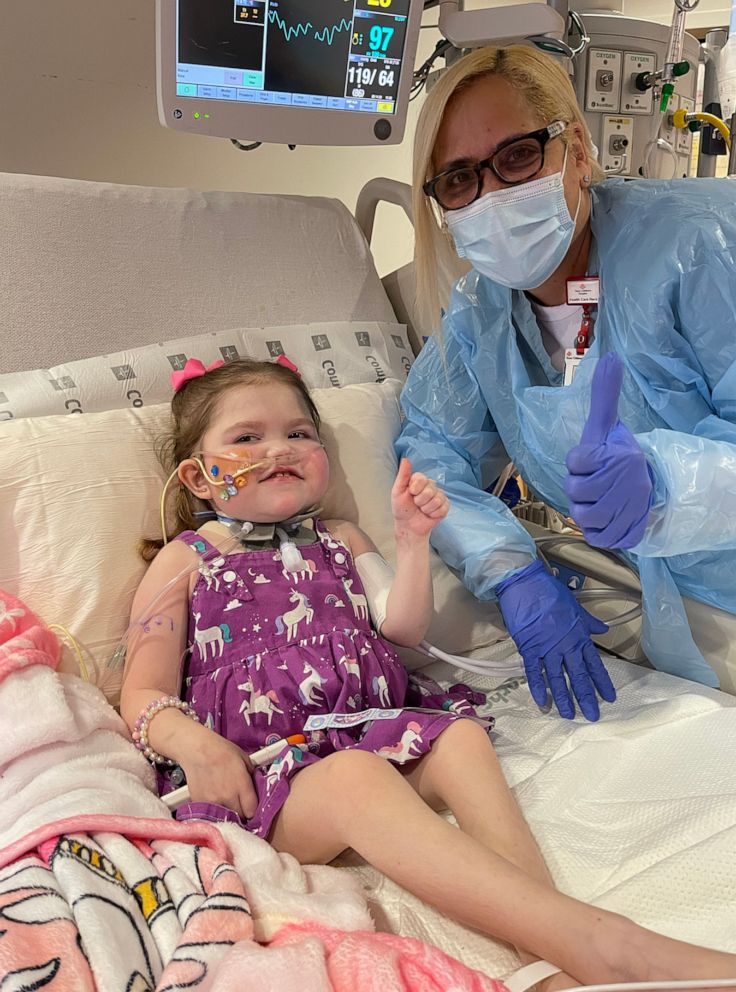 "She's just amazing and she's actually recovering faster than what we thought," Gazzaneo said of Ava, post-transplant. "She's doing so many good things. So I know she will continue to recover and she will go home. We know that."
Since she received her transplant, Thomas said her daughter is receiving physical therapy, slowly weaning off some medications and was also able to get her tracheostomy, or breathing tube, removed last month.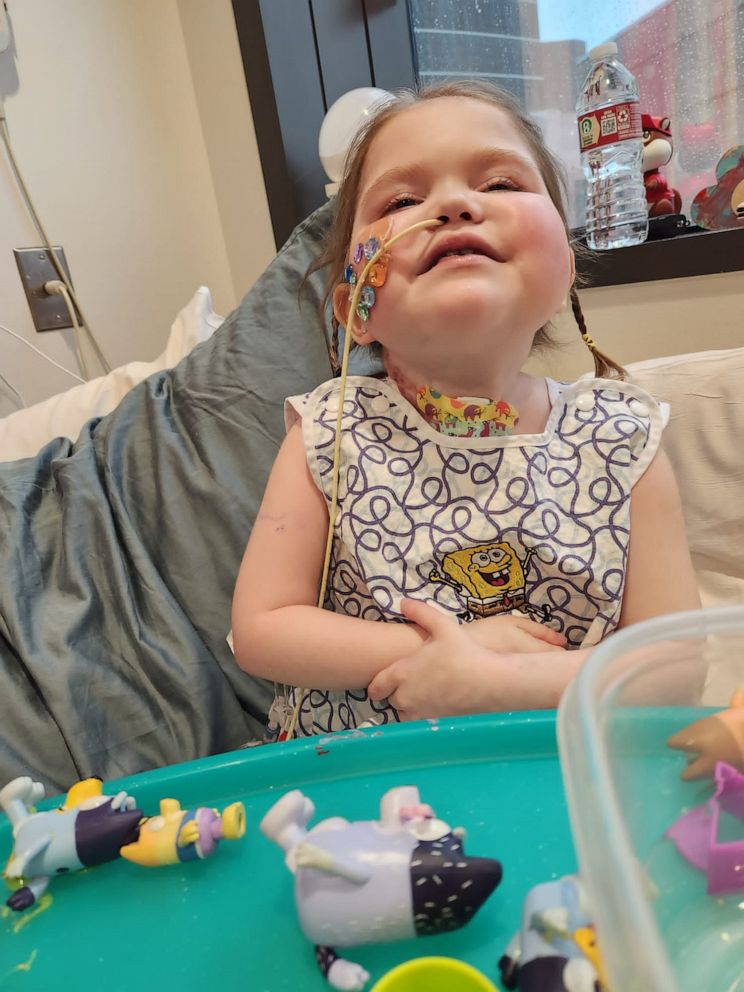 "She still has an NG (nasogastric) tube, which is through her nose. It goes into her stomach where we give her medicines and liquid and fluid to keep her hydrated but now she's able to drink some which is a big difference," Thomas said.
Overall, Thomas said Ava is in "very good spirits" and has been making significant progress. She was even able to go outside on Jan. 22, the first time she'd been able to do so since she arrived at Texas Children's from Louisiana about 10 months ago.
"She rode her tricycle. It's all the way on the other side of another building -- this hospital is huge. She rode her bike all the way there," Thomas said. "It was just meant to be that we were out there. … We just enjoyed some fresh air. It was rejuvenating."
Ava's doctor said she hopes the 4-year-old's story can raise awareness for organ donation.
"Lung transplant in pediatric [patients] is completely different than adults," Gazzaneo said. "Adults, they have more donors, they do a lot more lung transplants. But in the pediatric world, it's very hard. And Ava had to wait a long time because of [the] scarcity of donors. So I really want to raise awareness … we really need people to donate because that really makes a difference in so many families."
Ava's mom added that their family will always be grateful for the lifesaving gift she received.
"We're very thankful for the organ donation forever. It's indescribable. It's a wonderful feeling, but it's also -- we understand that someone else's life was lost in order to save our child, so we're thankful all the way around," Thomas said.