FDA considers ban on formaldehyde in hair straightening products
The U.S. Food and Drug Administration has issued a notice suggesting it may consider a proposal to ban the use of formaldehyde in hair straightening and hair smoothing products.
The FDA's consideration of the proposal was entered in the Unified Agenda, a government registry of actions that administrative agencies plan to issue.
There is no set timeline on when the agency may consider the proposal or when, if it moves forward, a ban would go into effect.
Frequent use of hair-straightening products that include chemicals like formaldehyde has been found in studies to put women at a higher risk for uterine cancer.
One study published last year found an association that women who self-reported frequent use of hair straightening products were more than twice as likely to later develop uterine cancer than women who did not use the products. Scientists caution that it's not clear yet if these products cause cancer. For now, research only hints at only a probable link.
Uterine cancer, a type of cancer that starts in the uterus, is a risk factor for anyone with a uterus, but the risk increases with age, especially during and after menopause, according to the Centers for Disease Control and Prevention.
Last year's study found that Black women may be more affected by the increased risk of uterine cancer not because of their race, but due to the fact that they use chemical hair straightening products at a higher rate. Frequent use of the products was defined as more than four times in the previous year, according to the study, which included more than 33,000 women between the ages of 35 to 74.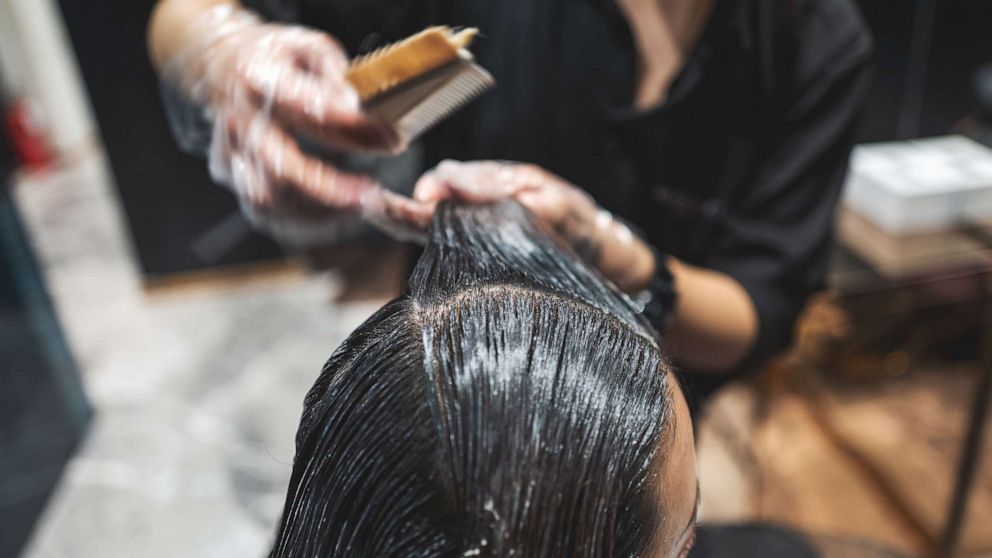 Formaldehyde is described by the Environmental Protection Agency as a "colorless, flammable gas" that can cause "adverse health effects" with exposure. When used in hair smoothing products, the formaldehyde is released into the air as a gas when the products are heated.
The Department of Health and Human Services lists formaldehyde as a "known carcinogen."
The FDA issued a warning last year stating that the use of hair smoothing products in an area that is not properly ventilated could lead to a risk of a person inhaling formaldehyde. In the warning, the agency acknowledged it began receiving "inquiries from consumers and salon professionals" about the safety of formaldehyde in products as far back as 20 years ago.
Melanie Benesh, vice president for government affairs at the Environmental Working Group, an environmental advocacy organization, described the FDA's consideration of a ban on formaldehyde as a move that is "welcome, but long overdue."
Benesh pointed out that the Environmental Working Group published a report as early as 2011 on the widespread use of formaldehyde in hair product brands and in salons across the U.S.
"The FDA has been aware of this issue for a long time," Benesh told "Good Morning America," adding, "There is no reason that the FDA shouldn't have acted earlier on what is a real public health issue, particularly for salon workers."
The FDA did not reply to ABC News' request for comment in response to Benesh's claim that the agency should have acted sooner.
Benesh added that salon workers are at increased risk of adverse health effects due to their prolonged exposure to the types of hair treatments that include chemicals, including keratin treatments and Brazilian blowouts.
"Consumers are going to be exposed if they get one of those treatments or if you're in the salon while someone else is getting that same kind of treatment," she said. "But salon workers are more likely to do multiple treatments a day or multiple treatments a week and over the course of a year, and so those repeat exposures can really add up to an increased risk."
California and Maryland recently passed state legislation banning the use of formaldehyde in hair straightening products. Both laws are set to go into effect January 2025.
Benesh noted there are hair straightening and smoothing products currently on the market that do not use formaldehyde. She said her advice to consumers and salon workers is to not wait for regulatory action but instead refrain from using hair products with formaldehyde on their own.
"There's no reason to wait until the law takes effect or until a proposed rule takes effect to switch to safer products, or to just no longer offer those services if you can't find a hair smoothing or hair straightening treatment that you like that doesn't use formaldehyde," Benesh said. "It's not worth the risk. It's not worth your stylists or your consumers potentially getting cancer just to have straight hair."