Samantha and Rebecca Silverman are working together for the first time on the job on what will likely be the hardest assignment of their careers.
The 25-year-old identical twin sisters are both registered nurses working in the COVID-19 unit at Northwestern Memorial Hospital in Chicago.
Typically, Rebecca works in the hospital's medical intensive care unit (ICU) and Samantha works in the cardiac care unit. But when COVID-19 hit the city, the hospital's intensive care units were transformed into COVID ICUs.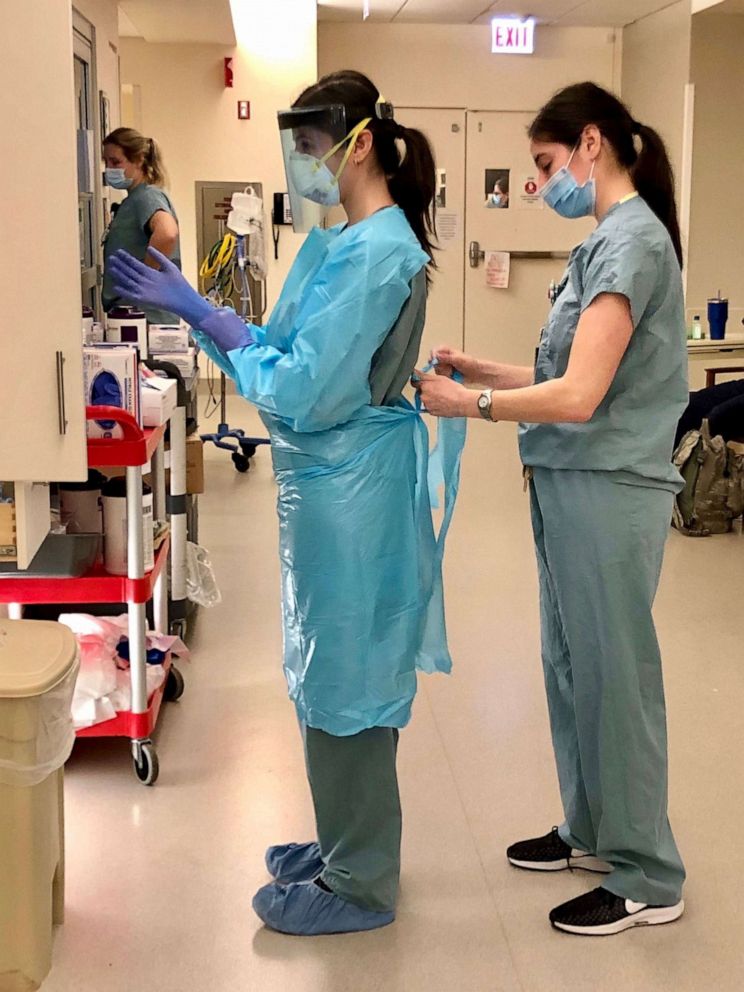 "It's just nice when you're having a rough day and you can turn around and see Samantha's face," Rebecca told "Good Morning America" in an interview alongside her sister. "It's a stress reliever just to be with each other and see each other throughout these tough days."
"We really are best friends," Samantha said. "Amidst all the craziness of COVID, to be able to work alongside each other is just so lucky for us."
The two sisters, who have an older sister who is also a nurse at a Chicago children's hospital, began working together on the COVID unit in mid-March.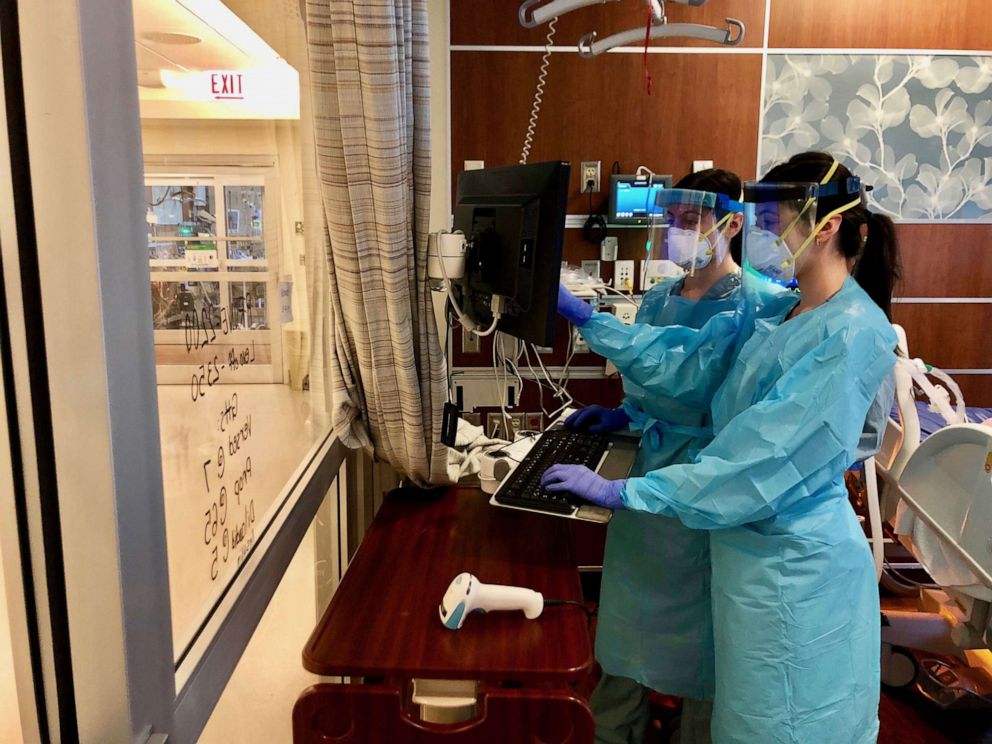 They live close enough to each other that they had always been able to commute to work when their schedules allowed, but now they are working side-by-side to help the hospital's most critical patients during their 12-plus hour shifts.
"You don't know really what you're going to come into work, what you're going to see and what you're day is going to be like," said Rebecca. "It's definitely been rather difficult and just scary in general to be here during this time."
"We just work really well together. We always have," she added of her and her sister's relationship. "We're able to work off one another and help each other in ways that for other people might not be as natural."
"It's physically exhausting. It's mentally exhausting," Samantha said of the work she and Rebecca and their colleagues are doing. "I feel like we're all just working really hard and we all need each other right now."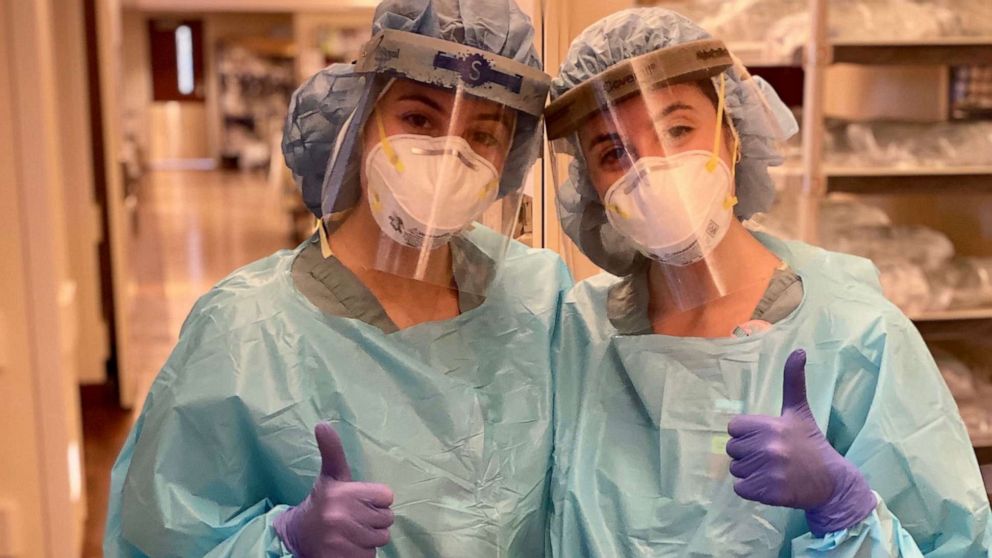 The sisters said they did not always know that they would end up working in the same career, much less in the same unit.
Samantha knew she wanted to be a nurse from a young age and pursued nursing while in college. Rebecca did not decide on a nursing career until later on in college and completed graduate school before becoming a registered nurse.
Samantha has worked at Northwestern Memorial Hospital for the past three years, while Rebecca started at the hospital about six months ago.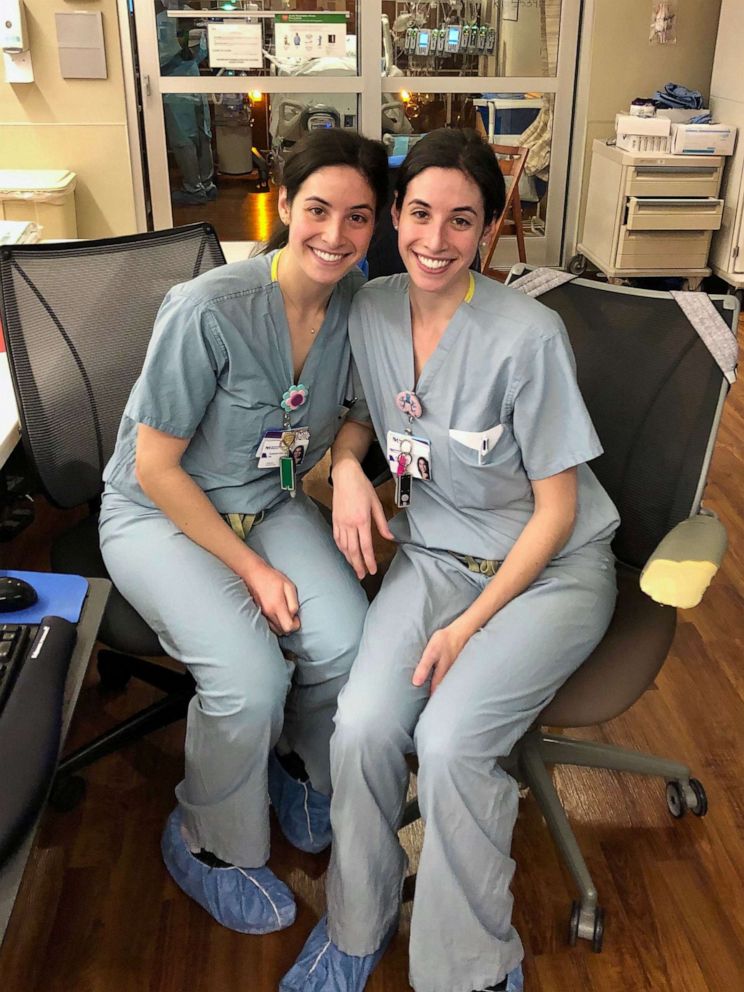 The sisters said their nursing colleagues are used to seeing them both around the hospital's hallways now, but the doctors are still adjusting to working with identical twins.
"It's funny, I think, for the doctors," said Rebecca. "They'll come up to us and talk about a patient when it's the other [sister's] patient."