"GMA" celebrates the heroes who rose to challenges on the front lines, in the classroom, in their communities and beyond amid the COVID-19 pandemic of 2020.
When Lori Toce's father died in late March, only two family members at a time were able to see him because of hospital restrictions put in place during the coronavirus pandemic.
Just a few weeks later, Toce's mom tested positive for COVID-19, the illness caused by the novel coronavirus, and was hospitalized, with no visitors allowed.
"She's 87 years old. She doesn't have an iPhone or any way of staying in touch," Toce, of Billerica, Massachusetts, told "Good Morning America." "There she goes into the hospital and I didn't know when I'd get to see her again when they rolled her away."
Toce was eventually able to speak with her mom by phone with the help of nurses, but she said it wasn't the same as being there in person for her mom, who only saw heavily-protected doctors and nurses come into her room at Lowell General Hospital in Lowell.
Then, Toce saw a post online about a program at the hospital that allowed loved ones to send in photos to be posted on patients' walls. Toce and her family sent in a photo that hung in her mom's room for the remainder of her 12-day hospital stay.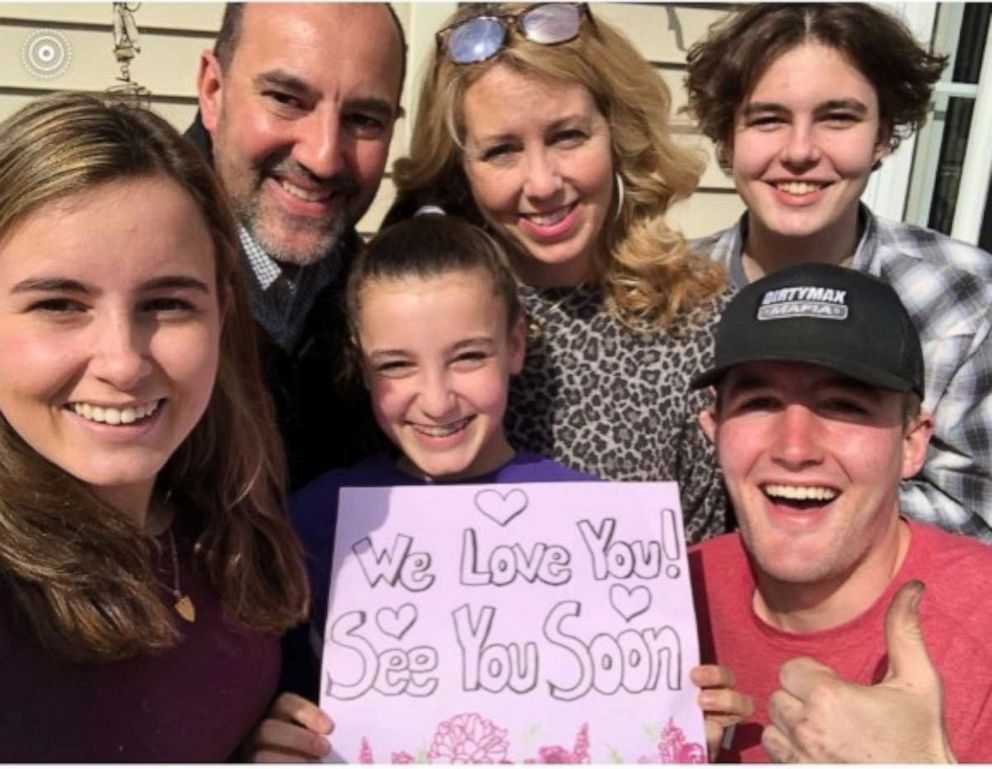 "She called me right up and she was so excited and this was when she was really in the thick of things," Toce said of her mom. "She was so excited and so happy to see us."
"One of the nurses told me that she was showing the photo to all the nurses and doctors who came in and bragging about her grandkids," said Toce, whose mom beat COVID-19 and is now recovering at home.
The Pictures for Patients program at Lowell General Hospital is the brainchild of Jeanna Barbieri, a registered nurse in the hospital's emergency department.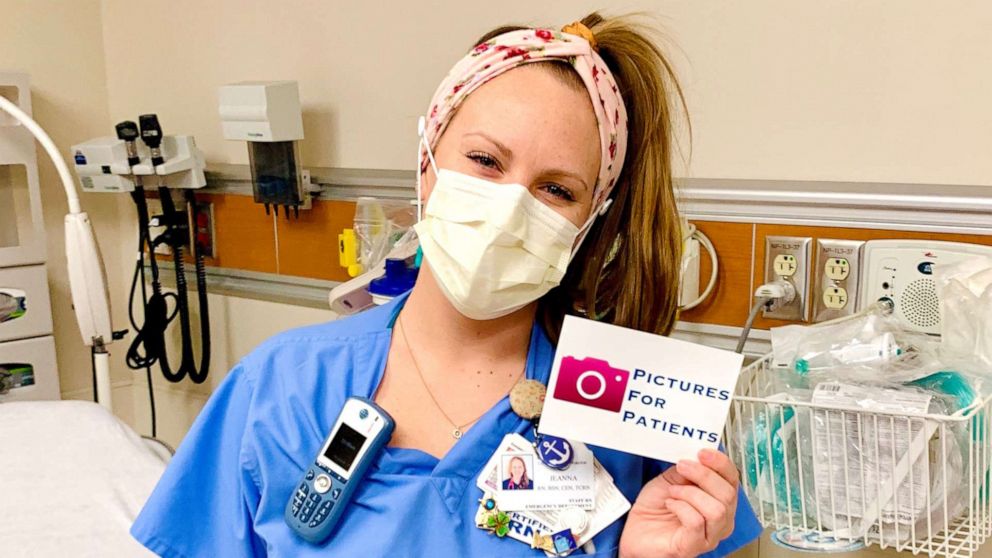 Barbieri had the idea after a high school friend messaged her to thank her for her work as a nurse. Barbieri, 30, discovered her friend's dad was in the ICU at Lowell General and asked her friend if there was anything she could do to help his family.
"They ended up printing out some photos and putting them in their mailbox and I grabbed them from their mailbox on the way into work the next day," she said. "Seeing how doable that was and how much it seemed to help him and his family, I just decided to go for it."
Barbieri purchased a photo printer to use at home, secured a hospital email address and began to spread word that patients' families could email her photos to print out and hang in their hospital room.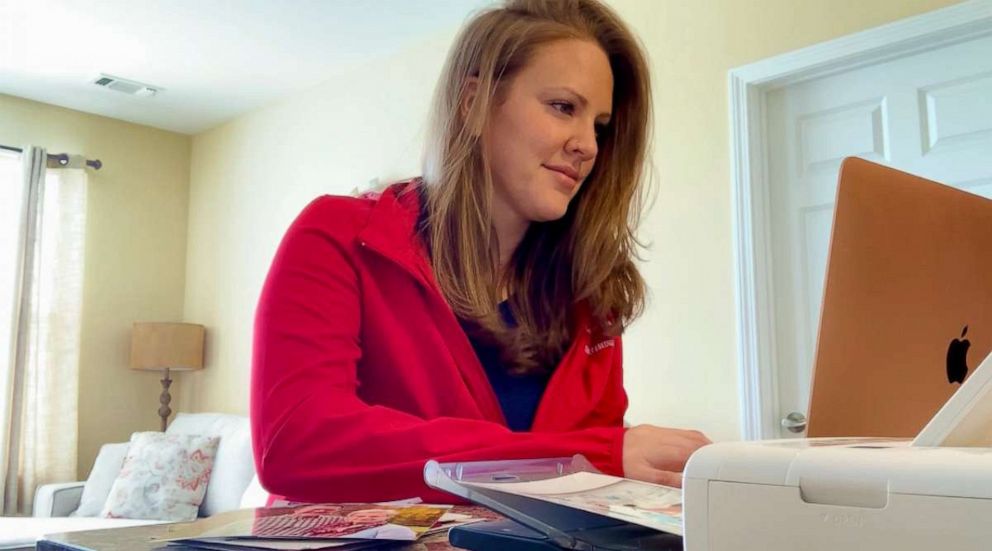 "Some people are awake and they're on regular floors and they see the photos," she said. "The people that are in ICUs or who may be intubated or sedated, the nurses go in and tell them the family has sent pictures and they hang them up on their wall."
Some people send in old family photos while others send in photos of grandchildren holding handmade signs, according to Barbieri. In one case, a couple used a photo to share the good news with their loved one in the hospital that they are expecting a baby.
"If you're going through something, especially as scary as being sick right now, you want your people by your bedside, just to know that there's people who care about you," said Barbieri. "I just think it makes a big difference in people's whole well-being."
Barbieri has been covering the expenses out of her own pocket but recently started accepting donations after she said so many people offered to help.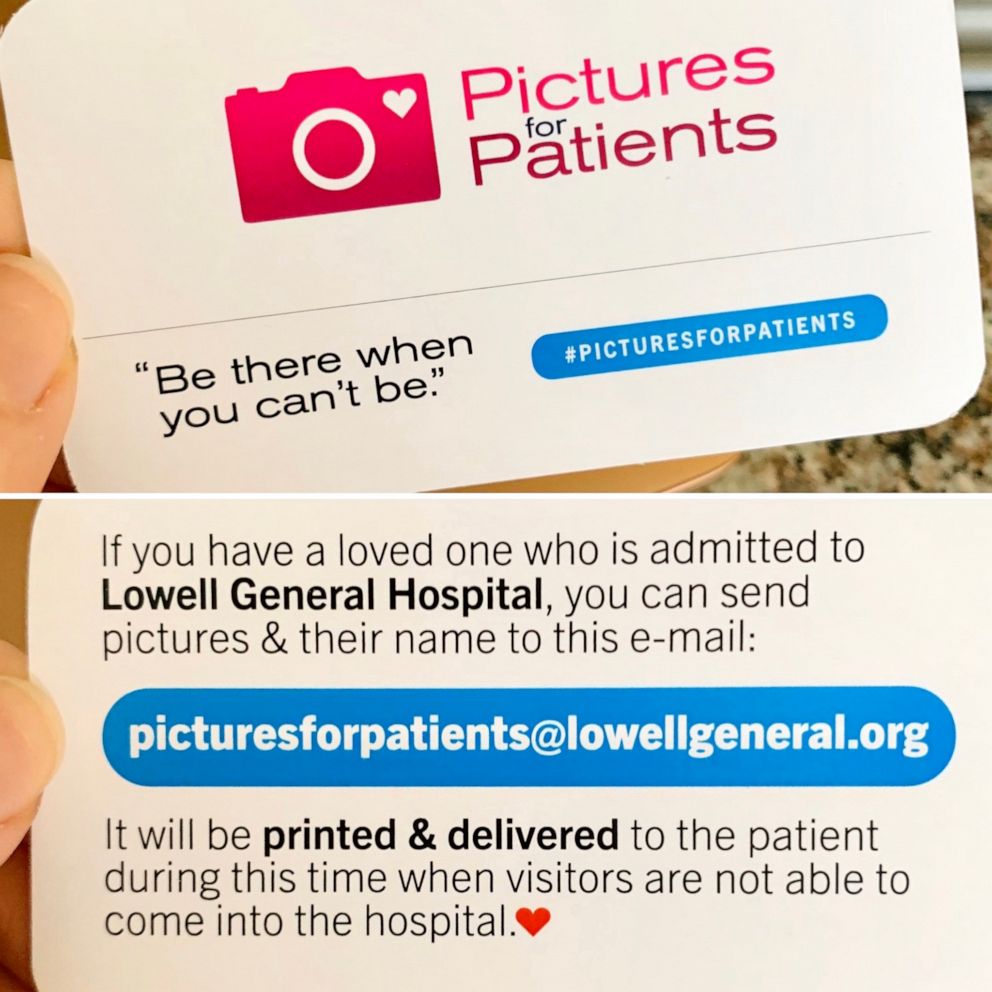 One of the first donations came from Toce and her family, who donated $500 to help Barbieri continue her mission.
"It's just a phenomenal program," said Toce. "It was such a nice opportunity to be able to try to lift my mom's spirits and remind her that we're all out here waiting."
What to know about coronavirus:
Editor's note: This was originally published on May 4, 2020.