A Michigan mother is speaking out about what she experienced giving birth while infected with COVID-19, the illness caused by the novel coronavirus that has claimed the lives of at least 14,000 people in the United States.
Mallory Pease, 27, of Homer, Michigan, told "Good Morning America" that she was about 10 days away from her March 24 due date with her second child when she started to get a sore throat.
A few days after that, Pease said, she became congested and then lost her sense of taste and smell. She also started coughing and experienced some shortness of breath, which she attributed to being in her third trimester of pregnancy.
With unemployment skyrocketing, an unprecedented number of Americans need help feeding their families. Today is ABC's Day of Hope, in partnership with Feeding America, to share food resources with Americans who need it. Learn more here and get involved at FeedingAmerica.org/FeedTheLove.
"I wasn't that concerned about it because I was nine months pregnant and kind of used to being out of breath," she said. "I had some aches and pains but, again, it was hard to tell what was sickness and what was being pregnant."
Pease later developed a fever and just as her shortness of breath and coughing got even worse, her water broke and she went into labor.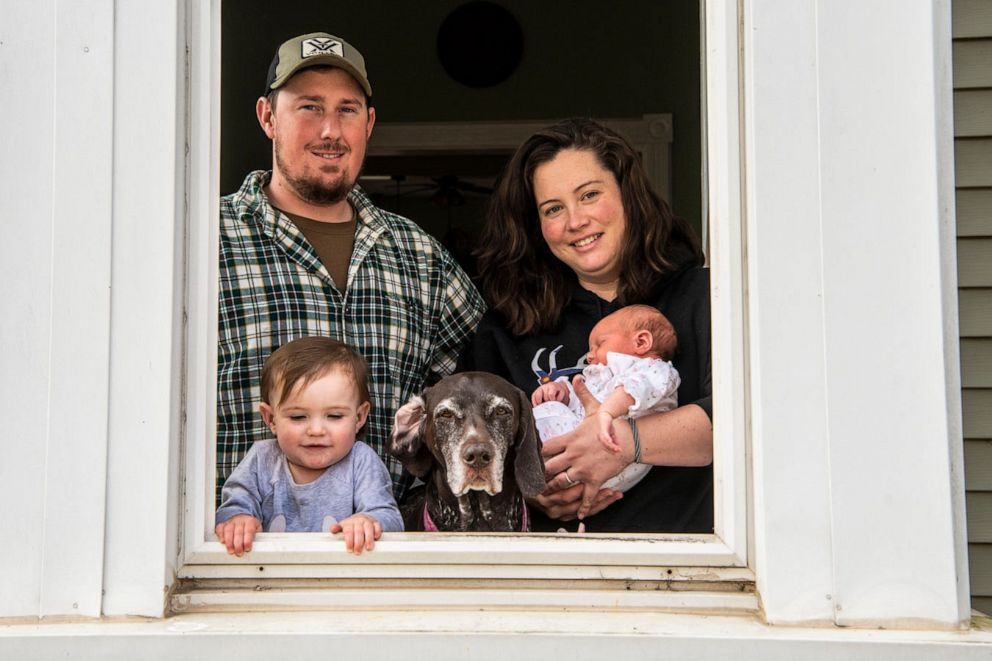 "I called my doctor and I was trying to talk to her on the phone but I was out of breath," Pease recalled. "She asked if it was a contraction and I told her I was struggling to breathe."
"We went to the hospital and that's when the fun began," she said.
When Pease and her husband Mitchell arrived at Oaklawn Hospital in nearby Marshall, around midnight on March 23, they were met by Pease's physician, Dr. Summer Liston-Crandall, who had already alerted hospital staff that Pease was experiencing COVID-19 symptoms.
Pease was taken to a delivery room the hospital had designated specifically for expectant moms with COVID-19. She was tested for the virus just before she gave birth.
The hospital would not have the test results for another day, but doctors and nurses treated Pease as if she was presumed COVID-19 positive, according to Liston-Crandall.
"We had eye and mask protection during her labor and during delivery we wore the helmet-style personal protective equipment (PPE) that is the best form of PPE for protecting from these viruses," she said.
Pease, who also wore gowns, gloves and a face mask during delivery, gave birth around 5:20 a.m. on March 23 to her daughter Alivia, who was born healthy, weighing 8 pounds, 3 ounces.
"She made labor really easy, kind of like she knew that I was getting worse so she knew it was time to come out," said Pease, who was placed on oxygen at the hospital. "I only had to push for about 15 minutes and she just came out on her own."
Pease got to hold Alivia, who was covered in a blanket, for about five minutes before the newborn was taken to an isolation nursery, where she too was tested for COVID-19. Pease would not see her daughter in person for another five days.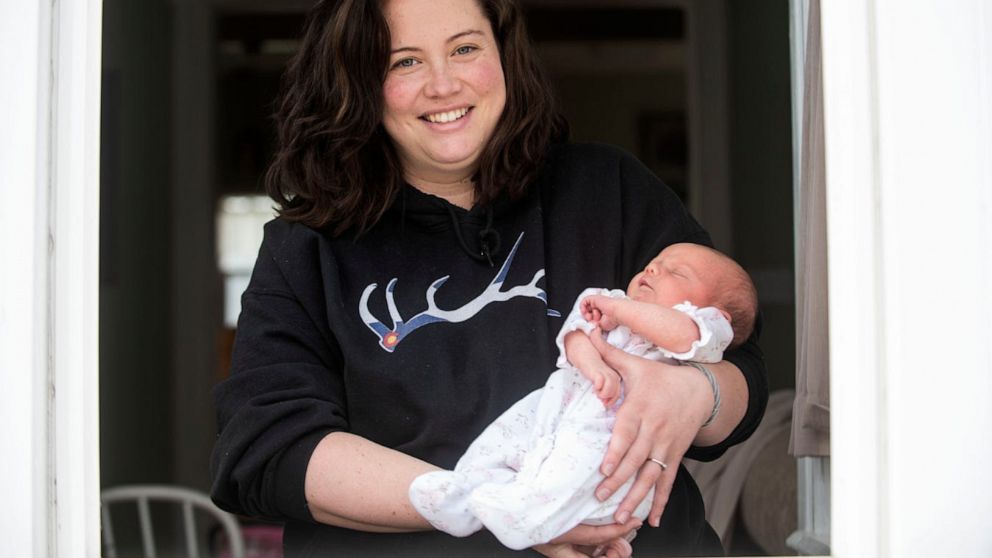 "At that point I didn't really grasp or really know what was ahead of me," she said. "I didn't know I was going to test positive and I didn't know we were going to be separated for so long. We were just happy she came out healthy."
Pease was transferred to her own room on a floor of the hospital isolated for COVID-19 patients. She spent the next three days both recovering from birth and fighting to overcome COVID-19.
At one point, doctors said she may have to go on a ventilator, according to Pease.
"It was so scary because just a few days before that I was walking around my house and talking to my family and then I was told I may have to be put on a ventilator," she said. "To have to hear that and be alone, it was even harder."
Pease, who was not allowed any visitors in the hospital, would call the hospital's birth center and have a nurse hold a phone up to Alivia so she could see her daughter, who tested negative for COVID-19 and did not experience any post-birth complications.
Experts say it is unlikely that a mom with COVID-19 would transfer the virus to a fetus during pregnancy. However, newborns are "susceptible to person-to-person spread," according to the U.S. Centers for Disease Control and Prevention (CDC).
The CDC says there has been a "very small number" of newborns who have tested positive for the virus, but it is not known whether the babies got the virus before or after birth.
Pease was discharged from the hospital on March 26 and self-isolated at her parents' home with her 19-month-old daughter Emma. Mitchell, who had been exposed to the virus but never experienced any symptoms, self-isolated at his parents' home.
Alivia was discharged from the hospital on March 28 and went to stay with Pease's aunt, who was not exposed to Pease and her husband before the birth, and had been quarantining at home.
"I knew Alivia was in good hands so that was a huge relief," she said, adding that her aunt "deserves a special thank-you."
Pease was finally able to reunite with Alivia at her aunt's house on March 28th, three days after she last had a fever. She held her daughter for the first time out of the hospital but still wore a face mask as an extra precaution.
Several days later, on April 2, the entire family of four was able to return to their home together, where they have been in quarantine ever since.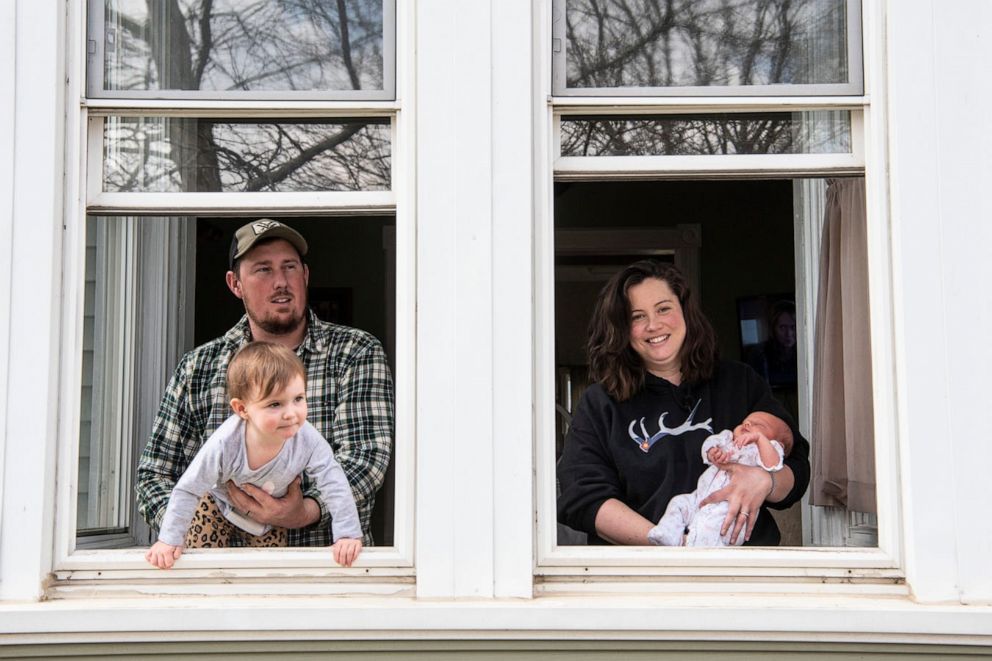 "It was a huge relief to all be back together but at the same time it's still scary," said Pease. "You just never know who's been exposed or who's already had it because people handle the symptoms differently."
Still not willing to take the risk of having visitors, the Peases have introduced Alivia to her grandparents and other family members by holding her up to a window in their home.
Pease, a stay-at-home mom, said she and her family went to a local basketball game and the grocery story a few days before her symptoms developed, but she does not know exactly how she contracted the virus.
"I would just say to people who may not be taking this as seriously as they should, they need to stop and put themselves in the position of people who are at higher risk," said Pease. "People are getting stir-crazy I think and sometimes it is hard to stay at home, but it's a lot better than being in a hospital room alone and struggling to breathe and not being able to stand up alone."
Pease credited the quick thinking of the nurses and doctors at Oaklawn Hospital for saving her life and protecting the life of her newborn daughter.
Pease's doctor, Liston-Crandall, said she saw firsthand throughout Pease's delivery and recovery how strong she is.
"Mallory really proved how tough a cookie she is," Liston-Crandall said. "She could barely breathe sitting in bed, much less push to have a baby ... but had a very lovely and successful birth despite all the challenges."
What to know about coronavirus: