Amid the omicron surge and the return to school, daycare and work after the winter holidays, it can be an anxious time for parents.
In the last week of December, children under the age of 18 represented 17% of COVID-19 cases in the United States, with more than 325,000 cases reported, according to data from the American Academy of Pediatrics and the Children's Hospital Association.
A total of nearly 7.9 million children have tested positive for the virus since the onset of the pandemic.
Sarah Barlow, a mom of two in New Jersey, watched her 2-year-old daughter contract COVID-19 and spend four days in the hospital over the Christmas holiday.
"It can get bad," Barlow told ABC News of the virus. "It's not just a simple cold for everybody."
Pediatric health experts too are sounding the alarm, asking parents to go back to some of the early safety protocols in the pandemic -- like wearing face masks -- to help prevent the spread of COVID-19 among kids.
"We've been all fighting this for two years and we've been putting our lives on hold at times and putting our children's lives on hold, and we felt like we were finally getting to a place where we knew how to manage," said Dr. Nathaniel Beers, a father of two, pediatrician at Children's National Hospital and president of HSC Health Care System. "And now, omicron has thrown us all out of balance again."
As parents try to navigate the omicron variant, here are six questions answered.
1. Is omicron more dangerous for kids?
Scientists say the omicron variant is more transmissible, and it's possible it could cause more mild illness. There's no evidence yet that it affects children differently.
A main reason there are currently such high numbers of cases of COVID-19 among kids is due to the fact that the omicron variant, which appears to be more transmissible than past variants, is increasing cases across the board, not just for kids, according to Beers.
Another reason the pediatric population is currently experiencing a higher than normal volume of COVID-19 cases, Beers explained, has to do largely with the fact that fewer kids are vaccinated.
"Children under the age of five are ineligible for vaccines and so they are at higher risk for disease with omicron," he said. "And we also know that children under the age of 16 have been ineligible for a third dose, or booster dose, and so they also are potentially at higher risk with omicron than with other strains."
2. Does being vaccinated matter with omicron?
Yes, according to Beers and two additional experts who spoke with ABC News, Dr. Stanley Spinner, chief medical officer and vice president of Texas Children's Pediatrics and Texas Children's Urgent Care, and Dr. Danny Benjamin, a professor of pediatrics at Duke University.
"We know that vaccinating is going to minimize the risk to your child," said Spinner, noting that children who are vaccinated against COVID-19 typically have less severe illness. "[The vaccine] is very, very safe."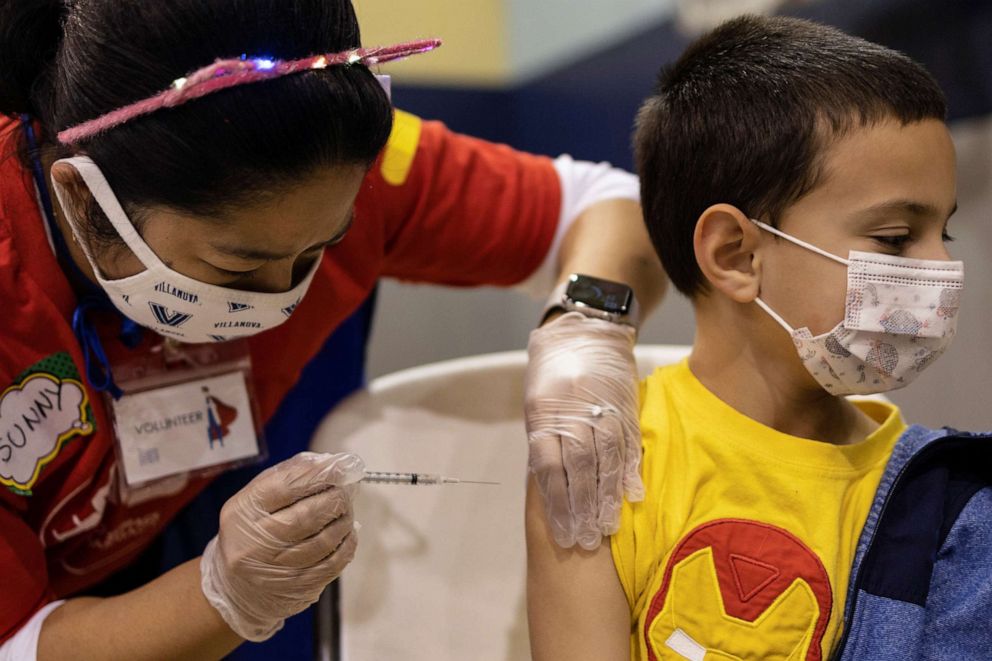 Spinner pointed to the results released last week of three studies that found the Pfizer vaccine to be safe and effective for kids. He said that parents should be more concerned about the potential long-term effects of COVID-19 in kids than any potential risks from the vaccine.
The Food and Drug Administration (FDA) on Monday authorized a third dose of the Pfizer COVID-19 vaccine for children ages 12 to 15 and certain immunocompromised children ages 5 to 11.
"We have never had a vaccine that we've ever given, going back 100 years, that long-term suddenly something showed up that didn't show up within the first two to three or four months," said Spinner. "So we are very comfortable about the safety long-term of these vaccines."
"What we don't know is what the long-term effects of COVID can be to kids, even when they get over it now," he continued. "Parents need to know that if your child gets COVID and seems to be okay with it, great, but what's going to happen maybe six months or a year or five years down the road, because we definitely don't know."
3. Does my child need to wear a face mask in school, daycare?
All three experts said that yes, everyone over the age of 2, including those who are fully vaccinated, should be wearing masks inside public spaces, like grocery stores, malls and schools.
Cloth masks do not seem to protect as well against omicron, according to Beers, who added that, especially for kids, wearing a cloth mask is still better than not wearing a mask at all.
"The higher the quality the masks, the better we're going to do at reducing spread," said Beers. "So cloth masks are better than nothing, surgical masks are better than cloth masks, KN95s are better than surgical masks and N95s are better than KN95s, if they're appropriately fit."
Beers said that because the more protective masks, like N95s and KN95s, can be harder for children to wear and wear correctly, parents should focus more on finding a mask that both fits their child's face and is one they will keep on consistently.
If a child uses a cloth mask, parents should make sure to wash and replace it daily, according to Beers.
4. How do I know whether my child has COVID-19 or a cold or the flu?
Unfortunately for parents, the symptoms of omicron -- including sore throat, runny nose, headaches, fever and cough -- closely mimic those of the flu and common cold, which are especially common this type of year.
Even if a child has a seemingly minor symptom, like a runny nose, a parent should get the child tested for COVID-19 and, in the meantime, assume they have the virus, according to Beers.
"Even a child with those mild symptoms should not be going to school until you have proven that it is not COVID," he said, adding that even without the virus, a child should stay home until their symptoms improve. "It is important that we do everything we can to protect our healthcare systems for those who really need them by making sure that we stay home."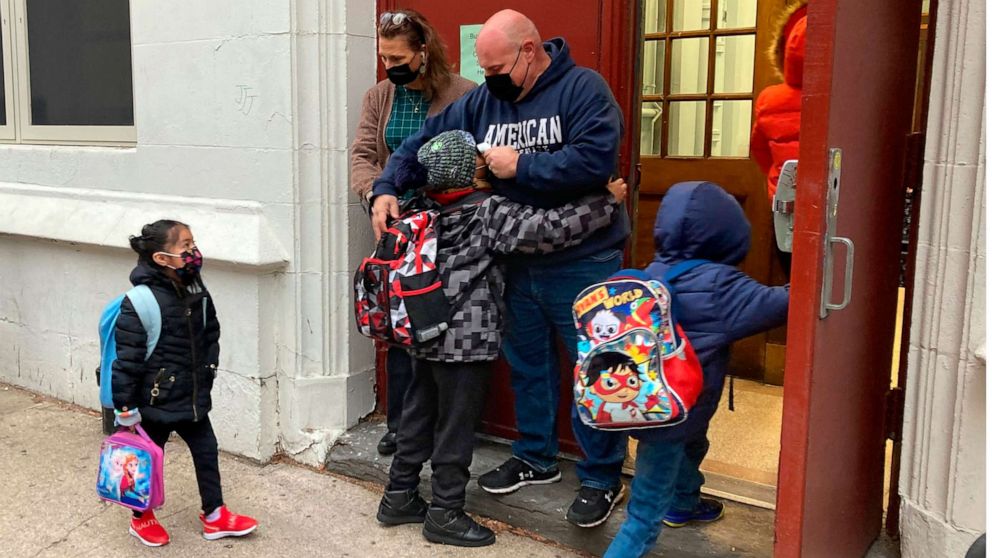 And even as COVID-19 tests can be hard to come by these days, experts say the tests are the only way to know whether a child has COVID-19 or another virus.
Both PCR tests, which are considered more accurate, and rapid, or antigen tests, work in children, according to Benjamin.
"PCR is ideal for diagnosis, however, that tends to be in such short supply that an antigen test is not a bad substitute," he said. "It's unclear what the exact accuracy of those tests are with omicron, but you're dealing with uncertainty and that's a circumstance where imperfect information is often better than no information."
5. What do I do if my child has COVID-19?
Children who test positive for COVID-19 should isolate as best as they can, depending on their age. If children are too young to isolate, families should consider wearing face masks at home to minimize the spread, according to Spinner.
Once a child tests positive, parents should monitor the child closely for any worsening symptoms and call their child's doctor as needed, explained Spinner.
He said at-home treatments for a child with COVID-19 include typical medications to treat symptoms like fever and runny nose.
To treat high fevers, Spinner said parents can give their child acetaminophen or ibuprofen -- the latter if the child is 6 months or older -- or a lukewarm bath.
For a runny nose, Spinner recommends using a humidifier in a child's bedroom. For a cough or sore throat in a child age 1 or older, Spinnaker recommends a small dose of honey.
And in general, kid with COVID-19 symptoms should be taking in lots of fluids, according to Spinner.
6. Can my child participate in sports, school activities amid omicron surge?
When it comes to school and after-school activities, the experts said families need to prioritize what is most important and take precautions accordingly in other parts of their lives.
Beers said his two teenagers, for instance, both play sports, so the family takes precautions so they can continue to play the sports they love.
"We have lots of conversations in our family about the importance of those, and the conditions of playing, which means wearing their masks during practice," he said. "It means not going out to restaurants as much in our family because it's more important that our children are afforded the opportunity to have those athletic opportunities in their life."
Beers said that as parents think about what activities their kids may do during this latest surge in the pandemic, they should think about both the risk of COVID-19 exposure and the mental and physical benefit the activity is providing their child, calling it a "balancing act for families."
"It may be that that extra activity that your child is doing is the thing that is helping them get through everything else that is going on right now," he said. "So taking away the athletics or the Girl Scouts or the art program to reduce the risk of COVID may help you reduce the risk of COVID and increase the great number of children who we are seeing struggle with mental health issues during this period of time."