Human-made chemicals known as PFAS are back in the spotlight after the feminine hygiene company Thinx settled a class-action lawsuit earlier this month for millions of dollars.
The lawsuit was brought against Thinx by customers who claimed testing showed the brand's period underwear -- advertised by the company as sustainable, organic and reusable -- contained PFAS, otherwise known as per- and polyfluoroalkyl substances, or forever chemicals.
PFAS are manufactured chemicals that have been used in products like nonstick cookware, cosmetics and water-repellent clothing for decades, but have more recently been discovered to cause adverse health effects in some instances, according to the Centers for Disease Control and Prevention.
In the United States, manufacturers aren't required to identify PFAS on labels.
Thinx settled with the five plaintiffs late last year for up to $5 million, but a recently-launched website has reignited interest in the case and restarted the conversation on what consumers need to know about PFAS.
The website, Thinxunderwearsettlement.com, shares details on who is eligible to file a claim to be able to receive part of the settlement money.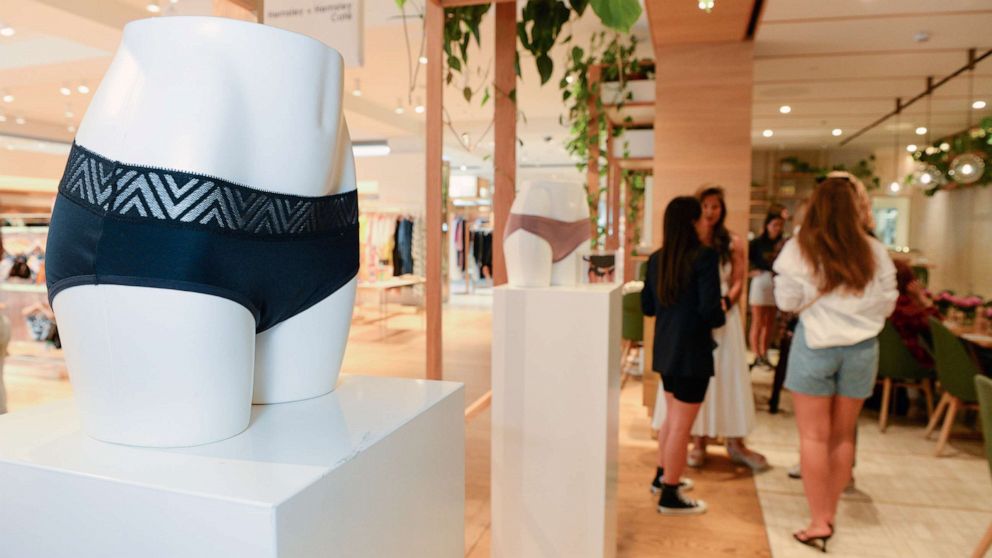 Here is what to know about the Thinx settlement and the allegations over PFAS.
What led to the lawsuit against Thinx?
An article published in 2020 by Sierra magazine first brought attention to the ingredients in Thinx products.
The article's author, Jessian Choy, had Thinx menstrual underwear and a similar product from another brand tested by Dr. Graham Peaslee, a physics professor at the University of Notre Dame, whose research focuses on PFAS.
Peaslee found the presence of PFAS in the Thinx products at "high levels," "especially on the inside layers of the crotch," according to Choy's article.
Following the article's publication, several lawsuits were filed against Thinx, and eventually those cases were merged into the one class-action lawsuit against the company that was settled last year.
"The presence of these chemicals contradicts all of Thinx's unvarying representations that the product is nontoxic, harmless, sustainable, organic, environmentally friendly, and otherwise safe for women and the environment," the plaintiffs alleged in the lawsuit, also claiming the company "knowingly and willfully concealed and misrepresented the true nature of Thinx Underwear."
Erin J. Ruben, an attorney for the plaintiffs, told ABC News that the lawsuit focused on how Thinx marketed its products. She said the settlement in the case is "about more than just refunds."
"Thinx has agreed to make changes to its marketing, in addition to taking other measures to ensure that PFAS is not intentionally added to the product, which we believe will have lasting impact on consumers," Ruben said in a statement. "I also think it's important that consumers understand that this case was about how Thinx's products were marketed -- not whether they caused harm to consumers."
What is Thinx's response to the lawsuit?
The lawsuit settlement includes no admission of wrongdoing by Thinx Inc., which includes the brands Thinx, Thinx Teens and Speax. The two latter brands, Thinx Teens and Speax, were not named in the lawsuit.
The company denies the allegations in the lawsuit, and denies it did "anything improper or unlawful," according to the settlement.
"Consumer health and product safety are top priorities for Thinx, and we stand by the quality, efficacy and safety of our products," a company spokesperson told ABC News in a statement. "The lawsuit is related to how products were marketed and not on product safety or any adverse health effects. PFAS has never been part of the brand's product design and we continue to take measures to help ensure these substances are not added to our products."
The statement continued, "While the settlement included no admission of wrongdoing by Thinx, we have chosen to resolve this matter so that we can focus our attention on doing what the brand does best -- bringing innovative, safe and comfortable leak protection underwear to our consumers."
How common are PFAS in products?
PFAS began to be used in manufacturing in the 1950s, and for decades showed up in products ranging from shampoo and dental floss to cosmetics, fast food wrappers, pizza boxes, water-resistant clothing, umbrellas and in cleaning products like stain removers, according to the CDC.
It has only been in the last 20 years that further research has shown the dangers of PFAS, according to Peaslee, the Notre Dame professor who tested the Thinx products.
Because of their ability to last forever and because of their past widespread use, PFAS are still present all around, Peaslee explained.
"These things are so inert that they last for thousands of years, and they break down to the simplest products, which are all the fluorinated compounds," Peaslee told ABC News. "And these will actually get into your body and they start piling up, so everybody in North America already has millions of these chemicals in their blood."
In addition to absorbing the chemicals from products, people can also be exposed to PFAS through environmental factors like drinking water, accidentally ingesting soil or dust and eating exposed animal proteins, according to the CDC.
PFAS are not banned at the federal level in the U.S., but some states have taken action to restrict the use of PFAS.
How harmful are PFAS to a person's health?
Research shows that exposure to high levels of PFAS can lead to adverse health effects, but it is not yet known exactly what the level of exposure is that leads to different health outcomes, according to the Environmental Protection Agency.
So far, research has shown that "exposure to certain levels of PFAS" may lead to everything from developmental delays in children and increased risk of some cancers to increased risk of obesity and high cholesterol, according to the EPA.
In women, exposure to PFAS may lead to difficulty getting pregnant, hormone issues and increased high blood pressure when pregnant, according to the EPA.
Peaslee noted that wearing a period product that contains PFAS is not going to harm a person in the short-term, but it may contribute to a bigger issue.
He said the risk of PFAS exposure is higher in certain areas of the body, including the groin, neck and underarms.
"No, they're not going to die from their period underwear by wearing them today, but they will increase their risk of exposure to these chemicals," he said. "And these chemicals you don't really want in your body, and they're already there."
Peaslee continued, "For most people, especially those with children or of childbearing age, you'd like to not be exposed to an extra chemical, and this is one that we can avoid."
How can PFAS be avoided?
Since companies do not have to list the presence of PFAS on labels, Peaslee suggests keeping an eye out on products that have an extra label showing they are PFA-free.
"When you get a label that says 'no intentional PFAS added,' that company has done some diligence," he said. "They're putting an extra 5-cent label on it to say, you know, 'We checked.'"
Peaslee said consumers can also watch for products marketed with words like "water-resistant" and "long-lasting," as those are two qualities that PFAS are used to help produce.
"You can look at those as indicators that you might have a problem," he said. "But you don't know for sure until somebody does a test or until a product deems itself and has been tested to be PFA-free, and that means the company has done some tests."
The EPA says to be aware of the water and food you consume and ensure they do not come from contaminated sources.
While individuals do not need to be tested for PFAS exposure, the U.S. Preventive Services Task Force recommends undergoing regular routine health screenings and following a physician's guidance.
What do I do if I own Thinx underwear?
The settlement applies to people who purchased certain types of Thinx underwear in the U.S. between Nov. 12, 2016, and Nov. 28, 2022, according to the settlement website.
People who submit a claim have options ranging from receiving a cash refund up to $21 to a voucher for 35% off future purchases.
People also have the option to exclude themselves from the settlement, which would then make them free to file their own lawsuit should they desire.
Editor's note: This story has been updated to clarify the Thinx brands not named in the lawsuit.
ABC News' Kelly McCarthy and Jacqueline Laurean Yates contributed to this report.