Popular diabetes drug Mounjaro could be FDA-approved for weight loss this year, company says
Popular drug Mounjaro could soon be approved for weight loss
Sandy Huffaker for The Washington Post via Getty Images
A popular drug currently approved to treat Type 2 diabetes could soon also be approved for weight loss.
Eli Lilly, the maker of the drug Mounjaro, said Thursday it expects the medication could be approved by the U.S. Food and Drug Administration for weight loss as early as the end of the year.
The company made the prediction on the timing of FDA approval as it announced top-line results of a Phase 3 study showing a nearly 16% overall weight loss over a 17-month period among people who have both Type 2 diabetes and obesity.
Prior studies among people with obesity without Type 2 diabetes have shown a weight loss within the range of 15% to 21%, depending on the dose of the medication given.
Eli Lilly is using the data from the Phase 3 study as part of its weight-loss approval request to the FDA. The company said Thursday it plans to complete the U.S. submission for the drug tirzepatide, sold under the brand name Mounjaro, in adults with obesity or overweight with weight-related comorbidities in the coming weeks.
Eli Lilly announced in October the FDA granted Fast Track designation to studying tirzepatide to treat obesity or excess weight with a secondary medical condition.
The FDA has not said when it would announce a decision about weight loss approval for tirzepatide.
Here are three questions answered about the medication.
1. How does Mounjaro work?
Mounjaro, approved by the FDA last year to treat Type 2 diabetes, is an injectable medication that patients take once per week.
Doctors will typically start out with a low dose of the injection and increase the dose after four weeks based on your body's response.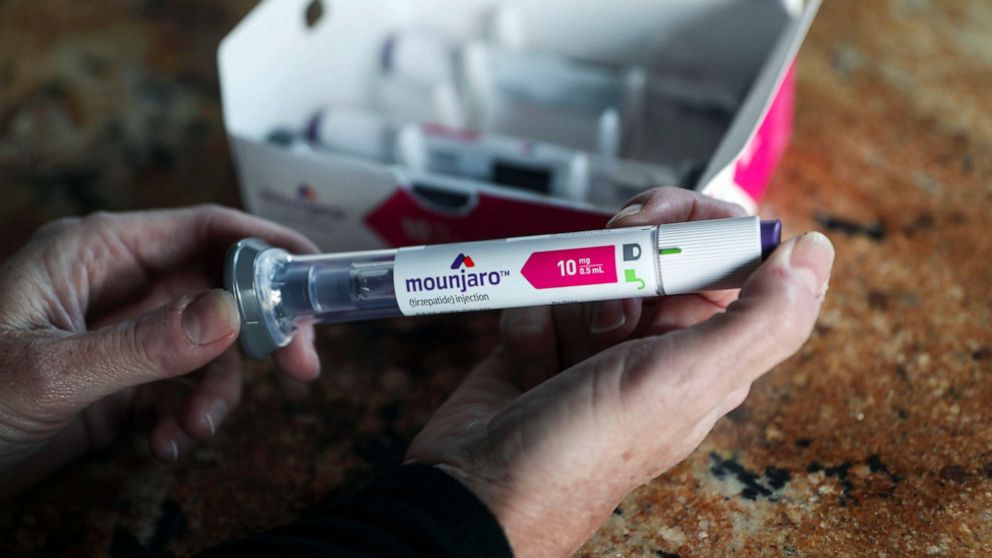 The active ingredient in Mounjaro, tirzepatide, works by activating two naturally produced hormones in the body: glucagon-like peptide-1, known as GLP-1, and glucose-dependent insulinotropic polypeptide, or GIP.
The combination is said to slow the emptying of the stomach, making people feel full longer, and suppress appetite by slowing hunger signals in the brain.
In Type 2 diabetes, Mounjaro is recommended to be used along with "diet and exercise to improve blood sugar," according to its website.
Mounjaro cannot be given to patients with certain medical conditions, including medullary thyroid cancer, pancreatitis, or gallstones.
Side effects can include severe nausea and constipation.
Its safety has not yet been established in minors.
2. How does Mounjaro differ from other drugs like Ozempic?
Ozempic and Wegovy are made from a different compound, called semaglutide.
These drugs, called GLP-1 RAs, help people produce insulin and lower the amount of sugar in the blood.
The FDA approved Ozempic in 2017 as a treatment for Type 2 diabetes alongside diet and exercise if other medications cannot control blood sugar levels well enough. Although Ozempic is not explicitly approved for chronic weight management, it can be prescribed off-label and used for people who are obese.
Wegovy is essentially the same injectable drug prescribed at a higher dosage. The FDA has specifically approved Wegovy for patients with severe obesity, or who are overweight and have one or more weight-associated conditions like high blood pressure or high cholesterol.
3. What changes if Mounjaro is FDA-approved for weight loss?
Formal FDA approval of Mounjaro for weight loss would have implications for insurance reimbursement, meaning people prescribed the medication for weight loss would be better able to have it covered by insurance.
The out-of-pocket cost for a drug like Mounjaro can run as high as $1,400 for a one-month supply.
If the FDA approves Mounjaro for weight loss, it also means Eli Lilly would be able to explicitly advertise Mounjaro as a weight loss drug.
Nearly 42% of all adults in the U.S. qualify as obese, defined as having a body mass index at or above 30, according to the Centers for Disease Control and Prevention.