Study links Mediterranean diet to healthier pregnancies
Doctors and healthcare providers should monitor pregnant patients' blood pressure regularly throughout pregnancy, according to a new draft recommendation.
The recommendation was published Tuesday by the U.S. Preventive Services Task Force, a volunteer panel of experts that is highly influential in setting medical guidance.
The new draft guidance expands on existing recommendations to include screening for all types of blood pressure disorders during pregnancy. It recommends monitoring blood pressure at each doctors' visit, starting early in pregnancy.
The Task Force evaluated screening after birth, but did not find evidence to make that recommendation at this time.
Left untreated, high blood pressure during pregnancy can lead to a range of health problems, including stroke, organ damage, seizures and low birth weight for newborns, according to the Centers for Disease Control and Prevention.
One of the most common conditions associated with high blood pressure during pregnancy, preeclampsia, happens in around 1 in 25 pregnancies in the United States, according to the CDC.
Other conditions that can result from high blood pressure include gestational hypertension, eclampsia, and chronic hypertension with and without superimposed preeclampsia, the task force says, noting that risk factors for high blood pressure in pregnancy include a previous adverse pregnancy outcome, having gestational diabetes or chronic hypertension, having a high BMI prior to pregnancy and being 35 years or older.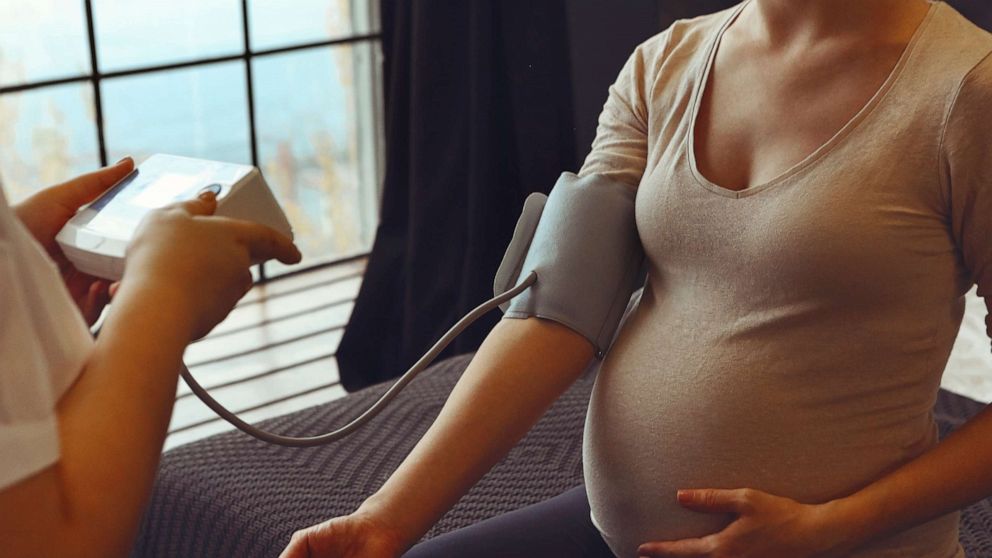 Regular screening for blood pressure throughout pregnancy can help because it will give health care providers more opportunities to intervene with treatments that can can help reduce health risks, according to the task force. It emphasized the need for expanded blood pressure screenings because of racial disparities that put pregnant Black and Native American women at greater risk.
In the U.S., Black women and Native American women are two to three times as likely to die from a pregnancy-related cause than white women, according to the CDC. Across all races, the U.S. has one of the highest maternal mortality rates in the world, with around 700 women dying each year as a result of complications due to pregnancy.
The task force's new guidance follows a trend of increasing rates of high blood pressure among pregnant women, particularly among women of color.
Blood pressure-related disorders during pregnancy are a leading cause of pregnancy-related deaths in the United States.
Black and Native American women experience a disproportionately high rate of blood pressure conditions, according to the CDC
"Importantly, we are using this draft recommendation statement to call attention to the inequities related to hypertensive disorders of pregnancy," Task Force vice chair Dr. Wanda Nicholson, senior associate dean for diversity, equity and inclusion and professor of prevention and community health at the Milken Institute School of Public Health at the George Washington University, said in a statement. "While taking blood pressure throughout pregnancy is an important first step, screening alone cannot fully address these inequities. We have highlighted additional promising ways to improve health outcomes for those at increased risk and are calling for more research to address this important issue."
The task force is now seeking comments on the draft guidance, and says more research is needed before it is finalized.
Editor's note: An earlier version of this story incorrectly stated the task force recommended screenings weeks after birth. It has been updated to reflect the task force stopped short of recommending screenings postpartum.