Suicide attempt survivor wants other teens to know this about mental health
If you are struggling with thoughts of suicide or worried about a friend or loved one, call the Suicide & Crisis Lifeline at 988 for free, confidential emotional support 24 hours a day, seven days a week.
Nine months ago, near the end of August, Jonah Barrow, a high school senior, attempted to take his own life.
Now, the 18-year-old from Katy, Texas, is speaking out about his survival to share a message of hope amid a mental health crisis in the United States, particularly among teenagers.
"I hope that I can change the mind of at least one person. That's all I care about," Barrow told "Good Morning America." "If I can change the mind of one person or encourage someone to speak out, relieve themselves of their suffering, that's all I can hope to dream."
Barrow said his mental health struggles began in middle school, as he faced difficulties transitioning to a new school and new friends.
When he entered high school a few years later, Barrow said he began to struggle with his mental health again. An accomplished piano, cello, ukulele and guitar player, he found his niche playing guitar in a rock band.
Yet on that day last August, Barrow said he struggled to see a future for himself.
"I felt lost, worthless," he said. "After the suicide attempt, it's kind of jarring to think that before that moment, I had thought that I didn't have a future."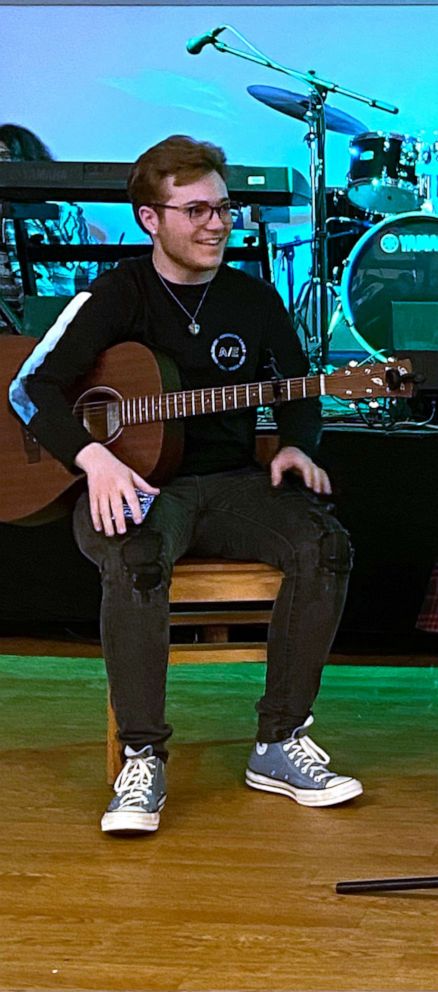 Barrow said in the moment, he also struggled to see the support he had all around him, everyone from his therapist to his friends and family.
"That day, if I kept calling other people, other family members or other friends, if just one person had answered the phone, I would be in a much different place today," he said. "It is so important to keep reaching out and keep talking about things."
Barrow's mother, Lori Barrow, said she remembers wishing too that her son had reached out and called even more people who love him in his most difficult moment.
"He could have called me, his grandmother, his aunts, his cousins, there's so many people," Lori Barrow told "GMA." "That's why it's important to keep reaching out. Reach out to the people that you know are going to be available, and don't stop trying."
As a teen who has attempted suicide, Barrow is far from alone, data shows.
Last year, nearly 24% of female high school students and nearly 12% of male students in the U.S. reported making a suicide plan, according to the latest results of the Youth Risk Behavior Survey, published last month by the Centers for Disease Control and Prevention.
Although suicide is the 11th leading cause of death overall in the United States, it is the third among U.S. high school students between the ages 14 and 18, accounting for one-fifth of all deaths among this age group, according to the report.
While the past three years of the coronavirus pandemic have put a spotlight on teens' mental health struggles, particularly when it comes to suicide, the issue has been a concern for many years, data shows.
"In the decade prior to the pandemic, there was a 57% increase in the suicide rate among young people," U.S. Surgeon General Dr. Vivek Murthy said in an April 30 interview with "GMA." "And today, nearly half of high school students are telling us that they feel persistently sad or hopeless."
A CDC report released last year, just one month after Barrow's own suicide attempt, found an 8% increase in the suicide rate among males ages 15 to 24 from 2020 to 2021.
Common risk factors for suicide include a history of depression and other mental illness, bullying, loss of relationships and social isolation, according to the CDC.
Jonah Barrow said that through his own journey, he has learned that simply speaking out loud about his mental health struggles has helped.
"The second you start talking about it, it gets easier," he said. "I would say that's the most important thing."
Experts too say one of the most important suicide prevention steps parents can take is to talk to teenagers about suicide.
"Talk with your kids about suicide because there is a big misconception that we're going to somehow put an idea in our kids' heads and it's going to make them more likely to do something risky or bad. That is absolutely incorrect," Mitch Prinstein, Ph.D., chief science officer for the American Psychological Association, told "GMA" earlier this month. "You're not putting an idea in their head, but what you are doing is communicating when they talk with you about it, they're going to feel safe and they're going to feel like they can open up to you."
Lori Barrow noted she has seen the importance of not just talking to kids about mental health and suicide, but also listening to their replies.
"The biggest thing that I think parents can do is to listen, to not talk at them, to not talk about their experiences," she said. "Because it's easy for somebody to say, 'I know how you feel. I've been there,' but we really haven't. Their experience is completely different from our experiences."
Finding hope in music
In addition to finding healing in talking about his mental health, Jonah Barrow said his passion for music has restored hope in his life.
After suffering multiple injuries in his suicide attempt, including being temporarily paralyzed, Jonah Barrow has spent much of the past nine months hospitalized and undergoing rehabilitation.
While recovering at TIRR Memorial Hermann, a rehabilitation center in Houston, he began working with Ty Walcott, a board-certified music therapist.
"I remember I was challenged with trying to stand on my feet for as long as I could and could only stand for about three minutes," Jonah Barrow said. "But when Ty Walcott came to visit me and we started playing songs and listening to music, I was able to stand for about 15 minutes."
"It's like magic," he said of the effect music has had on his recovery.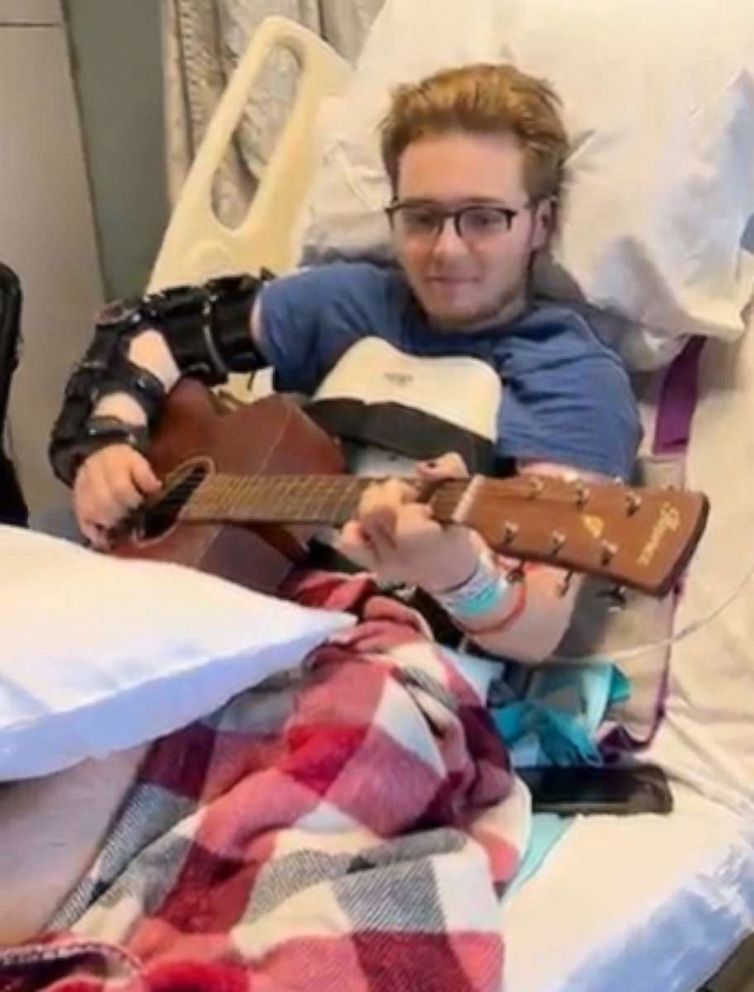 Walcott said she used music as a way to help Jonah Barrow regain his mobility and endurance in relearning how to talk, in addition to using it as a tool to help regulate his emotions.
"Music acts as a medium for processing those emotions and trauma and grief," Walcott told "GMA." "And it helps as a calming agent just because of the way that it affects the brain. It's affecting all parts of the brain differently, as opposed to us trying to do it by sheer will."
Over several months of therapy with Walcott, Jonah Barrow went from not being able to sit up in bed long enough to play an instrument to performing onstage with Walcott at a local music festival.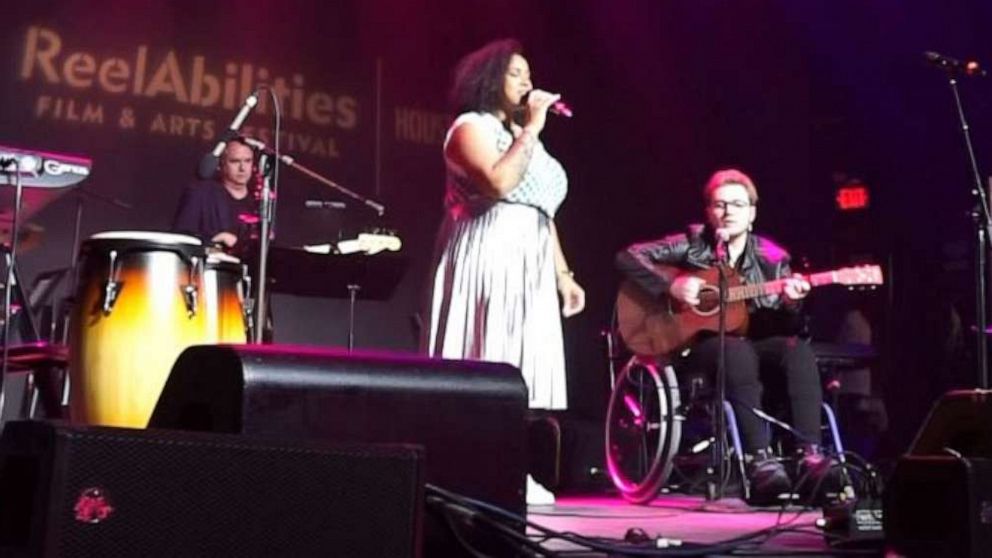 "Not being able to hold your instrument is like losing an arm, losing your hands, losing your feet, because it's a part of you. It's what makes you you," Walcott said. "So it was a huge milestone for him to not only be able to play, but to be able to play for other people, because that's what he wants to do."
Jonah Barrow said he sees reconnecting with music as a turning point in his recovery.
When he arrived at TIRR Memorial Hermann, he said he was still struggling with the "internal conflict" of his feelings over the fact that he had survived.
"Because I was still depressed, part of me was still battling with 'I wish it worked,' 'I'm happy that it didn't,'" he said, adding, "But when I started working on myself every single day, and knowing that if I just keep trying and go with this with a positive mindset and a goal to get better, it worked wonders for me."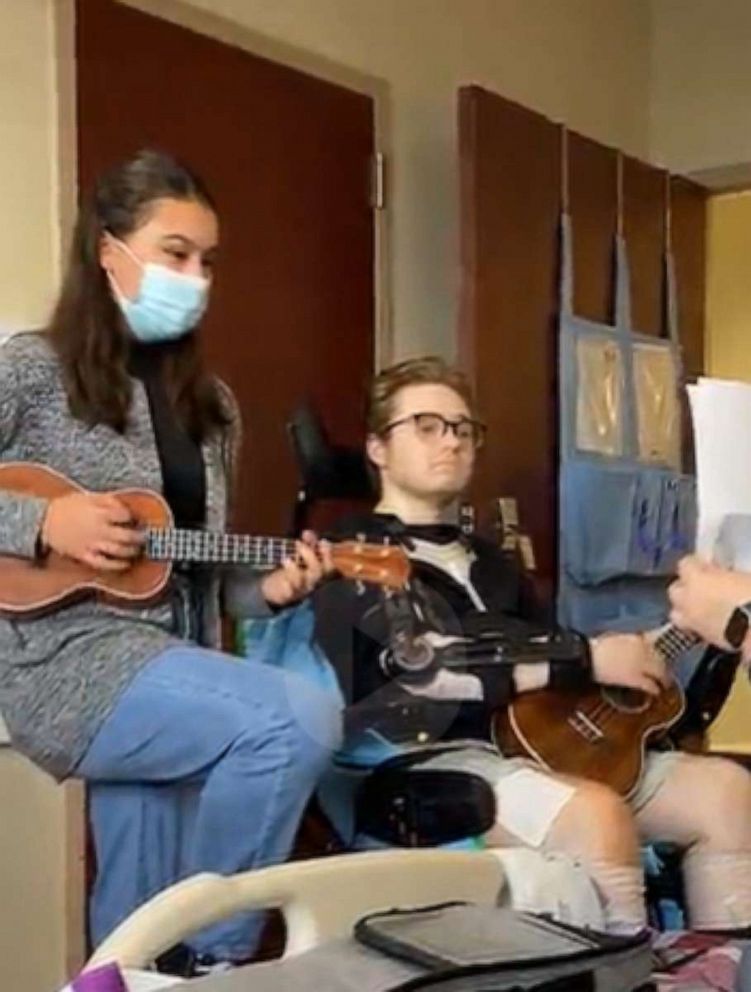 Jonah Barrow will graduate from high school this month, and has plans to attend college, with a goal to work in music as a career.
He said he wants people to know that suffering looks different for different people, and that there is no shame in speaking out about mental health struggles.
"I believe many people suffer in silence," he said. "And I can only encourage them to just speak their truth, whatever that may be."