A tearful moment was captured on video as a retired teacher learned he'd be receiving a life-saving gift from a woman who attended the high school where he taught.
On Oct. 7, George Labecki, 63, was surprised by Lindsay Arnold Wenrich, 34, who revealed that she'd be donating her kidney to him.
"I was stunned," Labecki of New Cumberland, Pennsylvania, told "Good Morning America." "I was overpowered about the absolutely grand size [gesture] of what she was about to do for me. I was speechless, absolutely speechless."
Labecki said that he's experienced health issues associated with his kidneys since he was a teen. But in Jan. 2017, the organs began to fail and he was later placed on a transplant list.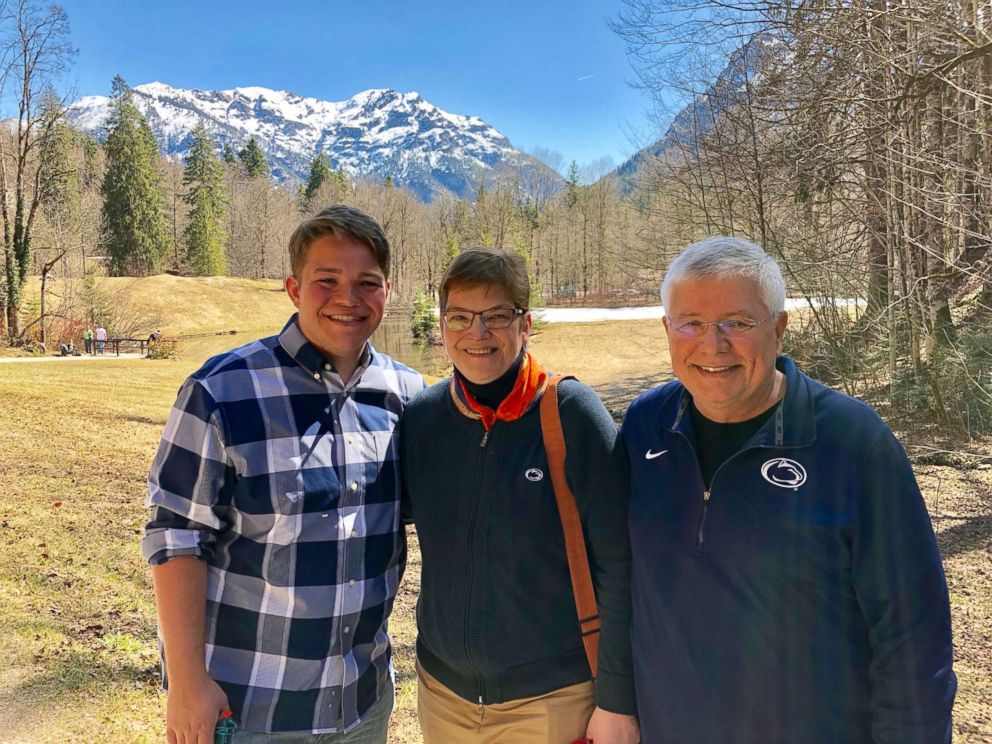 In April, Labecki's wife convinced him to take his search for a donor to social media. The Facebook post was shared by some, including Kathy Young, Labecki's former colleague, and Wenrich's former gym teacher at Cedar Cliff High School in Camp Hill, Pennsylvania.
Wenrich attended Cedar Cliff where Labecki taught English for 34 years. As a student, Weinrich didn't have Labecki as a teacher, but when she saw his post on Facebook, she felt compelled to help.
"I thought, 'wow, this is hitting kind of close to home,'" Weinrich told "GMA," adding that Labecki was a popular teacher who all the kids knew in high school. "It's not super often that I see someone I know who needs an organ donor and even though I never had him, Cedar Cliff is a close-knit community."
Wenrich was tested in May and learned in September that she was a match. This month, Wenrich surprised Labecki, a big Penn State Nittany Lions fan, at his home while wearing the Penn State University mascot uniform.
During the surprise, Weinrich had a series of cue cards that revealed she was giving Labecki one of her kidneys.
After showing the final card, the two shared a tearful embrace. The surgery is scheduled for Oct. 26.
"I think I'm prepared and knowledgeable and know what to expect," Weinrich said. "Luckily my work and my family has been really supportive. George [Labecki] and I became instant friends. I think we are going to be a really big part of each other's lives."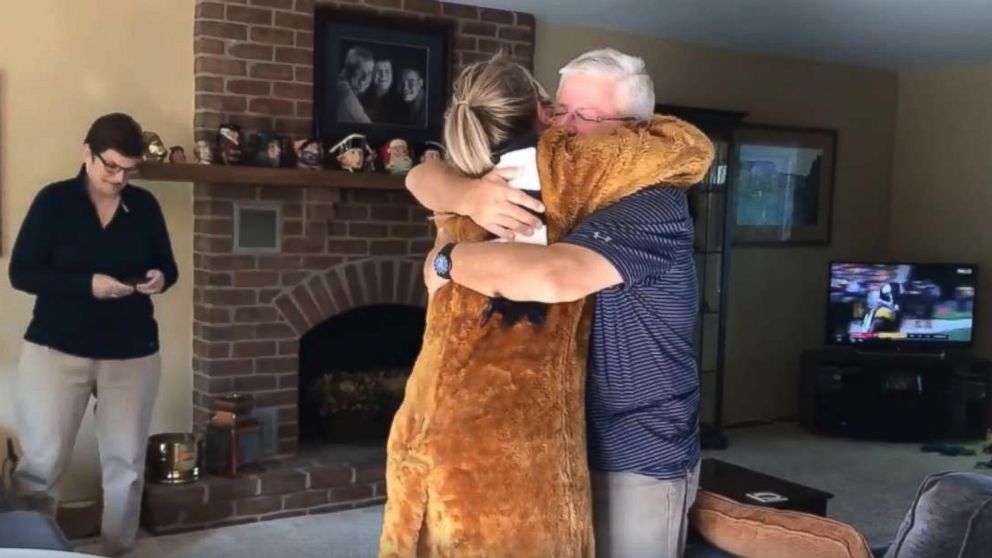 Labecki said he can never repay Wenrich for giving him this gift, but hopes to keep her close to his family.
"She's an amazing person, I love her to death," he said, "I've been so thrilled to get to know her."