Black women at greater risk for maternal mortality
The unexpected death of U.S. Olympic sprinter Tori Bowie is putting a spotlight on a pregnancy complication that disproportionally impacts Black women.
Bowie, 32, was found dead last month in her home near Orlando, Florida.
At the time of her death, Bowie was around eight months pregnant and was in labor, according to an autopsy report released this week by the office of the medical examiner in Orlando.
The autopsy report, obtained by ABC News, ruled that Bowie's death was "natural," noting that possible complications included respiratory distress and eclampsia.
Bowie, whose only medical condition listed on the autopsy is bipolar disorder, had no drugs or alcohol in her system, according to the report.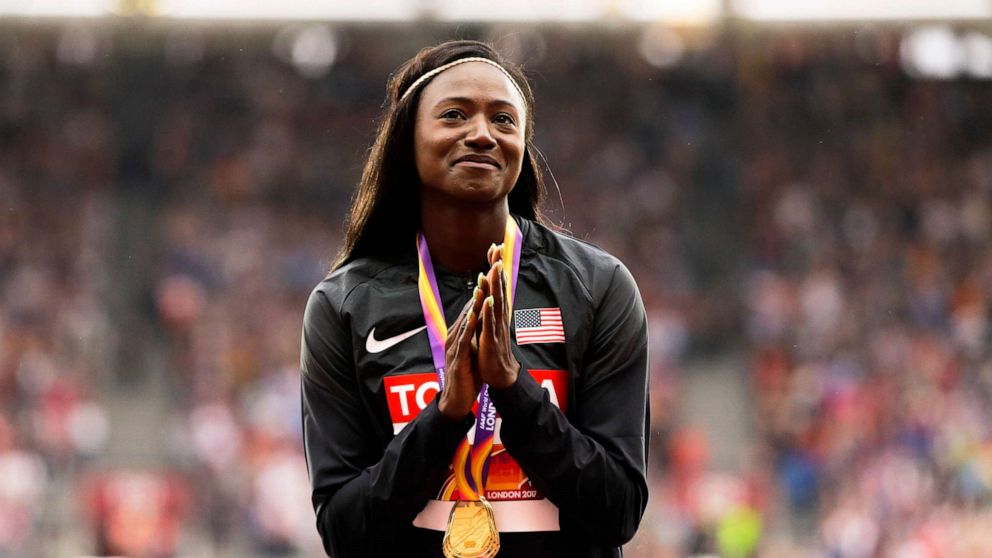 Eclampsia is a medical emergency that happens when a pregnant woman with preeclampsia develops seizures, which can lead to coma or death, according to the U.S. Centers for Disease Control and Prevention.
While eclampsia is more rare, preeclampsia, a condition of high blood pressure and kidney damage during pregnancy, is common, affecting as many as 1 in 25 pregnancies in the U.S., according to the CDC.
As a Black woman, Bowie, a three-time Olympic medalist, was among the population most affected by preeclampsia, data shows.
According to the Preeclampsia Foundation a U.S.-based nonprofit organization, the rate of preeclampsia is 60% higher among Black women than white women, and Black women are more likely to develop severe preeclampsia.
The American College of Obstetricians and Gynecologists also lists being Black as among the "moderate risk" factors for preeclampsia, a condition for which the exact cause is not known.
Bowie's race also put her in the highest risk category for death due to pregnancy-related complications.
In the U.S., Black women and Native American women are two to three times as likely to die from a pregnancy-related cause than white women, according to the CDC. Across all races, the U.S. has one of the highest maternal mortality rates in the world, with around 700 women dying each year as a result of complications due to pregnancy.
Kimberly Holland, Bowie's longtime agent, told ABC News that she spoke with Bowie just a few weeks before her death. She said the track star did not mention any difficulties with her pregnancy.
"She was filled with so much joy. She was so happy. It was one of our best conversations in a long time," said Holland, the founder of Icon Management, later adding, "She never complained about any discomfort or that she was having any problems. She was getting prepared to have the baby in a couple of weeks."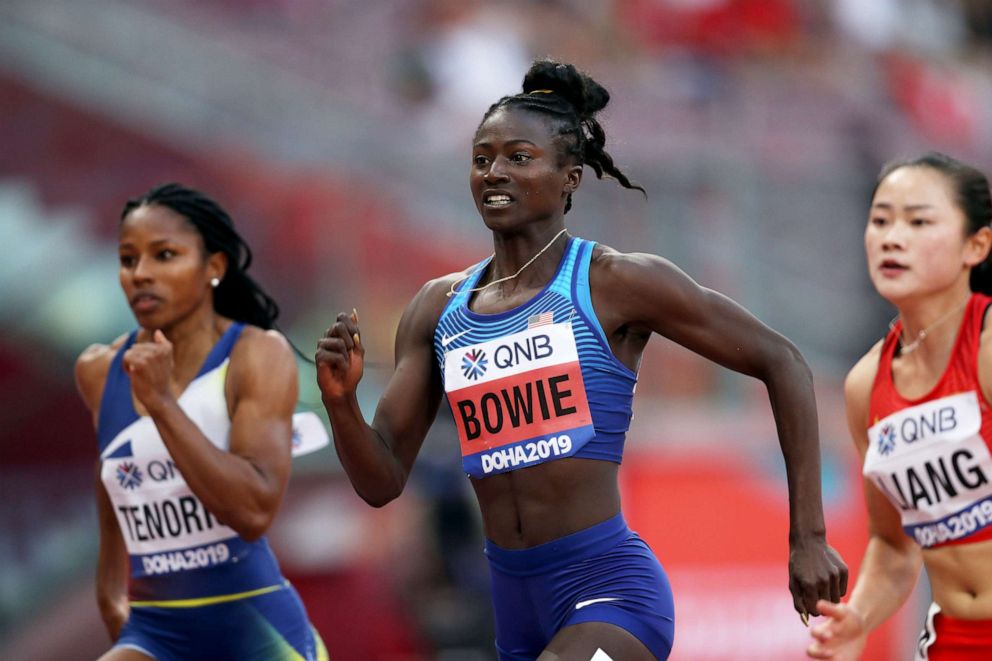 Holland said she wants Bowie to be remembered not just for her success on the track field, but with a call for change when it comes to maternal care in the U.S.
"It's just unfortunate that someone has to pass before we highlight it. It's like we're always working in the rear instead of being proactive," Holland said. "So, if this can help someone else in some kind of way, by changing some laws or bringing more attention to Black women that experience these types of complications, then I want to do that, because I know if Tori were here and she can help someone in any way, she definitely would."
What women need to know
Preeclampsia happens when a pregnant woman who previously had normal blood pressure develops high blood pressure with protein in the urine after 20 weeks of pregnancy, according to the CDC.
Women who have underlying high blood pressure before pregnancy, known as chronic hypertension, can also develop this condition.
In more rare instances, preeclampsia can develop in the postpartum period up to 6 weeks after birth.
Some health conditions can also increase the risk of developing preeclampsia, including some autoimmune disorders, diabetes, obesity, polycystic ovary syndrome, sickle cell disease and kidney disorders.
Signs of preeclampsia include new or worsening headaches, vision changes, swelling in the face, hands or feet, sudden weight gain and difficulty breathing, according to the CDC.
In some cases, women have no symptoms of preeclampsia, according to the CDC, which stresses that is why women need to regularly see a health care provider during pregnancy.
Black women are less likely to receive adequate medical care, research shows, which is why increased access to medical care is one step in the right direction toward addressing these disparities.
In addition to getting regular routine prenatal care, it's important to take all medications prescribed by a doctor during pregnancy, especially medications that treat high blood pressure. A heart-healthy lifestyle that reduces the risks of any cardiovascular condition prior to pregnancy and during pregnancy can also help.
If someone is at higher risk of preeclampsia, the U.S. Preventive Services Task force recommends taking daily low-dose aspirin after 12-weeks gestation during pregnancy to help prevent preeclampsia. Talk to your doctor about whether this might be the right option for you.
Importantly, a woman should talk to her doctor about any risk factors or new or worsening symptoms during pregnancy, and should not start or stop any medications without consulting a doctor first.
ABC News' Dr. Jade Cobern and Dr. Shiela Beroukhim, members of the ABC News Medical Unit, contributed to this report.