Mom shares what she learned from surviving stroke shortly after giving birth
Four years ago, Shannel Pearman nearly became a statistic in the growing Black maternal health crisis in the United States.
In the last week of her pregnancy with her first child, Pearman, now 33, said she began to experience complications like swelling, high blood pressure and weight gain that she said were dismissed by her doctor.
Pearman, who lives near Baltimore, went onto give birth to a healthy baby, a son named Jayce, 41 weeks into her pregnancy, and said she thought she was medically in the clear.
"As far as I was concerned, I was healthy. My baby was healthy," Pearman told "Good Morning America." "That's all my doctor kept telling me, was that I was OK and my baby was OK."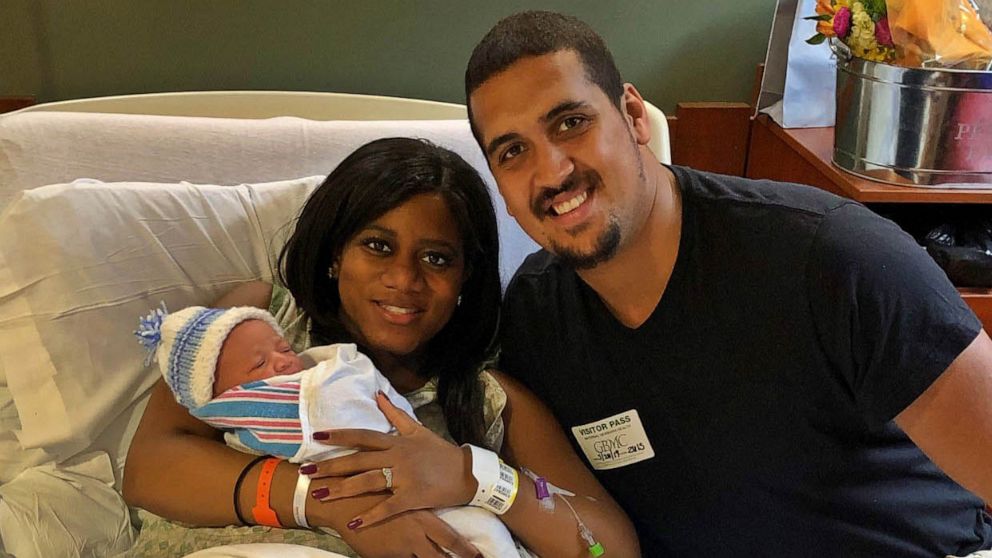 It was not until a week after giving birth that Pearman nearly lost her life.
She suffered a stroke while at home with her baby and husband, who rushed her to the hospital, where she eventually underwent two emergency brain surgeries.
"I wasn't stroke-alerted when I came in to the hospital showing signs of a stroke," said Pearman, who added that it was her mom, who met them at the hospital, who demanded she get medical attention for a stroke. "I was failed multiple times."
As a Black woman in the U.S., Pearman is three times more likely to die during childbirth or in the months after than white, Asian or Latina women, according to data from the Centers for Disease Control and Prevention.
A recent CDC report found the majority of maternal mortality cases -- about 53% -- occur after the first week of childbirth.
Black women are also more likely than white, Asian or Latina women to die from pregnancy-related complications regardless of their education level or their income, data shows. And in cases of maternal death, Black women are more likely to die from cardiac conditions, like the high blood pressure complications that Pearman described experiencing in her last week of pregnancy, according to the CDC.
Pearman said that as an otherwise healthy 29-year-old at the time of her son's birth, with no preexisting conditions, suffering a stroke came as a life-changing shock. She said continues to suffer from ongoing complications of the stroke including memory loss, brain fog, vision loss and migraines.
Pearman said it also came as a shock to learn the disparities Black women like herself face when it comes to giving birth, and how the maternal mortality rates have only continued to grow in the five years since she gave birth.
"A mom should be able to enjoy her pregnancy, enjoy her newborn and postpartum period and not have to worry about dying during childbirth or shortly after her child's birth," she said. "So it's heartbreaking to think about, that this issue is still happening."
For Pearman, the decision to have a second child was one that took several years, a period of time that she said involved mental health therapy, prayer and finding the right medical team.
Last year, Pearman gave birth to a healthy daughter, whom she and her husband named Jordyn.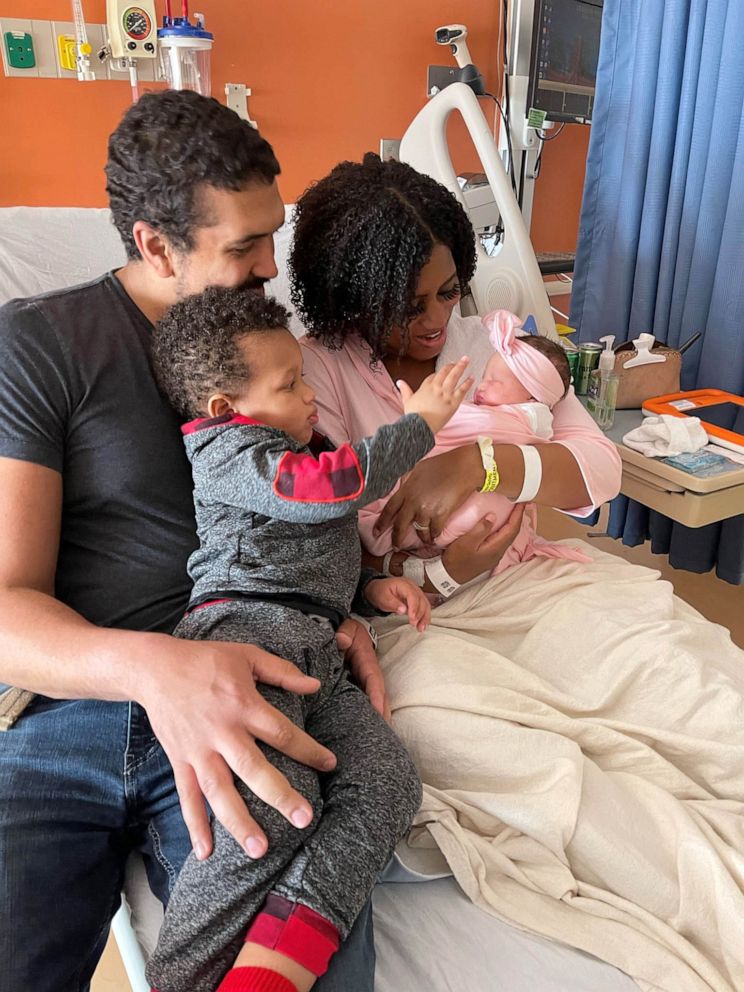 She shared with "GMA" the things she did differently when giving birth to her second child, and what she wants other women to know.
1. I made sure I felt seen by my medical team.
Pearman said she and her husband did their research on doctors, including meeting with several, to make sure they found the right fit.
"We wanted to find someone that made us feel comfortable and made us feel seen and heard. Someone that we didn't feel rushed with. Someone that took the time to answer every and all of our questions," Pearman said. "And the team that we went with, they were great. If we showed any concerns, they were running tests and just doing all the things we would want from a doctor."
Dr. Pam Oliver, a board-certified OB-GYN and executive vice president of Novant Health in North Carolina, said she also encourages patients to look around to find a team of doctors with whom they connect.
"I think that patients should look at the team that's taking care of them and make sure they feel that connection. They feel like this is a place, or this is a team that truly cares about me," Oliver, who did not treat Pearman, told "GMA." "And that becomes part of how you choose the team that actually is going to take care of you when you deliver."
Oliver, also president of the Novant Health Physician Network, said she also encourages patients to work with the same OB-GYN prior to pregnancy, when possible.
"I like to take care of my patients prior to pregnancy so that they understand that how they come into pregnancy matters some with their outcomes," she said. "We start a nine-month journey once we have a positive pregnancy test, but some of the outcomes and, unfortunately, the deaths that we see may be related to health issues that started way before pregnancy."
2. I used an at-home blood pressure monitor.
Pearman said that with her second pregnancy, she used an at-home blood pressure reader, which can be purchased over-the-counter for as little as $20.
"That can be a life-changing method for so many moms, if they have a blood pressure reader where they can be testing or checking their own blood pressure throughout their pregnancy and even the postpartum period," she said. "Because for a lot of moms, we don't get a [postpartum] checkup until the six-week appointment, and so much can go wrong in those six weeks."
High blood pressure, or hypertension, can put women at risk during and after childbirth, raising the risk of stroke, preeclampsia and preterm delivery, according to the CDC.
The CDC also recommends that women keep track of their blood pressure at home so they can notify their healthcare provider if their blood pressure is higher than usual.
3. I was my own biggest advocate.
Pearman said her biggest piece of advice to other women is to speak up and be persistent if they feel anything is off with their body.
"You have to be your own biggest advocate," she said. "If you feel any symptoms or anything is concerning, you have to speak up. If your doctor isn't listening to you or you don't feel seen or heard, you need to find someone else that's going to hear you because you cannot take any chances when it comes to your life or your child's life."
Pearman continued, "You have to trust your own intuition and if something something doesn't feel right, you just have to follow that and speak up and advocate for yourself."
Oliver said she encourages patients to be persistent with their doctor and proactive with their health.
"Advocating is really about being persistent and making sure that your provider, whether it's a physician or a midwife, understands what your issue or your concern may be and that you get some answer, even if it means you have to seek another opinion or talk to someone else to make sure that you truly are getting an answer," Oliver said. "Because there are a lot of things in pregnancy we can't explain. There are a lot of aches and pains and things that happen."
4. I was alert for warning signs after giving birth.
With Pearman's second pregnancy, she said she knew that even after she gave birth, she needed to advocate for herself and pay close attention to how she was feeling.
"The experience between the two pregnancies were night and day," she said. "This time around, I was able to know what to look out for."
Oliver echoed that once a new mom goes home from the hospital, it's important that she knows to speak up when something feels off in their body.
Among the warning signs for women to watch for are shortness of breath, chest pain, weakness, severe headaches and excessive bleeding, according to Oliver.
"Those are just a few of the things that we look out for because they may be tied to the most common causes for women dying after childbirth," she said. "You have to make sure that you you've gotten your symptoms out, that you're heard and that you've had an evaluation that feels reasonable to say, 'We've ruled out the bad stuff.'"
Oliver noted that women should listen to their intuition and feel confident telling their doctor, "Something just feels off." She added that if a woman is told by her doctor that a symptom, like a headache, for example, is normal, she should ask the follow up question, "When should I be concerned about this headache?"
"That is something you can truly act on," Oliver said. "You need your team to be able to tell you when do you get concerned? When do you follow up? How do you follow up and what should you expect from there?"
5. I knew that maternal mortality was a major crisis.
Pearman described it as "difficult" and "heartbreaking" to know that so many women, particularly Black women, die during and after childbirth due to forces beyond their control.
Oliver, too, said she struggles as a doctor to know that outside of medical care, there are issues like poverty, bias and systemic racism that impact the rising maternal mortality rate.
One reason for the maternal mortality disparity is that more Black women of childbearing age have chronic diseases such as high blood pressure and diabetes, which increases the risk of pregnancy-related complications like preeclampsia and possibly the need for emergency C-sections, according to the CDC.
But there are also socioeconomic circumstances and structural inequities that put Black women at greater risk for those chronic conditions. Black women often have inadequate access to care throughout pregnancy which can further complicate their conditions, data shows.
Anecdotal reports also show that the concerns of Black women experiencing negative symptoms during pregnancy and postpartum are specifically ignored by some physicians until the woman's conditions significantly worsen, at which point it may be too late to prevent a deadlier outcome.
Oliver said one of the most heartbreaking and frustrating things she hears as a doctor is Black women who are afraid to have children, or who have decided not to have children out of fear they will die.
"That hurts my heart because that's not at all what we intend to do, is to scare people," Oliver said. "It's not about fear. It's about empowering ourselves, advocating for things that we know help all women, getting legislators and others to understand what we need to do to get the data, to cover the services that need to be covered, to approach this from many angles."
She continued, "It's important for people to know it is still safe to have babies and every day millions of women are having safe childbirths, but the trouble is that Black women are dying at a rate that is three to four times that of White women."