Colorectal cancer survivor Candace Henley educates others about the disease
March is Colorectal Cancer Awareness Month.
When Candace Henley, 55, was diagnosed with colorectal cancer 20 years ago, all she wanted was to see her youngest child turn 18.
"I wouldn't ask [God] for anything else, but in return I would do whatever I needed to do to save someone else from going through the trauma that I and my family went through," Henley told "Good Morning America."
Now a cancer survivor, Henley is making it her mission to educate others about the disease and save lives.
What is colorectal cancer?
Henley was 35 years old when she was diagnosed with the disease.
She told "GMA" that she recalled being in "so much pain."
"I couldn't stand up," she said. "Finally, one of my cousins said, 'That's it. We're going to the emergency room.'"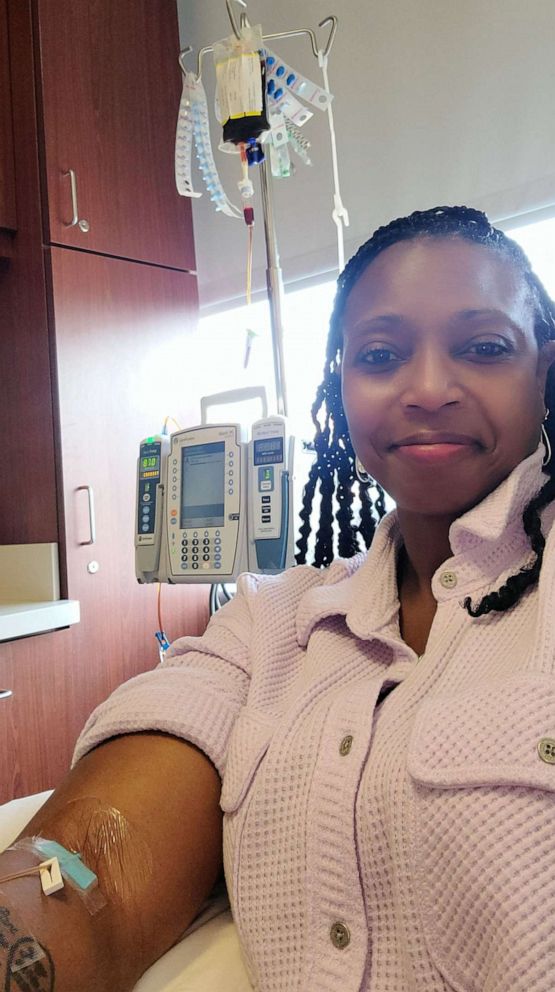 According to the Colorectal Cancer Alliance, colorectal cancer or CRC is a "disease of the colon or rectum."
Signs include abnormal growths in the colon or rectum that can turn into cancer if not removed, according to the Centers for Disease Control and Prevention. However, someone could have polyps or colorectal cancer and not know it, according to the CDC.
The disease typically occurs in people ages 45 and older, but is on the rise among younger people, according to the CCA.
Earlier this month, the American Cancer Society reported that one in five cases of the disease in 2023 occured in people under 55. Colon cancer is also the most common cancer and the second most common cancer death in the U.S., according to the ACS.
"Colorectal cancer is one of those things that people really don't like to talk about," Sophie Balzora, a gastroenterologist and clinical professor of medicine at New York University, told "GMA." "And it does prevent people from going to the doctor to talk about their symptoms or even just talking about screening."
Health experts like Balzora have stressed the importance of getting screened regularly for colorectal cancer as a way to reduce the risk of it. Screening for colorectal cancer should begin at age 45, according to the CDC, but if you have a family history of it, you should get screened earlier for the disease.
The CDC also suggests there are other ways to reduce the risk of colorectal cancer including staying active, eating a diet rich in fiber, whole grains, fruits and vegetables, limiting processed and red meat consumption, limiting alcohol consumption, avoiding smoking and maintaining a healthy weight.
The Blue Hat Foundation
Henley is now using her story to raise awareness about the disease, especially among those in the Black community, where rates are the highest of any racial or ethnic group in the U.S., according to the ACS.
Henley founded The Blue Hat Foundation in 2015, with the goal of raising awareness about CRC. It began at her church and has since expanded into a thriving organization.
"We're trying to make sure that we connect the patient to what they need," Henley said.
"I don't want anyone to go through what I did," she added. "Communities of color will continue to be left behind in research if we don't participate willingly this time. We have to do our part to help improve our community's health outcomes and it's not enough to complain and wait. We must be proactive, educate ourselves and make informed decisions about our health."
Henley, who later learned that she had family members who also had colon cancer, encourages others to share health information within their own families too.
"Share it at family reunions, birthdays, wherever you can but share that information because I feel like this, if you don't tell the story about your family history, who's going to know it? And then you're killing off your family lineage, is pretty much what you're doing," Henley said.
For more information and resources on colorectal cancer, visit Colorectal Cancer Alliance online where you can take a screening quiz. Colorectal cancer patients and caregivers can also receive free support at CCA's BlueHQ website.