Matt James might have known what it feels like to watch "The Bachelor" before he stepped into the role, but being the person handing out the roses was a whole different story.
The 29-year-old North Carolina native told "Good Morning America" he didn't realize the "gravity" of the situation until he was the one eliminating contestants on his journey to find the love of his life.
"It was one of the most intense things -- ever," he said about the iconic rose ceremonies. "That moment was like I was about to fall over. It was a lot. It was unlike anything I'd ever felt."
James, an New York City real estate agent who co-founded the non-profit ABC Food Tours with his best friend and "Bachelorette" alum Tyler Cameron, said he spent time during the COVID-19 pandemic reaching out to the franchise's alums he respected for advice. While they had plenty of perspectives on how to navigate and maneuver his time on the show, he had to dig deep inside when time came for him to step into the lead role himself.
"When I got out there, there's nothing that really can prepare you for what you experience, and it was incredible," he said. "I grew from it, and that's all you can hope for, right?"
Ahead of the season 25 premiere of "The Bachelor," "GMA" caught up with James to talk about what he's bringing to the series, what mom Pat means to him, what it was like being the first Black Bachelor and much more. Scroll down for that chat.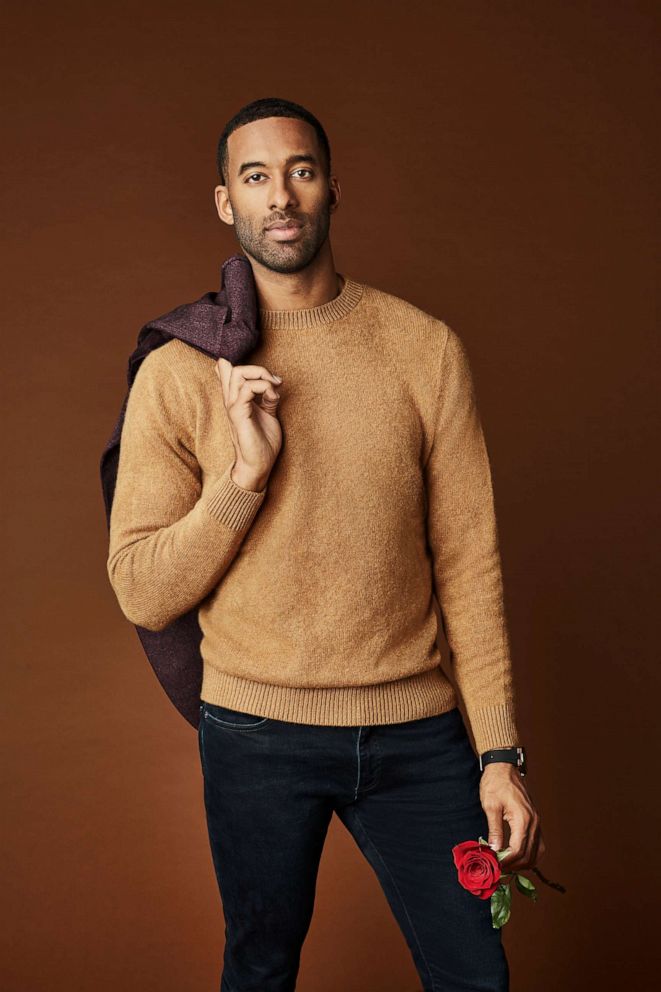 GMA: You're one of the first new faces we've had in the franchise in quite some time. How does that feel and what were you excited to bring to the show that was uniquely you?
James: I was just excited to bring a fresh perspective, you know, because I didn't really know what to expect. I hadn't been a contestant before. I didn't know how a night was supposed to go or what you are and aren't supposed to say, so everything I was doing and saying was authentically who I am, and hopefully people find that refreshing.
GMA: It's clear that you're really close to your mom. What are some of her attributes that you are looking for in a wife?
James: Just someone who you can experience life together with. Someone who is trustworthy, someone who is themselves, someone who's caring, honest, compassionate. Everything that she sacrificed for myself and my brother to be in the position that we're at, I want to be that for somebody else. And the way that she loved myself and John is how I want to love somebody and how I want to be loved.
GMA: What was her biggest advice for you before you set out on your journey to find love?
James: I was raised in a Christian household, so a lot of what her advice was was just to be prayerful. Yeah, that was basically all she said is be prayerful about it and make sure that you're doing the right things. Just a mom thing to say. I'm like, yes ma'am.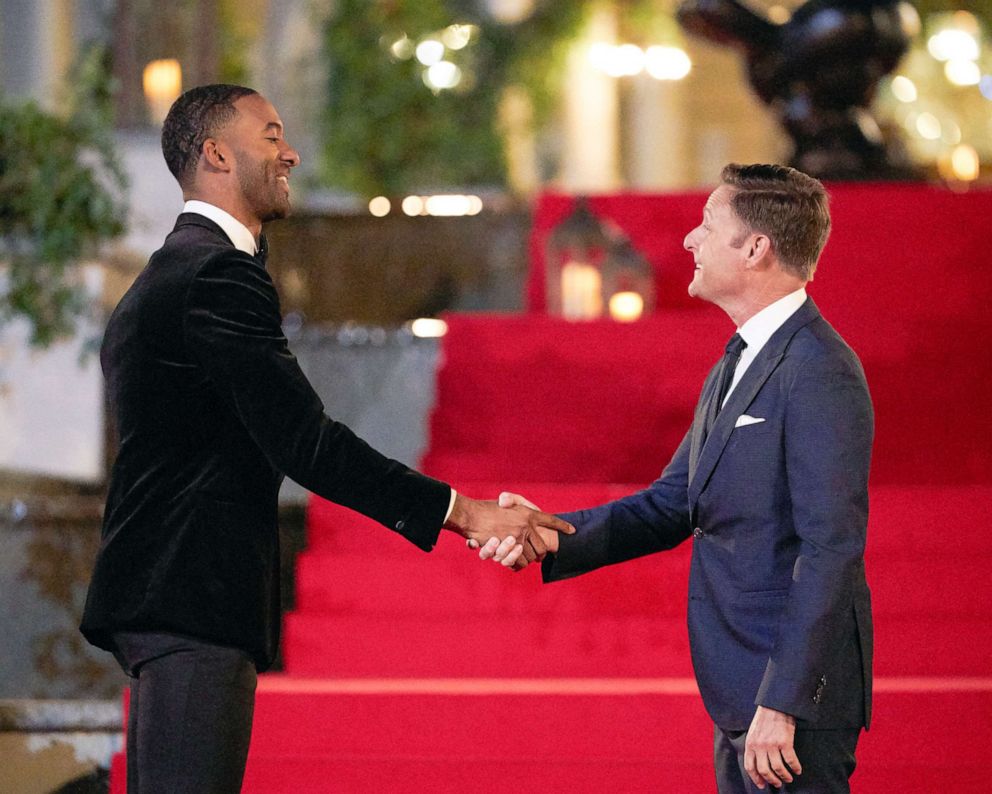 GMA: In the premiere, we see you have a real heart to heart with Chris Harrison. How would you kind of characterize your relationship with him throughout your season?
James: Chris is like my dad. It's tough love a lot of the time. He knows what's right and what's wrong and he's having to reel me in sometimes. He was tough. Chris is tough, but it's what I needed, and I have so much respect for him and the way that he handles his business and goes about being a dad and a father. I appreciated him being there.
GMA: In that chat with Chris, you also discussed the pressures and expectations of being the first Black Bachelor and expectations around you being biracial. How did it feel being vulnerable with that on television?
James: It was a lot. I thought about it a bunch, but the more I thought about it the more empowering it was to speak freely about it. I'm a people pleaser, I'm constantly trying to make sure that I don't offend this person, I don't offend that person but, like, someone's going to be offended, someone's not going to be happy with what you say. As long as you're doing the right things and representing how you were raised and highlighting those morals and values, that's all you can do. That's what I did, and I'm excited about sharing that with everybody.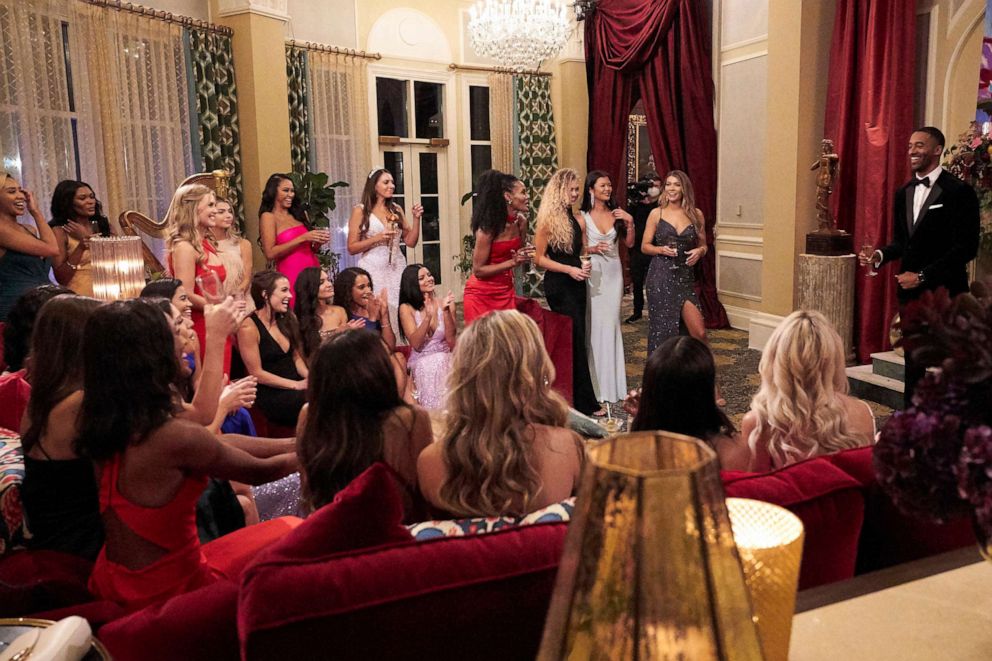 GMA: We hear from some of the women -- mostly the Black women -- getting out of the limo what it meant for you, with your specific background, to be the Bachelor. How did it feel hearing that from them in that moment and having them thank you?
James: [It was] humbling, you know, because I was fortunate enough to be the recipient of these women who were getting out of the limo. I didn't think women like that were single, and to meet them and be greeted like that and [them] say they wouldn't be there if it wasn't for me was just a humbling experience and I was honored to be in a position to the court that.
GMA: One of our favorite things is seeing the limo arrivals of the contestants. What would you have done: go all out and do something crazy or play it cool and do something romantic?
James: Oh my gosh. [Laughs.] I would have tried to say something sweet. I would have said something sentimental, light-hearted. I wouldn't have dropped in on a hot air balloon or I wouldn't have come dressed up as a juggler, but I appreciated the women that came with props because, knowing that I wouldn't do that, I'm like, "Yo, it takes guts to do that and you did it and you owned it. You're confident and I like that, and I want to get to know you."
"The Bachelor" season 25 premieres tonight, Jan. 4, at 8 p.m. ET.