Ben Lewis and Blake Lee, the real-life married couple starring in Lifetime's first LGBTQ holiday movie, "The Christmas Setup," hope this is "just the beginning" of the network becoming more inclusive.
"We're one of a couple LGBTQ holiday films this year, which is incredible. To have a year where there's more than one, it's wild," Lee, 37, told "Good Morning America."
"I hope that Lifetime -- and I think that they will because they've been so great about telling this story -- I hope that they do tell a story that centers around a trans person or a non-binary person or queer people of color," he added. "I think that they will and I am excited for those stories."
Lewis, 34, pointed out the significance of a "family-friendly network" like Lifetime expanding its storytelling to include LGBTQ people.
"This is just a really powerful example that gay people aren't just family-friendly, they are your family. They're in every family, and to see the gay community represented in this type of movie is really significant."
"The Christmas Setup" -- which premieres Saturday, Dec. 12, on Lifetime -- is the network's first time featuring a same-sex relationship at the core of one of its "It's a Wonderful Lifetime" holiday movies. A same-sex kiss was featured in 2019's holiday offering "Twinkle All the Way," but that relationship wasn't the film's central focus.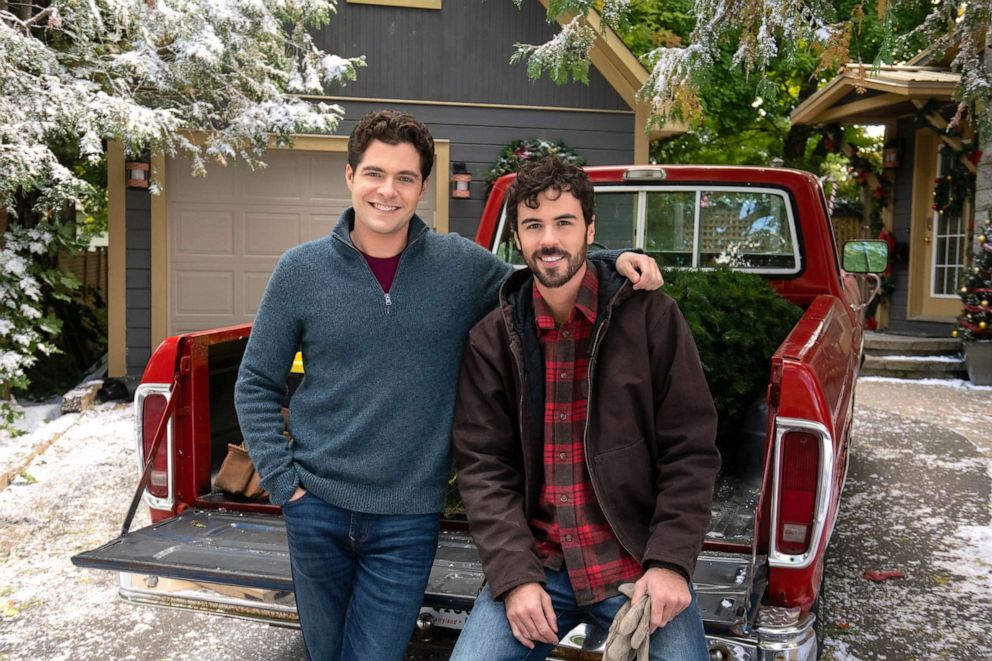 In "The Christmas Setup," Hugo (Lewis), a New York lawyer, returns home to Milwaukee for the holidays with his best friend, Madelyn (Ellen Wong). His mother, Kate (Fran Drescher), decides to play matchmaker between him and his secret high school crush, Patrick (Lee), who recently made it big in Silicon Valley. While their relationship sparks, Hugo receives a big promotion which would require him to move to London, forcing him to decide between career and love.
The pair also discussed their appreciation over Lifetime striving to authentically represent the LGBTQ community by not just casting gay actors to play gay characters, but by including a gay director, Pat Mills, a gay writer, Michael J. Murray, having a gay person at the executive producer level and consulting with GLAAD throughout the making of the film.
"I think we're both very happy and grateful that that's sort of the way that things seem to be culturally shifting," Lewis noted. "The LGBTQ+ audience wants to see themselves represented in an authentic way and, if they don't, they're very vocal about it."
"As we should be," Lee added.
Both actors said the "surreal" reality of this history-making holiday film is just beginning to settle in and they feel "lucky" to have been given this opportunity.
"We're really excited for families to watch this movie -- especially families that have LGBTQ children or members of the family, but also just for everybody," Lewis said. "LGBTQ+ people are part of society … and deserve all the respect and recognition that their straight counterparts have enjoyed for a long time."
Lee noted that this movie isn't all that different from Lifetime's other holiday productions. The only thing that made it "exceptional" is that it's about two people of the same sex falling in love.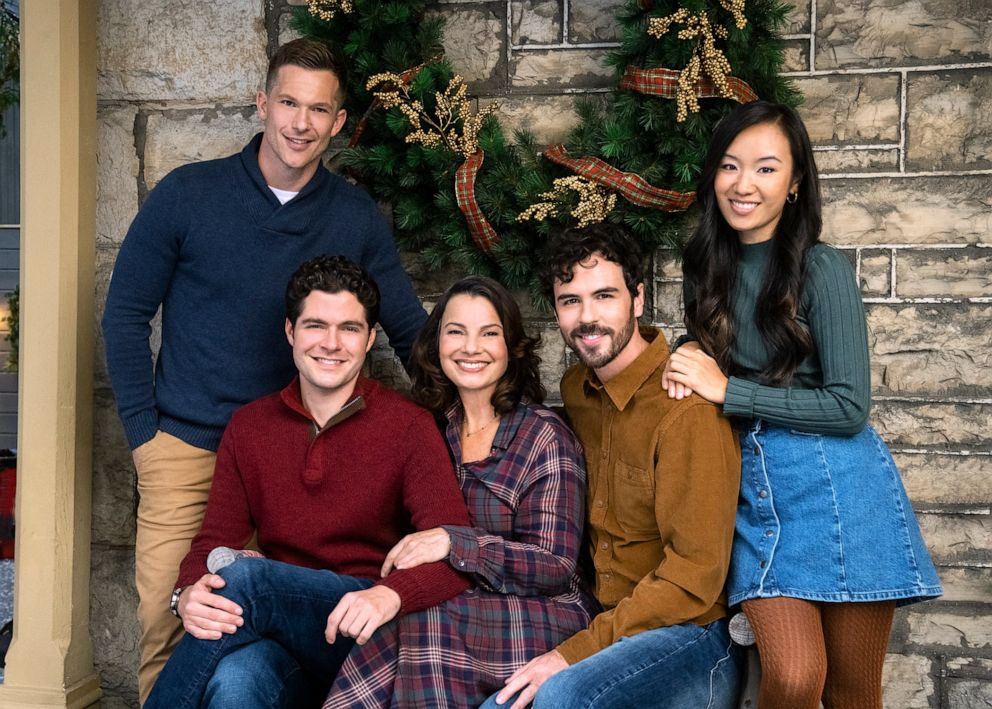 "The fact that it's two men and the fact that it's so unremarkable is actually one of the most progressive things about the movie," Lewis added.
With nobody in the story having an issue with the characters being gay, Lee said "it was so refreshing and so nice to kind of escape into that world, and I think that LGBTQ people deserve that story."
With a real-life couple playing on-screen lovers, this allowed the movie to avoid the problem of how to have romantic scenes amid the COVID-19 pandemic. For example, one Lifetime holiday movie, "Christmas Ever After," featured the film's actors kissing with a plexiglass barrier between them that would later be removed in post-production.
"I'm so curious to see how the plexiglass thing worked," Lee said. "I'm sure it'll look great because you can do anything with CGI, but it would feel so weird to just be making out with a window."
"Honestly," Lewis chimed in, "getting paid to kiss your spouse is not the worst gig in the world."
Plus, the film gave the couple a chance to get out of their house and back to work during the nationwide lockdown.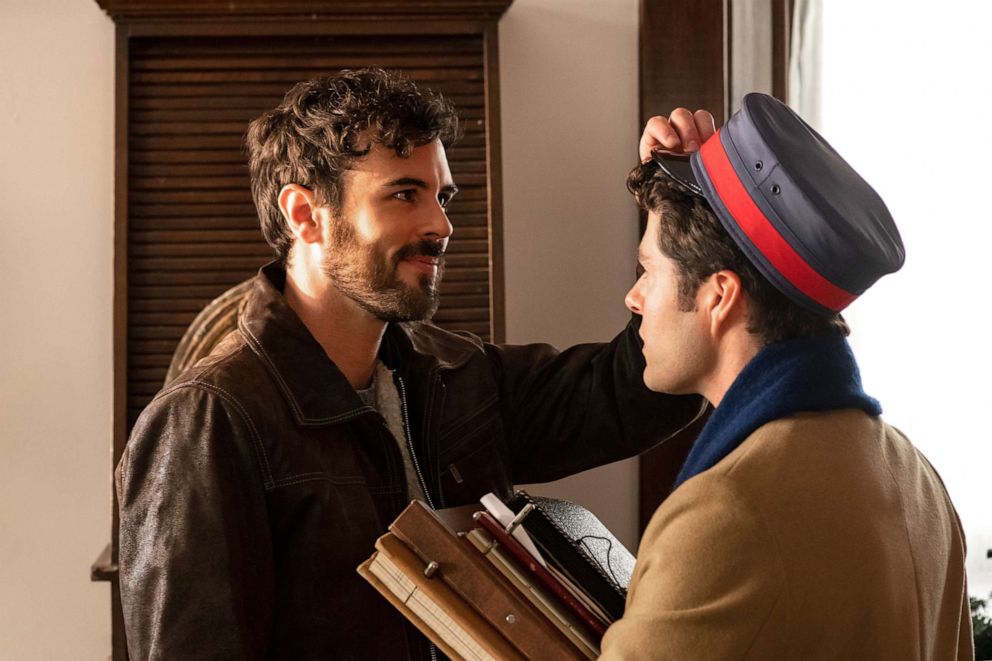 "It was a much-needed alternate reality for us," Lewis said.
"And especially in a year where we're not going home for Christmas this year," Lee pointed out, "so we were able to have this perfect Christmas with Fran Drescher."
As for whether or not they would return in a sequel to "The Christmas Setup," Lewis said he at first thought this was "such a unique, one-of-a-kind experience" but it didn't take long to never want the ride to stop.
"All of us would do it again," Lee said. "There's definitely a conversation."
"If the audience has as much fun watching the movie as we had making it," Lewis added, "then we're definitely hopeful about coming back."
"The Christmas Setup" premieres Saturday, Dec. 12, on Lifetime.