Dan Smyers and Shay Mooney of the duo Dan + Shay have opened up to each other in a new conversation about the future of their country pop music group.
The Grammy Award-winning duo, who are slated to release new music later this week, released a video of the two of them talking about their journeys as individuals and as a duo and the distance that developed between them following their The (Arena) Tour from March 2020 to December 2021.
"I was in like, the lowest low of my entire life. Came off the road and I was like, 'Man, I f----- hate music. I'm ready to quit,'" Smyers recalled of his life in December 2021, when they had concluded their tour.
"I could feel the separation and I think there [were] little things between you and [me] that we never talked about and it was affecting everything," Mooney told Smyers. "Not just our band. Like, my marriage, everything. I was in a really dark place."
During their candid conversation, which was filmed in a car, Smyers opened up about feeling burnt out.
"I had no balance before. It was completely one-sided; I was ignoring my marriage; I was ignoring all my friends that I completely burnt myself out," he said. "Entirely burnt myself out."
As their conversation continued, Mooney went on to say he had high expectations of what the tour was going to be like and when something didn't turn out the way he hoped, it was tough.
"I wish that I would have been more present and wish I would have hung out with you more," Mooney told Smyers. "Also, I mean, I was just in this very 'feeling sorry for myself' place and not wanting to take responsibility for anything. I think that's a lot of the reason why I was unhappy during our arena tour."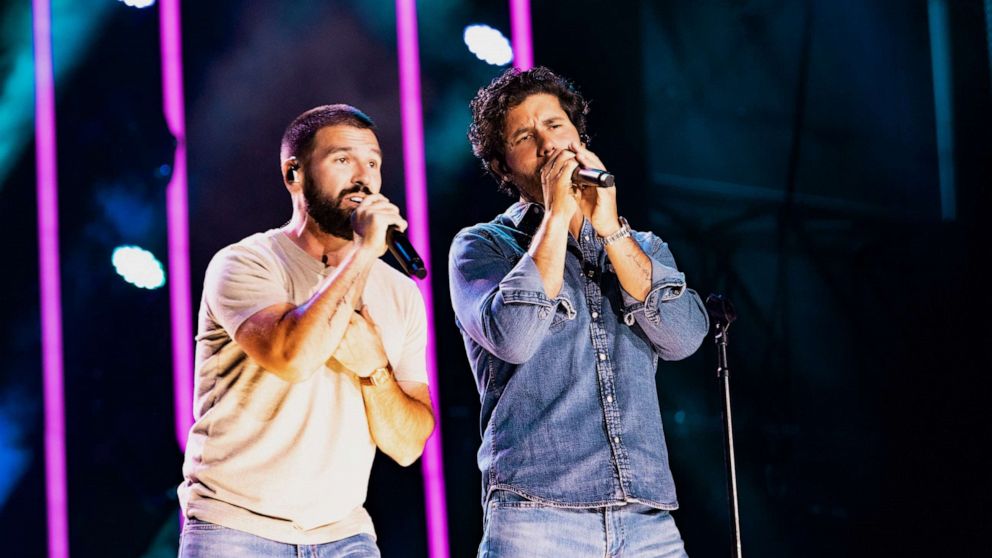 "Like we've built this thing up in our head and I was hanging so much my happiness on the success of that arena tour," he added. "And even when it was successful, I got to that show and then we would leave mad about something stupid. And it was because we put so much weight on that moment that when it was over -- what a downer. Especially at that point, I was drinking a lot, so those highs became really high and the lows became really really low."
The duo said they had to sit down, talk it out and remember why they started making music together in the first place.
"It's amazing to know now that we found that joy that we were talking about. It started out of a very genuine place, so you and I sat down with acoustic guitars," Mooney said. "We just genuinely wanted to hang out with each other. We wanted to hang out and it was like writing a song was just our hanging out."
"I can feel the closeness of our relationship and our friendship when I listen back to the music," Smyers replied. "We are -- by far -- a million times the closest we've ever been for so many reasons, but because we worked at it. That makes what we're doing now infinitely sustainable. I can do this rest of my life with you."
Dan + Shay's new music will arrive Friday, July 14.