Prince Harry, the Duke of Sussex, has flown from California to the United Kingdom after the death of his grandfather, Prince Philip.
Harry's arrival in England marks the first time he has returned home in more than a year, since he and his wife, Duchess Meghan, stepped down last March from their roles as working members of the royal family.
The prince's trip also comes just weeks after he and Meghan gave a bombshell interview to Oprah Winfrey, in which they claimed to have experienced racism during their time as senior royals, said they were cut off financially by Harry's father, Prince Charles, and alleged that Meghan was denied mental health help.
Harry traveled to London alone as Meghan is pregnant with the couple's second child and was advised by her doctor against traveling overseas.
Harry is staying at Frogmore Cottage, his and Meghan's home in Windsor, and is following COVID-19 protocols after traveling from the United States.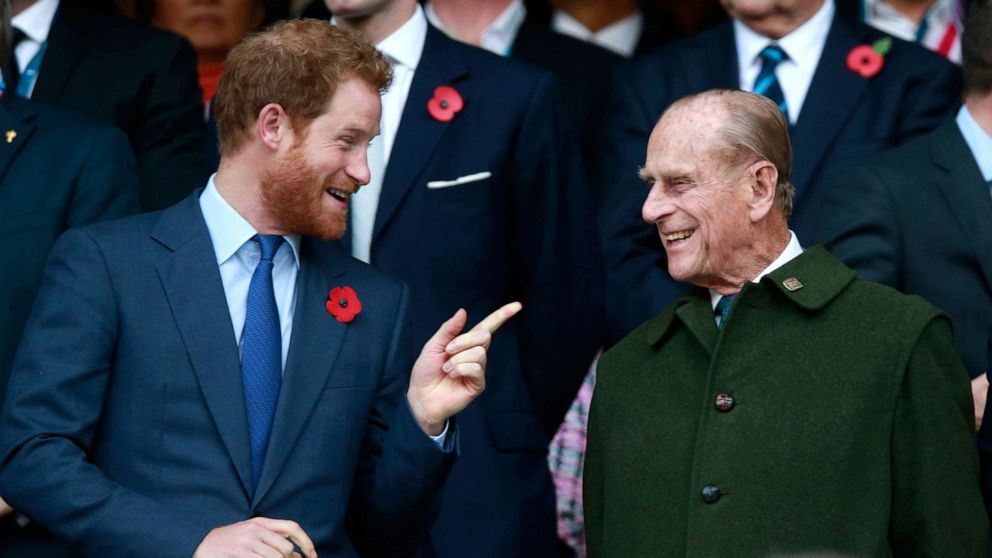 Even amid the divisions in the royal family, Harry and Meghan remained close to Queen Elizabeth and Prince Philip and stayed in touch through Zoom calls when the Sussexes and their son Archie moved to California.
"If there's one thing that has remained constant throughout all of the turbulence of the past year it's Harry and Meghan's close relationship with the queen and Prince Philip," said ABC News royal contributor Omid Scobie. "Although Meghan isn't here, she is of course supporting Harry. Her mind is very much on the situation over here."
Harry is expected to join his family members, including Prince William and Prince Charles, in walking in Philip's funeral procession. The 99-year-old Duke of Edinburgh will be remembered in a private funeral service on April 17 at St. George's Chapel at Windsor Castle.
Though Harry will come face-to-face with his family for the first time since airing their grievances publicly in the Winfrey interview, royal experts say they expect the family to stay focused on remembering Philip and supporting Queen Elizabeth, who lost her husband of more than seven decades.
"This trip is very much Harry coming here to support his grandmother at a very difficult time," said Scobie, the author of "Finding Freedom: Harry and Meghan and the Making of a Modern Royal Family." "Every family member at the moment is really on the same page, in that they're here for one reason only, so any problems between family members, that's going to be left very much outside of this situation. Harry hasn't come over here with an ulterior motive other than to remember his grandfather."
Robert Jobson, ABC News royal contributor and the author of "Prince Philip's Century: The Extraordinary Life of the Duke of Edinburgh," also echoed that sentiment, saying, "Funerals are difficult times, at the best of times for any family, but I think they're going to have to focus really on mending that relationship at another time. This is absolutely focused on grief and mourning their grandfather."
Harry and William each issued separate statements Monday remembering their grandfather, Prince Philip.
"My grandfather's century of life was defined by service – to his country and Commonwealth, to his wife and Queen, and to our family," William said. "I feel lucky to have not just had his example to guide me, but his enduring presence well into my own adult life – both through good times and the hardest days."
"I will always be grateful that my wife had so many years to get to know my grandfather and for the kindness he showed her. I will never take for granted the special memories my children will always have of their great-grandpa coming to collect them in his carriage and seeing for themselves his infectious sense of adventure as well as his mischievous sense of humor!" William said, referring to his wife, Duchess Kate, and their three children, Prince George, Princess Charlotte and Prince Louis.
"My grandfather was an extraordinary man and part of an extraordinary generation. Catherine and I will continue to do what he would have wanted and will support The Queen in the years ahead," he said. "I will miss my Grandpa, but I know he would want us to get on with the job."
Prince Harry remembered Prince Philip for his "seriously sharp wit," his barbecue skills and his service and dedication.
"My grandfather was a man of service, honour and great humor. He was authentically himself, with a seriously sharp wit, and could hold the attention of any room due to his charm—and also because you never knew what he might say next," Harry said. "He will be remembered as the longest reigning consort to the Monarch, a decorated serviceman, a Prince and a Duke. But to me, like many of you who have lost a loved one or grandparent over the pain of this past year, he was my grandpa: master of the barbecue, legend of banter, and cheeky right 'til the end."
He went on, "He has been a rock for Her Majesty The Queen with unparalleled devotion, by her side for 73 years of marriage, and while I could go on, I know that right now he would say to all of us, beer in hand, 'Oh do get on with it! So, on that note, Grandpa, thank you for your service, your dedication to Granny, and for always being yourself. You will be sorely missed, but always remembered—by the nation and the world. Meghan, Archie, and I (as well as your future great-granddaughter) will always hold a special place for you in our hearts."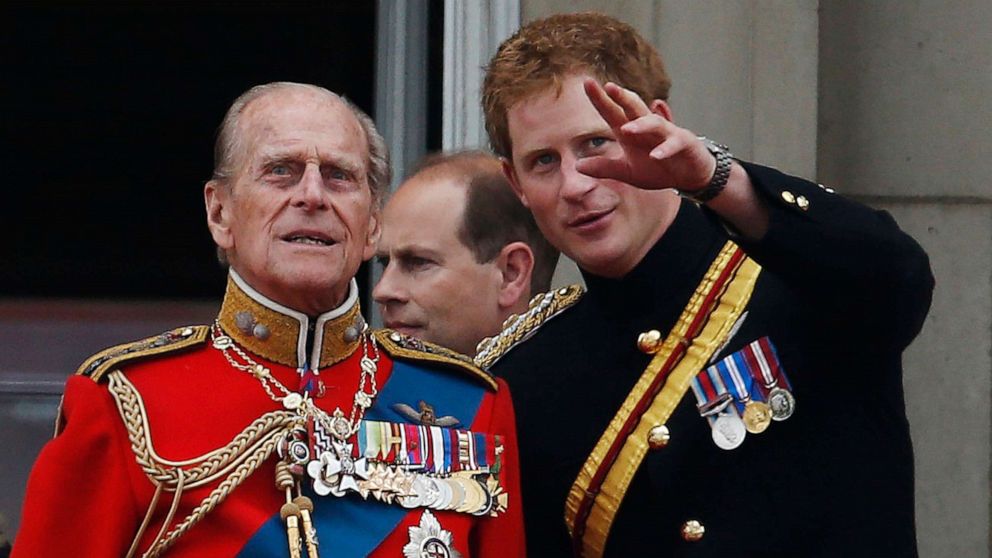 Harry ended his statement with, "'Per Mare, Per Terram,'" the motto of the Royal Marines.
Harry took over Prince Philip's role as Captain General of the Royal Marines in 2017, when Philip retired from official royal duties at the age of 96.
Harry, a veteran of the British Army, had to give up the role earlier this year when it was confirmed by Buckingham Palace that he and Meghan would not return as working members of the royal family.