When Prince Philip died Friday at the age of 99 at Windsor Castle, there was one close family member who was thousands of miles away.
Prince Harry, one of Philip and Queen Elizabeth's eight grandchildren, now lives in California with his wife Duchess Meghan and their son, Archie.
Harry and Meghan paid tribute to Philip on the website of Archewell, their nonprofit and production venture.
"Thank you for your service," read a message on the website, which was changed to finish just the tribute to Philip. "You will be greatly missed."
According to a royal source, Prince Harry will attend his grandfather's funeral, though, Meghan, who is currently pregnant with their second child, has been advised by her doctor not to travel from their home in California.
The funeral for Philip will be held April 17 at St. George's Chapel at Windsor Castle. It will be limited to 30 guests due to coronavirus restrictions, Buckingham Palace announced.
Harry and Meghan's decision last year to step down as senior working royals has caused divisions within the royal family, a family that Prince Philip had been widely credited as holding together throughout his 73-year marriage to the queen.
The family tensions spilled into public view after Harry and Meghan's tell-all interview last month with Oprah Winfrey, during which the couple alleged at least one family member had conversations with Harry ahead of Archie's birth about "how dark" his skin might be.
Archie was the first American British biracial royal born in the U.K., and is also widely considered to be the first mixed-race child born into the royal family.
Harry and Meghan declined to identify who had the conversations with Harry, but Winfrey said Harry later made clear to her Queen Elizabeth and Prince Philip were not involved, a step seen as a sign of respect and fondness for his grandparents.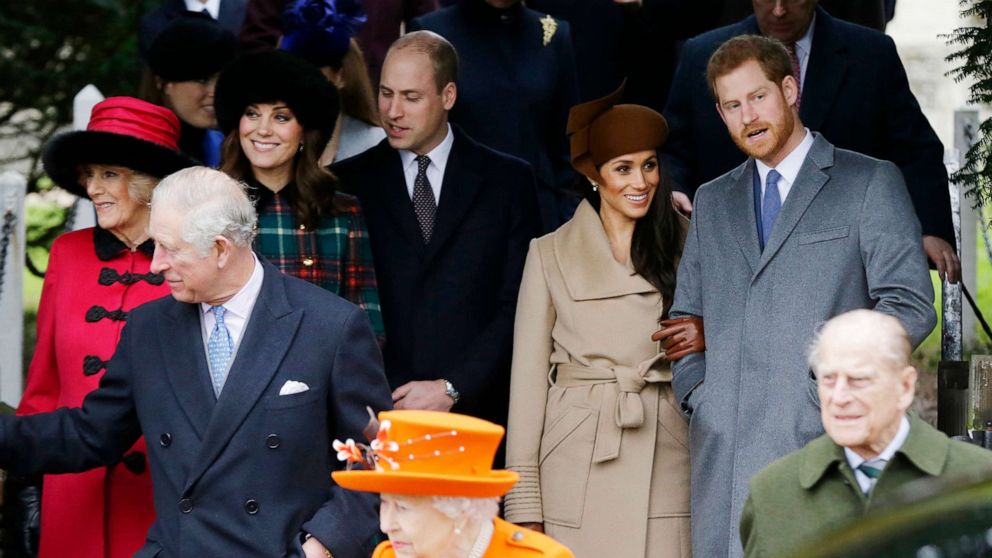 Though Harry told Winfrey a "lack of support" and "lack of understanding" led to his and Meghan's rocky departure from their royal roles, he said he has stayed in close touch with Queen Elizabeth, who was a nearly constant presence by Prince Philip's side during the coronavirus pandemic.
"I've spoken more to my grandmother in the last year than I have done for many, many years," said Harry, revealing he and Meghan and Archie have video calls with the queen. "My grandmother and I have a really good relationship and an understanding, and I have a deep respect for her. She's my commander-in-chief, right? She always will be."
Harry revealed to "The Late Show" host James Corden in an earlier interview that Prince Philip joined family video calls with the queen, revealing the funny way Philip would end the calls.
"Both my grandparents Zoom. We've Zoomed them a few times, they've seen Archie running around," Harry said. "My grandfather, instead of, like, pressing 'leave meeting', he just goes doof," Harry said, laughing as he mimicked someone slamming down the laptop. "I'm like, OK, bye!"
Harry also shared in that interview that the queen and Philip gave Archie, one of their 10 great-grandchildren, a waffle maker last Christmas.
"Breakfast now, Meg makes up a beautiful, like organic mix, in the waffle maker, flip it, out it comes, and he loves it," Harry said. "Archie wakes up in the morning and literally just goes, 'Waffle.'"