The 80th Golden Globes returned to television Tuesday night, one year after the awards show was held as a private event due to allegations of racism within the Hollywood Foreign Press Association.
Many of the biggest stars in Hollywood gathered to honor the best in film and television at the Jerrod Carmichael-hosted awards show.
Scroll down to see some of the night's biggest moments.
The night's big wins
On the film side, it was "The Fabelmans," which won best motion picture (drama) and "The Banshees of Inisherin" which won best motion picture (musical or comedy).
The top acting awards were spread across four different films, with "Elvis" star Austin Butler and "Tár" actress Cate Blanchett winning on the drama side, and "The Banshees of Inisherin" star Colin Farrell and "Everything Everywhere All at Once" star Michelle Yeoh winning on the musical or comedy side.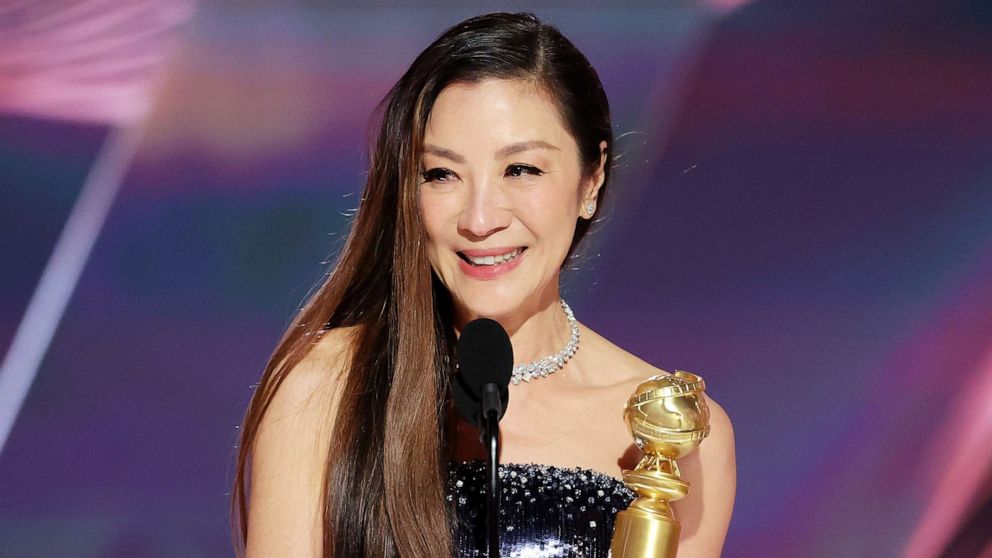 Steven Spielberg also took home a statuette for directing "The Fabelmans."
On the TV side, "House of the Dragon" won best television series (drama) while "Abbott Elementary" won best television series (musical or comedy). "The White Lotus" won best limited or anthology series or television film.
For a full list of winners, click here.
Powerful speeches galore
Ke Huy Quan brought the emotion when accepting the award for best performance by an actor in a supporting role in any motion picture for his role as Waymond Wang in "Everything Everywhere All at Once."
"I was raised to never forget where I came from, and to always remember who gave me my first opportunity. I am so happy to see Steven Spielberg here tonight. Steven, thank you!" Quan began. "When I started my career as a child actor [playing Short Round] in 'Indiana Jones and the Temple of Doom,' I felt so very lucky to have been chosen."
"As I grew older, I started to wonder if that was it, if that was just luck. For so many years, I was afraid I had nothing more to offer, that no matter what I did I would never surpass what I achieved as a kid," Quan, who also starred as Data in "The Goonies," continued, thanking "Everything Everywhere All at Once" co-directors Daniel Kwan and Daniel Scheinert for giving him "an opportunity to try again."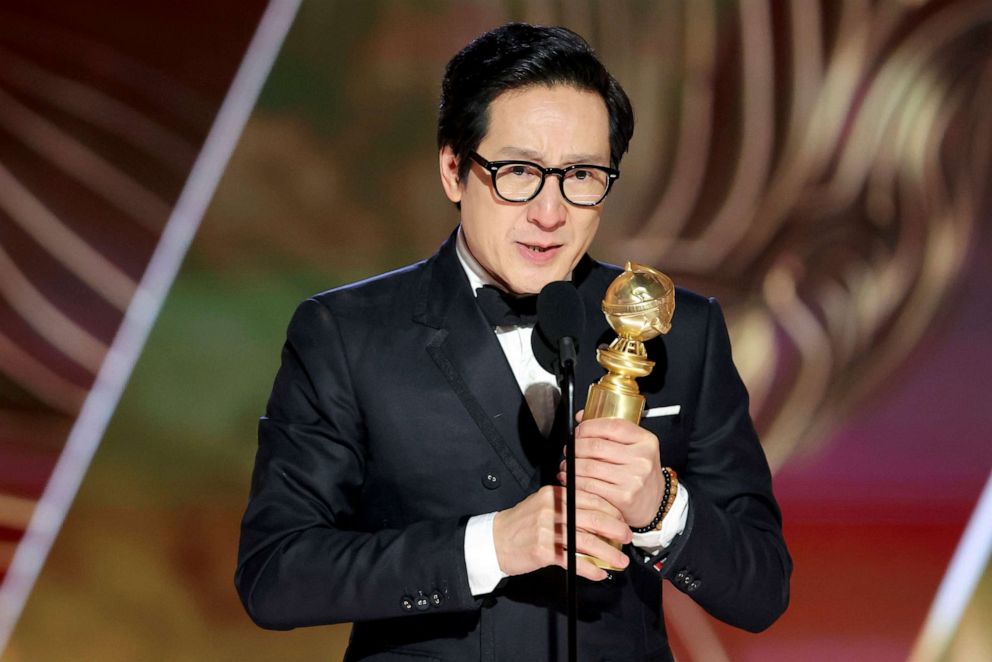 Angela Bassett, who won best performance by an actress in a supporting role in any motion picture for her role as Queen Ramonda in "Black Panther: Wakanda Forever," recalled her first Golden Globe win for "What's Love Got to Do With It" on Jan. 22, 1994.
"The late Toni Morrison said that your life is already a miracle of chance just waiting for you to order its destiny. But in order for that destiny to manifest, I think that it requires courage to have faith, it requires patience … and it requires a true sense of yourself," she began.
Bassett also spoke about late "Black Panther" star Chadwick Boseman, who died of colon cancer in August 2020 at the age of 43.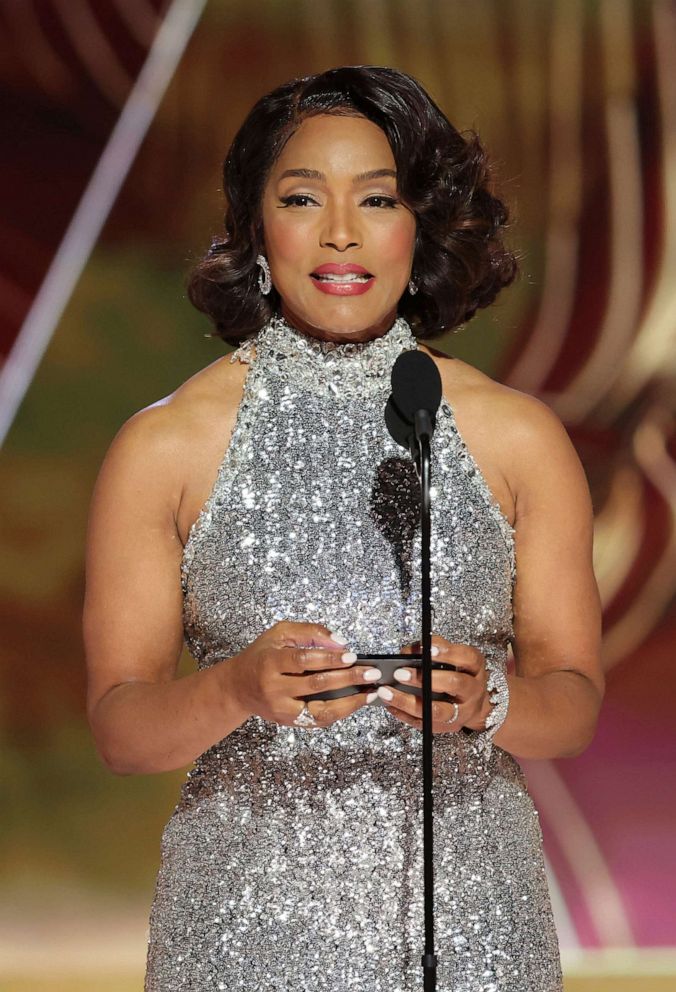 "We embarked on this journey together with love. We mourned, we loved, we healed, and we were surrounded each and every day by the light and the spirit of Chadwick Boseman," she said. "We have joy in knowing that, well, with this historic 'Black Panther' series, it is a part of his legacy that he helped to lead us to. We showed the world what Black unity, leadership and love looks like beyond, behind and in front of the camera."
After he won the Golden Globe for best actor in a motion picture (drama), Austin Butler took the stage and thanked those with whom he worked on the set of "Elvis," including director Baz Luhrmann and actor Tom Hanks.
The actor also went on to thank the Presley family, including Lisa Marie Presley and the king of rock 'n' roll himself, Elvis Presley.
"Elvis Presley -- you are an icon and a rebel," Butler said. "I love you so much, thank you. You are remembered and I will never forget. Thank you!"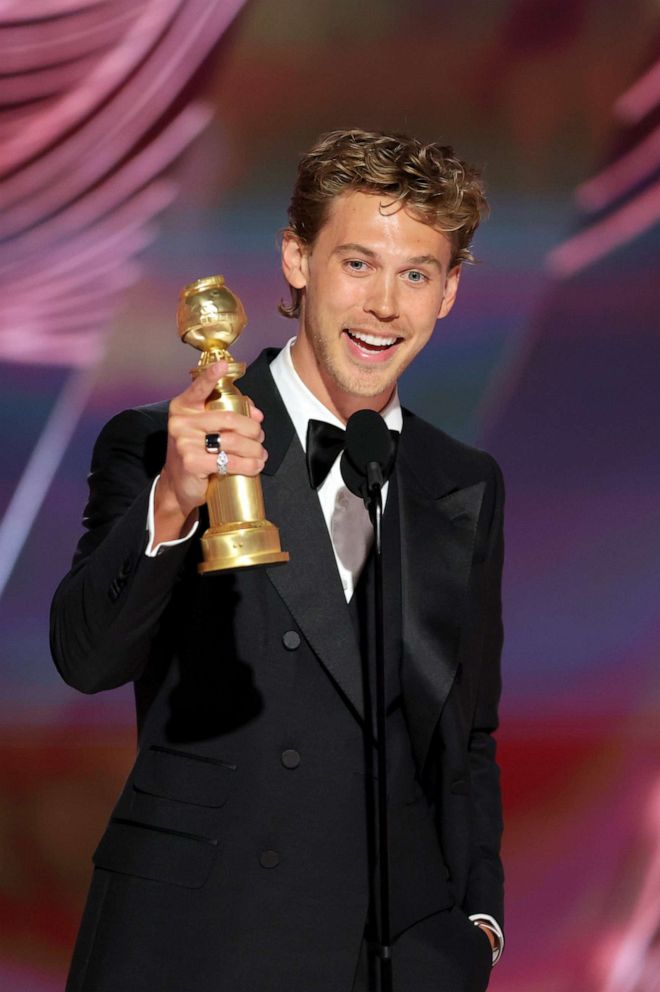 At the end of his speech, he thanked his family and paid a heartfelt tribute to his late mother, who died of cancer in 2014.
"I want to thank my mom who I know is smiling down right now," he said. "Mama, I love you so much. Thank you for sacrificing so much for me."
Host Jerrod Carmichael addresses the Golden Globes' previous lack of diversity
Jerrod Carmichael kicked off the 80th Golden Globes by putting the show's issues with diversity front and center.
"I'll tell you why I'm here. I'm here because I'm Black," the comedian said in his opening monologue.
"I'll catch everyone in the room up, if you settle down a bit," he went on. "I'll tell you what's been going on. This show did not air last year because the Hollywood Foreign Press Association, which I won't say they were a racist organization -- but they didn't have a single Black member until George Floyd died -- so do with that information what you will."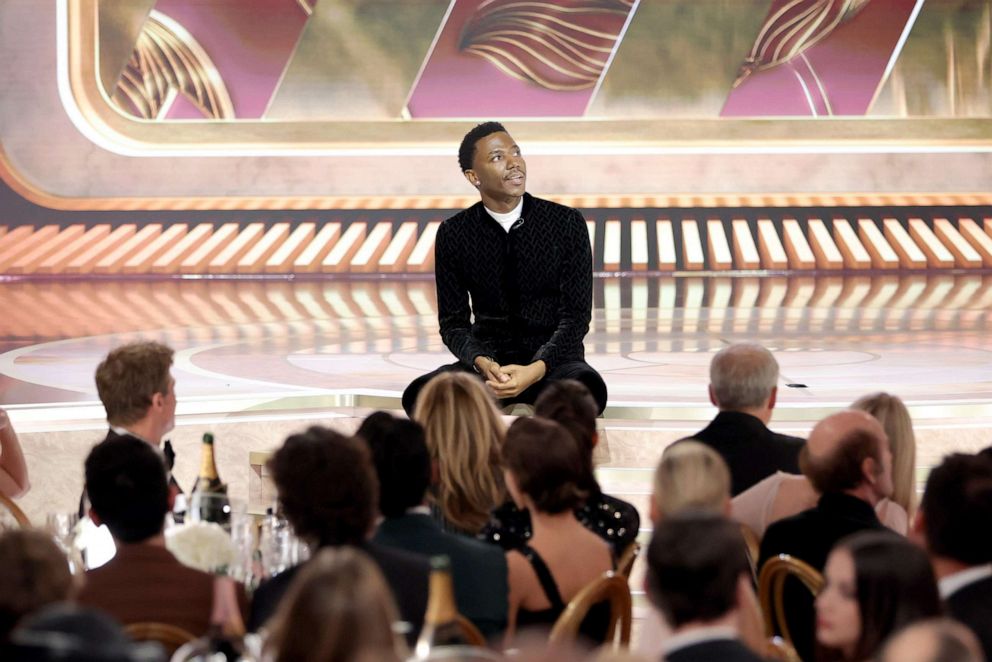 Carmichael, who said that he was paid $500,000 for hosting this year's show, ended his monologue by shifting the focus to how the Golden Globes should be a night of celebration.
"Regardless of whatever Hollywood Foreign Press Association's past may be, this is an evening where we get to celebrate," Carmichael added. "I think this industry deserves evenings like these. I'm happy you all are here."
Toward the end of the show, HFPA president Helen Hoehne addressed what she called "momentous change" within the organization.
"We are proud of the work we have done, the progress we've made and the journey we are on," Hoehne said. "We commit to continue strengthening our partnership with Hollywood and with the world to celebrate ... the best in film and television."
She added, "We will continue to support groups that amplify a variety of voices and continue to add representation to our organization from around the world, as we did this past year."
Ryan Murphy honored with the Carol Burnett Award
"Pose" star Billy Porter took the stage to share a powerful introduction for Ryan Murphy, praising Murphy for his incredible impact in revolutionizing television.
"Prolific, visionary, game-changer, trailblazer, champion of truth, fearless, boss man, workaholic, ally, mentor, friend -- there aren't enough words in the English language for me to convey what you mean to me," Porter said in his introduction.
The acclaimed screenwriter, producer and director then took to the stage to express his gratitude for the honor and share a few acknowledgements of his own.
First, he commended Michaela Jaé Rodriguez, who made history in 2022 when she won the Golden Globe for best actress in a drama series for "Pose," becoming the first transgender actress to win a Golden Globe.
Murphy then spoke about how receiving the Carol Burnett Award has allowed him to "reflect on what a lifetime of achievement really is." He said that the key to getting there is by "being fearless."
Continuing to acknowledge figures whom he described as his "heroes," Murphy addressed Porter's impact, describing him as "one of the most iconic actors of his generation."
Murphy also praised Niecy Nash, who he said "chose love, not fear" when she married Jessica Betts. He said Nash was told "she couldn't, shouldn't do that" and that she "might never work again, her community and her industry would abandon her."
He called actor Matt Bomer an "action hero in life" who has "defied the ridiculous rules that have been in place for almost a century" and said actor Jeremy Pope was told to "deny who he was -- but Jeremy refused to hide." Murphy called Pope "the future."
Murphy said he was dedicating his speech to the names he mentioned "to make a point of hope and progress."
"When I was a young person at home in the '70s watching 'The Carol Burnett Show,' I never ever saw a person like me getting an award -- or even being a character on a TV show," he said. "It's hard being an LGBTQ kid in America, in fact, all over the world, then and now."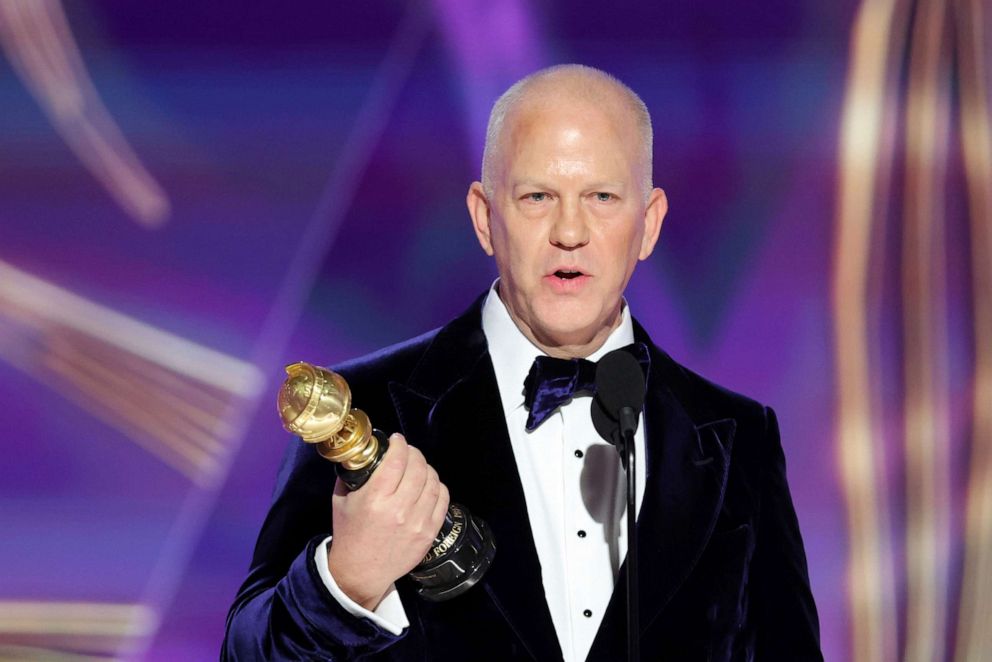 He continued, "You are often told you will never become anything, you have to hide your light to survive. But for those kids watching, tonight I offer up MJ, and Billy, and Niecy, and Matt, and Jeremy as examples of possibility. There is a way forward -- use them as your north stars."
Murphy is the fourth recipient of the HFPA's Carol Burnett Award. Previous recipients include Carol Burnett, Ellen DeGeneres and Norman Lear.
Ukrainian President Volodymyr Zelenskyy delivers remarks
Ukrainian President Volodymyr Zelenskyy also addressed the audience at the awards show.
Actor Sean Penn introduced a video message from Zelenskyy.
"The war in Ukraine is not over yet, but the tide is turning," Zelenskyy said. "And it is already clear who will win."
Zelenskyy thanked "the free people of the free world, those who united around the support of the free Ukrainian people." He also said "there will be no third World War. It is not a trilogy."
Russian forces invaded Ukraine on Feb. 24, 2022.
Penn visited Ukraine in November 2022 and presented Zelenskyy with one of his two Academy Awards statuettes, calling it a "symbolic silly thing" and telling the president to return it to him in Malibu after Ukraine wins against Russia.
Zelenskyy called the gesture "a symbol of faith in the victor of our country" and presented Penn with a special award called "the Order of Merit of the III degree."
This isn't the first time Zelenskyy has addressed the audience of an awards show. In April 2022, just weeks after Russian forces invaded Ukraine, Zelenskyy spoke about the war in a video message at the 2022 Grammys.
Actor Eddie Murphy accepts Cecil B. DeMille Award
Eddie Murphy took the stage during the show to accept the Cecil B. DeMille Award for his outstanding contributions to entertainment.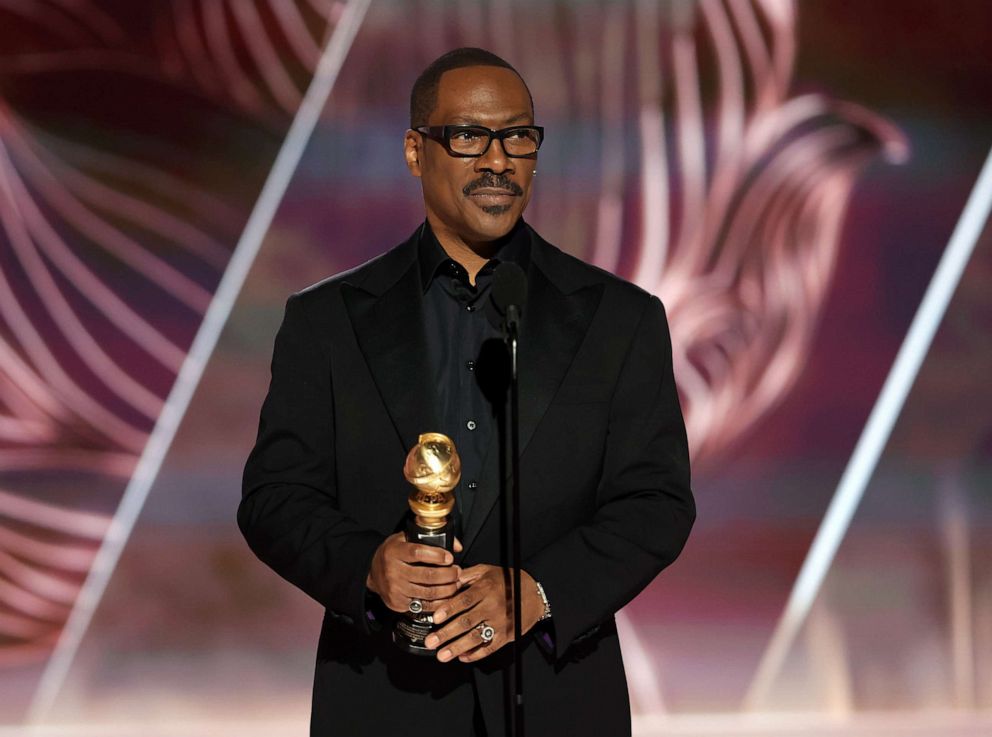 The six-time Golden Globe nominee, who is known for his roles in "The Nutty Professor," "Coming to America," "Dreamgirls" -- for which he won the Golden Globe for best supporting actor in a motion picture in 2007 -- and many others, thanked the Hollywood Foreign Press Association and his family.
"I've been in show business for 46 years and I've been in the movie business for 41 years," Murphy said. "So this has been a long time in the making and it's greatly appreciated."